Need inspiration for summer lunches? Check out these tasty, cheap and easy summer lunch ideas and ways to prep ahead! You're bound to find more than a few to work into your regular meal plan rotation.
From nachos to sandwiches, burritos to salads, these are winning lunches to please kids as well as adults. Do a big lunchtime meal prep or fill the freezer with some freezer meals so that summer lunches are a breeze.
Jump to:
Summer time is busy. There's family stuff, work stuff, vacation stuff, fun stuff. There can be more relaxed summer days, but, winter, spring, summer, or fall, one thing stays the same: ya gotta eat.
Mealtimes may be hurried. You're racing out the door for the next event.
Meals might be on the go. You're going to be away from home at lunchtime. Prepping lunch might just take more energy than you want to expend, but fast food is too expensive.
The kids might be perpetually hungry. It's true. In summer kids become hobbits and are never satisfied.
If you have an arsenal of summer lunch ideas at your fingertips, you'll be more likely to have meals ready to go — either on the table or out the door. And if you know how to prep ahead? Well, so much the better!
Check out these summer lunch ideas as well as the mini-prep lists included to keep you and your people fed and happy this season:
Snacks for Lunch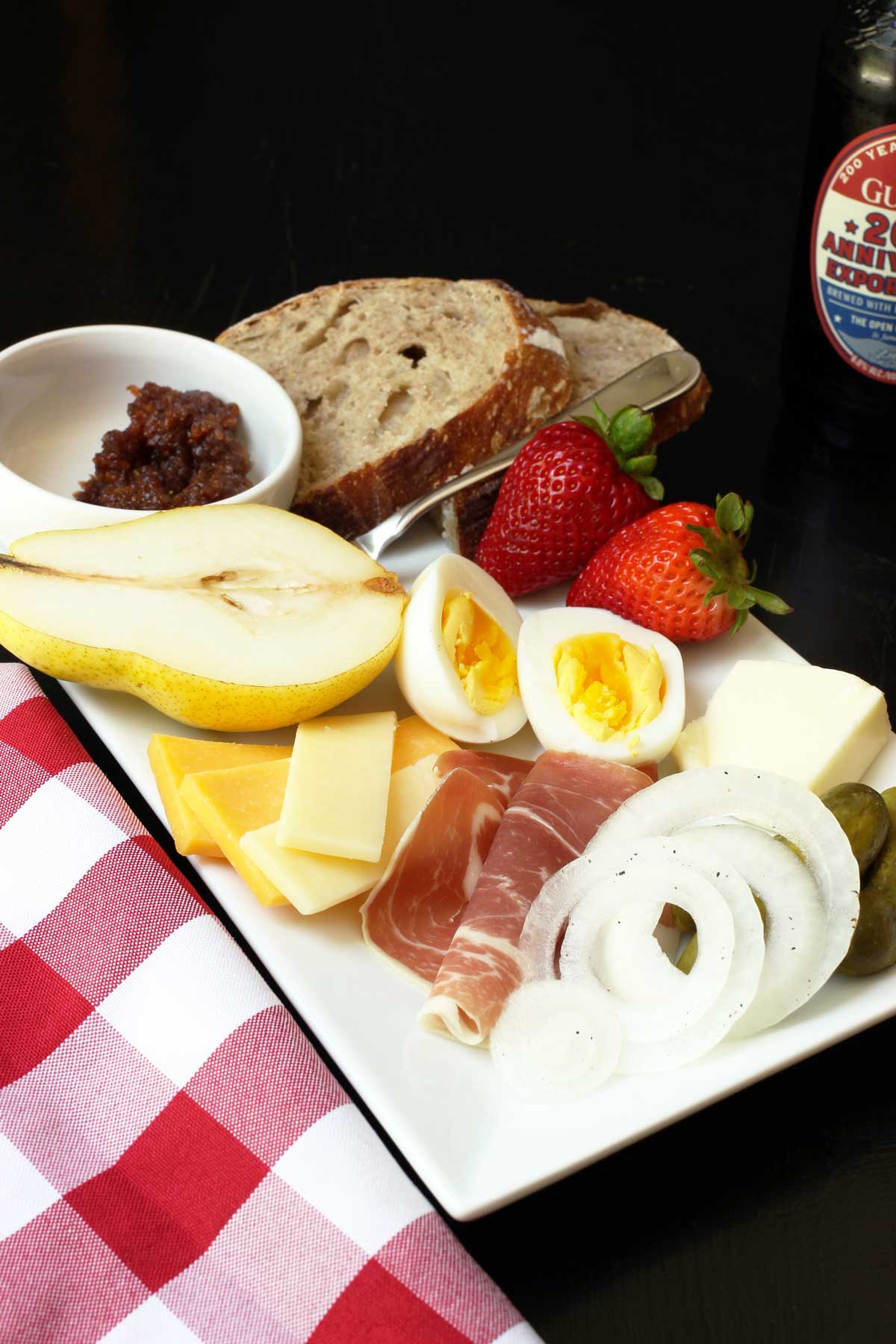 Probably the easiest of summer lunches is the "snacky lunch". Snacks for Lunch is one that kids love and that takes very little time to prepare. It consists of fresh produce, some protein like cheese, nuts, hard-cooked eggs, and sliced meats, and a grain like crackers, sourdough rye bread, or sub rolls.
This is a weekly staple at our house, my go-to on Sunday afternoons. It can be made ahead of time and taken on the road as well — or turned into a Snacky Dinner or the more sophisticated Ploughman's Lunch.
You can easily customize it for different diets and preferences, making it a go-to summer lunch for busy days.
Make-ahead Tips
Wash your fresh produce in a vinegar rinse. This removes surface bacteria and grime.
Slice apples and oranges, section grapefruit, cut grapes into clusters, cut cantaloupe, make a berry salad.
Treat apples or pears with a little lemon or lime juice to prevent browning – the bane of picky children everywhere.
Prep a veggie tray. If you build it, they will come. It's the field of edible dreams, trust me.
Slice cheeses. Be careful not to store crackers and cheese together. They tend to harden and soggify each other.
Cook and chill your eggs.
You can either serve buffet style or portion each person's lunch for homemade "lunchables." Letting the kids assemble their own does help your picky eaters take ownership.
Smoothies
Smoothies, the milkshake of the 21st century pleases almost everyone for a quick and easy summer lunch. You can make them in so many ways and even sneak in some veggies like spinach or even riced cauliflower.
While popcorn is a great side dish to smoothies, some folks may need something more substantial. Chewing actually helps us feel more full. In that case, consider assembling smoothie bowls and top them with granola, sliced fruit, berries, nuts, and seeds.
Make-ahead Tips
Freezer Smoothies make great breakfasts, lunches, or snacks. Simply blend up big batches of your favorite smoothie combinations and pour into small cups. Plastic freezer cups from Ball are great for this purpose. Twist on the caps and store in the freezer. I've packed these freezer smoothies into a cooler along with a picnic lunch and they thawed to the perfect consistency by the time we were ready for "lunch dessert."
Consider serving your kids a DIY Smoothie Bar. This allows them to assemble them however they like without (too many) complaints.
Prep smoothie kits. In ziptop freezer bags, assemble the ingredients that you would normally include in a smoothie, including frozen yogurt blobs and frozen strawberries. When you're ready to blend, just pull out a bag and empty it into the blender, adding the liquid you prefer. My daughter calls this "homemade Daily Harvest".
Burritos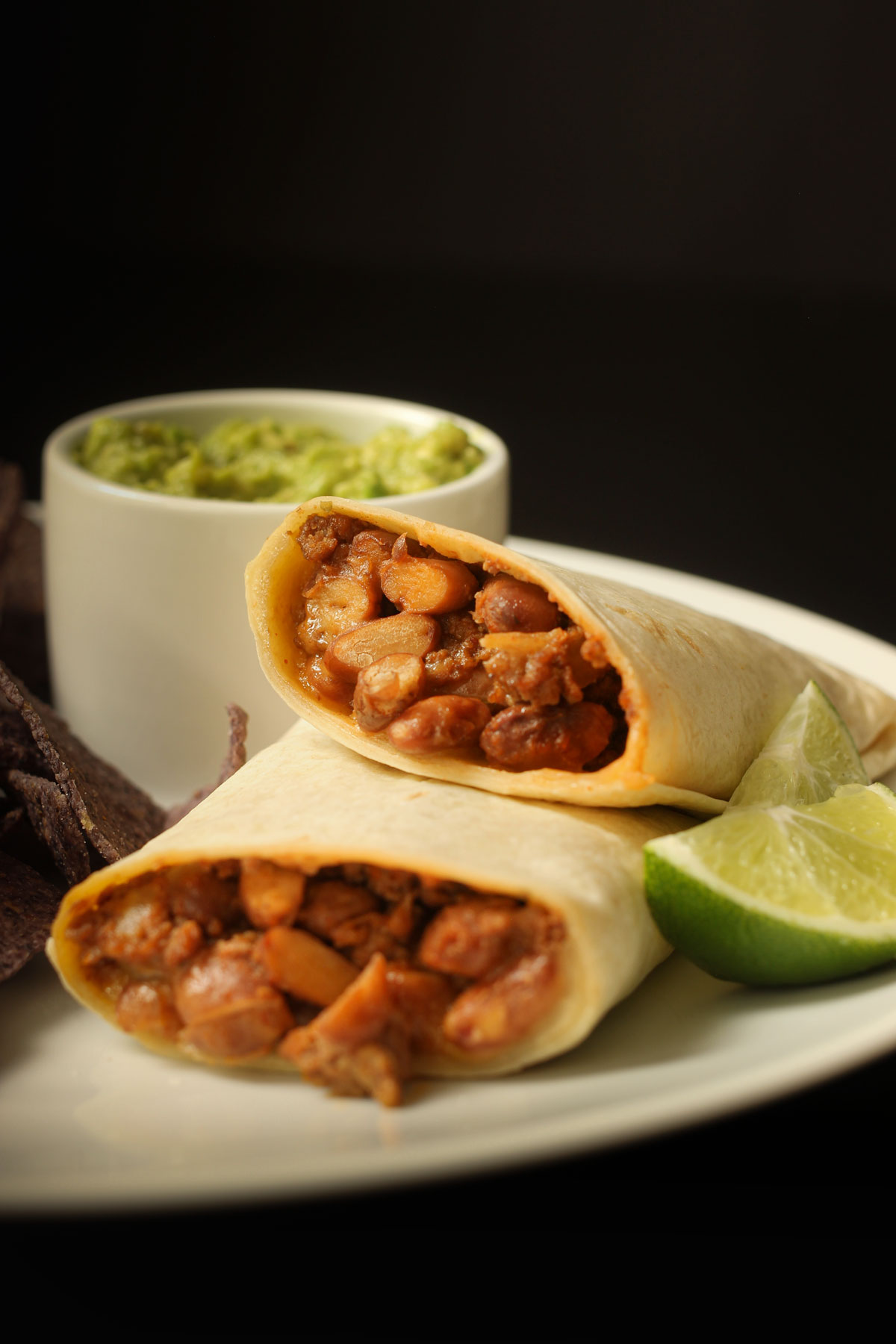 Chimichangas and Burritos are a huge hit around our house. A portable, hand-held main dish, they can be customized in any number of ways, making sure that everyone's lunch is what he wants.
Make-ahead Tips
Cook beans and make "burrito kits," assembling a pint of cooked pintos, a bag of shredded cheese, precooked taco meat, and a package of tortillas. Chill anything that might be hot and store this in the freezer for an easy lunch.
Freezer Burritos all rolled and ready to go can be a game changer. Somebody hungry and in need of a snack? Just microwave a frozen burrito. Not wanting to make a big fuss at lunch? Thaw a bag of burritos and crisp them on the griddle for almost instant chimichangas.
Chili Cheese Burritos and Green Chile Burritos both come together super easily.
Sandwiches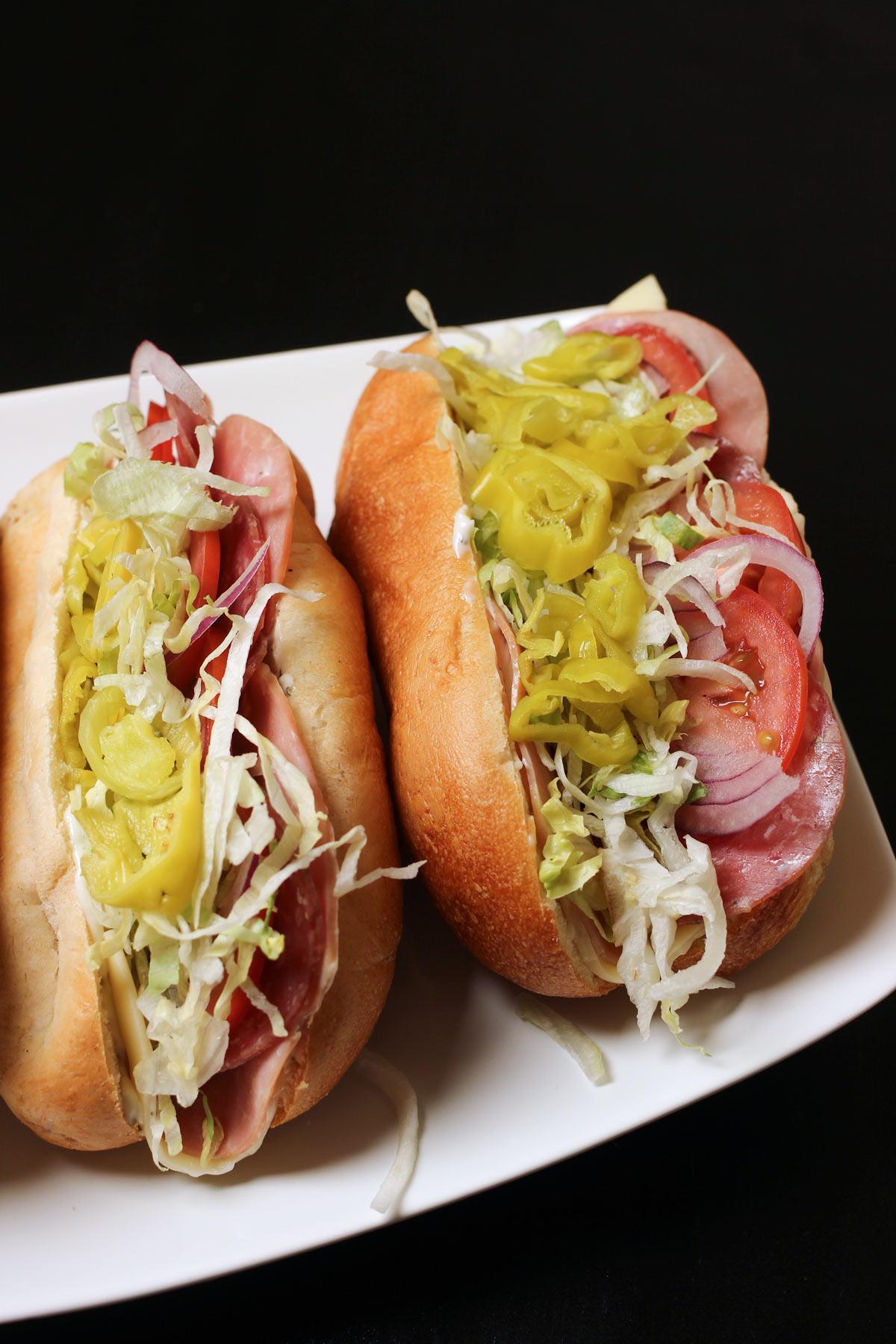 Sandwiches and fruit or some veggie dippers are an old stand by where summer lunch ideas are concerned. They cool, portable, and easily eaten on the go.
Remember this: Sandwiches need never be boring. Check out these Tips for Making the Best Sandwiches so that you're always ready for lunchtime.
Make-ahead Tips
Bread freezes well, so stock up when you see a good price on your favorite breads for sandwiches. Don't forget that bagels, pita bread, and tortillas also are good bases on which to build your sandwich.
Chicken salad, deli meats, tuna salad, and hard cooked eggs make great fillings. You can make these at the beginning of the week and they'll be good in the fridge for up to 4 days.
One of the humble sandwich's selling points is that each diner can custom make his own, any time. Set aside a special drawer or section of the refrigerator for sandwich fillings and condiments that are fair game and let your people have at it.
Nachos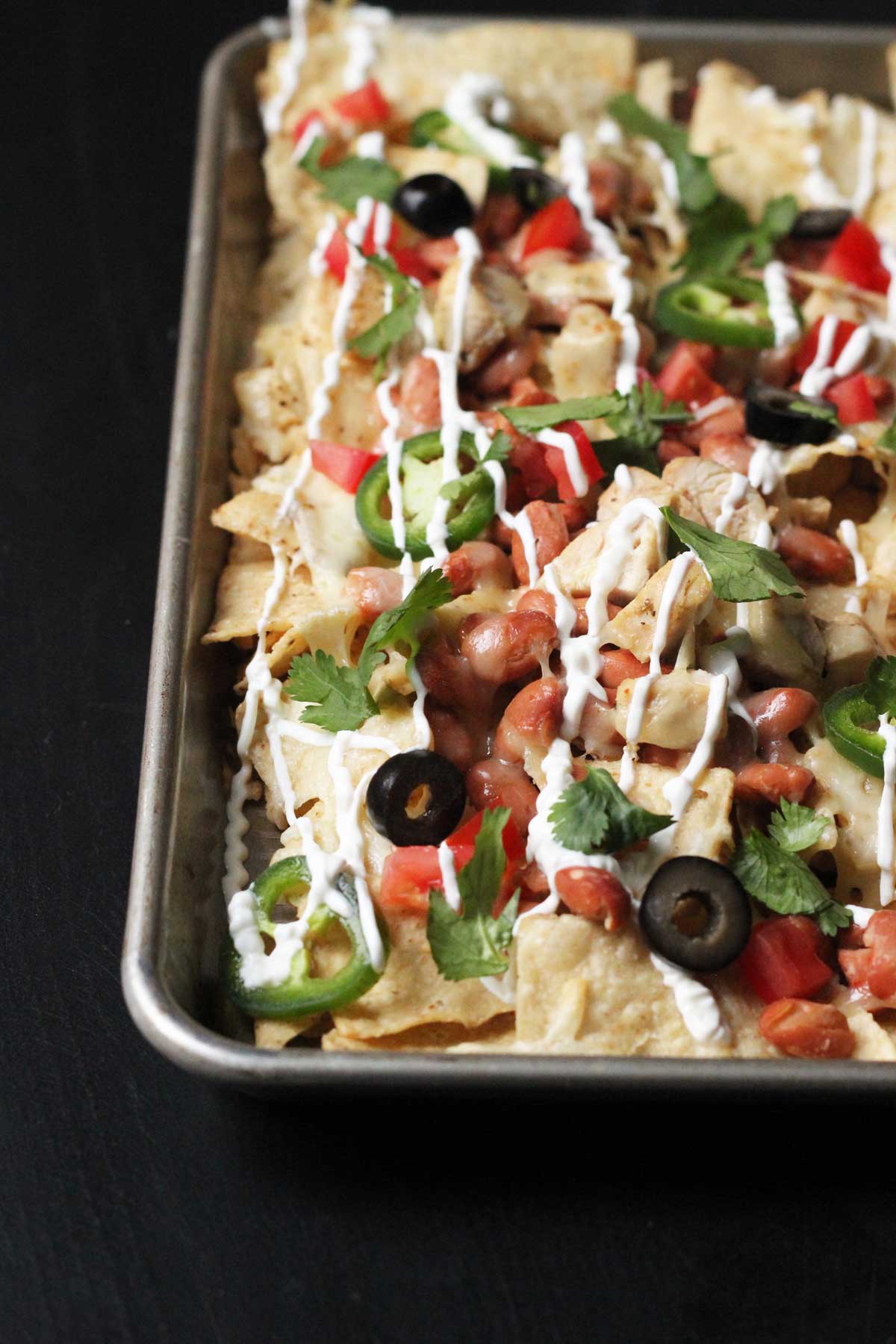 Nachos are perfect for this time of year when chip sales are in abundance. Serve cooked beans, taco meat or shredded chicken, and a variety of toppings. Encourage each kid to fill his bowl with whatever goodies he likes and serve with a plate of chips on the side. No utensils necessary as the chips serve as scoopers.
Consider making my fave, Not Soggy Nachos, as it's super easy and the meat mixture is freezer friendly. Walking Tacos and Pepper Bellies are fun, too.
Don't want to go for chips? Make Potato Nachos instead.
This is a great meal for parties and get togethers since you can make One-Pan Chicken Nachos en masse, whether as a main dish or just a DIY appetizer.
But it's quick to pull together for lunch any old day.
Make-ahead Tips
While the nacho chips themselves will get soggy if made in advance, you can prep all the components so that right before serving time, you just need to heat and assemble.
Precook meats and beans. Chill and store in meal-size portions in the freezer.
Shred the cheese. It can also be frozen in meal-size bags.
Prep a homemade salsa, pico de gallo, or guacamole. These make nachos taste extra special.
Increase the veggie factor by including Fajita Vegetables, shredded lettuce, or Cactus Salsa.
Salads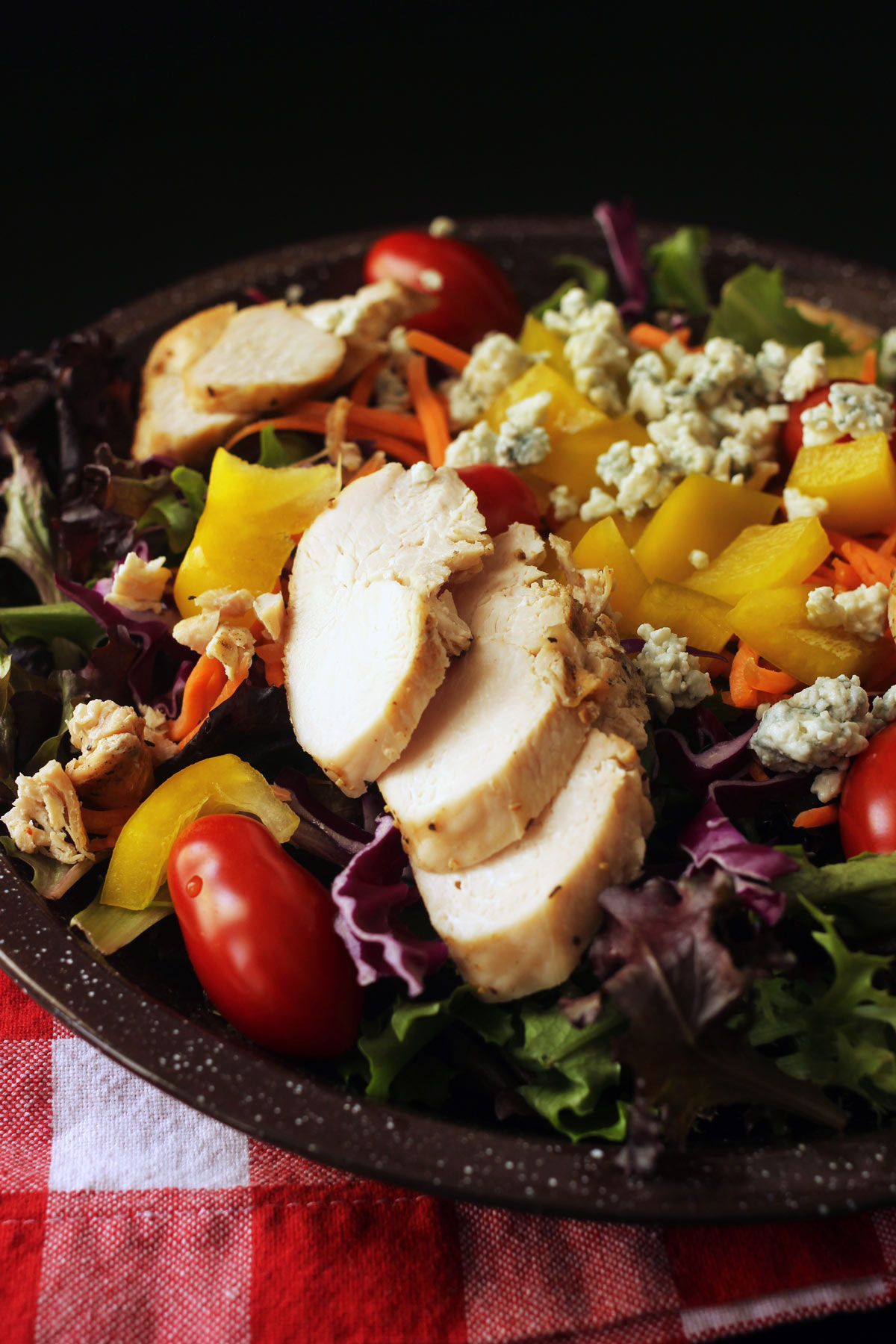 Entree salads are my favorite of these summer lunch ideas as they are a great way for everyone to cool off and get their daily dose of vegetables. In fact, meal prep salads are a boon to busy families, whether you make them single serve or family size.
Kids will enjoy salads if you include them in the planning and prep — and make sure you've got some good dressings on hand. Homemade dressings are some of the best, and you can easily make your favorites, from Italian Salad Dressing to Homemade Buttermilk Ranch.
Make-ahead Tips
Consider prepping a Salad Bar so everyone can choose what s/he wants.
Prep all your toppings in advance: chopped lettuce, tomatoes, onions, peppers, cucumbers, etc. In fact, you can easily Meal Prep Vegetables for the Whole Week.
Mix up some favorite dressings.
Prep some fun toppings, like Cheese and Garlic Croutons or Maple Spiced Pepitas.
Include some hearty protein options, like garbanzo beans, Grilled Chicken Strips, hard cooked eggs, and tuna.
There are so many great summer lunch ideas, that the mid-day meal can be an easy, make-ahead affair that pleases everyone at your picnic table.
How to Prep for Easy School Year Lunches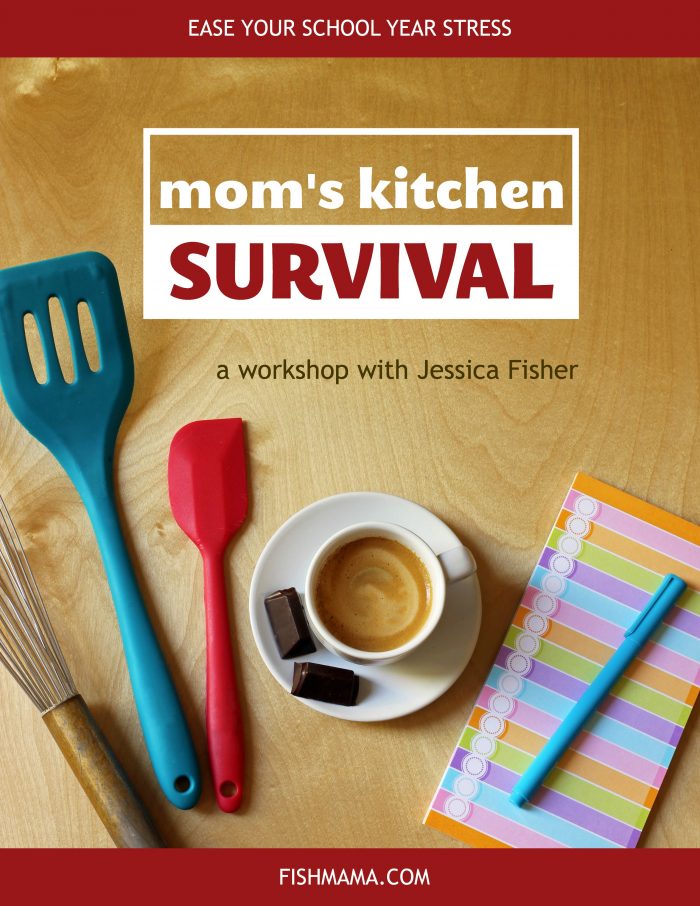 Have you considered creating a kitchen survival kit to help you WIN in the kitchen? I'd love for you to join me for the upcoming Mom's Kitchen Survival Workshop.
You'll create a plan to help you get dinner on the table every night, fill your freezer with wholesome snacks and breakfasts, finesse your lunch-packing skills, and even make sure you get a daily dose of MOM food.
Take the workshop and set yourself up for success!
This post was originally published on June 10, 2012. It has been updated for content and clarity.