Can't decide between an egg salad sandwich and a BLT? You don't have to! This Egg Salad BLT sandwich combines them both into one fantastic meal.
Sandwiches often get a bad rap. Boring. Mundane. Predictable.
Seriously? That's crazy talk. There's so much you can do with a sandwich that you can't possibly become bored!
Change the bread. Swap the filling. Add an interesting spread. Toast it. Marry two of your favorites together!
That's basically what's happening here in this Egg Salad BLT Sandwich. It's got the creamy deliciousness of a simple egg salad punctuated by the smoky crunch of bacon, the tender bite of tomato, and the fresh crisp of leaf lettuce.
In a word: Awesome.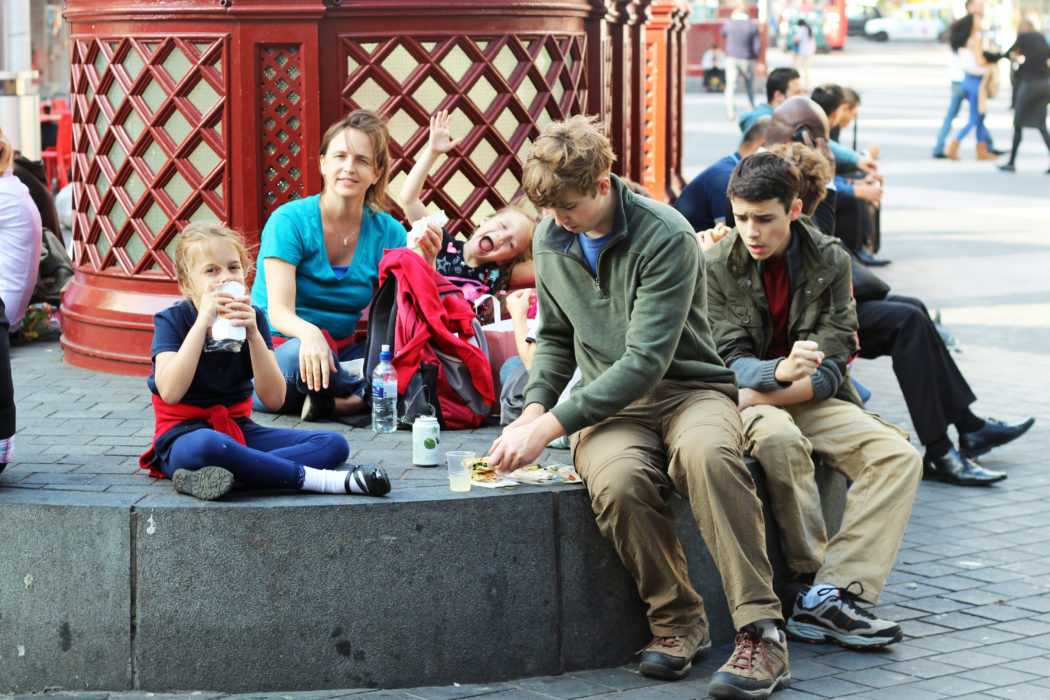 Pictured: FishFam enjoying a sandwich picnic in London
While we don't eat out often, I love getting inspiration from restaurants, especially for sandwiches. Often times, chefs will take that little bit of extra time to craft a creative sandwich. And though you may pay a pretty penny for that creativity while dining, it turns out that it's a really simple tweak you can make at home for cheap!
That's pretty much how I came up Chicken Caesar Baguette Sandwiches, the Chicken Salad Club, Ham and Cheese Foldovers and the Spring Street Club, all amazing sandwich combos, inspired by memorable meals out.
Next time you're looking for fresh sandwich inspiration, just pull up the menu of your favorite restaurant and see what they cram between two slices of bread!
Or better yet, grab a copy of A Month of Grab & Go Meal Plans. It's chock full of easy to prep sandwiches, salads, and bowls, that taste great without the wait!
So, about the Egg Salad BLT…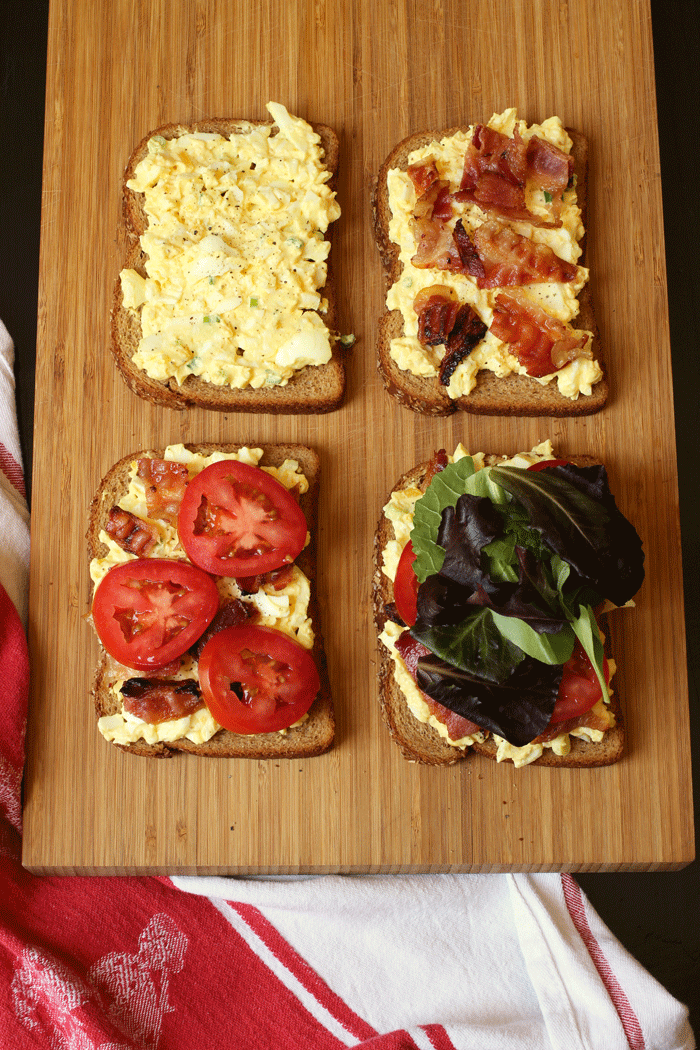 Egg Salad BLT Sandwich
This sandwich is pretty easy to assemble and features just a few ingredients, all of them real. No processed junk for this sandwich.
What is egg salad?
Egg salad, called egg mayo in the UK, is a sandwich filling made of chopped, hard cooked eggs, mayonnaise, and seasonings. Myriad variations exist, including the addition of chopped celery, chopped pickles, chopped onion, and fresh herbs.
Egg salad is in the same family of recipes as chicken salad, tuna salad, and ham salad, all mixtures containing mayonnaise that are used as sandwich fillings.
Of course, if you want to skip the mayo, try my hard boiled egg sandwich instead.
What is a BLT?
BLT stands for bacon, lettuce, and tomato sandwich. It's usually prepared on lightly toasted bread with a spread of mayonnaise and pepper, then layers of bacon, lettuce, and tomatoes before being topped with a second slice of toasted bread.
What is an Egg Salad BLT?
An Egg Salad BLT is a delicious marriage of the two sandwiches. Layer egg salad on lightly toasted (or untested) bread, then add bacon, tomatoes, and lettuce.
The sandwich is best served right after assembly so the bread doesn't get too soggy.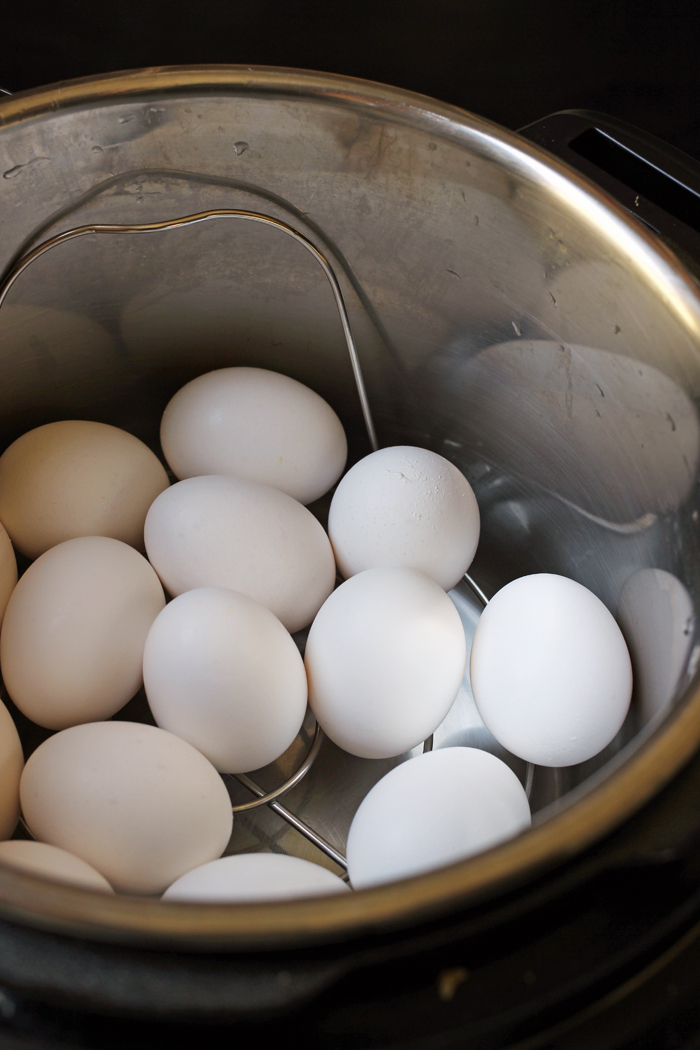 How do you make an Egg Salad BLT?
This sandwich is incredibly easy to make.
Start with making the egg salad. You'll need to hard cook the eggs. You can do this on the stove or hard cook eggs in a pressure cooker. Cool and peel them and chop them or mash them with a potato masher. Add enough mayonnaise to hold it all together.
Next, cook your bacon. Baking bacon is an easy, low-mess way to prep it. Drain it well and chop it into bite-sized pieces. You don't normally chop bacon for a BLT, but that's because you can bite into a BLT without worrying over filling gushing out. Since you'll have a hearty dose of egg salad in your sandwich, better to chop the bacon first.
Assemble the sandwich. Decide whether or not you want to toast the bread. Then, spoon the egg salad over the first slice of bread. Add a layer of chopped bacon, a layer of sliced tomatoes, and top it off with a layer of lettuce or baby greens. Add the top slice of bread and devour.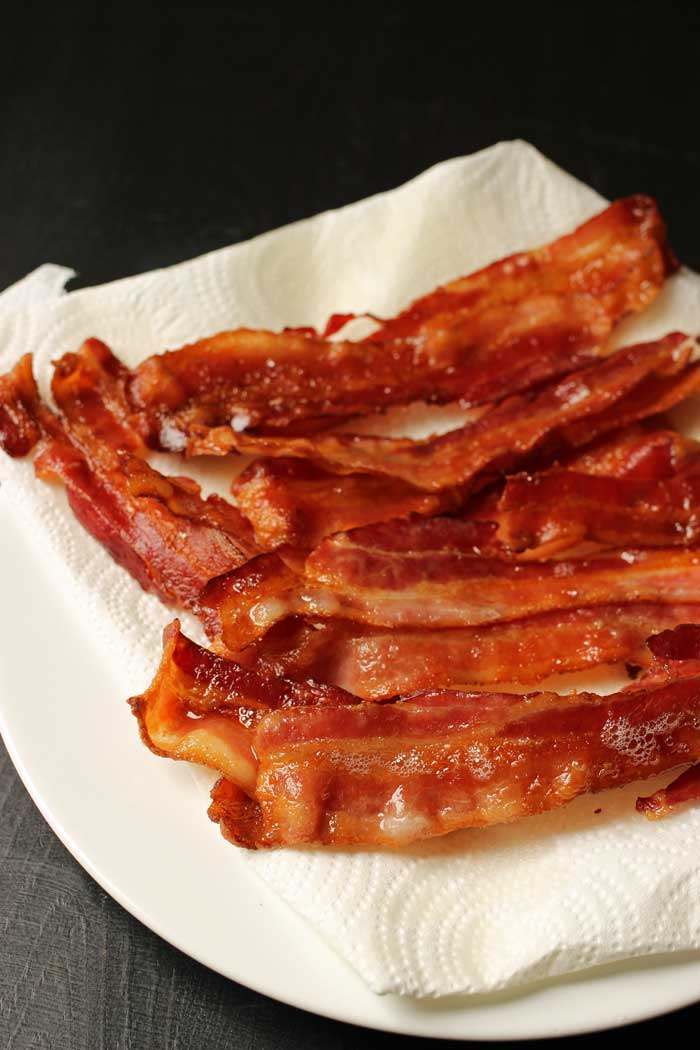 How to make this good and cheap:
Here are some of the strategies you can use to make this Egg Salad BLT sandwich recipe more economical:
Stock up on ingredients when they are on sale. Bacon is the high ticket item here. Buy it when you find it on sale. When I see a good price, I buy several pounds and store the extras in the freezer.
Bake your own bread. For such a simple ingredient, sandwich bread can be pretty pricing. Baking your own isn't difficult and can garner you an artisan loaf for about $1!
To save time:
Keep a few hard cooked eggs on hand – they keep for quite some time — so you can make egg salad whenever you want.
Also, bacon can be frozen! Just cook, cool, and wrap well for freezing. It thaws very quickly so you can add a bit to any recipe for a little punch of flavor.
Tools I use to make this recipe easy:
These Egg Salad BLT sandwiches are pretty straight-forward. You don't need any fancy equipment. However, having some good basic kitchen tools can really make your time in the kitchen more enjoyable. Over time, I've honed my collection so that they are perfect for my needs. Here are the tools that I like to use in this recipe.
Egg Salad BLT Sandwich
Can't decide between an egg salad sandwich and a BLT? You don't have to! This Egg Salad BLT sandwich combines them both into one fantastic meal.
Ingredients
5

eggs (hard-cooked)

peeled

2

tablespoon

mayonnaise

or more to taste

1

green onion

chopped

yellow mustard

salt

black pepper

8

slices

whole grain bread

8

slices

bacon

cooked and chopped

3

tomato

sliced

2

cups

baby greens

or baby spinach
Instructions
In a medium bowl, mash the eggs with a potato masher until desired consistency.

Add the mayonnaise, scallion, and mustard to taste. Stir gently to combine. Season to taste with salt and pepper.

Lay out four slices of bread. Divide the egg salad mixture among the slices. Divide the bacon and sprinkle atop the egg salad. Layer tomatoes over the bacon. Place a small handful of greens on each.

Top with the remaining slices of bread. Slice in half and serve.
Notes
Note: If packing for take-away, consider packing the egg salad separately in small dishes and assembling right before eating.
Nutrition
Calories:
238
kcal
|
Carbohydrates:
5
g
|
Protein:
14
g
|
Fat:
17
g
|
Saturated Fat:
4
g
|
Cholesterol:
251
mg
|
Sodium:
415
mg
|
Potassium:
303
mg
|
Sugar:
2
g
|
Vitamin A:
970
IU
|
Vitamin C:
12
mg
|
Calcium:
38
mg
|
Iron:
1.3
mg
Tried this Recipe? Tell us what you think!
Your reviews help us develop better recipes and give newcomers the confidence to try your favorites. Scroll down to leave a starred comment.