Hey there! I'm Jessica Fisher. And I want to invite you to the Good Cheap Eats Club.
As a mom of six kids, I understand how busy life can get. You want to enjoy great meals, but finding the time to get in the kitchen can be hard.
Having paid off $60K in debt and negative equity over the last recession, I also know what it's like to be on a strict budget.
Yet, along with chasing little kids and pinching pennies, I was still able to provide great meals for my family thanks to strategies that helped me stretch my dollars—as well as my days.
And we could eat well without my losing my sanity.
Do things ever feel crazy in your kitchen?
You're too tired to shop, too frenzied to prep your meals.
You run out of time to make dinner…and then it's pizza…again.
And your food budget? It's out of control!
You know your family would eat better if you had a simple plan you could actually stick to…
…if only life would just SLOW DOWN a little!
The bad news is, life probably won't slow down just for you.
The good news?
It doesn't need to.
With the right systems and resources, done-for-you meal plans, and real life support, you can finally WIN in your kitchen.
What if you were able to serve great meals …
… in short order,
… staying on budget,
… all while feeling like YOU were in control of your time and grocery money?
Time to make dreams reality.
Introducing: The Good Cheap Eats Club
The practical support you need to go from dinnertime drop-out to every-meal HERO.
(Yep, even you.)
No matter where you are now, you can do this!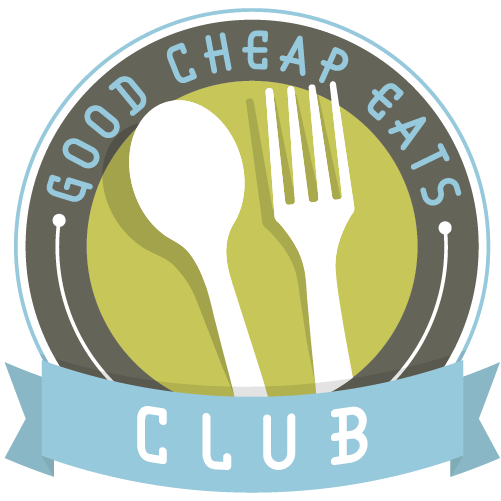 As a member of the Club, you'll:
Set a grocery budget that makes sense for you in this season of life.
Assess your current kitchen practices and build on what's really working for you.
Identify stumbling blocks to meal planning, shopping, and cooking so that you can overcome them.
Learn how to plan meals that everyone enjoys, including your pocket book.
Ditch the overwhelm and take charge of your kitchen, your time, and your grocery budget.
Monthly membership to the Good Cheap Eats Club includes:
weekly meal plans to help you make dinner easily and on budget
personalized kitchen coaching to troubleshoot specific challenges you've got in the kitchen.
a private chat forum (on Discord) to connect with other home cooks, ask questions, and get feedback.
monthly live events to learn new skills and strategies for meal planning and preparation
a rotating resource library to enrich your kitchen experiences and increase your savings.
a 25% discount on all digital resources available at GoodCheapEats.com
---
What's Happening in October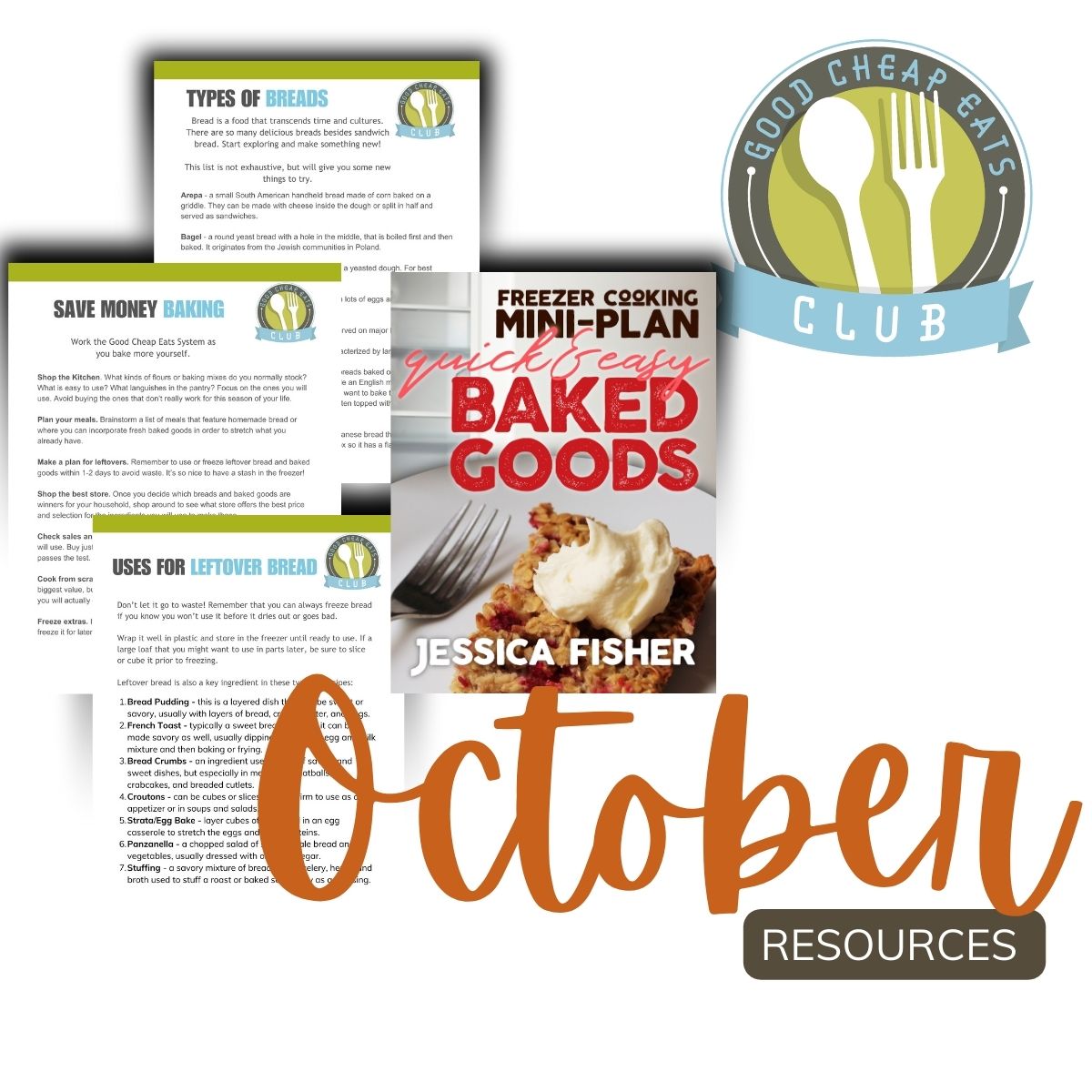 Our October topic is Home Baking, with an emphasis on stretching our grocery dollars by baking our own bread.
Included in July's resources:
Freezer Cooking Mini Plan: Quick & Easy Baked Goods – this is a freezer meal prep plan to set you up with delicious baked goods to serve for breakfast and snacks.
info sheets for Types of Bread, Saving Money Baking, Uses for Leftover Bread, How to Maintain a Sourdough Starter, and Homemade Sourdough Recipes.
A live Master Class on the month's topic: baking at home.
All past livestreams and recorded videos will be included in your membership as well as a full library of digital resources, courses, and meal plans.
Join Now
You can find a subscription level that's right for you and your budget!


Subscribe for $15/month – Cancel at any time.


Get TWO months free when you subscribe for a year! $150/year.


Save when you subscribe for a quarter! Just $40/three months.
---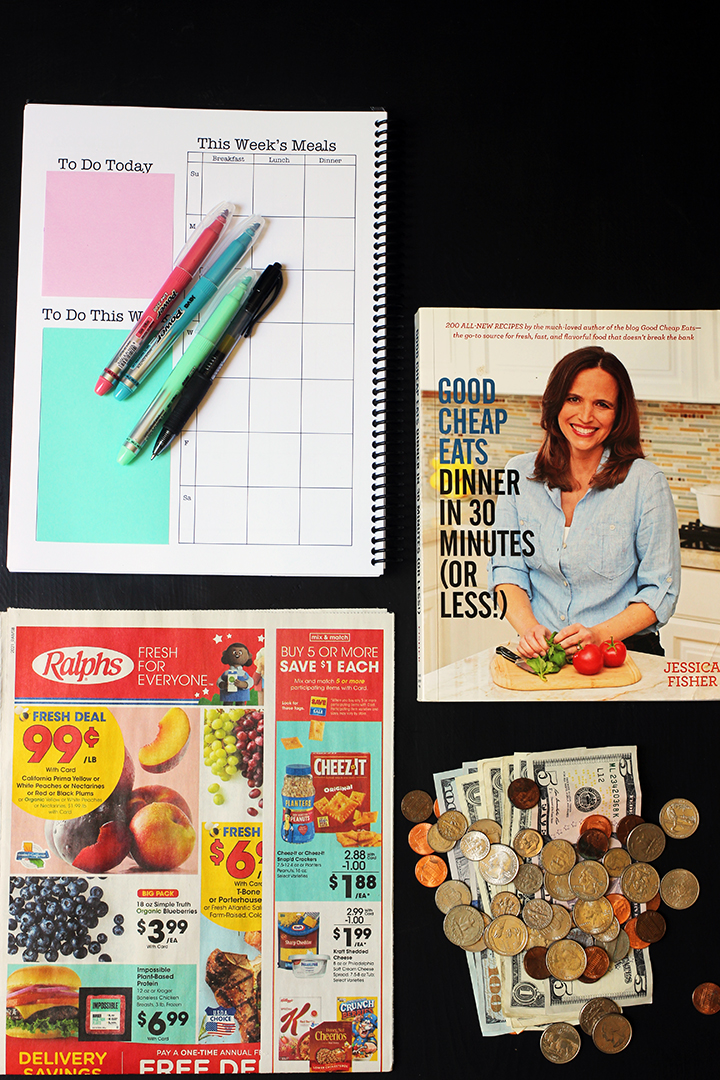 Over the years I've written four cookbooks, all with delicious budget-friendly recipes that are a hit at tables across the world. However, I know another recipe isn't going to change your life.
Good habits do.
When you become a member of the Good Cheap Eats Club, you'll learn new strategies and how they will work to help you spend less on groceries, save time, and eat incredibly well.
Through live master classes, coaching calls, and personal interaction in our chat group, you'll discover your strengths and improve on your weaknesses in the kitchen, in meal planning, and in grocery budgeting.
Your habits will better reflect who you are and what you want out of your wallet and your kitchen.






Make an investment in you and your future self.
Don't let lack of knowledge hold you back.
Don't keep on doing the same thing and hope dinner magically makes itself.
Don't pay more for groceries and lose out on extra cash in the budget.
Taking charge of your time and your grocery budget will not only earn that money back, but your savings will far exceed the cost of the membership.
Join and get started on the road to better meals, a balanced budget, and more freedom to do the things that are most important to you.
Find a subscription level that's right for you!