Do you struggle with paying down debt or just getting by?
Do you rely on expensive convenience foods because you don't know how or don't have the time to make something else?
When you do cook, does it seem to take hours? or a small fortune?
I believe that by making your money work for you in the kitchen, you will free up extra funds and reach your financial goals. Not only that but you'll find a peace of mind that allows you to enjoy so much more of your life.
Sara is living proof of this! Here's what she writes:
I have spent time with your book Good Cheap Eats and website. It's been transformational. Not only do we love your recipes, but your ideas and tips have reduced my stress in grocery shopping and dinner prep.

With meals prepped and other easy items on hand, we're more than ready to finish the month on budget and well-fed.

— Sara, mom of two
YOU can have this, too.
Imagine: knowing exactly what's in your kitchen — and that it is all fresh and not past its expiration date.
Imagine: having a plan when you go grocery shopping and not spending more than you have.
Imagine: Enjoying home cooked meals that you made yourself — without breaking a sweat or cursing under your breath.
If you're craving confidence in the kitchen and home cooked meals everyone loves, then it's time to join us at the Good Cheap Eats table.
Fill in the form below to start the adventure!
Hi, I'm Jessica. Welcome to Good Cheap Eats!
It used to be that I, too, wasted food and money, spending hours shopping and cooking meals that were devoured in seconds — or picked apart by someone who didn't like what I was dishing up.
I was spinning my wheels and wasting my resources….until I learned some key strategies to meal planning and grocery shopping that helped our whole family enjoy what I was cooking, saved me time, and kept more money in my wallet.
The Good Cheap Eats System has enabled us to make our money do so much more for us. We've paid down debt, sent kids to college, traveled the world, and even put some aside for retirement. In part, thanks to what we do in the kitchen!
Among my six children, I've got one who eats vegan, one who has a life-threatening nut allergy, and one with celiac who must eat gluten-free. I know what it's like to have another food challenge laid on top of the budget.
I get it. And I'm here to help!
What you'll find at Good Cheap Eats:
RECIPES that are delicious, simple to prepare, and easy on the wallet
MEAL PLANS designed to take the guess work out of menu planning, grocery-list making, and what to do with leftovers
A PLANNER created to help you save time and prioritize in the kitchen and out.
A CLUB where you can connect with other home cooks and learn better strategies to make your grocery dollar work for you.
What folks are saying:

I have a family of 8 and your website has helped me really cut down on my grocery budget. — J.B.
I never knew that I could fight for my family and pinch pennies to pay down debt. We live in an affluent area and budgeting our groceries was a completely foreign concept to me. I used to rarely cook (because I didn't know how!), we did take out, or ate out for dinner every night. Now, I plan meals, cook every night, and eat leftovers for lunch. You made budgeting cool! — Emily
One day my daughter wanted to cook dinner with me! I told her about your blog and how I often save your recipes and have made some of them which she likes. Your quick simple pizza sauce alone has transformed our Pizza Nights. We chose your lasagna recipe and it was an out-of-the-park home run! It was sensational. Absolutely delicious. We all could not stop commenting on how yummy it was. My daughter was beaming at our dinner table last evening and I will never forget it. Thank you for providing me with easy to do recipes so that I can feel more confident in the kitchen. It then allowed me to then have my daughter in the kitchen with me. — Allison

Media mentions
Eating Down the Pantry: How to Save by Eating Just What's in Your Cupboard | ABC News – Good Morning America
Jessica Fisher on Good Morning America
Jessica Fisher on NBC San Diego November 2, 2012 from Jessica Fisher on Vimeo.
10 Ways to Use Up Leftover Milk | The Guardian
12 Most Genius Shopping Tips of All Time | Delish
Save Money on Vacation | Redbook Magazine
Big Batch Cooking 101 | Parents Magazine
12 Healthy Dinners for Under $3 per Serving | Self
An Easy Meal Plan to Get Dinner on the Table for Less than $100 a Week | Women's Health Mag
6 Budget Cookbooks that Every Budget-Conscious Foodie Should Check Out | The Penny Hoarder
Expert Interview on Family Financing | Mint
9 Killer Resources for Inexpensive Recipes | US News & World Report
The Cheapskate's Guide to Stretching Your Food Budget | US News & World Report
10 Cheaper, Delicious Ways to Prepare Your Turkey | Go Banking Rates
Great Recipes that Can Be Made on a Budget | Deseret News
Freezer Cooking Guide: How to Meal Plan Like a Boss | Metro US
Frugal, Fabulous Recipes | Mail Tribune
Mom of 6 Shares Recipes for Family Dinners under $10 | Daily Herald
Expert Advice for Stretching Your Protein Dollars While Cooking at Home | The News & Observer
The Best Cookbooks for Budget-Savvy Home Cooks | Smarty Cents
Essential Cookbooks for a College Student's First Apartment Kitchen | Tampa Bay Times
Meal Planning Tips, Tricks, & Recipes | Simplemost
How to Create & Publish a Cookbook | Brilliant Business Moms Podcast
Shop an Ethnic Grocery Store to Save Money, Try New Foods | The Penny Hoarder
How to Have a Holiday Dinner on a Budget | Go Banking Rates
3 Easy Ways to Make Money Without Leaving Your Kitchen | First for Women
Find my work elsewhere
Regular Contributor | The Kitchn
Three Tips for Baking with Children | Bob's Red Mill Blog
5 Simple Ways to Get Dinner on the Table | The Art of Simple
5 Ways to Make Freezer Cooking Work for You | Simple Bites
My Cookbooks
I've written four cookbooks with the Harvard Common Press. You can find these in your local library or favorite book store. You can also order them on Amazon.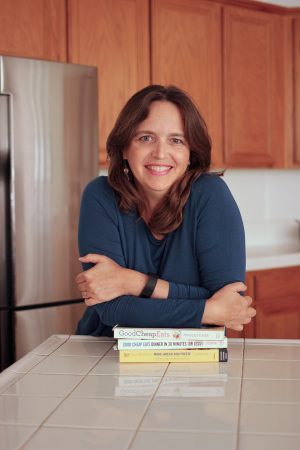 I am here to help YOU make the most of what you've got. If you'd like to chat about your specific challenges, send me an email: [email protected]