Use up that sourdough starter discard in this delicious and flavorful sourdough pizza crust. Mix the dough in the morning and it's ready to bake into pizzas at dinnertime.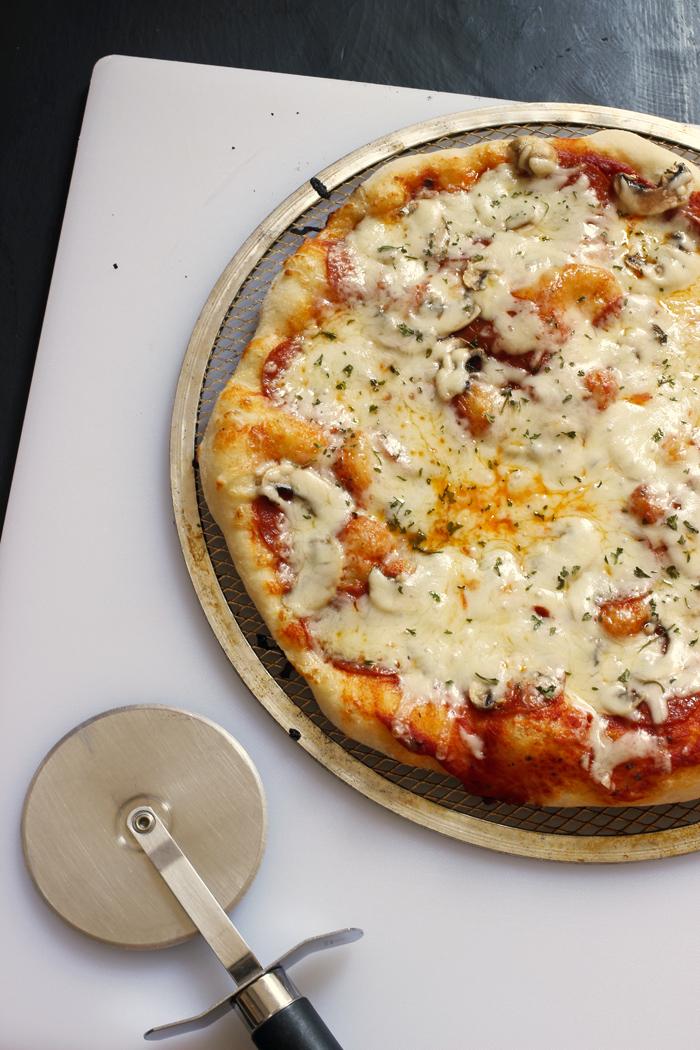 Should you decide to tackle the art of baking with sourdough, then you're going to want to make a few things besides bread. I know I did.
A few years ago, I set myself to the task of learning to bake with natural yeast, that is sourdough. Previously, I had thought of sourdough starter as a flavor enhancer. I didn't realize that it alone could be the leavening in your bread.
Proof that there's always something new to learn in the kitchen. Sourdough pizza being one to add to the top of your list!
If you've ever fed a starter, you know that it quickly doubles and triples and explodes all over your counter. Conventional wisdom says to discard half of your starter prior to feeding it in order to control this rapid growth.
But, my friends, there's a reason there's a cheap in the name, Good Cheap Eats. I really don't like wasting things, particularly food. And since I use good quality flour, the idea of throwing away half my starter seemed wasteful.
So, I hunted down recipes that used sourdough discard.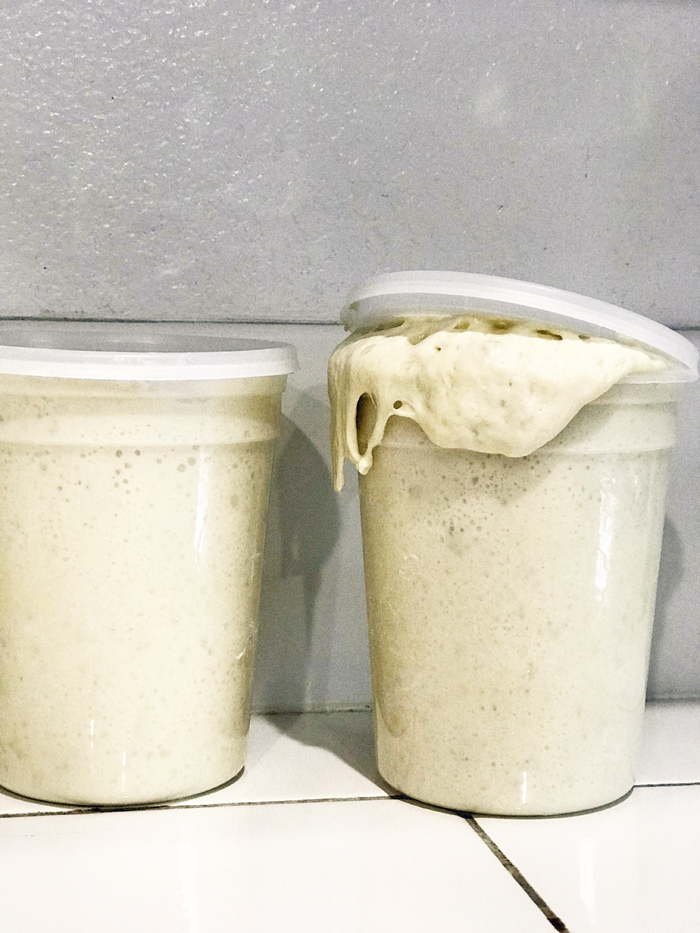 During that first year of sourdough bread baking, when The Blob was a common sight on my kitchen counters, I tried a lot of different discard recipes: pancakes, waffles, flatbread, focaccia, crumpets, and pizza.
The only two that we really enjoyed — all the others were way too sour — were the crumpets and the sourdough pizza.
My cousin Laurie first clued me into the idea of making sourdough pizza on the grill, for which my entire family is eternally grateful. Over my Year of Sourdough, I played with the recipe she shared and fiddled with it until I was really happy with it.
In order to get the texture and flavor that we liked best, I added a sweetener and olive oil, both ingredients that are present in my Whole Wheat Pizza Dough. While I love sour sourdough bread, I do not love sour pizza. These additions seem to round out the sourness.
If you prefer, you can omit the honey and oil, just keeping an eye on the moisture of the dough and adding a bit more water if need be.
Is sourdough pizza better?
My husband certainly thinks so! Grilling pizza is a highlight of his week, and he prefers the sourdough crust.
Some say that sourdough is healthier for you than dough made with commercial yeast. They claim it's more easily digestible. I'm not sure about that, but we do like the flavor.
What is the best flour for pizza dough?
We've made this dough with both unbleached, all-purpose flour and bread flour. My daughters actually did a science experiment, determining the amount of gluten in both kinds that we use, Wheat Montana and Bob's Red Mill, respectively.
There isn't a huge difference in the gluten development of the two. Both are good and we didn't see much difference in texture in the finished product.
Can you freeze sourdough pizza crust?
Yes, you can freeze pizza dough, but you do run the risk of the dough not rising as well after thawing as it might when freshly made. I've found that sometimes the yeast doesn't kick into gear. I prefer to make my dough the day before or the day of baking.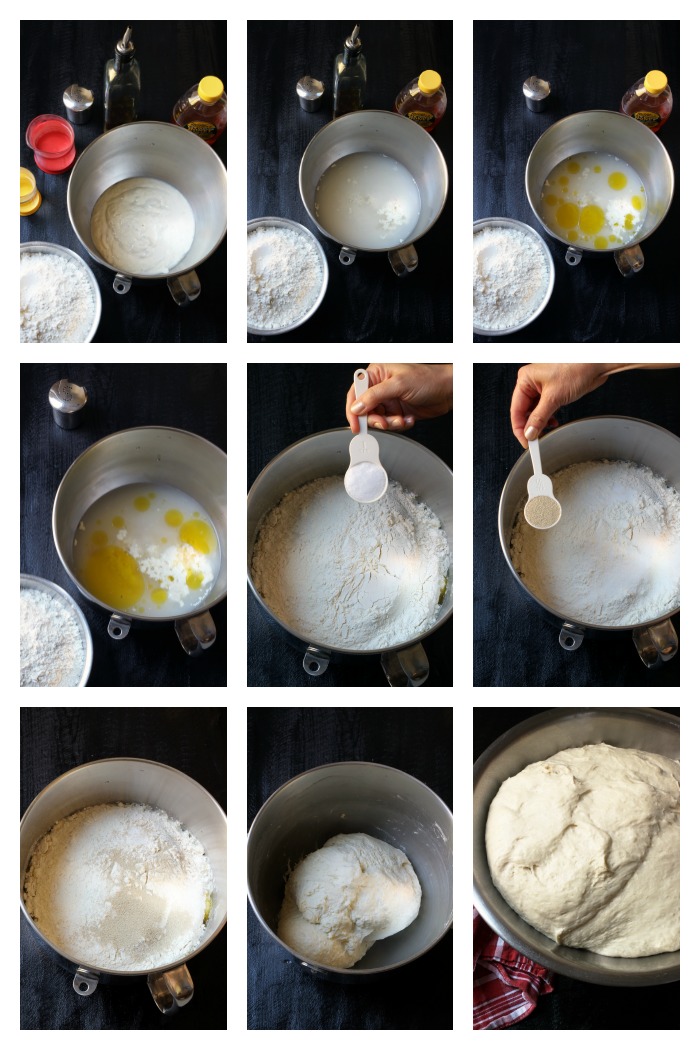 How do you make sourdough pizza?
Mixing up a batch of sourdough pizza dough is a regular Friday morning activity at this house. The process is pretty simple, especially if you have a stand mixer.
Weigh out the sourdough starter discard into a mixing bowl.
Add the hot water.
Add the olive oil and honey.
Next add the flour, salt, and additional yeast, if using.
Knead the dough with a dough hook until smooth and elastic, adding a bit of water if needed to make a smooth, stretchy dough.
Place the dough ball in a greased bowl and allow to rise 8 to 1o hours, or until doubled in bulk.
Divide the dough into equal portions. Form each into a dough ball and allow to rest for a few minutes.
Form each dough ball into a large round.
Place each round on a greased pizza pan. Add toppings and bake.
Do you need to use commercial yeast in sourdough pizza?
I find that if my starter "discard" is still bubbly and I'm starting my dough before lunchtime, I usually don't need to add any additional yeast to the dough, to have it rise by dinnertime.
If the starter has been refrigerated or I start the dough late in the day, I add a teaspoon of SAF yeast to guarantee a good rise.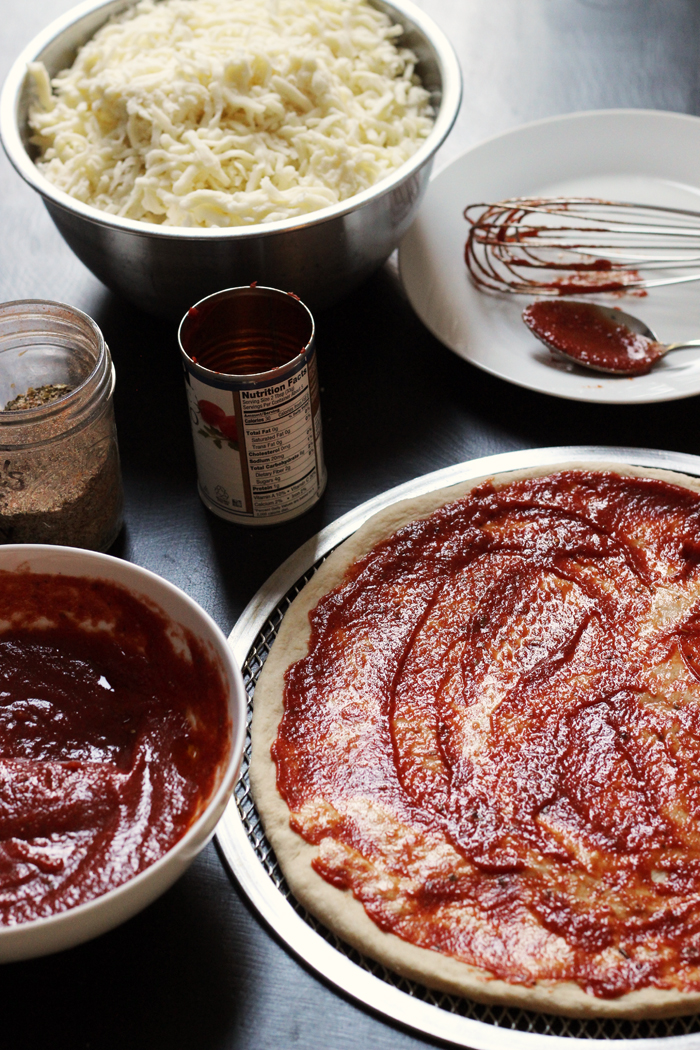 How to make homemade pizza inexpensively
All of my recipes are affordable to begin with but there are some things you can do to make sure you're spending well. Here are some of the strategies you can use to make this recipe more economical:
Tools I use to make grilled pizza easier: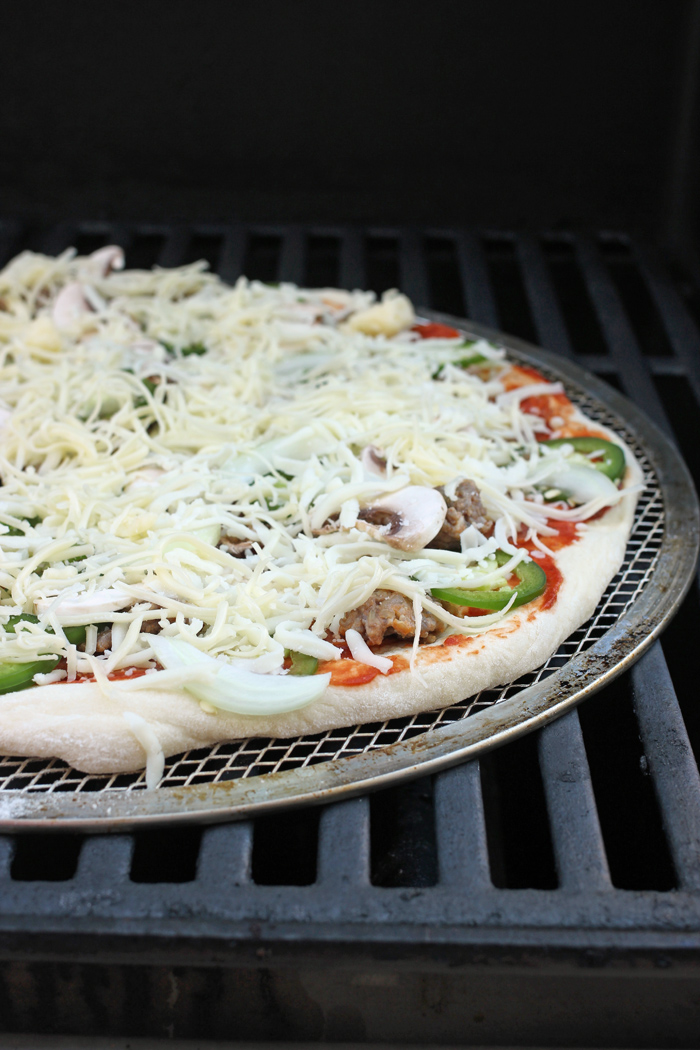 If you prepare this recipe, be sure to share a picture on social media and hashtag it
#GOODCHEAPEATS
. I can't wait to see what you cook up!
Sourdough Pizza Crust
Use up sourdough starter discard in this easy pizza dough. The flavor is delicious and the dough is easy to work with.
Servings:
3
12-inch pizzas
Ingredients
1 1/2

cup

sourdough starter discard

3/4

cup

water

heated

2

tbsp

olive oil

1

tbsp

honey

or sugar

3 3/4

cup

bread flour

or unbleached, all-purpose flour

1 1/2

tsp

salt

3/4

tsp

active dry yeast

optional
Instructions
To mix in a stand mixer:
In the bowl of a stand mixer, combine the sourdough starter discard, hot water, olive oil, and honey. Add the flour, salt, and yeast, if using.

Using a bread hook, knead the dough until a smooth, elastic dough forms. If the dough doesn't mix easily, add a few more tablespoons of water to achieve this.
To mix by hand:
Combine the ingredients in the order listed in a large mixing bowl. Stir until the dough starts to form a shaggy ball.

Transfer the dough to a lightly floured surface and knead until a smooth, elastic dough forms.

Transfer the dough ball to a greased bowl. Cover with a lid or plastic wrap and allow to rise at room temperature until doubled in bulk, about six to eight hours.

Move the dough to a lightly floured surface. Divide the dough into three equal portions and form each into a round dough ball.

Stretch each dough ball into a large round and place on a greased pizza screen.

Add your toppings and bake on the grill or in the oven at 475 until the crust is crisp and the toppings are cooked, about 5 to 8 minutes.
Notes
If you'd like you can substitute 1 1/2 cups whole wheat flour for an equal amount of the bread flour. This changes the flavor and texture of the dough, but also increases the fiber content.
Nutrition
Calories:
791
kcal
|
Carbohydrates:
144
g
|
Protein:
23
g
|
Fat:
12
g
|
Saturated Fat:
2
g
|
Sodium:
1170
mg
|
Potassium:
185
mg
|
Fiber:
5
g
|
Sugar:
6
g
|
Calcium:
23
mg
|
Iron:
1
mg