Add a dash of French cuisine to your daily salad when you mix up a batch of this simple Dijon Vinaigrette. It's quick to make and adds a flavor that can't be beat.
I grew up eating plenty of salads. I was a salad girl, always choosing a salad when dining out or even when making my own meals. Those salads, however, were always doused in bottled dressing. I didn't know any different.
Then about the time I approached college, I realized you could actually make your own dressing. It wasn't until I spent a year in France and watched Michele and Delphine, my French mom and sister, whip up vinaigrette on the fly, or au pif, as Michele would say.
Over the years I've developed some standard dressings that serve as my go-to dressings: Buttermilk Ranch dressing, Basic Vinaigrette, Cilantro Lime Dressing, and Blue Cheese. And now that I think of it, this Tarragon Balsamic Salad Dressing Recipe is pretty awesome as well. So many salad dressings, so little time.
This classic Dijon Vinaigrette is one that we enjoyed on salads most days, when salad was simply a bowl of greens and vinaigrette served after the main dish and before the cheese course. Thankfully, it goes with any number of toppings on a salade composee as well, making it a must-know in your repertoire of homemade salad dressings.
Michele and Delphine never measure out the ingredients for this Dijon Vinaigrette, just spooning in mustard and pouring in vinegar and oil until it looks right. That's how I generally make it as well. Why dirty more dishes?
For those of you who want more specific amounts, I've provided those here, but don't be afraid to bust out of the measuring spoons and eyeball it. In fact, some folks just mix enough for one salad in the bottom of the salad bowl. Even fewer dishes to wash with plenty of flavor.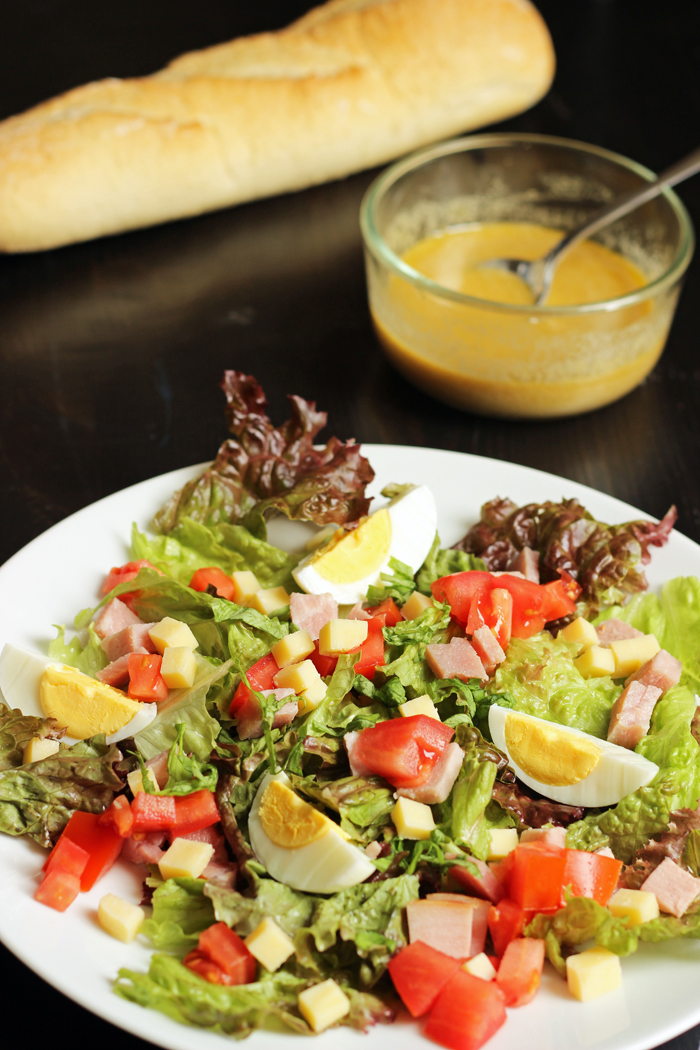 This Dijon Vinaigrette dressing goes great on almost any salad or bowl, with or without fancy toppings. I particularly like it with these:
While it's easy enough to mix up just enough Dijon Vinaigrette for one night's meal, I often mix up a jar of it to use on my daily salads or to pack with my husband's lunches. It should be good in the fridge for about a week. This dressing also works well as a nice chicken marinade.
If you're making this for a Whole 30, be sure to use a compliant Dijon mustard. I prefer Koops.
What I'm presenting here is the straight up version without the embellishment of herbs and spices, but you can definitely go off road and add your favorites to change things up.
Dijon Vinaigrette
Add a dash of French cuisine to your daily salad when you mix up a batch of this simple Dijon Vinaigrette. It's quick to make and adds a flavor that can't be beat.
Ingredients
1

tablespoon

Dijon mustard

2

tablespoon

red wine vinegar

salt

black pepper

⅓

cup

olive oil
Instructions
In a small bowl or jar place the Dijon mustard. Stir in the red wine vinegar and salt and pepper to taste, stirring until well combined.

Add the oil in a thin stream, stirring until a thick emulsion forms. Serve over your favorite salad. Refrigerate leftovers.
Notes
The dressing should be good for about a week in the refrigerator.
Nutrition
Calories:
676
kcal
|
Carbohydrates:
1
g
|
Protein:
1
g
|
Fat:
75
g
|
Saturated Fat:
6
g
|
Sodium:
173
mg
|
Fiber:
1
g
|
Sugar:
1
g
|
Iron:
1
mg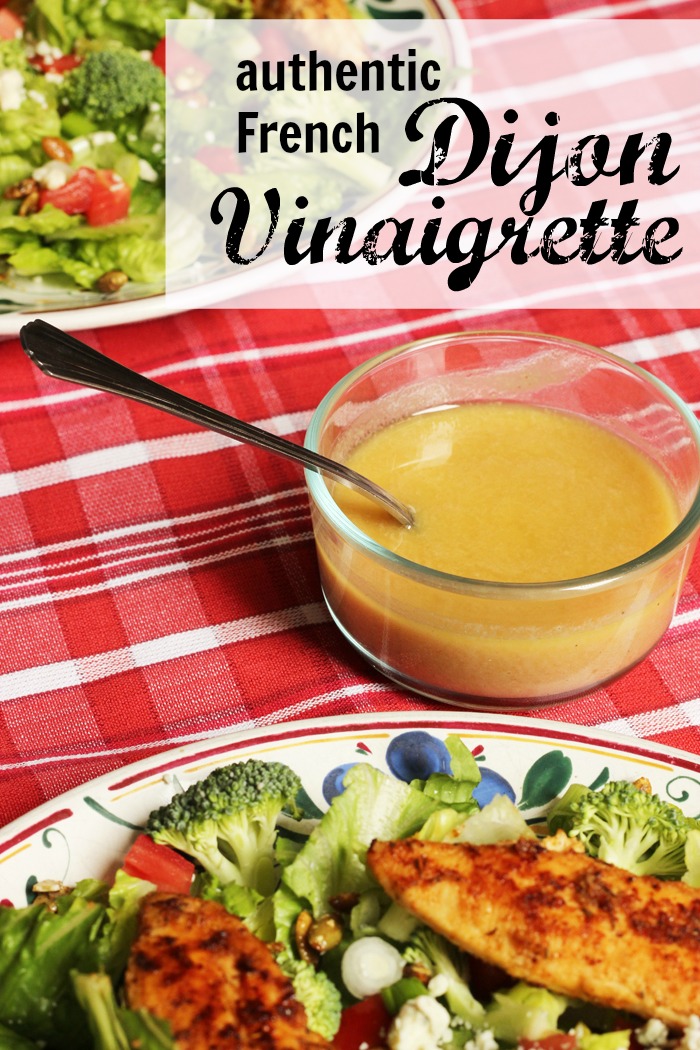 Are you looking for more good cheap eats?