Meal prep salads are a great way to enjoy an easy and delicious lunch. Learn how to make lunchtime easier with a prepped salad just the way you like it.
You want something quick and easy for lunch. You don't want to spend a lot of money. And you're trying to eat foods that make you feel good, not sluggish?
Whaddya do?
A salad would be great, but have you noticed how picking expensive salads are these days? Where a burger or a chicken sandwich will cost you a couple bucks, a salad can ring up as high as 8 to 10 dollars! For vegetables!
What gives?! And more importantly, how can you eat your salad and afford it, too?
Salads can be a refreshing and nutrient-rich meal, but the fragility of greens and vegetables calls for special handling on the part of restaurants and take-out establishments.
The good thing is that you can make your own meal prep salads – fresh and easy!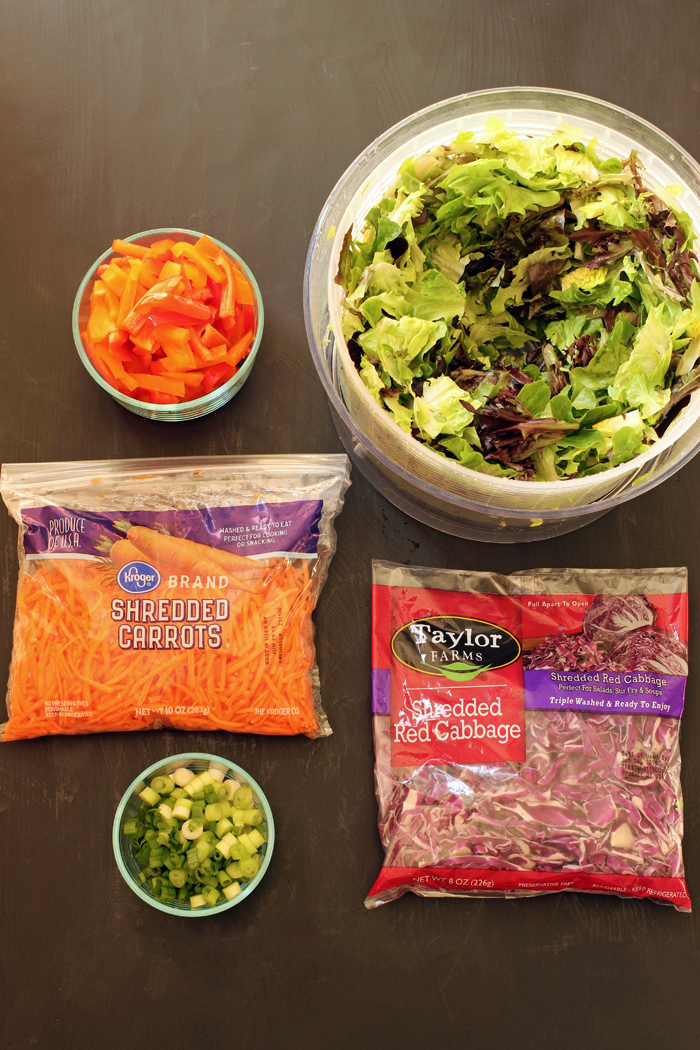 Can you prepare salad in advance?
Salad is a great dish to prep in advance. I regularly stash 4 to 6 basic salads in the fridge to be used in the coming days. The convenience can't be beat, and the taste and texture is so much better than bagged salads from the produce department or what I might get from a fast food restaurant.
How do you meal prep a salad?
To meal prep a salad it's important to use very fresh ingredients. Lettuce, carrots, and other items that are at their end of their prime aren't going to last very long and will leave you disappointed.
Make sure to use fresh ingredients. Wash them well in cool water. I like to wash veggies with white vinegar first to kill surface bacteria and then rinse with water. Spin or pat dry.
Having your ingredients very dry is the key to a long-lasting meal prep salad. Moisture will hasten decay.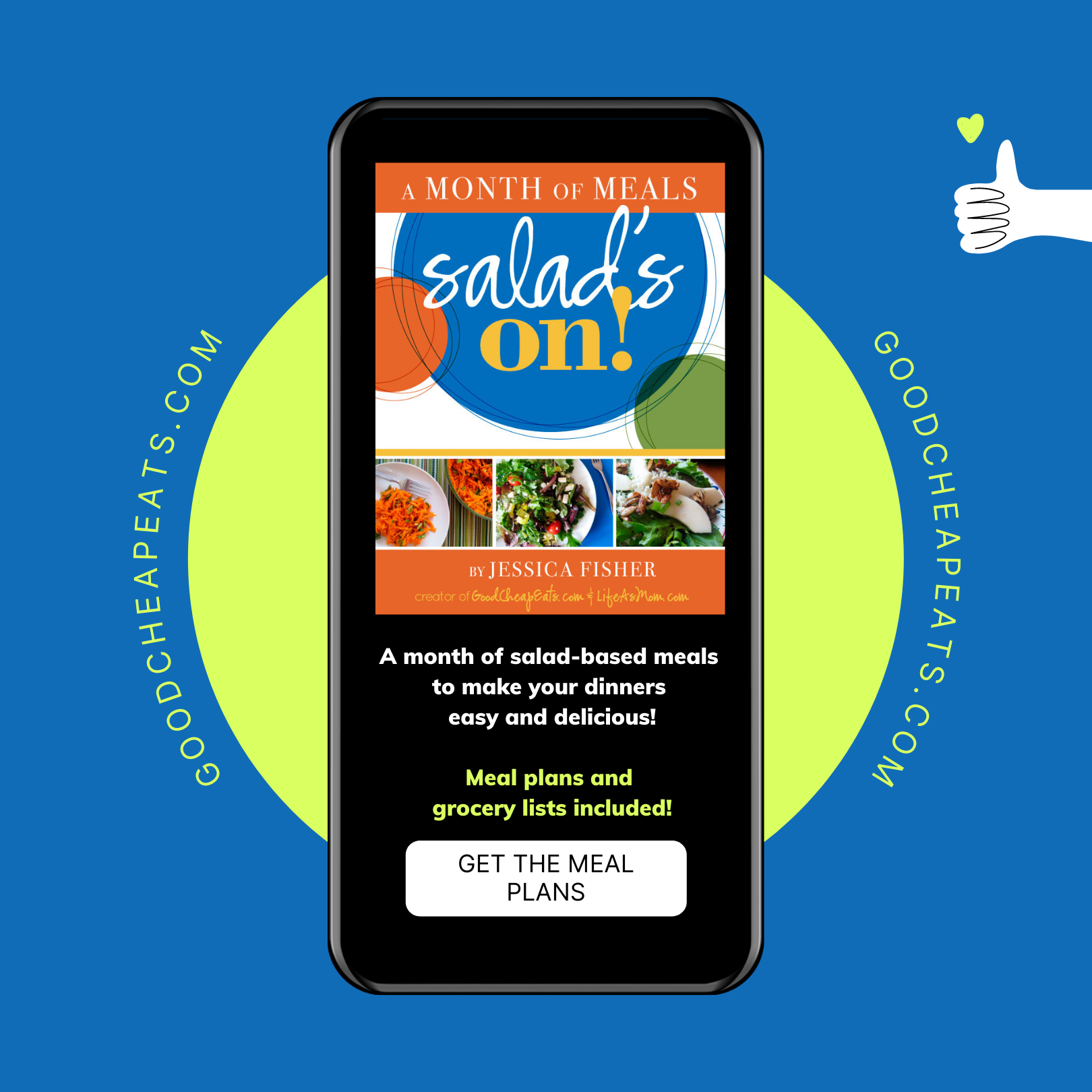 What do you put in meal prep salads?
I make a basic meal prep salad of lettuce, shredded carrots, red cabbage, chopped green onions, and sliced bell peppers. I've found these to be ideal basic ingredients that can go with almost any flavor profile.
I go with this basic "base" salad so that I can add whatever toppings I like on the day in question. I don't have to commit to certain flavor profiles too far in advance and I can add leftover proteins from dinners as the week progresses.
How long do prepped salads last?
Meal prep salads should last 3 to 5 days when prepared with clean, dry ingredients and stored in the refrigerator.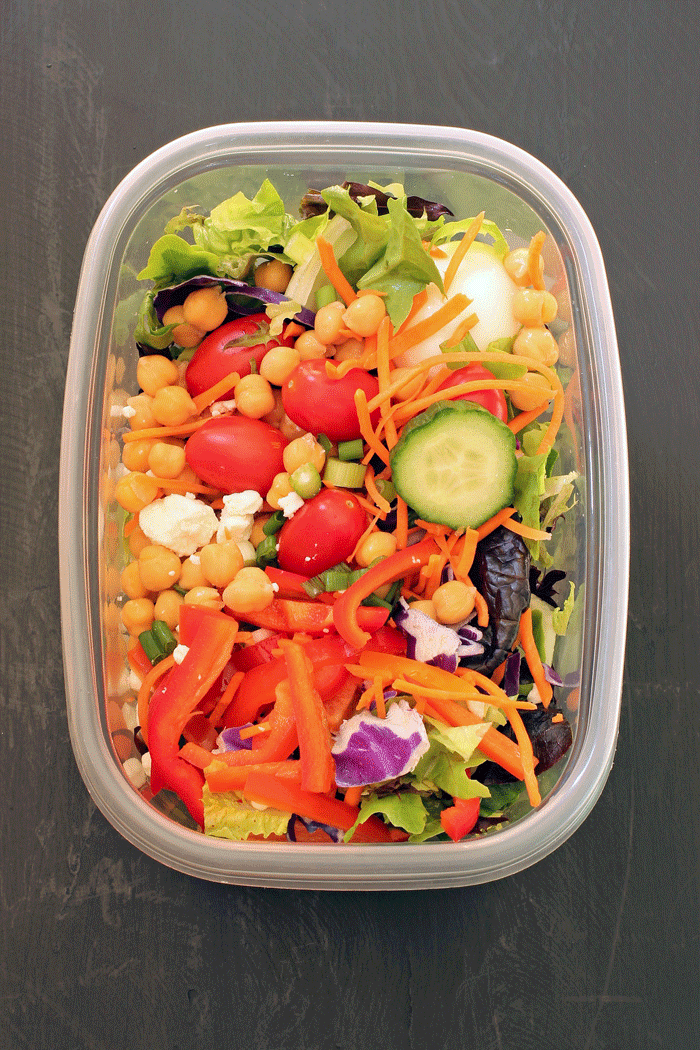 Basic Meal Prep Salad Variations
Once you've got your salad bases prepped and ready to go, you can make things more exciting by varying the toppings.
Keep in mind that adding very wet toppings too far in advance can make the salad soggy and reduce its freshness. Add them closer to serving for best results.
Great toppings to add to your meal prep salads:
fruit, such as berries, chopped apple or pear
beans: black, kidney, garbanzo
tomatoes, chopped or whole grape/cherry variety
cooked potatoes
steamed green beans
corn kernels
sweet peas
diced avocado
cooked chicken
chopped deli meat
canned tuna
cooked shrimp
meatballs
hard cooked eggs
cooked, chopped bacon
shredded or cubed cheddar or Monterey jack
crumbled cheese, such as feta, gorgonzola, goat cheese
chopped nuts
pepperoncini, sliced jalapeños
crushed tortilla chips
Tasty dressings for your meal prep salads: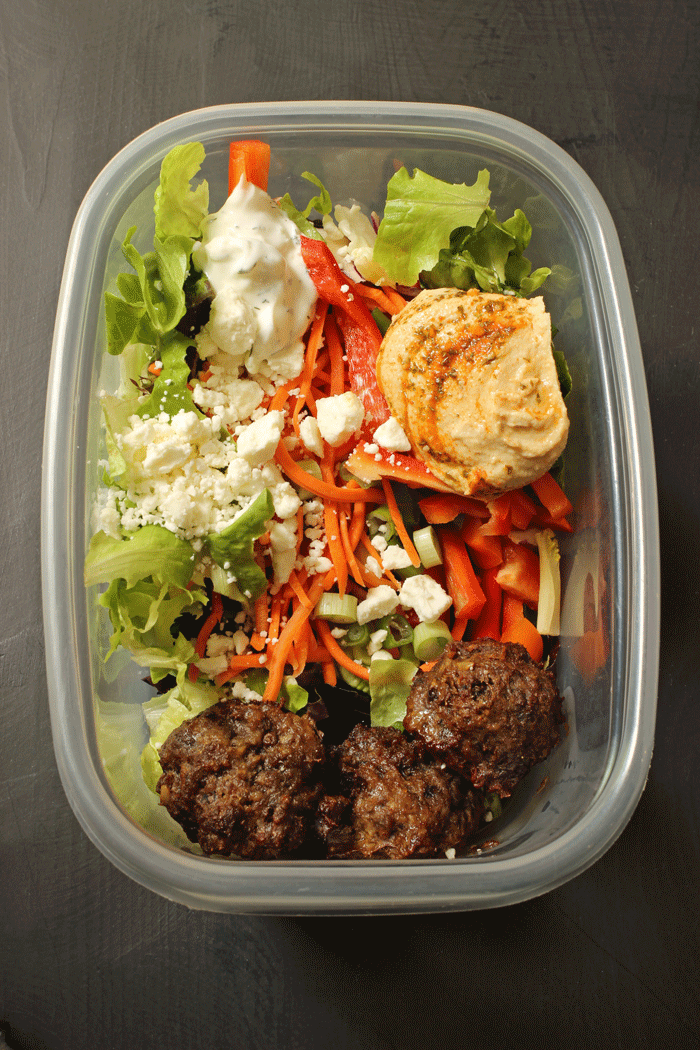 One of the objections to meal prep is that folks don't want to commit in advance to what they're going to eat all week long. I love making basic meal prep salads so that I can decide the day I serve one how I'm going to top it.
Here are some of the ways I can mix things up from day to day:
Variations for meal prep salads
meatballs or falafel, hummus, tzatziki, feta cheese
tuna or shrimp, potato, tomatoes, green beans, vinaigrette
chicken, fruit, nuts, goat cheese crumbles, vinaigrette
turkey, bacon, avocado, onion, blue cheese, hard cooked egg, ranch
ham, cheddar, peas, corn, tomatoes, egg, cheddar cubes, ranch
black beans, tomatoes, sliced jalapeños, avocado, shredded cheese, salsa, sour cream
Can you freeze salad toppings?
Your standard salad toppings are not freezer-friendly. Frozen lettuce? Sog city. While you can freeze a number of vegetables like peppers or onions, they are best for cooking after thawing, not for using in salads.
However, there are many ingredients that you can use as salad toppings that can be prepped and stored in the freezer until ready to use.
Cook, cool, and package in small portions the following:
cooked proteins (chop for easier serving upon thawing)
cooked chopped egg (texture may change upon thawing)
shredded or crumbled cheeses
cooked beans
frozen peas and corn make great salad toppings, no need to cook them in advance, just thaw and add to your salad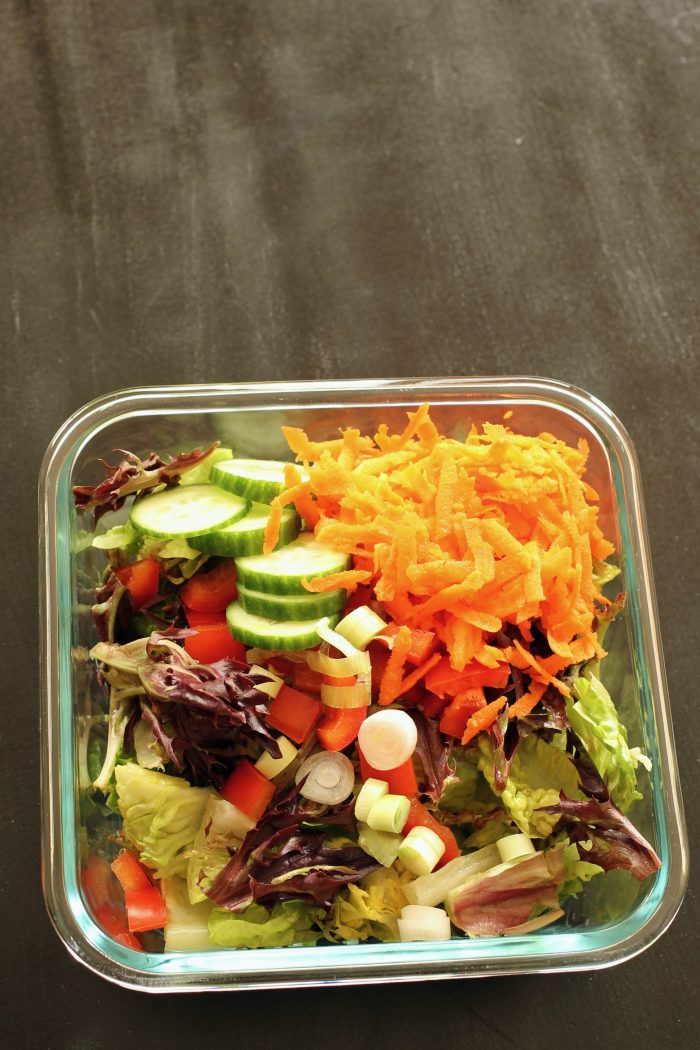 How to make meal prep salads inexpensively
All of my recipes are affordable to begin with but there are some things you can do to make sure you're spending well. Here are some of the strategies you can use to make this recipe more economical:
Tools I use to make this easily: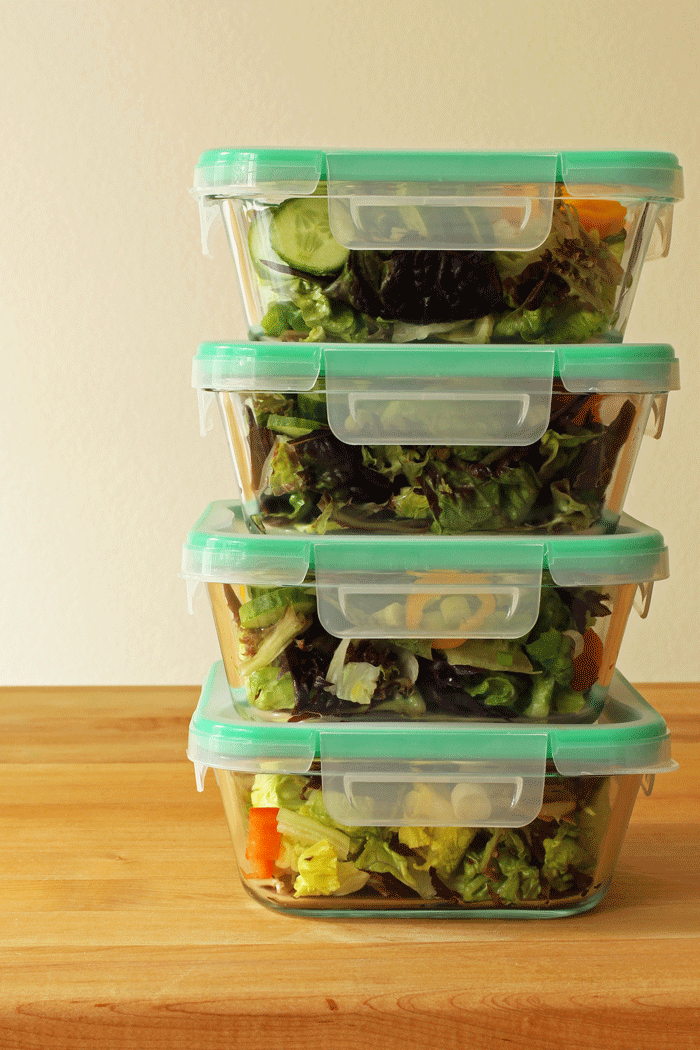 If you prepare this recipe, be sure to share a picture on social media and hashtag it
#GOODCHEAPEATS
. I can't wait to see what you cook up!
Basic Meal Prep Salad
Prepare several basic meal prep salads for quick and easy lunches. Add whatever toppings suit your fancy on a given day and you're good to go!
Ingredients
1

head

romaine lettuce

can use 4 mini romaine lettuce heads

10

oz

carrots (shredded)

8

oz

shredded purple cabbage

4

green onion

sliced

2

red bell pepper

sliced
Instructions
Chop the lettuce into bite sized pieces. Place in a salad spinner. Spray with vinegar, rinse with water. Spin dry.

Divide the lettuce among four meal prep containers

Divide the carrots, cabbage, green onions, and peppers among the containers. There may be leftover vegetables, depending on your tastes.

Seal the lids and store the salads in the fridge for up to 4 days. Add additional toppings and dressing as desired.
Nutrition
Calories:
93
kcal
|
Carbohydrates:
21
g
|
Protein:
3
g
|
Fat:
1
g
|
Saturated Fat:
1
g
|
Sodium:
92
mg
|
Potassium:
721
mg
|
Fiber:
7
g
|
Sugar:
11
g
|
Vitamin A:
20087
IU
|
Vitamin C:
153
mg
|
Calcium:
82
mg
|
Iron:
2
mg
After you've prepared the recipe, would you do me a favor? I'd really appreciate it if you came back and left a starred review. Thanks in advance for your feedback!