Liven up Chicken Night with this delicious Dijon Mustard Marinade. It mixes up quickly and tastes amazing on grilled chicken breast. Bonus: it's freezer-friendly.
"I think this record has a skip in it."
That was my husband's reply when I told him what we were having for dinner. And honestly?
He was right.
It was true. I'd fallen into a meal planning rut. You see a few months ago, I started planning my meals a little differently in an order to lose some weight in a sustainable way.
Sixteen pounds don't just go away on their own, you know. I had to lure them away. One of the ways I did that was to serve lean proteins and lots of vegetables for dinner.
And it worked! Now, I'm working on evicting another ten.
My husband has been super supportive throughout it all, but I don't blame him for pointing out that plain chicken and veggies was getting a little, well, plain.
While the night's menu is often "music to one's ears", having the same thing on repeat was getting a little overdone.
Dated as the records we used to play, my dinner plans were stuck in in my childhood when my mom would salt and bake a few chicken breasts, serve up a side of canned corn, and call it dinner. Day after day.
No offense, Mom, but that was boring. But I can't blame ya. My busy self fell into the same boring chicken trap.
Only I didn't even have to cook it. I just seasoned it and handed it off to my husband to grill!
Rather than get defensive, I took my husband's words to heart and started looking for the kitchen mojo I'd seem to have lost along with the extra weight.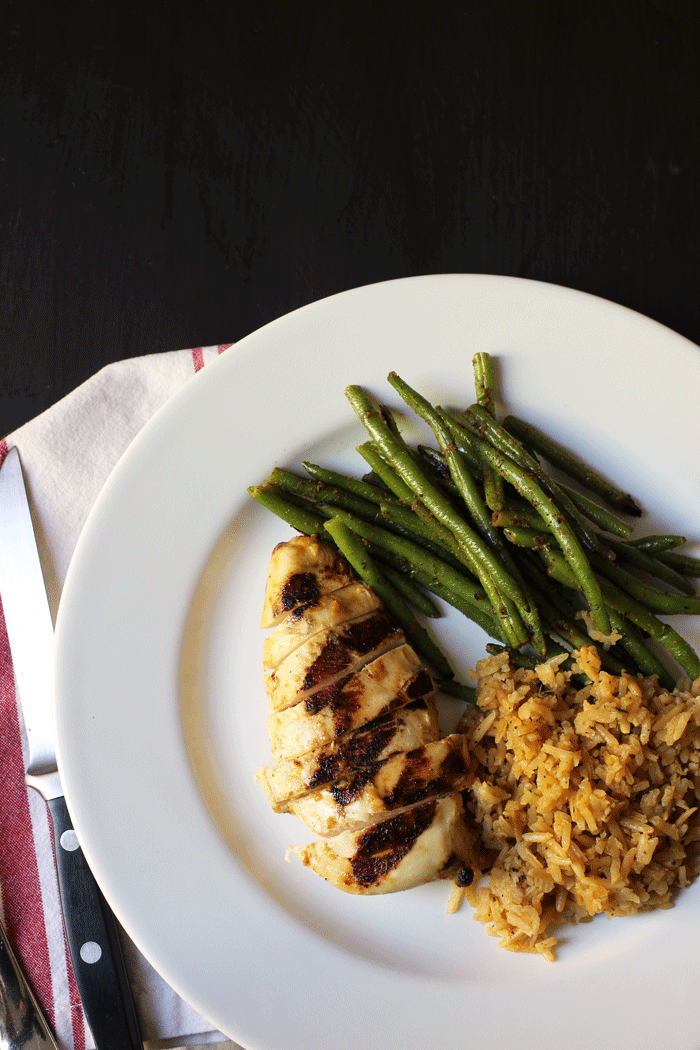 Where did all the tasty chicken go?
The truth of the matter is that eating healthfully doesn't have to be boring. In my case, however, I was spending my creative energy saying no to the junk food and sweets instead of using it to say yes to flavor.
Chicken doesn't have to be boring — especially if you doll it up with great marinades, kicky spice rubs, or homemade toppings, like strawberry salsa or bruschetta. A little effort can go a long way!
Ironically, I found solace — as well as sustenance and a spicy kick — in a favorite grilling recipe my husband and I used to make when we were newlyweds, 25 years ago. For some reason, it had been awhile since we'd made Dijon Mustard Marinade.
Far too long.
The mustard marinade for newlyweds, old marrieds & everyone else.
When we were first married, Bryan and I cooked through an early 90s Williams Sonoma grilling cookbook. A Mustard-Grilled Chicken recipe was included. The pungent Dijon and spicy cayenne pepper were an eye-opener! We found that marinating the chicken in this kicky concoction added great flavor to the humble chicken breast.
Over the years I have tweaked the original recipe to make it easier and less expensive to prepare. Since Dijon can be a bit pricey, I reduced the amount needed as well as eliminated a basting step for simplicity's sake.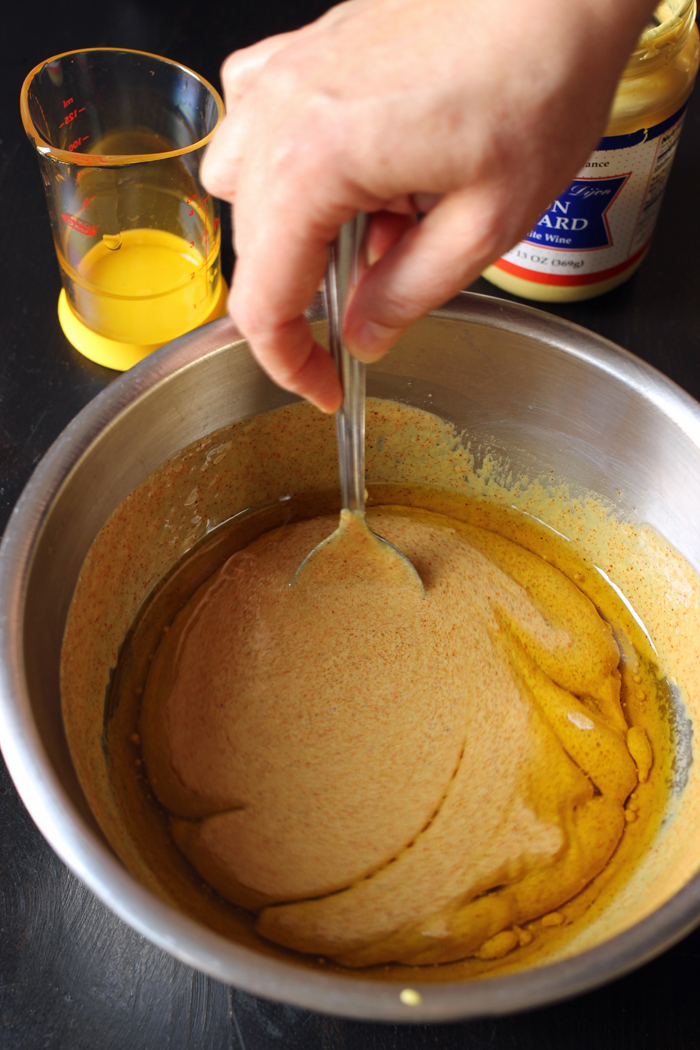 What does a marinade do for chicken?
The marinade, rich in Dijon mustard, cayenne pepper, and red wine vinegar, is a bit like a vary spicy Dijon vinaigrette. While brining helps make chicken juicier, allowing the chicken to marinade for several hours helps to infuse it with flavor.
Don't marinate it too long, though. The acid in some marinades can make the texture of the chicken go weird.
In the words of Guy Fieri,
"No one likes rubbery chicken."
How do you make chicken tender?
Tender chicken is achieved by cooking the chicken properly. If you've gone to the effort to marinate your chicken, you don't want to overcook it and be stuck with dry chicken. One of the tricks we've learned over the years is to make good use of a meat thermometer.
In his epic tome, The Food Lab, Kenji Lopez-Alt, addresses the issue of dry, overcooked chicken. It will be at its juiciest at 150 degrees, an internal temperature taken with an instant read thermometer.
Head here to learn how to use the thermometer properly.
After the 150 degree point, the fibers begin to get stringy and dry. Kenji claims that as long as chicken stays at the 150 degree point for 2.7 minutes, it is safe to eat. In fact, the book lists a range of internal temperatures (from 145 to 165 degrees) held at different durations to achieve tender chicken while keeping to food safety standards.
Keep in mind that there will be different textures to the meat cooked to certain degrees. Like a steak, you may prefer it cooked more than necessary.
At our house we cook it to 155 and let it rest for ten minutes. This gives us juicy, tender chicken breasts.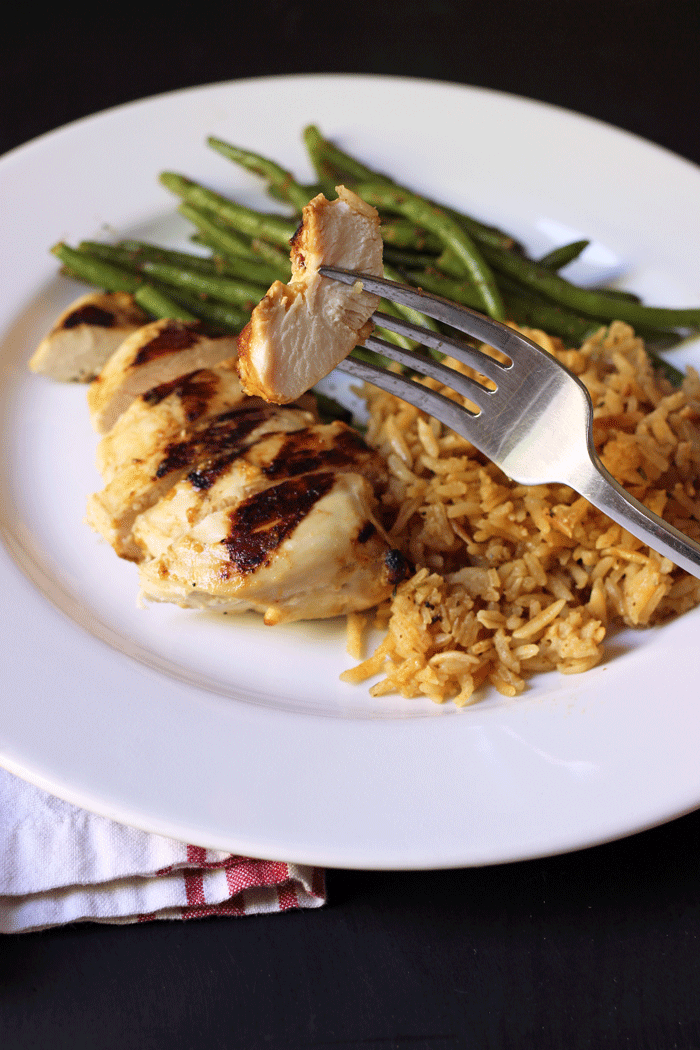 Chicken made with this Dijon Mustard Marinade is absolutely delicious, particularly so if you have time to marinade the chicken breast for several hours — you can even toss a few bags of chicken and marinade in the freezer for another time.
How to save money making this recipe:
Here are some of the strategies I use to make this recipe more economical:
Meal plan around what's on sale. Don't decide to make this when chicken is $5/pound and you have none in the freezer. Next time you see chicken on sale, add this to your meal plan!
Do a price comparison. I know that ALDI is the best place for me to buy chicken when there isn't a great sale elsewhere. It's normally $1.89/lb! I keep track of prices so that I know who has the best deal where.
Stock up on ingredients when they are on sale. Buy extra chicken as well as marinade ingredients and stash them away in your pantry so you can make this dish whenever you want.
Tools you might need to make this recipe easy:
This is a pretty straight-forward dish. You don't need any fancy equipment. However, having some good basic kitchen tools can really make your time in the kitchen more enjoyable. Over time, I've honed my collection so that they are perfect for my needs. Here are the tools that I like to use in this recipe.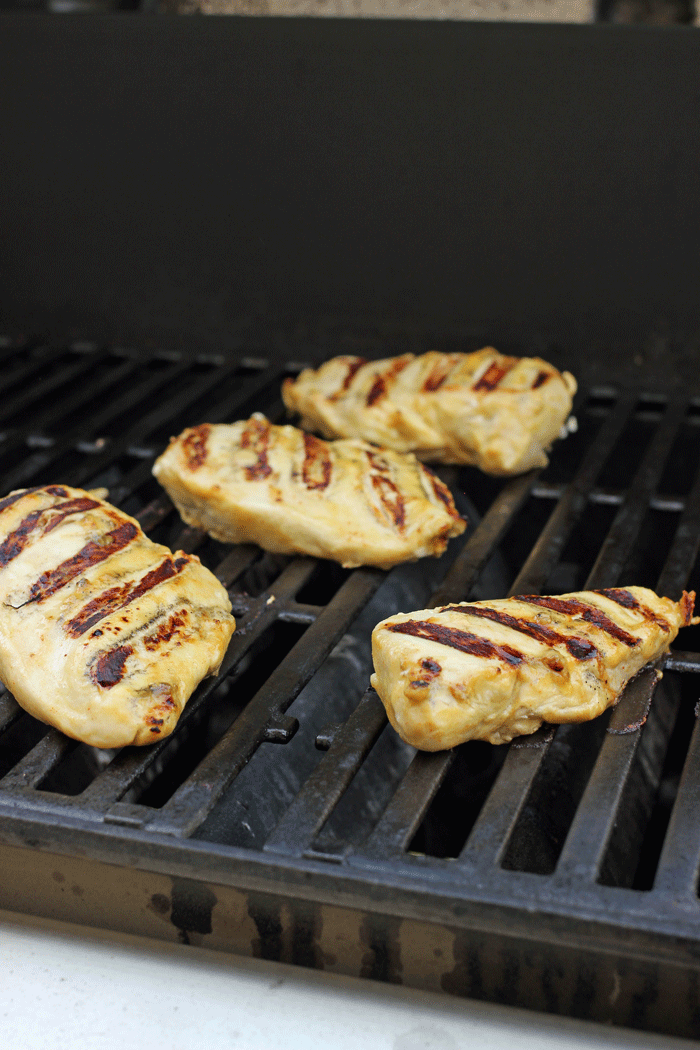 If you prepare this recipe, be sure to share a picture on social media and hashtag it
#GOODCHEAPEATS
. I can't wait to see what you cook up!
Mustard-Grilled Chicken
Liven up Chicken Night with this delicious Dijon Mustard Marinade. It mixes up quickly and tastes amazing on grilled chicken breast. Bonus: it's freezer-friendly.
Ingredients
⅓

cup

Dijon mustard

1

teaspoon

ground cayenne pepper

2

tablespoon

red wine vinegar

¼

cup

olive oil

2

lb

boneless, skinless chicken breast
Instructions
In a medium mixing bowl, combine the mustard, cayenne, and vinegar. Whisk together as you add oil in a thin stream.

Transfer the marinade to a large zip-top bag. Add the chicken pieces and seal the bag. Massage the bagged chicken well to distribute the marinade around each piece.

Place the bag on a tray in the fridge for several hours.

When ready to cook, heat an outdoor grill or stovetop grill pan. Remove the chicken from the marinade and place on the hot grates. Cook, turning once, until an internal temperature of 155 degrees is reached. Cover and let rest for ten minutes. Serve hot, cold, or at room temperature.
Notes
Note: the chicken in marinade may be frozen instead of step 3. Thaw completely before proceeding with step 4. 
Note regarding nutritional information: since you won't be consuming all the marinade, the caloric value will be significantly smaller. However, there's no scientific way to calculate this. 
Nutrition
Calories:
290
kcal
|
Carbohydrates:
1
g
|
Protein:
35
g
|
Fat:
16
g
|
Saturated Fat:
3
g
|
Cholesterol:
95
mg
|
Sodium:
232
mg
|
Potassium:
591
mg
|
Fiber:
1
g
|
Sugar:
1
g
|
Vitamin A:
150
IU
|
Vitamin C:
0.5
mg
|
Calcium:
16
mg
|
Iron:
1.1
mg
Tried this Recipe? Tell us what you think!
Your reviews help us develop better recipes and give newcomers the confidence to try your favorites. Scroll down to leave a starred comment.