Chicken in marinade is one of the easiest freezer meals you can make. Save time and money by making delicious marinated chicken for the freezer.
I've been practicing the art of freezer cooking since the Earth cooled. Or at least since my eldest child was in utero. Seeing as he has now graduated college and owns a real suit, that signifies a long time.
In the old days, we freezer cookers (is that a word?) spent days shopping, chopping, and hopping around the kitchen filling the freezer with a month's worth of meals.
Was it worth it? Absolutely.
Was it tiring? Yay, totally.
Was it easy? Not really.
There were so many things to juggle, details to track, and meals to make. If you've been alive for more than five years, you've realized one important truth: things that are easy are things you will continue to do.
When things get hard, it's harder to get things done. Even important things. The same goes for freezer cooking.
Was it worth the work to fill the freezer? It was, but the work involved made it harder to make it happen more often.
That's where quick and easy freezer meal recipes save the day.
If it's easy to make dinner, you'll make dinner at home more often.
Freezer cooking can make it easy to make dinner, thereby helping you save money and time and enable you to keep to a healthy diet.
So how do you make freezer cooking, and therefore dinner, easier?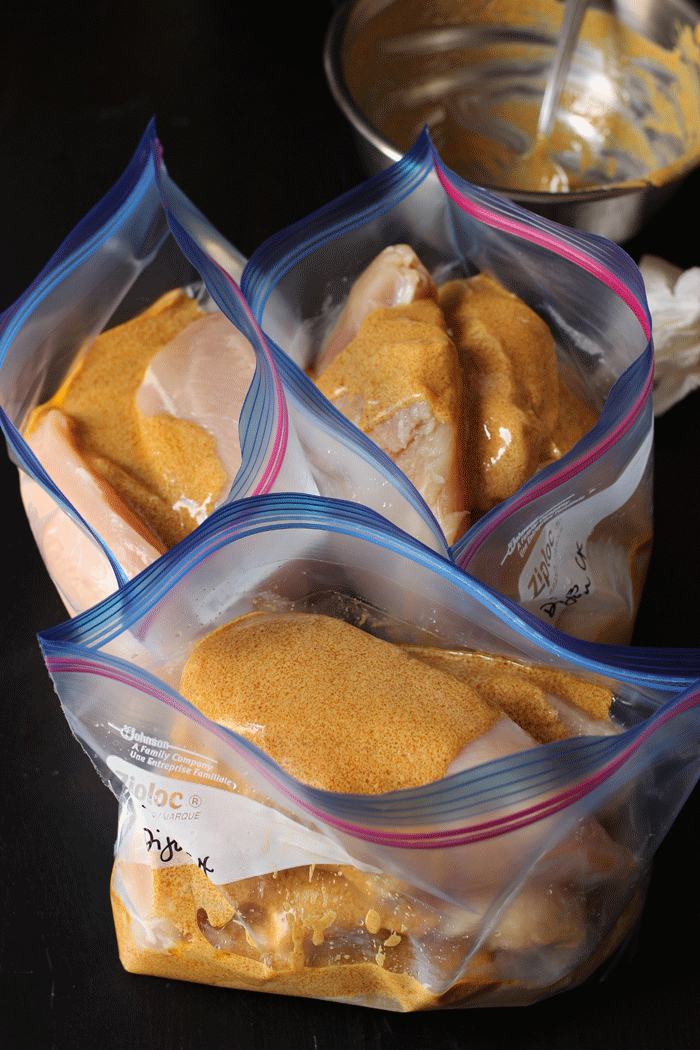 Make marinated chicken for the freezer!
One of the easiest things that I pull together for freezer cooking is chicken bagged in marinades. Not only is it quick to prepare for freezing, but it's also a quick meal on the other side of thawing.
Just hand the bag of thawed, marinating chicken to my husband to cook on the grill while I make a few sides dishes. And even some side dishes, like mashed potatoes and garlic bread, can be made ahead of time and frozen.
This is an obvious go-to strategy in the summer months due to all the grilling that we do, but it's also useful all year-round. Marinated chicken can be broiled, cooked on a grill pan, or even sautéed in a skillet.
Talk about winner, winner chicken dinners!
You can freeze chicken in marinades all year long, and almost any marinade will work. In a pinch, you can even marinade chicken in salad dressing or BBQ sauce.
This is a super easy meal prep practice, allowing you to prepare for many dinners in a very short amount of time.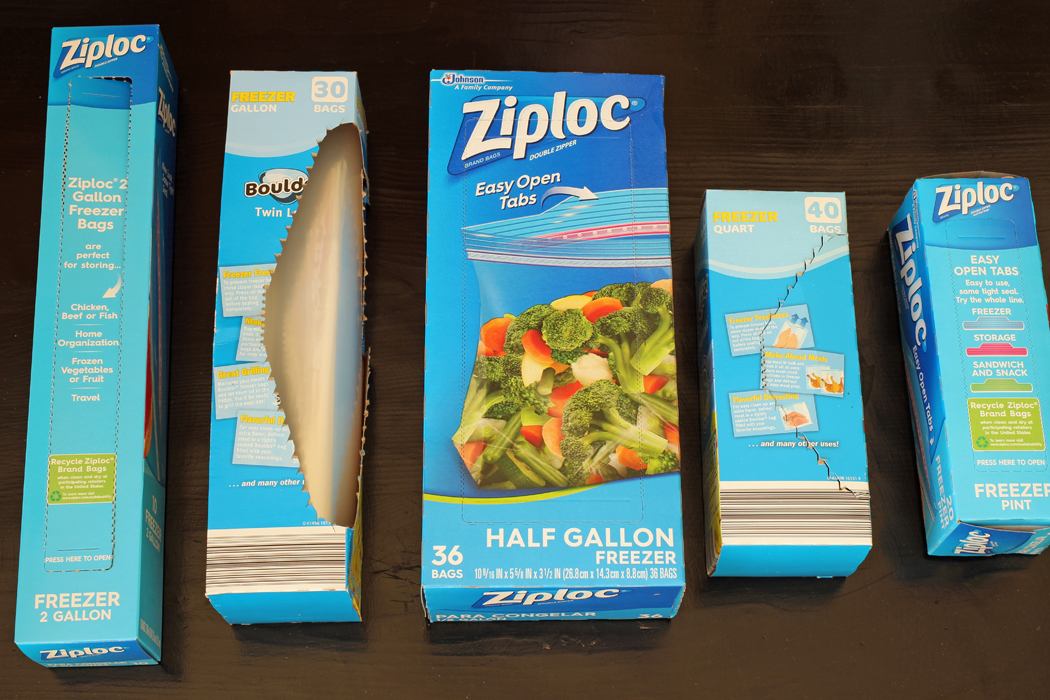 What do you need to make marinated chicken for the freezer?
Chicken breasts or pieces – I like boneless, but you can use bone-in chicken as well. You may need to double the bag as sometimes bones poke through. My ALDI sells b/s chicken breasts at the regular price of $1.89/lb which makes it super affordable.
Ziptop freezer bags or freezer-safe containers with lids – I use plastic bags, but there are a number of reusable silicone freezer bag lines out there. I personally don't have experience with those to know if they leak. Leaking is a bag thing with raw chicken and marinades. You can also use plastic or glass containers with lids. Make sure that whatever product you use that it is marked for freezing. Ziploc makes freezer-safe bags in many sizes: pint, quart, ½-gallon, gallon, and 2-gallon. Note: the ½ gallon size is also marketed as marinade bags. The bottoms are flat so they can (sort of) stand on their own.
Cutting board and knife – to trim away fat, if desired. Head here to see my recommendations for kitchen tools.
Bag holders – Yes, bag holders. They are okay, but not necessary. You can slip your bags into bowls instead.
Baking sheet or tray – to hold bags flat in freezer until firmly frozen as well as to hold bag in refrigerator while thawing to catch drips.
So, now that you got your stuff, let's get to the process, shall we?
How to Make Marinated Chicken for the Freezer in 5 Easy Steps
1. Prepare your containers.
There's not much to do to prepare your containers except label them. I use a regular sharpie on both my freezer containers and ziptop freezer bags. Be sure to label them with the date as well as the contents. If there are special serving instructions, add those, too.
2. Trim the chicken.
There's nothing worse that biting into a delicious piece of chicken only to find your mouth half-full of gristle or fat. Be sure to trim the chicken.
While it's not the most pleasant of jobs, it's not so bad if you can get a lot done at one time. Plan to make several batches of chicken in marinades at one time, and do all that trimming in one fell swoop.
If you're buying conventional chicken breast, you may find that they are ginormous. You can make your chicken quicker to cook and easier for serving reasonable portions if you cut the boneless, skinless chicken breasts into cutlets by slicing them horizontally through the middle. The portion is still enough for one person, but seems to stretch the meat a little farther.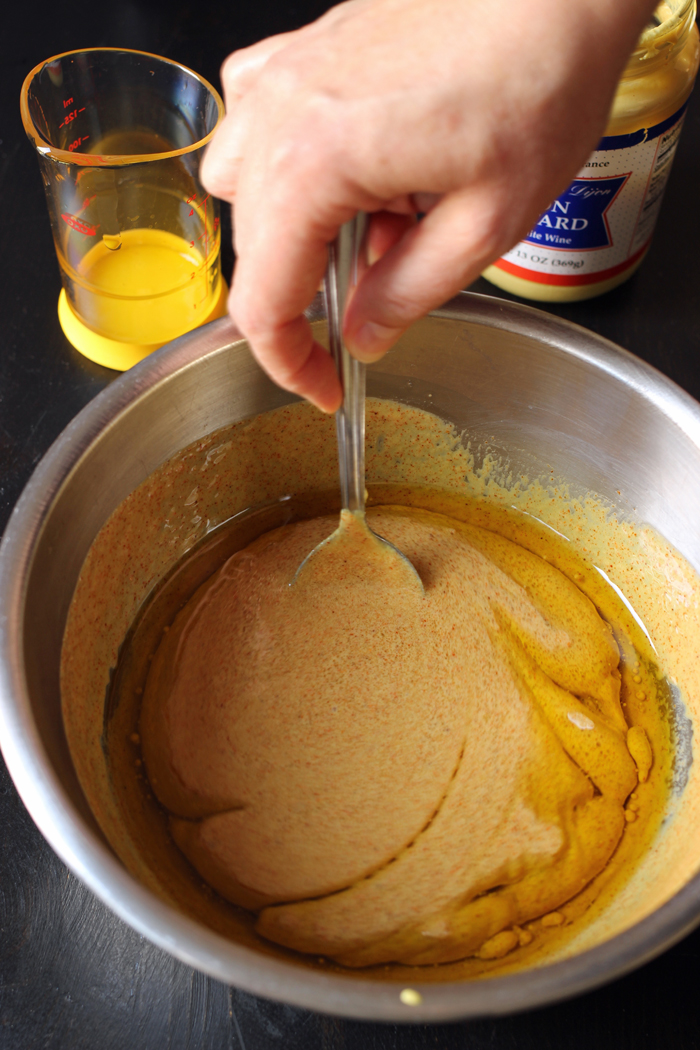 3. Prepare the marinades.
Many marinades contain similar ingredients. This is where you can save a lot of time during your freezer cooking session. You'll be pulling out all these items at one time and cleaning up once instead of six times.
You can mix many marinades right inside the freezer bags, but not all mixtures blend well in this way. Use a blender or mixing bowl for easiest mixing.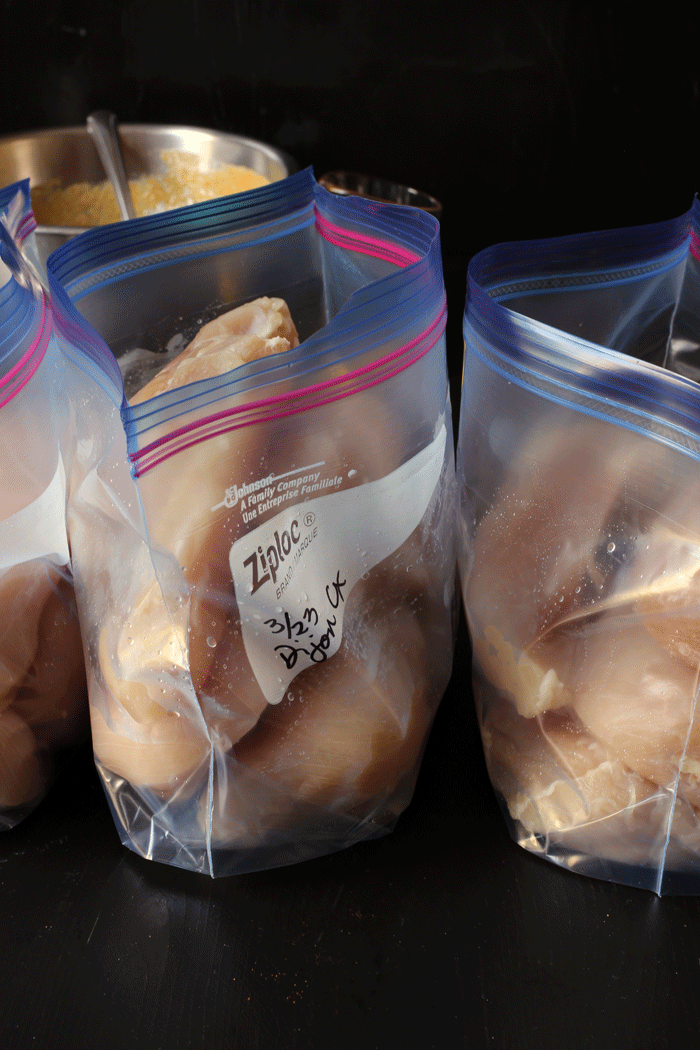 4. Add the chicken and marinade to the bags.
Add the chicken and the marinade to the bags. This can be a tricky endeavor if the bags risk tipping over. Pictured you'll see I used the flat bottomed, ½ gallon bags that basically stand up on their own.
You can also use bag holders or simply slip your bags into a series of mixing bowls and fold back the tops.
Once you've filled and sealed the bags, squeeze out as much air as possible and massage the bag to distribute the marinade evenly around the chicken pieces.
Lay the filled bags flat on a baking sheet and place the sheet in the freezer to freeze. For best use of space in your freezer, you want the bags to freeze flat. This makes them easier to stack or line up like books on a shelf.
If your freezer has wire shelving, you don't want the bag to conform to the shelves. This will make it very difficult to extract a frozen bag of chicken in marinades from the freezer.
Laying the bags flat on a tray until frozen helps you avoid this issue. You can remove the tray later and rearrange your frozen meals.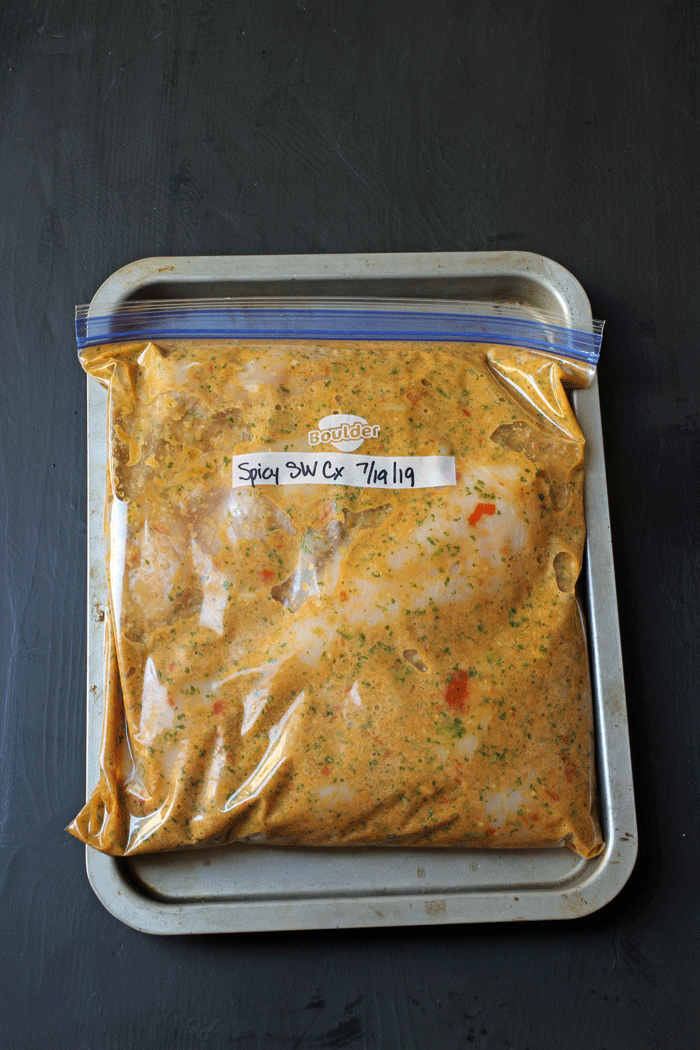 5. Store the marinated chicken in the freezer.
Store the chicken in marinades in the freezer for 6 to 8 weeks. They will be good longer in a deep freeze that is not opened frequently, but for best quality, use them within 2 months.
About a day or two before serving, pull a bag from the freezer and place it on a tray or dish to thaw in the refrigerator.
Preparing marinated chicken for 6 dinners for 8 people takes me about an hour total, demonstrating how freezer cooking maximizes on your kitchen time. If I were prepping for one of these meals on any given night, I could easily have spent thirty minutes each time.
6 x 30 = 180 minutes or 3 hours.
Save at least two hours by making your chicken in marinades for the freezer.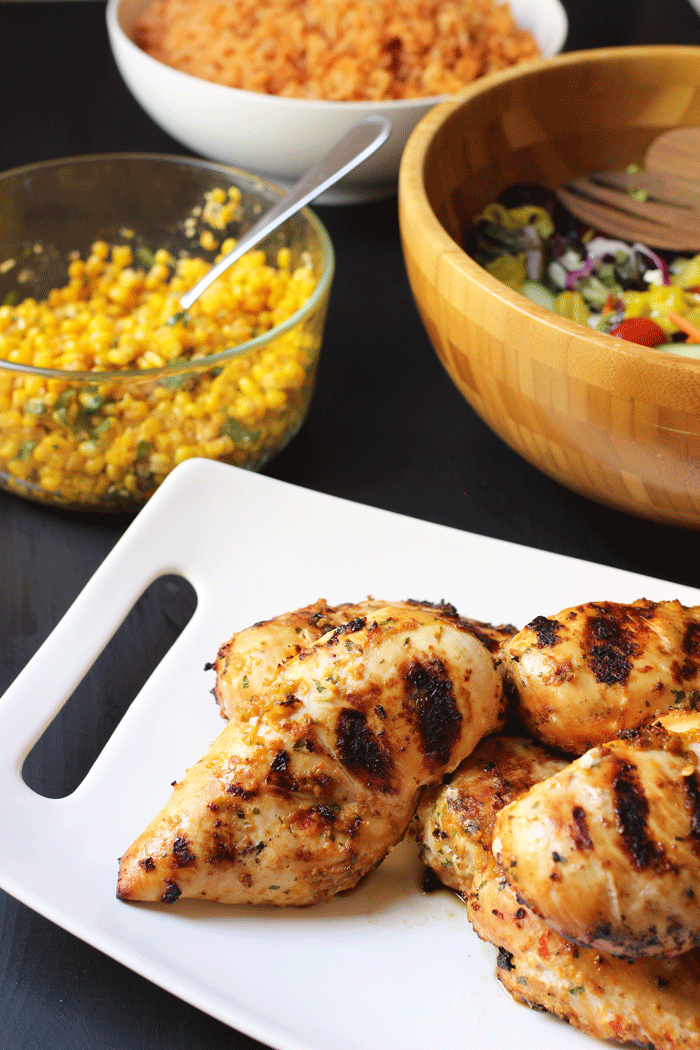 Interested in trying some new chicken marinade recipes?
Marinated Chicken Recipes
Try these delicious marinade recipes to add flavor to chicken dishes.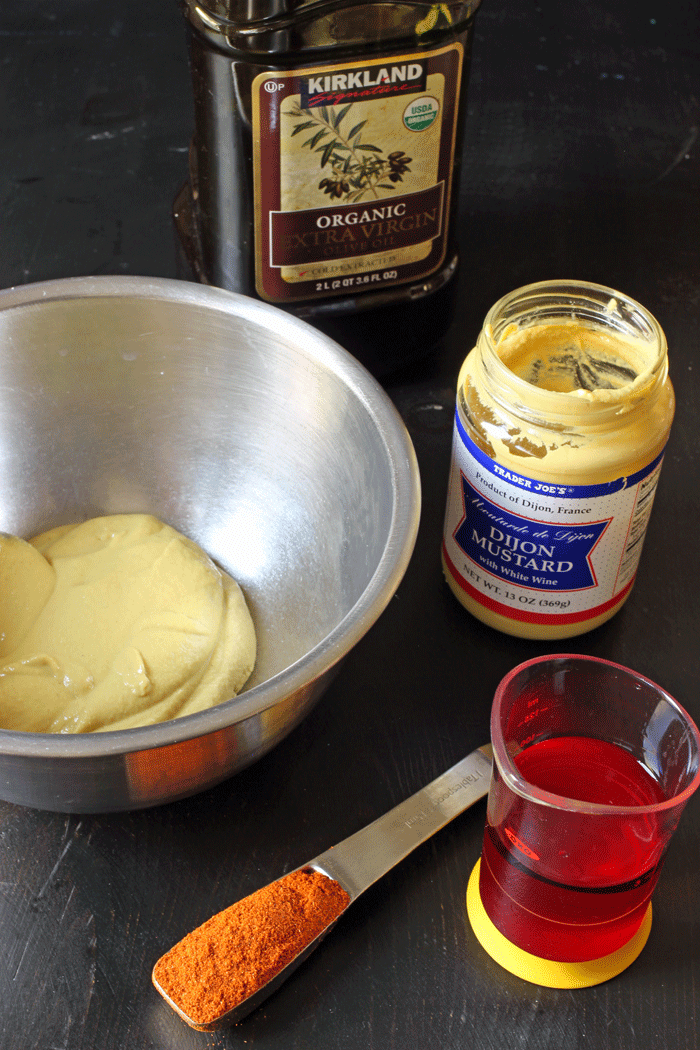 Chicken Marinade FAQ
How long can you keep marinated chicken in the freezer?
Food is good indefinitely in the freezer if stored constantly below 0 degrees F. However, it will lose taste and texture over time. The limit on frozen, unmarinated chicken is one year, per the USDA.
Marinated chicken has acid present which can reduce its quality under long freezing times. It's best to use your marinated chicken within in 2 months for best taste and texture.
Can you refreeze marinated chicken that has thawed?
It is safe to refreeze foods that have thawed and kept under safe temperatures. However, if you prefer, cook the marinated chicken, cool, and freeze it cooked.
Should marinated chicken be kept in the fridge?
When you remove marinated chicken from the freezer, you should store it in the refrigerator until you're ready to cook it, up to 2 days.
Can I freeze marinade by itself?
You can freeze marinade by itself and add it to chicken a few hours before serving.
Can I add frozen chicken to marinade?
Many stores sell chicken flash frozen. You don't need to thaw the chicken to add it to the marinade, even if you're making a freezer meal.
Prepare your bag of marinade, add the frozen chicken pieces. Seal the bag as directed above and store it in the freezer. The chicken will marinate as it thaws.