Forget diamonds, a crockpot is a girl's best friend. (Well, after the freezer, that is.) Who else will slave away on lunch or dinner with nary a complaint while you go galivanting about the place doing whatever you want?
I use one of my three crockpots at least twice a week. In fact, many homeschool lunches are made sooo much easier by the using the crockpot. I just put the ingredients in the slow cooker when I wake up and can go about my day, knowing that our lunch plan is taken care of.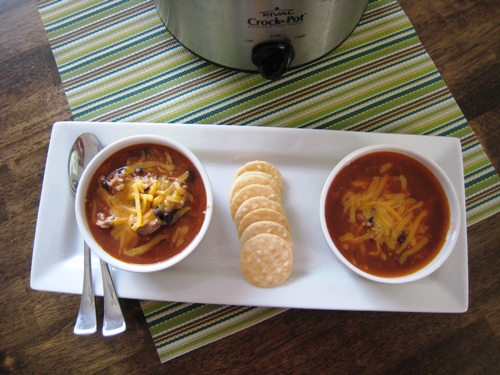 This simple soup recipe was a brainstorm to use up some leftover rice and beans that we had had for dinner the night before. Remaking leftovers is a great way to reduce waste and make the most of what you have. Most of these ingredients are pantry staples, making it an easy emergency supper as well. Reduce the amount of taco seasoning if you aren't a spicy fan.
Recipe: Bean & Rice Soup
Ingredients
2 cups cooked, cubed pork, beef, or chicken
1 cup cooked rice
2 cans black beans, drained
4 cups beef or chicken broth
2 Tablespoons taco seasoning
1 cup tomato sauce
Toppings: grated cheese, salsa, chopped cilantro, chopped onion
Instructions
Place all ingredients in the crock of a slow cooker. Stir gently.
Place the lid on top and turn on the cooker. Cook for 6 hours on low or 3 hours on high.
Serve with toppings.
What's a favorite slow cooker recipe of yours?