This Bean and Rice Soup comes together in minutes. Packed with flavor it's a great way to use up leftovers, eat well, and save money!
Beans and rice. Rice and beans.
If you've ever listened to folks give budget cooking advice, you've probably heard some version of the beans and rice mantra.
But the thing is…. it works.
It's true! Beans and rice are affordable ingredients that you can build entire meals around. I know this, because we did it. During our debt-defying years, I featured beans, with or without rice, on our menu at least three times a week.
It was healthful, tasty, and fit the budget.
Now, at first glance, that might not seem exciting, but in all honesty, there are lots of bean recipes that make beans more exciting. Stir them into Smoky Bean Soup, pile the toppings high on your Pinto Beans and Rice, layer your crockpot with Bean and Meat Crockpot Enchilada.
You really could have a bean dish every night for a week and not get bored. Or go broke.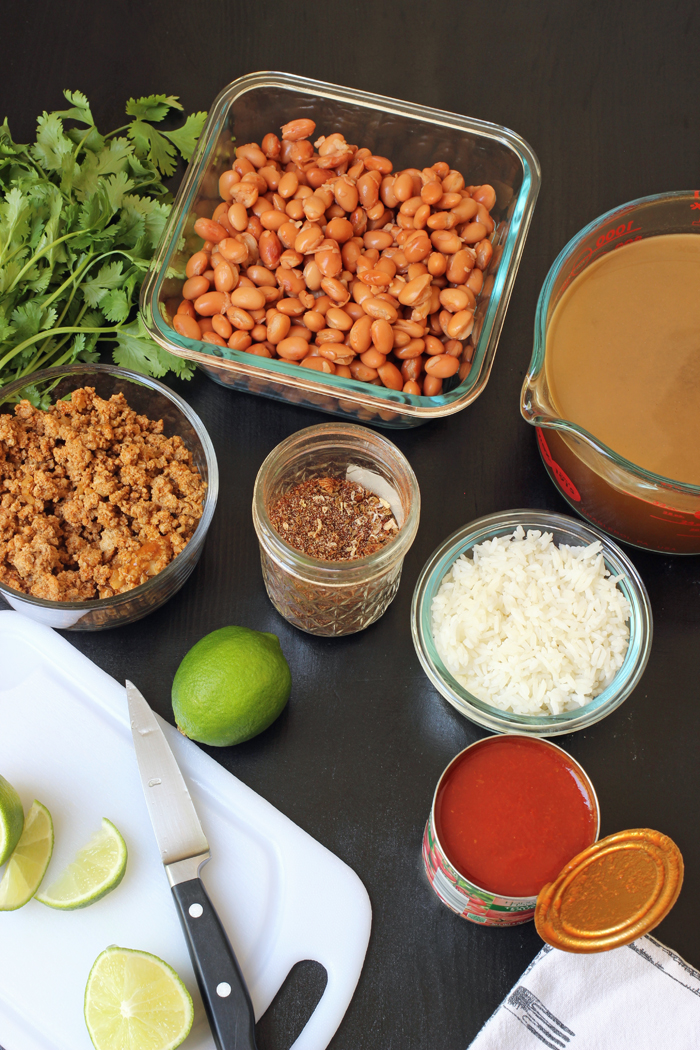 On my most recent trip to ALDI, canned beans were 44 cents. You can save even more if you cook dried beans and freeze them for later. They are full of fiber and protein, and will fill you up.
One simple way to enjoy beans is in soup.
Bean and Rice Soup
This simple soup recipe was a brainstorm of mine to use up some leftover rice and beans that we had had for dinner the night before. Making soup from leftovers is one of my favorite ways to reduce waste and make the most of what we have.
And this Bean and Rice Soup is a great way to do that!
Most of these ingredients are easy pantry staples to keep on hand, making it an easy emergency supper as well. It's packed with flavor and so versatile. Feel free to jazz it up with your favorite vegetables and toppings.
What's good with bean soup?
Bean soup is a great meal to make for lunch or for dinner. I like to serve it with taco toppings, like shredded cheese, salsa, and sour cream. For a side dish, you can also serve corn bread, tortillas, or chips.
Can I make bean soup in the slow cooker?
Forget diamonds, a Crock-pot is a girl's best friend. (Well, after the freezer, that is.) Who else will slave away on lunch or dinner with nary a complaint while you go galivanting about the place doing whatever you want?
I use one of my three crockpots at least twice a week. In fact, many homeschool lunches are made sooo much easier by the using the crockpot. I just put the ingredients in the slow cooker when I wake up and can go about my day, knowing that our lunch plan is taken care of.
This soup was originally developed for slow cooking. Just toss all the ingredients together in the pot, turn it on low, and walk away. The soup will be ready in 3 to 6 hours.
Can I make bean soup in the pressure cooker?
Since this soup uses ingredients that are already cooked, it's quick work to assemble the soup. You can use your pressure cooker to make this soup, but you won't need to use the pressure setting. You can use the slow cooker setting or simply hit the saute button and let the soup simmer for about 20 minutes.
How can I make bean soup economically?
By their very nature, bean dishes are very budget-friendly. However, here are some of the strategies you can use to make this recipe even more economical:
Stock up on ingredients when they are on sale. When you see a good price on tomato sauce, beans, or your spices, buy a few extra to stash for later. You know you'll use them. Stocking up can save you money.
Cook dried beans. It's a lot cheaper to cook dry beans than to buy canned. Recently I've started using my electric pressure cooker for beans and it has been a game changer.
Make your own spice mixes. Spice mixes, like taco seasoning, are super simple to mix up in big batches and are so much cheaper than buying the packets at the store.
Buy spices in bulk. I regularly buy larger containers of spices I use frequently, like pepper, sea salt, garlic powder, and chili powder. I store excess dried herbs and ground spices in the freezer if I know it will be awhile before I go through the large container.
What tools do I need to make bean soup?
This recipe really couldn't be easier than it is, but having the right kitchen tools can really make your time in the kitchen more enjoyable. Over time, I've honed my collection so that they are perfect for my needs.
Here are the tools that I use for this recipe:

If you prepare this recipe, be sure to take a picture and hashtag it
#GOODCHEAPEATS
. I can't wait to see what you cook up!
Bean and Rice Soup
This Bean and Rice Soup comes together in minutes. Packed with flavor it's a great way to use up leftovers, eat well, and save money!
Course:
Main Course, Soup
Cuisine:
American, Mexican
Keyword:
bean, bean soup, beans, beans and rice, black bean, black beans, pinto beans, pintos, soup, soup from leftovers, taco soup
Ingredients
2

cups

cooked

cubed pork, beef, turkey, or chicken

1

cup

cooked rice

2

cans beans (can be black, pinto, navy, etc)

drained

4

cups

beef or chicken broth

2

Tablespoons

taco seasoning

1

cup

tomato sauce

Toppings: grated cheese

salsa, chopped cilantro, chopped onion
Instructions
To Make the Soup in a Slow Cooker:
Place all ingredients in the crock of a slow cooker. Stir gently.

Place the lid on top and turn on the cooker. Cook for 6 hours on low or 3 hours on high.
To Make the Soup in a Pressure Cooker:
Place all ingredients in the pot of an electric pressure cooker. Stir gently.

Press the saute button and allow the soup to simmer, for about 20 minutes, stirring occasionally.
To Make the Soup on the Stovetop:
Place all ingredients in a medium stockpot. Stir gently.

Cook over medium heat, simmering for about 20 minutes, stirring occasionally.

Serve with toppings.
Nutrition Facts
Bean and Rice Soup
Amount Per Serving
Calories 170
Calories from Fat 45
% Daily Value*
Fat 5g8%
Cholesterol 41mg14%
Sodium 1968mg86%
Potassium 505mg14%
Carbohydrates 15g5%
Protein 15g30%
Vitamin A 382IU8%
Vitamin C 18mg22%
Calcium 30mg3%
Iron 2mg11%
* Percent Daily Values are based on a 2000 calorie diet.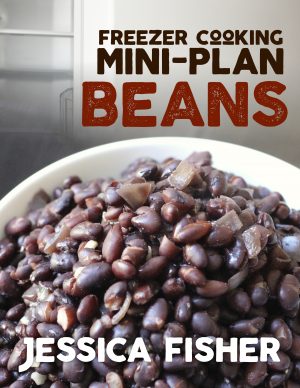 Ready to make the most of beans?
Beans not only make a great base for main dishes, but they also freeze beautifully.
Grab this Freezer Cooking Mini Plan featuring Beans to help you fill the freezer quickly and easily.
Learn to cook beans at home three different ways.
Fill the freezer with wraps, pot pie, lasagna, chili, and soup, all featuring hearty beans.
Click here to purchase the instant download: https://fishmama.com/product/freezer-cooking-mini-plan-beans/