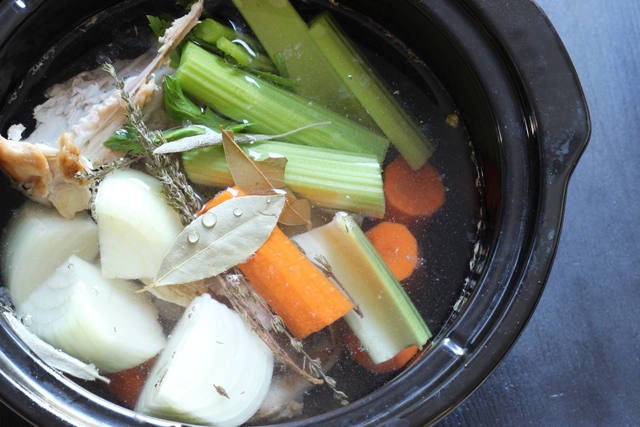 Making a homemade stock is one of the most economical things you can do. Essentially, you're getting all the flavor you possibly can from something you might otherwise chuck.
Stock is also one of the easiest culinary feats you can pull off. And yet, the resulting turkey or chicken stock adds rich flavor to soups, stews, sauces, and rice dishes. I buy bone-in chicken pieces all year long just so I have the makings of stock. Even if I don't need it that week, I cool and freeze the stock to use later.
My preferred means of stock-making is to use the slow cooker. I place the leftover bones, drippings, and whatnot from the turkey or chicken in the crock and add onions, carrots, celery, herbs, and bay leaves. Turn that baby on overnight and in the morning you will have a lovely brown stock ready for cooking.
You might also wake up in the middle of the night with the freaky realization that someone is cooking. In the middle of the night! (Yeah, that is kinda weird.)
And your husband might comment that he doesn't like the scent of chicken soup with his coffee, but he'll get over it. Someday.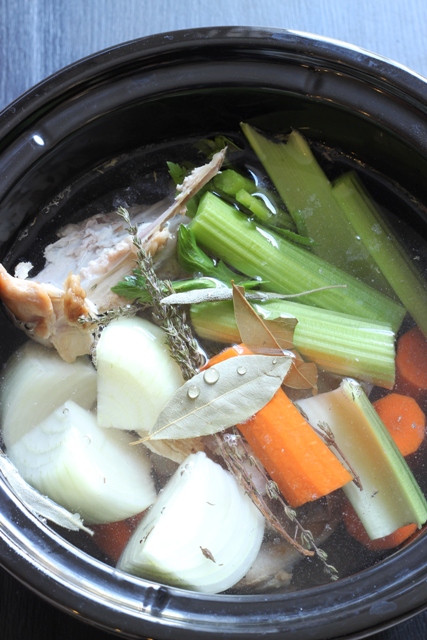 This recipe is really a non-recipe. You can change it up based on what vegetables and herbs you have on hand. Just know that you may need to add salt to taste. Refrain from comparing this to commercial chicken broth which gets most of its flavor from salt and additives.
Once your stock is cooked, strain it and use in your recipes. You can make a "second press" of stock by adding more water to the solids in the pot and going for another round. This stock won't be as flavorful as the first batch, but it will still be good. And you'll be grabbing every last bit of flavor from the ingredients.
Slowcooker Turkey Stock
Use turkey leftovers to cook up a pot of stock to use in soups, stews, and rice dishes.
Ingredients
bones, skin, drippings from a roast turkey carcass

(smaller pieces are fine, too, like breasts or legs)

1

onion

quartered, can also us a leek, sliced

2

carrots

cut into chunks

2

ribs

celery

cut into chunks

2

bay leaf

2

sprigs

fresh sage

2

sprigs

fresh thyme

1

tsp

salt

or more, if desired

10

cups

water
Instructions
Place the turkey bones, onion, carrots, celery, bay leaves, herb sprigs, and salt in the slow cooker. Add the water.

Cook on low overnight.

Strain the stock through a sieve, pressing on solids to release all the liquid.

Chill in the refrigerator. As the fat rises to the top and solidifies, you can remove this and discard.

Use in your recipe or freezer for longer storage, up to 2 months in a standard refrigerator freezer.

*You can reuse the solids, adding more water and going for a "second press" of stock from the same meat and vegetables.
Notes
Nutritional values are approximate and are based on 1/8 of the recipe. Refrigerate leftovers promptly and use within 4 days.
Nutrition
Calories:
12
kcal
|
Carbohydrates:
3
g
|
Protein:
1
g
|
Fat:
1
g
|
Saturated Fat:
1
g
|
Sodium:
28
mg
|
Potassium:
69
mg
|
Fiber:
1
g
|
Sugar:
1
g
|
Vitamin A:
2548
IU
|
Vitamin C:
2
mg
|
Calcium:
18
mg
|
Iron:
1
mg