This Pumpkin Coffeecake with Pepitas features a dense, moist cake, topped with a sugar crumb topping dotted with salty pepitas. It promises to be a winner at your house this fall.
Last winter I found canned organic pumpkin for 50 cents a can. I stocked up and thereby provided myself with dozens of cans. Dozens. We can eat pumpkin until the cows come home.
And we just might.
But, my stash won't last long if I keep making things like this Pumpkin Coffeecake. Kind of a combination of coffeecake and pumpkin pie, this cake is rich and moist and very flavorful. The pepitas (pumpkin seeds) and sugar crumb top add a nice crunch totally in keeping with the theme of the cake.
Why have I never thought to use pepitas (pumpkin seeds) in pumpkin baked goods before? Well, nuts are delicious, that's why. You could easily substitute your favorite kind of chopped nut for the pepitas. However, since my daughter has a nut allergy, I was so pleased to find pepitas to be a great, crunchy substitute for nuts.
Plain roasted pepitas work well here, but salted pepitas, like these SuperSeedz, add a great salty foil for the sugar crumb top. (Read my review of SuperSeedz here.)
How I make this good:
Whenever possible I like to cook with plain old ingredients. While the convenience of mixes and canned sauces is nice, I feel better about feeding my family just real food whenever possible. (Go here for some of my reasons on all that.)
While it would certainly be "easier" to buy a coffeecake mix at the store, I prefer to do my baking from scratch. You'd be surprised to know that it really isn't that much more work to measure out your ingredients. You'll notice that you can pretty much pronounce every ingredient on this list!
I like to use whole wheat pastry flour whenever I can. It has a similar texture to unbleached, all-purpose flour, but with added nutrition from the whole grain.
There is a fair amount of sugar in this cake, but trust me when I say that it isn't overly sweet. And you need a good dose of it in the sugar toppings.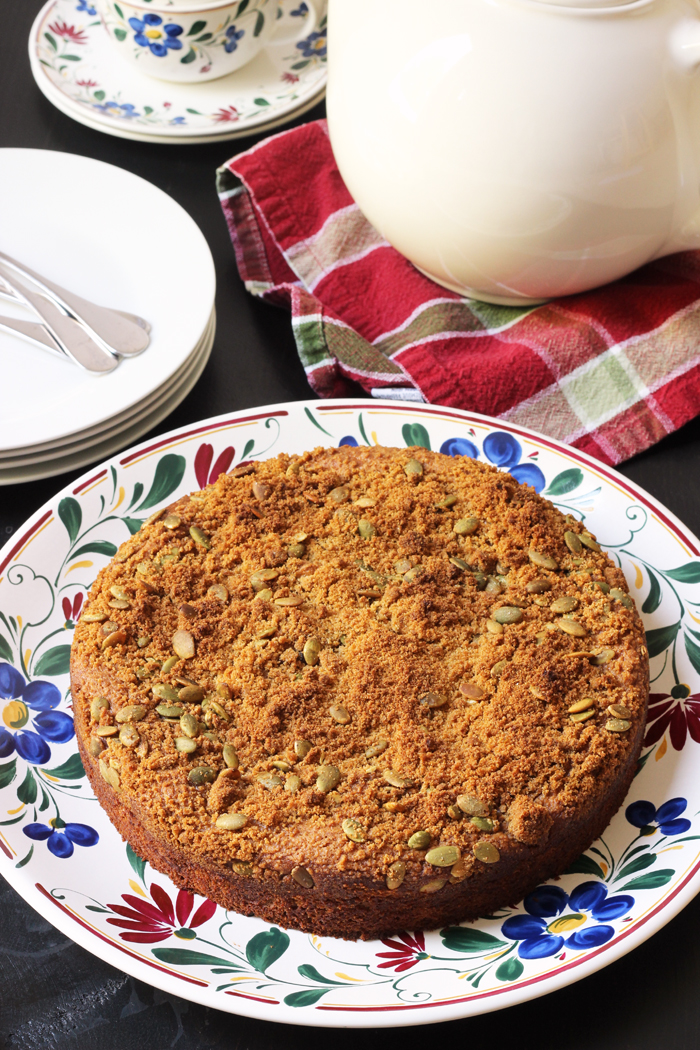 How I make this cheap:
Here are some of the strategies I use to make this recipe more economical:
Do a price comparison. I know that Costco is the best place to buy ingredients like milk and eggs when there isn't a great sale elsewhere. I keep track of prices so that I know who has the best deal where.
Stock up on ingredients when they are on sale. For instance, when I see a great price on canned pumpkin, I buy a lot. A lot. The best time to stock up on this is after Thanksgiving, Christmas, and New Years. If you try to find a good deal on pumpkin in August, you will be sadly disappointed.
Use more affordable alternatives. You don't have to use canned pumpkin. Butternut squash puree works just as well. As do plain mashed sweet potatoes. If those ingredients are more affordable, make the switch!
Tools I use to make this recipe easy:
Years ago I gave this coffeecake as a Christmas gift. You can gift the dry ingredients, packaged according to the recipe, in a fun way to make it easier for friends and family to whip up a batch of coffeecake.
Having the right kitchen tools can really make your time in the kitchen more enjoyable. Over time, I've honed my collection so that they are perfect for my needs. Here are the tools that I like to use in this recipe.
Pumpkin Coffeecake with Pepitas
This Pumpkin Coffeecake with Pepitas features a dense, moist cake, topped with a sugar crumb topping dotted with salty pepitas. It promises to be a winner at your house this fall.
Ingredients
2

cup

whole wheat pastry flour

2

cup

dark brown sugar

1/2

cup

butter

softened

1

tsp

baking powder

1/2

tsp

salt

1

tsp

ground cinnamon

1

egg

1

cup

pumpkin puree

1/4

cup

milk

1/4

cup

pepitas

roasted
Instructions
Preheat the oven to 350°. Spray a 9-inch round baking pan (I used a spring form for prettier serving) with nonstick cooking spray.

In the bowl of a food processor, combine the flour, brown sugar, and butter. Pulse until coarse crumbs form.

Remove 1 cup mixture and set it aside.

Add the baking powder, salt, cinnamon, egg, pumpkin, and milk to the remaining flour mixture. Blend until smooth.

Pour the batter into the prepared pan.

In a small mixing bowl combine the reserved crumb mixture and the pepitas. Sprinkle this crumb topping over the batter.

Bake the coffeecake for 40 minutes or until a tester comes out clean.

Cool slightly before serving. Serve warm or at room temperature.
Notes
Promptly store leftovers in an airtight container, for up to 3 days.
Nutritional values are approximate and based on 1/12 the cake.
To make as a mix: Take a large ziptop bag or container and label it with the wet ingredients and the baking instructions. Measure out the flour and sugar into the bag. Measure out baking soda, salt, and cinnamon into a smaller bag. Measure out the pipits into a third bag. Seal and store the bags together until ready to use.
Nutrition
Calories:
305
kcal
|
Carbohydrates:
53
g
|
Protein:
4
g
|
Fat:
10
g
|
Saturated Fat:
5
g
|
Cholesterol:
34
mg
|
Sodium:
124
mg
|
Potassium:
228
mg
|
Fiber:
3
g
|
Sugar:
37
g
|
Vitamin A:
3442
IU
|
Vitamin C:
1
mg
|
Calcium:
70
mg
|
Iron:
2
mg