This Chicken Noodle Soup Recipe is an easy and economical dish that everyone loves! Stir up a pot of chicken stock with tender egg noodles, chunks of chicken, and slivers of vegetables. Soup is good food!
Chilly weather? A case of the sniffles? A horrible, no-good, very bad day?
For centuries chicken noodle soup has been the solution to these challenges. Not only is it packed with nutrients from vegetables and chicken stock, homemade chicken noodle soup ranks high on the list of universal comfort foods.
If your chicken noodle soup recipe is limited to opening a can, then you're in for a treat! This Chicken Noodle Soup recipe comes together in about a half hour, features all real food, and allows you to customize the ingredients to suit your tastes.
Don't like a lot of noodles? No prob. Prefer more noodles than broth. No problem. Want to load up on veggies without any work. Yep, you guessed it, no problem. This Chicken Noodle Soup recipe allows you to tweak the amounts to suit your tastes.
And it's SO much better than the can.
How do you make Homemade Chicken Noodle Soup?
The standard Chicken Noodle Soup recipe is actually pretty simple, including basic kitchen ingredients such as chicken stock or broth, cooked chicken meat, egg noodles, spices, and vegetables, typically onions, carrots, peas, celery, and/or zucchini.
What spices are good in chicken noodle soup?
Think about your standard roast chicken or the ingredients that go in poultry season. Thyme, sage, marjoram, and tarragon are all great options, but there's no reason that you can't tweak your chicken noodle soup recipe to favor your preferred flavor profile. Chinese five-spice powder, cumin and oregano, curry powder — these can easily take your soup experience to a different part of the globe with two shakes of a spice bottle.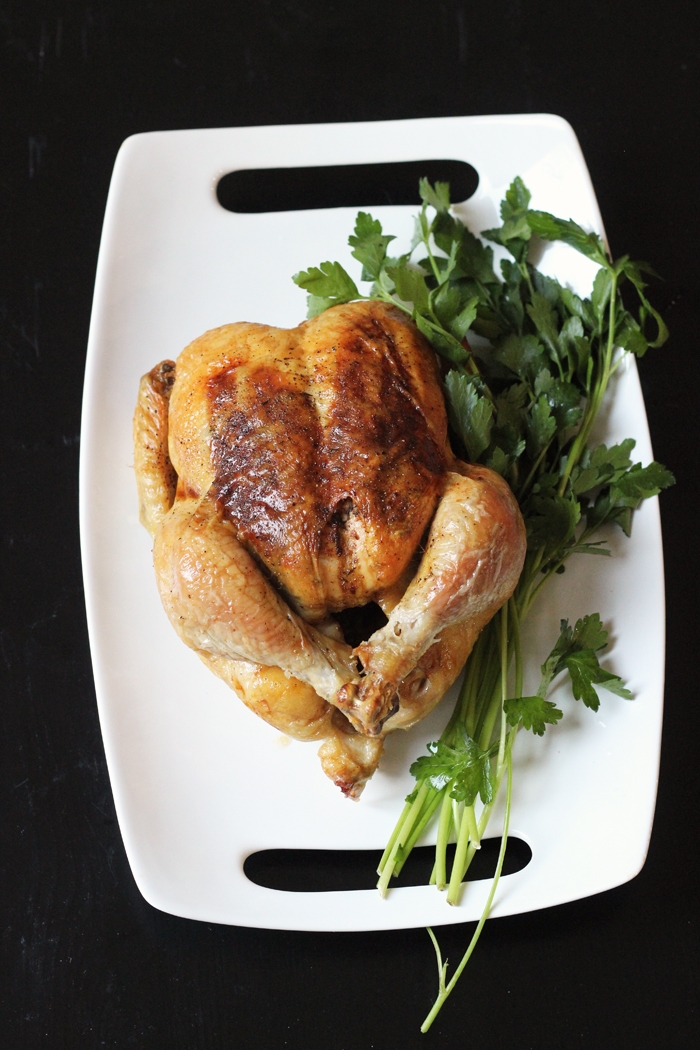 Do you cook chicken before adding it to soup?
I personally don't like the texture of boiled chicken, so I prefer to add cooked chicken to my soups. I add it in the last few minutes of cooking to allow it to reheat without being overcooked.
To save some time and stretch my pennies, I usually bake chicken one night and then make homemade stock with the drippings and bones. I use the leftover chicken and the yummy stock to this classic Chicken Noodle Soup recipe. Delish!
Can you add uncooked noodles to soup?
Yes! Keep in mind, however, noodles that cook a long time will get mushy and eventually disintegrate, adversely affecting the texture of your soup.
You can either add the noodles in the last minutes of cooking, or add pre-cooked noodles right before serving. The hot stock will warm the noodles.
The noodles in leftover soup will continue to absorb liquid, so you may need to add more stock before serving. Leftover soup is best consumed in the next day.
How do you get kids to like soup?
I could eat soup everyday, but my kids? Not so much. During fall and winter I try to make soup a once-a-week thing. Soup is an amazingly frugal and easy meal to make on your own. And eventually kids get used to it.
With some trial and error, I've developed a few soups that the kids will devour with gusto. This Chicken Noodle Soup recipe is one of their top favorites.
Here are some of my best tips to helping everyone at your table enjoy soup night.
How do I learn to make soup from scratch?
Scratch soups taste so much better than canned or mix soups. I learned the basics of soup making years ago when I received this book as a wedding gift. The beauty of the book is that it teaches you how to make soup from anything you have in the house.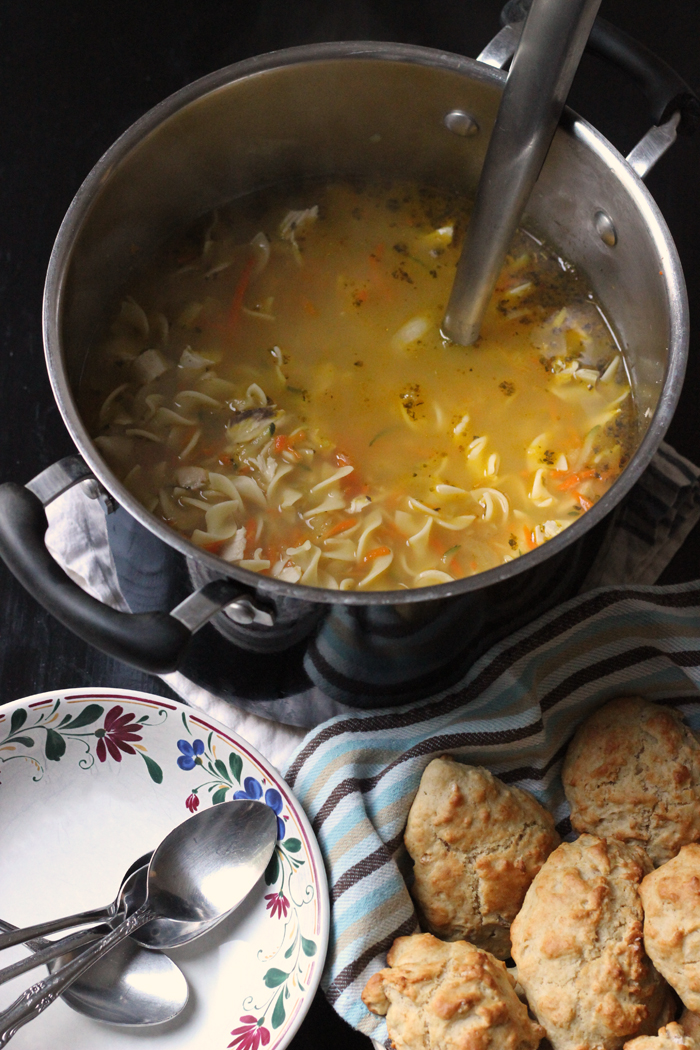 How to make this good and cheap:
Here are some of the strategies you can use to make this recipe more economical:
Stock up on ingredients when they are on sale. When I find regular kitchen staples on sale, I buy a lot. I'm currently using a price book to track prices and that's saving me money. You can really make this soup with any veggies you have on hand, so when you see a good deal on produce items, don't hesitate to stock up.
Make your own stock – Homemade stock is better than anything you can buy in a box or can. Plus, it's practically free when you use leftover vegetable scraps and the bones from a roast chicken.
Using up leftovers – Soups are fantastic for accepting your leftovers, no questions asked. Got leftover roast chicken? Make soup! But first, make homemade chicken stock from the bones. Leftover gravy and a small bit of mashed potatoes will blend seamlessly into this soup and give it a little extra thickness, too. Mix and match whatever you've got on hand.
How do you make Chicken Noodle Soup easy?
This recipe really couldn't be easier than it is. It takes about 30 minutes from start to finish, but having the right kitchen tools can really make your time in the kitchen more enjoyable. Over time, I've honed my collection so that they are perfect for my needs.
Here are the tools that I use for this Chicken Noodle Soup recipe: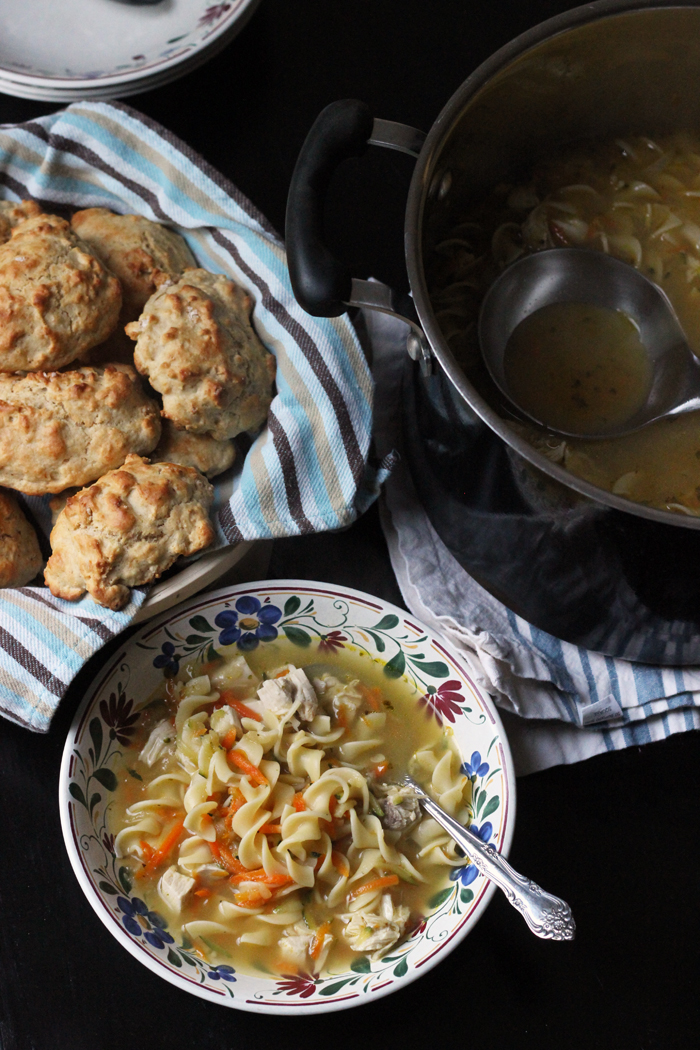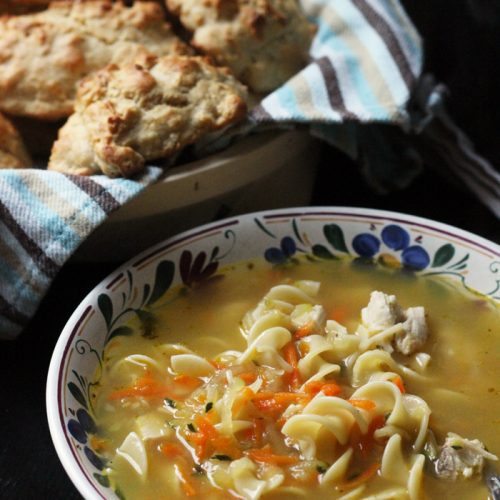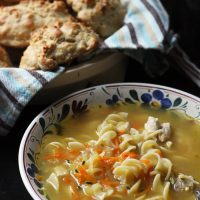 Chicken Noodle Soup
This Chicken Noodle Soup Recipe is an easy and economical dish. Stir up a pot of chicken broth with tender egg noodles, chunks of chicken, and slivers of vegetables.
Print
Pin
Rate
Ingredients
2

tablespoon

olive oil

1

onion

grated

2

carrots

grated

1

zucchini

grated

8

cup

chicken stock

make your own

8

oz

wide egg noodles

1

teaspoon

dried marjoram

1

teaspoon

dry parsley flakes

salt

black pepper

2

cup

chicken (cooked and cubed)
Instructions
In large soup pot, heat the oil until shimmering. Sauté the onion until clear. Stir in the carrots and zucchini and cook a few minutes more. Stir in the broth or stock.

Bring to a boil and stir in the egg noodles. Simmer 10 minutes or until al dente.

Stir in the marjoram, parsley, and the salt and pepper to taste. Add the chicken meat. Simmer until hot. Serve immediately.
Notes
Note: the noodles in leftover soup will continue to absorb liquid, so you may need to add more chicken stock when serving leftovers. For best noodle texture, enjoy this soup within 2 days of preparation.
Nutrition
Calories:
210
kcal
|
Carbohydrates:
25
g
|
Protein:
14
g
|
Fat:
6
g
|
Saturated Fat:
1
g
|
Cholesterol:
48
mg
|
Sodium:
923
mg
|
Potassium:
529
mg
|
Fiber:
2
g
|
Sugar:
2
g
|
Vitamin A:
2625
IU
|
Vitamin C:
23
mg
|
Calcium:
38
mg
|
Iron:
1
mg
Tried this recipe?
Tell us what you think! Your reviews help us develop better recipes and give newcomers the confidence to try your favorites. Scroll down to leave a starred comment.