Chicken Gumbo Soup, that childhood favorite from the red-labeled can is now within your reach – homemade, tastier, and better for you!
When I was growing up, soup can from a can with a red label. If we were lucky, that can of soup cost only 15 cents at the grocery store, at which time my dad would heap the cart high with the chicken noodle variety. On days when Mom was doing the shopping, she let me choose my favorite kinds. Sometimes I'd choose Chicken and Stars, sometimes Bean with Bacon, but more often than not I'd choose Chicken Gumbo Soup.
California-born and bred, I had no idea what true gumbo was like or what the heck that funny green vegetable was floating in there, but I sure loved Chicken Gumbo Soup.
Fast forward 15 years and I was a newlywed, having a grand old time playing Donna Reed in my little 200-square foot studio apartment that I shared with my husband. One of our friends had gifted us a huge soup ladle and a copy of A Feast of Soups. Her advice to me was to learn to make soup, as that was an economical way to feed guests. You could extend hospitality without ending up in the poor house yourself.
And it's true! Soups are good food. And good cheap eats.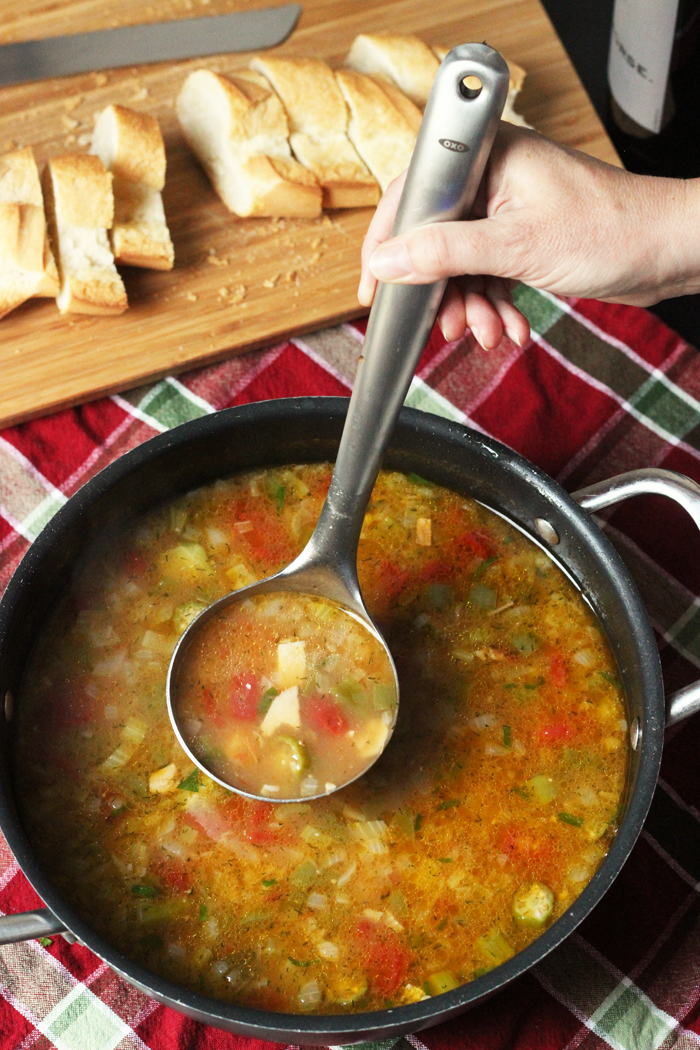 That soup cookbook, originally published in 1982, back when I was ten and enjoyed canned soup, became a very important part of my food education. While there aren't many soup recipes in that book that I make, the soup making INSTRUCTION in that book is invaluable. I have read it cover to cover several times over, and owe much to Ms. Heriteau for having taught me to make soup. If your family enjoys soups, then it is worth it to hunt down a copy of this book.
This Chicken Gumbo Soup recipe is an adaptation of one included in my favorite soup cookbook. The recipe, as named in the book, is called, "California Chicken Gumbo for a Mob." I have no idea why it would be called Californian, and it only barely feeds my family of 8 at one sitting. But it is super good.
The original directions call for you to saute the butter, ham, celery, onion, pepper, and rice. Stir in the flour and a cup of chicken broth and then dump all the ingredients into a slow cooker, including uncooked chicken pieces. However, I prefer to make this Chicken Gumbo Soup with cooked chicken and to cook the soup itself on the stove top. I like the textures better. But, know that you can absolutely make it in the slow cooker if you like.
Chicken Gumbo Soup
Chicken Gumbo Soup, that childhood favorite from the red-labeled can is now within your reach – homemade, tastier, and better for you!
Course:
Main Course, Soup
Keyword:
chicken gumbo, chicken gumbo soup, gumbo soup
Ingredients
1/4

cup

butter or olive oil

1

cup

chopped onion

1/2

cup

chopped celery

1/2

cup

chopped bell pepper

I use whatever color I have on hand

1/4

cup

diced ham

1/4

cup

uncooked rice

1/4

cup

unbleached all-purpose flour

10

cups

chicken stock

I use homemade

1

cup

frozen sliced okra

no need to thaw

1

cup

diced canned tomatoes,

drained

1

cup

canned black-eyed peas

rinsed and drained

1/2

teaspoon

pepper

2

cups

chopped cooked chicken

1/2

teaspoon

dried dill weed

fresh chopped parsley
Instructions
In a large heavy pot over medium high heat, heat the butter and saute the onion, celery, and pepper until the onion begins to be translucent, about 7 minutes. Add the ham, rice, and flour and stir for 3 minutes. Add one cup of the stock and stir to combine.

Add the remaining stock and the okra, tomatoes, peas, and pepper. Simmer for 20 minutes or until the rice is cooked. In the last ten minutes of cooking, stir in the chicken and dill weed. Serve soup, garnished with fresh chopped parsley.