Summer nights are perfect for a cool, salad bar dinner with family and friends.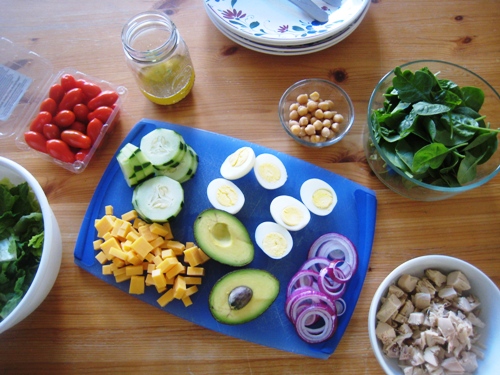 I have always been a big fan of salads. And salad bars? Oh my! Takes me back to the days when Sizzler was a cool place to go for dinner. I was in grade school and it was so fun when Dad decided to take the family to Sizzler. I always got the salad bar and went back as many times as I wanted.
The days of the salad bar have faded. It used to be that even fancy steak houses featured a salad buffet laden with cold, crisp greens, and a variety of toppings.
But just because it's not in vogue, doesn't make the salad bar a thing of the past. In fact, it's an excellent choice for cool summer suppers.
Consider the benefits of the salad bar:
You can prepare all the ingredients ahead of time and chill the components in the refrigerator.
A salad bar is a great way to fill your family up on fruits and vegetables.
Each diner can customize his dinner, allowing for a variety of tastes and preferences.
Clearly a salad bar is an apt choice for good eats this summer. It's a delicious option for family suppers, evenings with friends, and light lunches when it's too hot to do much else.
Grab some fun salad tools:
Your purchases help support this site. Thanks so much!
Here's how to pull it off with taste and style:
1. Start with crisp, cold greens.
Back in the day, chopped iceberg was the only choice. But, times have changed. There are a variety of greens readily available like spinach, romaine, green leaf, red leaf, butter, and a mixture of baby greens, as well as the iceberg standard.
Tear your greens gently into bite-sized pieces and rinse well with cool water. I like to use a vinegar and water rinse to add a natural anti-bacterial effect. Spin your greens dry in a salad spinner and then chill in the refrigerator.
It's important to dry your lettuce. Wet lettuce and greens are more susceptible to spoilage and won't hold onto your dressings when the time comes to add a vinaigrette or other dressing.
2. Provide some protein.
If the salad bar is your main dish, make sure that you provide some protein sources. These can be varied and inexpensive. You can even use up the previous night's leftovers.
Try the following:
cooked, chopped chicken, turkey, beef, or ham
cubed or shredded cheese
hard-cooked eggs
beans, such as kidney, black, or garbanzo
cooked and cooled quinoa

3. Offer lots of veggies.
Vegetables are typically expected in a salad bar. Offer as large as a variety as you can, including:
chopped or shredded carrots
sliced cucumbers
chopped or sliced avocados
sliced or chopped onions (red or green are nice)
chopped bell pepper
cooked and cooled beets
chopped or sliced tomatoes
sliced olives
sliced radishes
broccoli and cauliflower flowerettes
chopped celery
sugar snap or sweet peas
sweet corn
pea tendrils, oh yes, indeed

4. Add some fruit, too.
Fruit is a lovely foil for the more savory components of your typical salad bar. Orange slices, dried cranberries, berries, chopped apple, sliced or whole grapes, and grapefruit sections add great flavor.
5. Don't forget the crunchy toppings.
Crunchy toppings make salads just a little more fun. Yesterday I bought a day-old loaf of shepherd's bread so I can make a monster batch of homemade croutons. Yum! Other things to add crunch would include nuts and seeds. Sliced almonds, chopped walnuts and pecans, pepitas, and sunflower seeds make great salad toppings.
6. Include a touch of fresh herbs or flowers.
Fresh herbs add a fresh, earthy component to your salads. Offer chopped fresh dill, basil, parsley, and cilantro for a little green flavor. Arugula flowers add an interesting kick of pepper as well as make the plate a little prettier.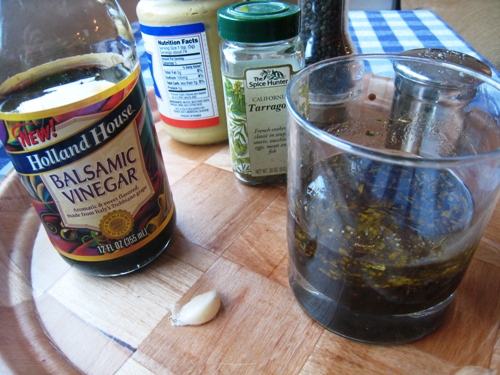 7. Dress it up.
Homemade dressings are amazingly easy to pull together. Mix them up in jars for easy mixing and storage. Some of my favorites include:
Bring it all together.
The fun of the salad bar, besides getting to eat as much as you want, is that you can experiment with all kinds of different combinations, making this a great meal to serve to friends on a festive summer evening.
Want an easy way to remember all these tasty additions to your next salad bar supper? Download this salad bar checklist for a handy reminder.
Basic Salad Bar
Serving a salad bar is a great way to feed a crowd and appeal to a variety of tastes. Lay out a variety of vegetables, greens, cheese, and proteins for a great salad bar.

Preparation Time: 10 minutes
Cook time: 10 minutes
Total time: 20 minutes
servings vary
Ingredients:
greens

cooked chicken, turkey, beef, or ham

hardcooked eggs

beans

chopped vegetables

croutons

shredded cheese

salad dressing
Instructions:

Lay out bowls or jars of each ingredient as well as plates. Let guests create their own salads.
What do YOU like to add to your salads?