Pea tendrils are a delightful taste of spring and a great way to use the thinnings from your pea patch.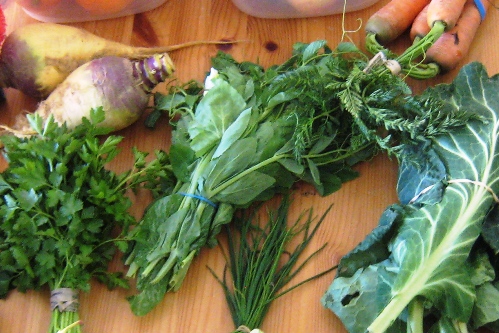 Early in the month, I instant messaged a friend the following:
i have weird vegetables coming out my ears: kale, collard greens, pea tendrils, and arugula flowers
Yes, indeed, those four cultivars were not things I was familiar with. But, I am happy to report that two weeks later, I am a huge, Huge, HUGE fan of pea tendrils. Love them!
So, here's the deal: Pea tendrils, I've also heard them called pea shoots, are the early stems of the pea plant. Who knew that all the parts of the plant were edible? Not me!
In fact, years ago when we had room to garden, we planted lots of peas, me and my helpers. When it came time to thin the pea patch, we. threw. them. away.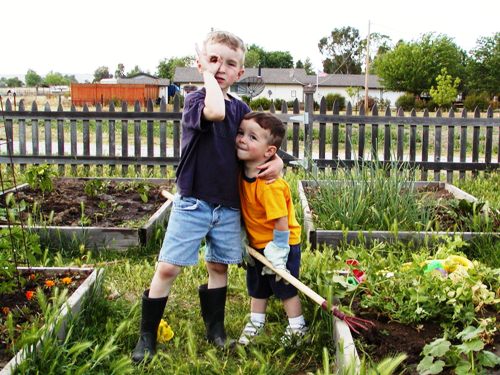 Yes, I'm stunned, too. Evidence, right there by that little boy's rake. We know better now. Every part is edible and delightfully flavored of peas, but with a salad green type texture. Amazing!
To serve, chop the stems, leaves, and flowers coarsely and rinse well in the salad spinner. Use as you would other greens, like in salad or in sautes. Pea tendrils took this spinach and egg dish over the top.
And it did wonders for our salads as well, adding texture and that slight nuance of peas. The white flowers are pretty, too, not to be confused with the purplish-white arugula flowers, which are also delightful.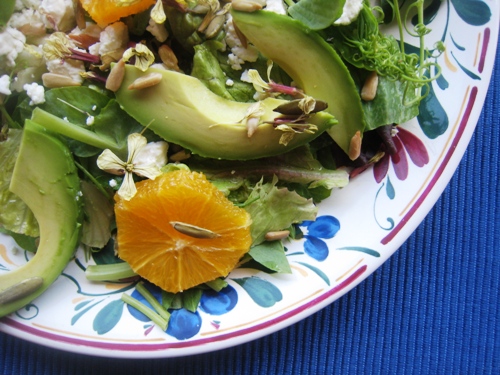 Can you tell that I am just loving the arrival of Spring? Check this out. Yum!
Recipe: Orange and Avocado Salad with Pea Tendrils
Summary: Per salad you will need:
Ingredients
2 handfuls mixed greens, including a generous portion of pea tendrils, coarsely chopped
1 orange, peeled and sliced
1/2 avocado, peeled, pitted, and sliced
1/4 cup feta cheese crumbles (omit for whole 30)
2 tablespoons sunflower seeds
2 tablespoons Tarragon Balsamic Dressing or other favorite dressing
Instructions
Layer the ingredients on a dinner plate in the order listed.
Preparation time: 5 minute(s)
Number of servings (yield): 1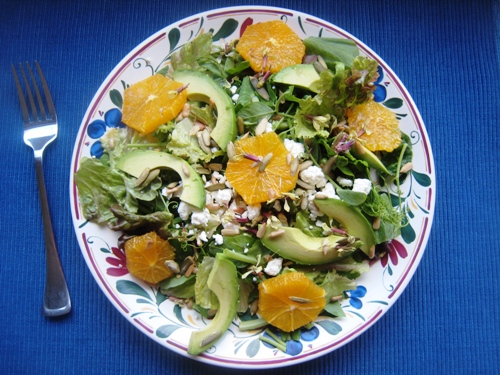 Should you see pea tendrils or pea shoots at your farmer's market or in your CSA box, snatch them up and enjoy them. So good — and such a beautiful taste of Spring!
Ever tried pea tendrils?