Instant oatmeal packets are a convenient breakfast on the go. They're full of whole grains and dried fruit, making for a great breakfast. The best thing is that you can make them yourself!
Oatmeal is a great breakfast. It's full of whole grains which are good for digestion, heart health, and any number of other health benefits. It can be made in any number of ways, from Raspberry Baked Oatmeal to Not Mushy Oatmeal. It's even great served as an Oatmeal Bar with a variety of toppings.
However, traditional oatmeal can take awhile to prepare on the stove; baked oatmeal takes even longer to cook in the oven. What about a quick and easy, breakfast that takes minutes to prepare?
A convenient breakfast can make your mornings go so much more smoothly. Serving food that is easy to prepare and easy to clean-up is like having the best of both worlds. A meal that the kids can actually do prep all themselves is like icing on the proverbial breakfast cake!
A walk down the cereal aisle will show ya that it's a pretty common thing. Cold cereal and instant oatmeal packets take up quite a bit of square footage!
Would you be surprised to know that you can make your own instant oatmeal packets? 'Tis true! And it's not hard at all! So skip over the boxes of instant oatmeal packets and let's get to it, shall we?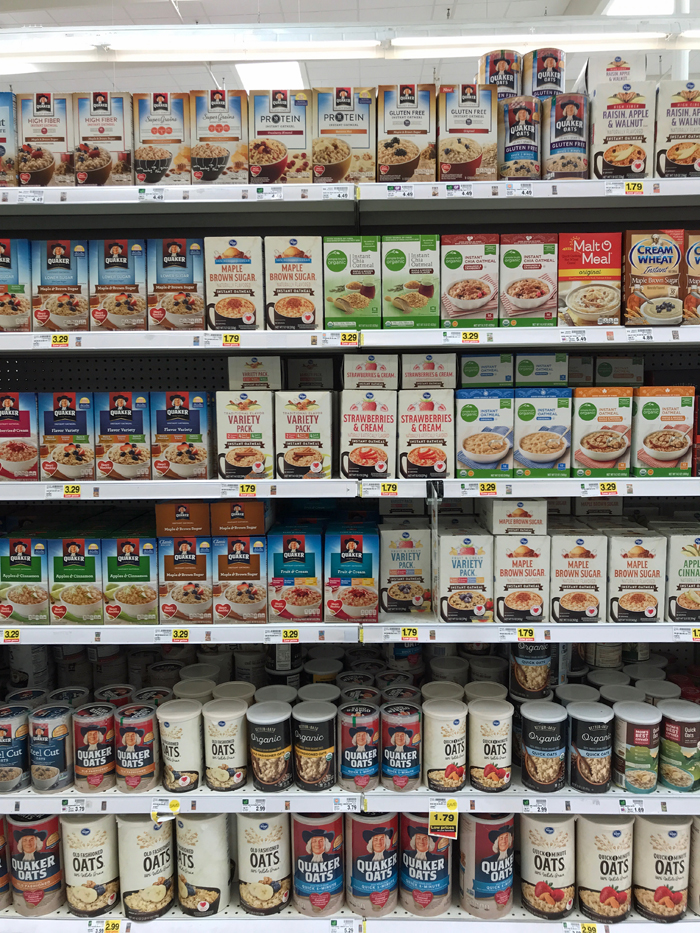 It's incredibly easy to make your own instant oatmeal packets. I first started mixing this up back in 2010, using quick oats, dried milk, sugar, and spices. Over the years I've played with the concoction and seen that it works just as well with old fashioned oats, which actually happen to be healthier for you.
Are instant oatmeal packets good for you?
While I'm certainly not a nutritionist, the research I've done says that whole grains, such a old fashioned oats, have more nutrition than quick oats. Quick oats are more processed, so the body doesn't have to work very hard to digest them. They're more like white bread. You'll feel hungry pretty quickly again.
Whole grains make the body work a little more, keeping you satiated a little longer. Making instant oatmeal packets with old fashioned rolled oats, is therefore a better choice.
How to make instant oatmeal packets:
Making your own instant oatmeal packets is incredibly easy. You can use plastic snack bags or small plastic bowls with lids. You can save the plastic bags and reuse them if you like.
Lay out all the ingredients: rolled oats, oat bran, dry milk powder, brown sugar, chia seeds, ground flax meal, dried fruit, salt, and spices.
Lay out the containers you're going to place them in. Using assembly line process, add oats in all your containers. Continue with the rest of your ingredients.
Seal up the containers and store them in the pantry. Store in the freezer for longer freshness.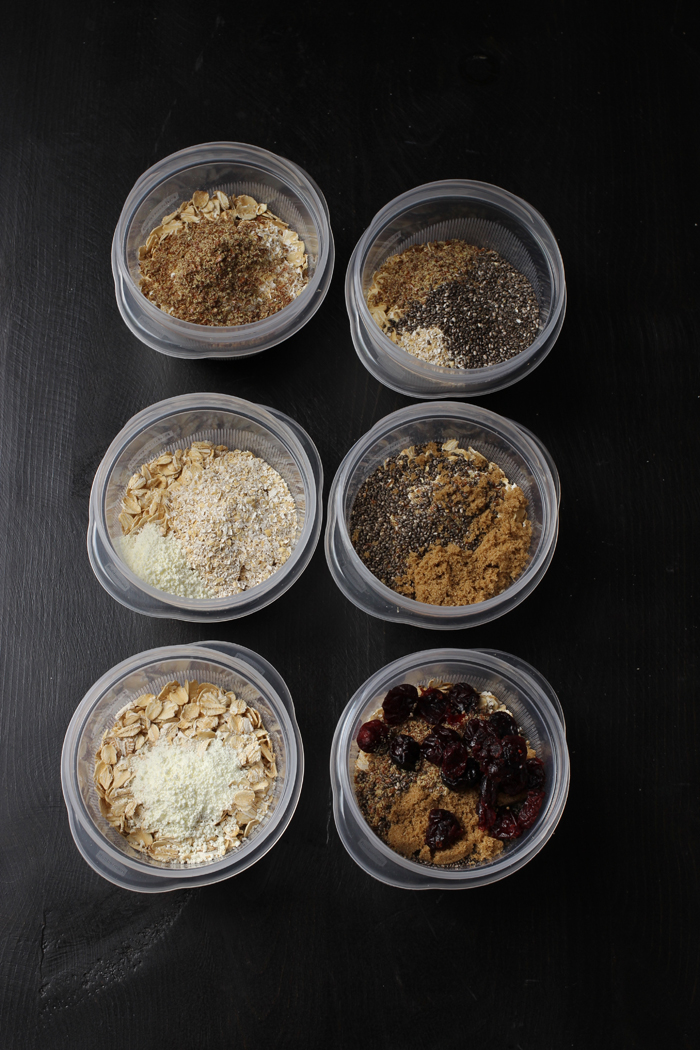 What are the different flavors of instant oatmeal packets?
There are lots of ways that you can doctor up your instant oatmeal packets.
Consider these different flavor combinations:
apples and cinnamon
cranberries and walnuts
cherries and almonds
pineapple and coconut
blueberries and nutmeg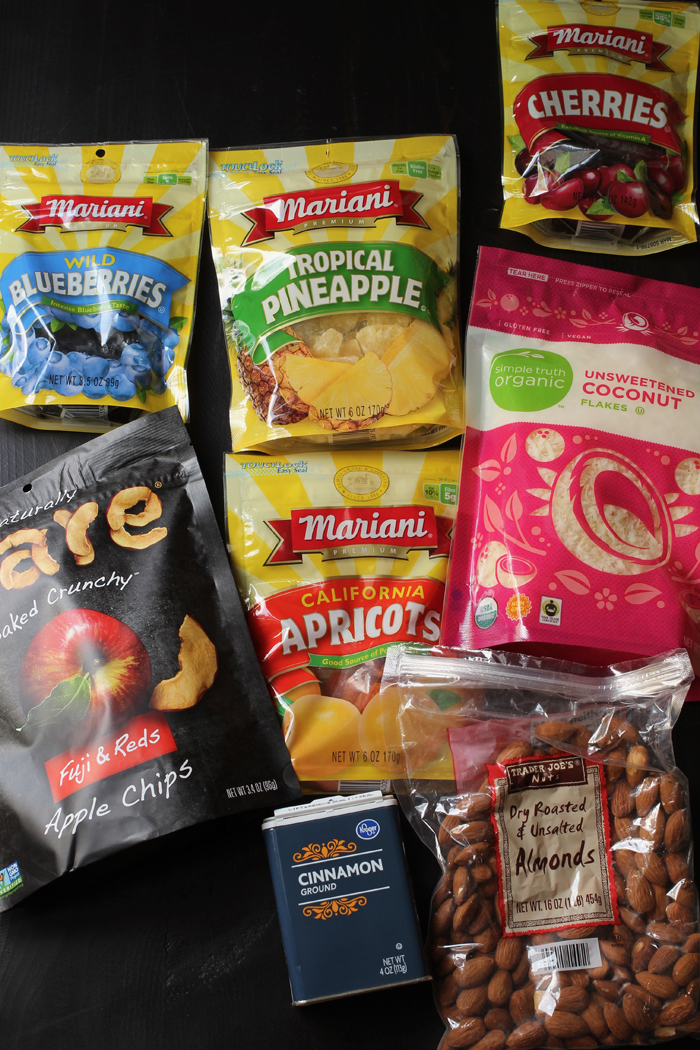 How to make this good and cheap:
Here are some of the strategies you can use to make this recipe more economical:
Stock up on ingredients when they are on sale. When I find regular kitchen staples on sale, I buy a lot. I'm currently using a price book to track prices and that's saving me money. For this recipe, keeping an eye on the price of oats, flax seed meal, chia seeds, and powdered milk can help keep the price down.
Buying in bulk – I regularly buy oats and spices in bulk from Costco. Check the unit cost of the different size items available. As the budget allows, but the size with the lowest price per ounce.
How I make this recipe easy:
This Instant Oatmeal recipe really couldn't be easier than it is, but having the right kitchen tools can really make your time in the kitchen more enjoyable. Over time, I've honed my collection so that they are perfect for my needs.
Here are the tools that I use for this recipe:
Plus, have an assortment of dried fruit, such as blueberries, cherries, cranberries, apples, and apricots, on hand to make different flavored packets.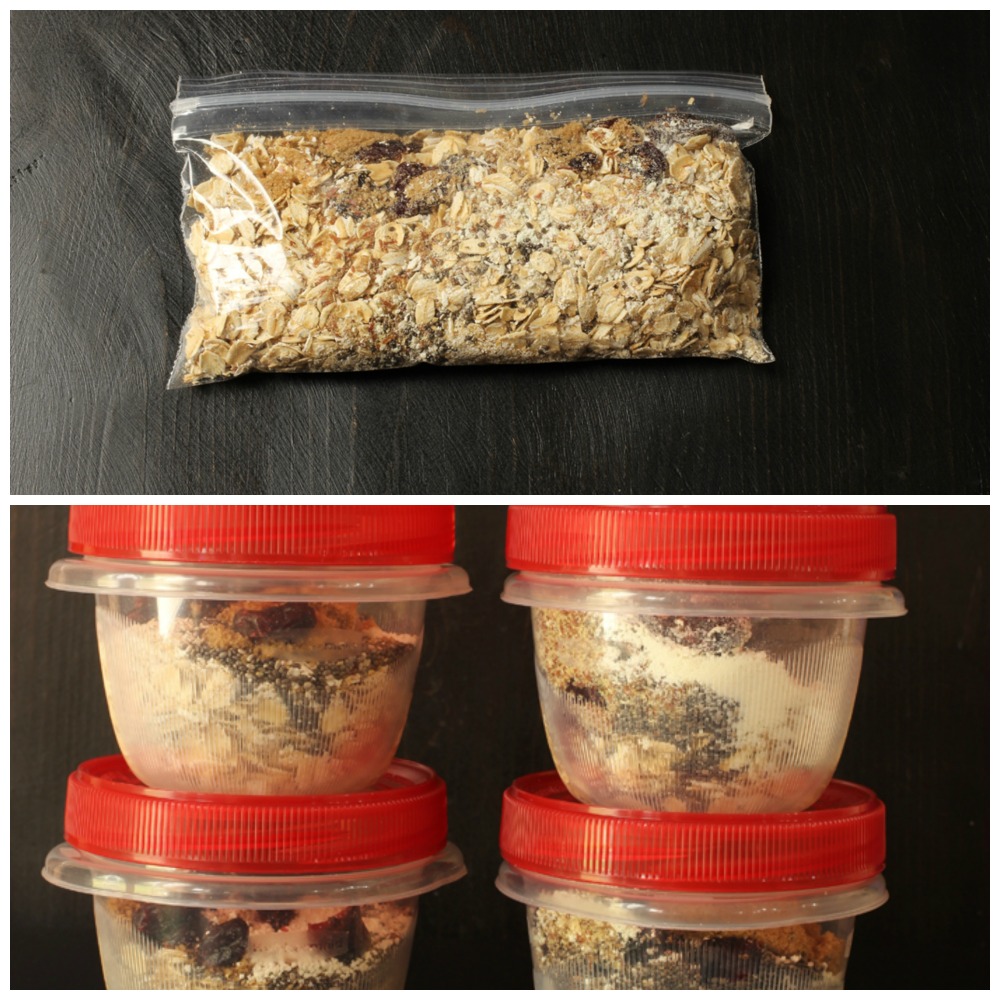 Instant Oatmeal Packets
Instant oatmeal packets are a convenient breakfast on the go. They're full of whole grains and dried fruit, making for a great breakfast. The best thing is that you can make them yourself!
Ingredients
¼

cup

rolled oats

½

tablespoon

oat bran

½

teaspoon

powdered milk

½

teaspoon

flax seed meal

½

teaspoon

chia seeds

½

teaspoon

brown sugar

½

tablespoon

dried fruit

such as raisins, dried cranberries

dash

salt

dash

ground cinnamon
Instructions
Combine all ingredients in a small snack bag. Shake to combine. Store in freezer for longest shelf life.

To serve, empty packet into a bowl. Add ¼ to ½ cup water. Cover and rest for 2 minutes before serving.
Notes
For longest shelf-life, store the packets in the freezer.
Nutrition
Calories:
141
kcal
|
Carbohydrates:
27
g
|
Protein:
5
g
|
Fat:
3
g
|
Saturated Fat:
1
g
|
Cholesterol:
2
mg
|
Sodium:
12
mg
|
Potassium:
165
mg
|
Fiber:
4
g
|
Sugar:
7
g
|
Calcium:
45
mg
|
Iron:
1
mg
Tried this Recipe? Tell us what you think!
Your reviews help us develop better recipes and give newcomers the confidence to try your favorites. Scroll down to leave a starred comment.