Buying food you love on sale and storing it for when you want it is a great way to build your pantry and save money.
This post was originally published on August 13, 2013.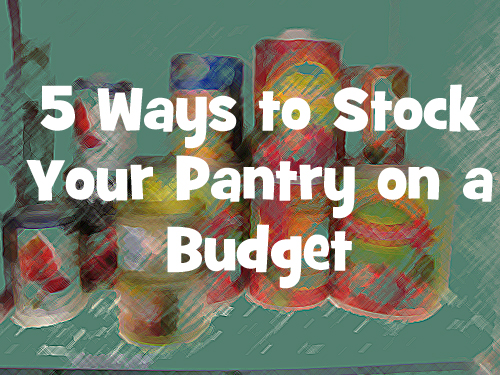 I love a stocked pantry. I really do. It may be that my dad — and my gramma before him — loved to stock their cupboards with groceries. Food is a comfort for our family. Having choices, having reserves, well that goes along with the comfort factor.
I'm quite content when my cupboards are full of yummy, healthy options to feed my family. Yet, I want to build that pantry in a budget-friendly manner. If I can stretch our dollar, we get the best of both worlds: full bellies and a balanced budget.
Here are some quick tips on how to stock your pantry on a budget.
1. Know your likes and dislikes.
Be honest with yourself about what you really like. Don't stock up on things that your family would really rather not eat. I'm not talking about "it's not my favorite". I'm talking about "we really can't stand this".
Lentils is one of those things for our family. Gasp. I know. I've tried. But, the texture is just a little too, I dunno, gritty for our tastes. So, I know not to buy them. Black beans on the other hand fly off the shelf. So, I know to stock up on those when I see a good sale.
Stocking our pantry with food we like at a great price saves us money.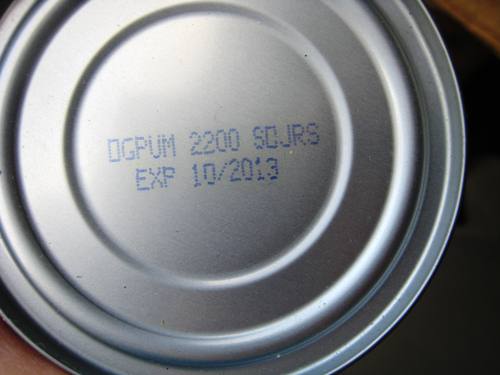 2. Look at expiration dates.
While "best by" dates are a little ambiguous, it makes no sense to stock up on foods that will "expire" in a few weeks. Check near the back of the grocery shelves. You may find the exact same thing with a later date. If you find a great sale, buy extras, but make sure their dates are far enough out there to give you time to enjoy it. And be sure to rotate your stock as you use it.
Stocking our pantry with food that will stay fresh until we use it up saves us money.
3. Watch the sales and store markdowns.
So, I might not have "needed" ten packs of pepperoni last week. But, at $2 a package, it was a steal. That's about half the regular price. I bought ten, stretching my money twice as far. They store well in the freezer, so I've got ten weeks of pizza night taken care of.
Likewise, I found canned organic pumpkin awhile back for only 50 cents a can, about 1/4 of the regular price. Since the "best by" dates were several years away, I bought a lot. It wasn't hard to store them and I got a lot of pumpkin for my pennies.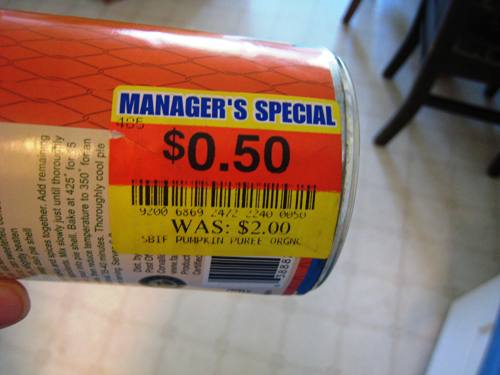 Watch the sales and store markdowns for things that you know you will use (before the expiration date, of course), and stock up — budget and storage space permitting.
Stocking our pantry with favorite items on sale saves us money.
4. Clip coupons.
Once upon a time, coupons were my life. My heart would race a little faster when the new printable coupons were released or when I saw the Sunday paper, rife with glossy ads. While my obsession has calmed down a bit, I've not kissed the coupon goodbye completely.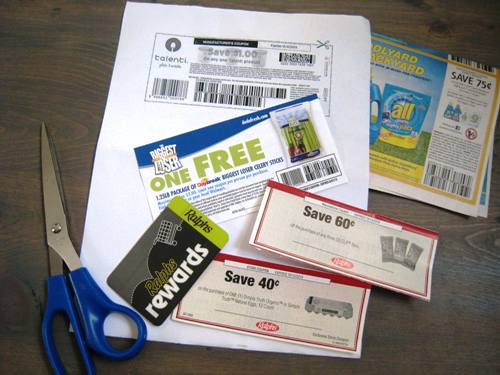 What I've discovered is that store coupons, loaded to my card, are pretty easy to use — same goes for the coupons that Ralphs sends me every couple weeks. (It's a pretty smart strategy of theirs, since it's one of my favorite stores.) Whether you clip all your coupons, browse the digital coupons, or simply keep an eye open for FREE product deals from brands, coupons can help you stretch your budget.
Taking advantage of store or manufacturer coupons, especially when coupled with a sale, can save us money.
5. Buy in bulk.
Not all bulk purchases are a great deal, but they often are. The unit price of spices, rice, beans, or oats often goes down as the package size goes up. If you know it's something you like (see point #1), that it's not going to go bad before you buy it (#2), that it's a good deal (#3), well, then go for it. Stock up!
(Just be sure to store it appropriately so that it doesn't go stale or get infested by bugs or rodents.)
If you don't have the space, consider splitting your purchase with friends — then more than one of you can benefit from the bulk pricing.
Stocking our pantry with bulk items saves us money.
How do YOU build your pantry?