If you've read the news, you know it's time to stock your kitchen. Consider these tips to do it calmly, affordably, and with a meal plan in mind.
You've seen the news. You've witnessed the frenzy at Costco. You've felt the anxiety in the air.
With COVID-19 a real threat worldwide, churches, schools, and businesses are taking precautions to prevent the spread of the virus. As a result, we've heard the recommendations to stock a 14-day supply of food in case you're stuck at home or have trouble finding supplies.
While there is genuine cause for concern — this has certainly never happened in my 47.8 years on this planet — we don't need to panic. In fact, taking action can actually soothe your fears.
Let's unpack what it means to stock up a 14-day (or more) supply of food.
How to Stock Your Kitchen for 14 Days
1. Check to see what you already have.
You may already have enough on hand!
I know it doesn't seem like you've got two weeks of food since most of us buy groceries every few days. That said, after ten years of doing a yearly pantry challenge and talking with other home cooks doing the same, I think it's safe to say that many of us already have several weeks of food on hand.
Is it exciting food? Yes and no. Sometimes. Maybe. Will it keep us alive? Most definitely.
That said, your situation may be different. Perhaps you don't have a large fridge or freezer and cupboard space is minimal. Maybe you've just finished a pantry challenge and things are bare.
Do a good inventory to see what you have already before you stock your kitchen with more. Chances are you may have more than you think.
Read –> Meal Planning 101: Take Inventory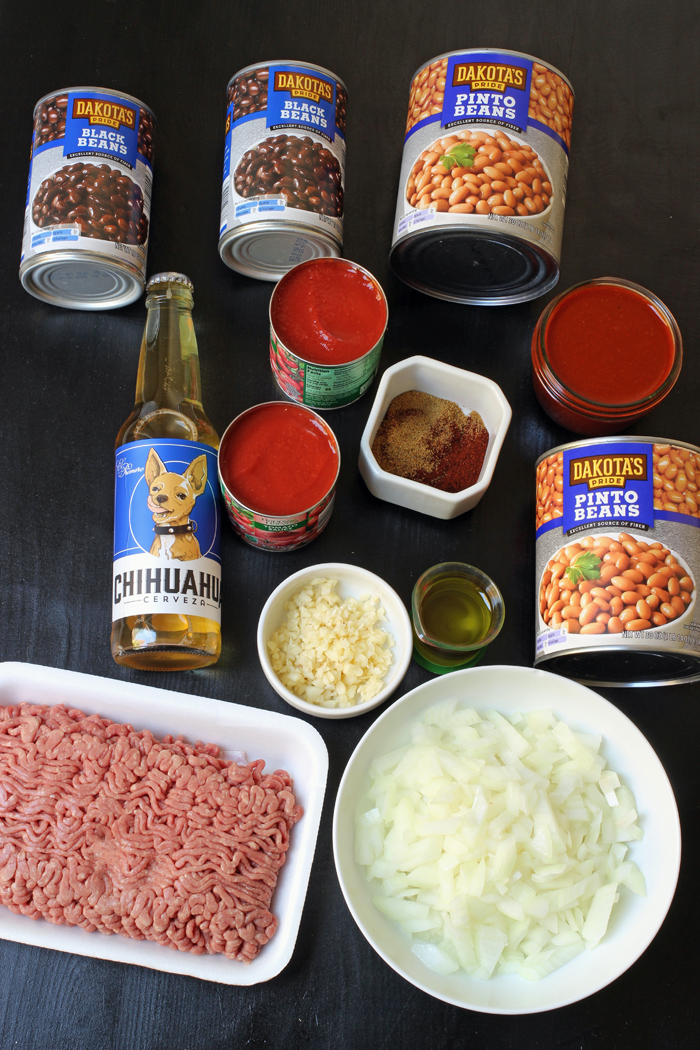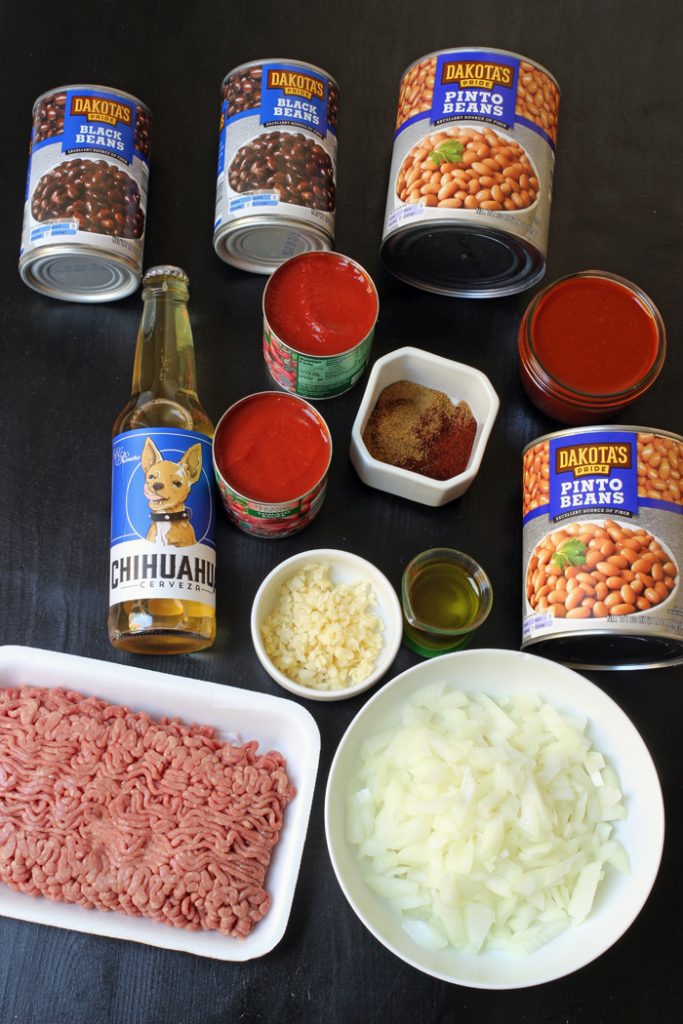 2. Stock your kitchen with food you would normally eat.
We're facing supply chain issues more than the loss of utilities that would result from other emergencies such as blizzard, earthquake, and hurricane. You don't need to stock MREs. Unless you normally do.
Buy food that you would normally eat, focusing on foods that are shelf-stable or freezer friendly. Prioritize those items you really can't live without like baby formula or foods for special diets.
While you can't stock enough perishables to last months, many of those items can be frozen. The short list of what not to freeze includes mayonnaise, sour cream, and lettuce.
You can freeze eggs (out of their shells) as well as potatoes, milk, and yogurt.
When all this blows over, you don't want to spend a fortune stocking up or be stuck with food you don't like. Focus on buying a few extras of what you normally consume.
Read –> Freezer Cooking: What Can You Freeze and Still Enjoy?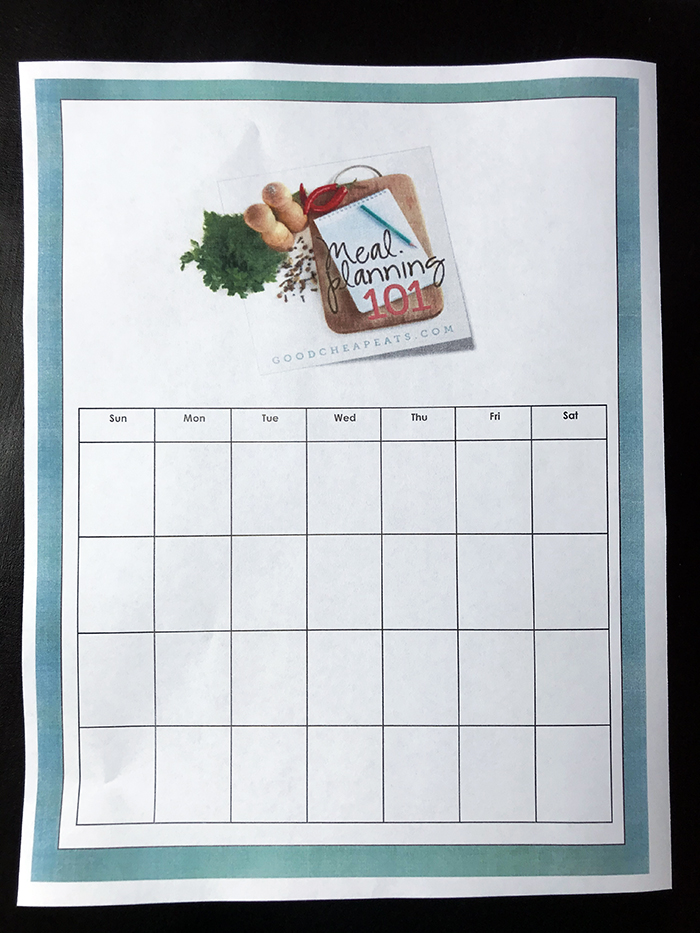 3. Make a meal plan.
The same rules apply now as they did to life-as-we-knew-it-last-month: Don't buy food that you don't have a plan for.
Instead, have a meal plan ready so that you can keep to a routine and know what to do with the food you've socked away. You'll spend less money and you'll eat better, too!
Fourteen days includes 14 breakfasts, 14 lunches, and 14 dinners, plus snacks. That's 42 meals per person, not including snacks. It's a basic math problem and honestly, a fairly simple process.
Print out two copies of this printable meal planner. It can hold a month of dinners or a week of breakfasts, lunches, snacks, and dinners.
Start plugging in meals that you know you like, based on foods that you already have, what's on sale, and what can last awhile.
Meal planning for a month or a few weeks is a pretty simple process. It will help you make good use of what you have and calm your nerves, knowing that you'll eat well for the duration.
4. Focus on sale items.
While you may not have a lot of choice, wherever possible focus on sale items. In my neck of the woods, I'm seeing these prices:
ground turkey $2.99/lb – can be frozen
whole chickens and split chicken breasts $0.88/lb – can be frozen
ground sirloin $3.99/lb – can be frozen
cheese $1.49/8 ounces – can be frozen, just shred it first
coffee $6.49/12-ounces
crackers $1.99/box
cabbage $0.33/lb – will last a long time refrigerated
Your sales may vary, but the idea is the same. If you're going to stock your kitchen with extra ingredients, try to save money while you're at it.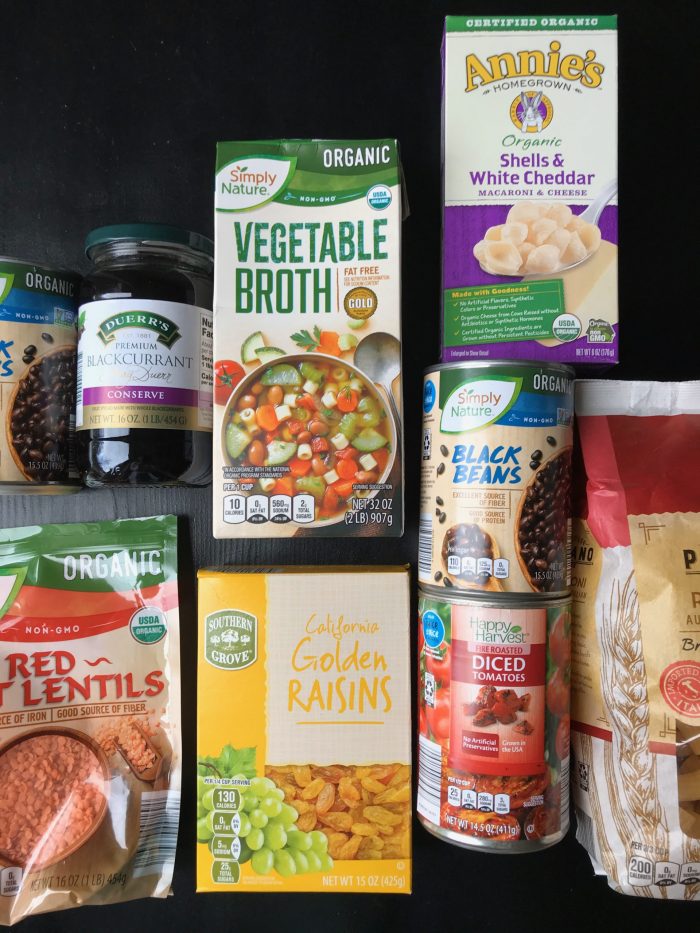 5. Expand your canned goods horizons.
I grew up on canned foods, as did my parents. But, I tend to cook with more fresh ingredients on a regular basis. However, canned foods have an advantage.
Canned goods are usually ready to eat from the can — hello, new convenience foods! — and can be stored virtually anywhere. Even if you don't have a lot of space to stock your kitchen, you can store cans all over the house.
These Pantry Meals focus on canned goods and are absolutely delicious. Feel free to load up on these things, knowing you'll have a way to use them up:
beans
rice (dry or the instant cups/packets)
canned tuna
canned tomato products
spices
pasta
6. Buy enough to share, but don't clear the shelves.
Obviously, many other people will be doing the same thing as you, so things might get a little heated in the grocery aisles. Buy enough to stock your kitchen for a couple weeks and to share with friends and neighbors if needed, but don't clear the shelves.
Remember we're all in this together. We will get to the other side of this. Let's do it kindly and eat well in the process!
What are you doing to stock your kitchen?