With inflation rising and supply chain issues, budget foods may seem scarce. What you spend on food could rise dramatically if you're not careful. That's when it's helpful to have a master budget grocery list of foods to focus on.
Part of the Good Cheap Eats System is to meal plan to save money. Plan your meals around foods that are generally frugal, like the ones on this budget grocery list.
Jump to:
Grocery Budget? Check. System to save money? Check. Booming economy? Oops.
While it's true that the cost of food has jumped 6% over the last year, it's not all gloom and doom. Let's face it. Every generation has faced tight finances and lived to tell about it.
Our parents, grandparents, and great-grandparents survived the Depression and the 1970s. We, too, shall overcome!
You may not have gotten a 6% raise to keep up with inflation, but that doesn't mean you can't still enjoy great meals. With a grocery budget and a system in place, you just need to know when and how to pivot. Which budget foods deserve your hard earned money?
When the ingredient you want costs more than the budget allows, it's time to choose something different. Plan meals based on generally affordable ingredients. Having a budget grocery list can help!
Why It Matters
A budget grocery list offers flexibility. I first created one of these after we purchased our first home and money was tight. Instead of lamenting what we couldn't have, my budget grocery list allowed me to focus on what was fair game.
I started a spiral notebook and jotted down all the budget foods we enjoyed along with meal ideas to go with. In this way, I was never short of inspiration and I had a treasure trove of budget foods to inspire me.
Your budget grocery list is nothing more than a list of generally affordable ingredients that you can turn to when you need to pivot. If chicken is too expensive this week, what can you have instead?
Ingredients
Focus on these generally frugal ingredients as you build your budget grocery list:
eggs – Eggs are great budget foods in baking, but also serve as a key protein element on their own or worked into casseroles, salads, or sandwiches.
canned beans – Add beans to soups, salads, chilis, and burritos in addition to serving them as a side dish.
dry beans – Dry beans cost even less than canned, and it's easy to cook bean in the pressure cooker. Add them to your list tout de suite.
lentils -Lentils are a hearty budget food, a cheap protein that you can add to soup and salads. You can also make homemade dal and save on dining costs.
dry split peas – A key ingredient in Instant Pot Split Pea Soup, split peas are another cheap plant protein.
canned chick peas – You can serve garbanzo beans in salads and soup, but you can also make your own Homemade Garlic Lime Hummus.
rice – Rice is key for breakfast, lunch, or dinner: in Cream Of Rice, Vegetable Fried Rice, or as a base for bowl meals. Rice is one of those no-brainer budget foods to add to the list.
oats – Use oats for Baked Oatmeal Cups, as oatmeal, or in granola. They are a powerhouse of fiber and super cheap to buy.
pasta – Who doesn't love pasta? It makes for a good cheap eat any night of the week. In lasanga, salads, soups, and a bowl with meatballs, pasta is where it's at.
ramen noodles – While ramen may get a bad rap with Gen Xers, it's a surefire win with the younger crowd, especially when you dress it up with dashi and a soft boiled egg. Ditch the msg-laden seasoning packet and make your ramen something more. The noodles are super cheap and quick to fix.
tortillas – You can do so many things with tortillas: pizza! burritos! quesadillas! tacos! and enchiladas! They are definitely a great addition to your budget grocery list.
flour – If you've got flour, you've got a world of options within your reach. There are so many things to do with flour! Bake bread, rolls, pizza, and so much more. Flour is a must-add to your budget grocery list.
cornmeal/grits/polenta – With some grind of cornmeal on hand you can easily whip up this Quick & Cheesy Polenta Recipe or bake a batch of Whole Grain Cornbread Waffles.
sugar – Since baking your own is almost always cheaper than buying it pre-made, have some sugar on hand.
baking soda – Likewise with the leavening. You'll need baking soda for many baked goods.
salt – Salt is a necessary nutrient for life, but also a great seasoning for meat, veggies, and baked goods.
baking powder – Baking powder is required for a number of baked goods, but remember you can make your own baking powder if need be.
dry active yeast – Store bread is pricy, unless you buy it on clearance. Baking your own bread is the way to go! Start with something easy like Everything Hamburger Buns and work yourself up to a sandwich loaf, like Sourdough Rye Bread.
popcorn – Popcorn is an incredibly fun snack that costs just a few pennies per serving! You can even make your own microwave popcorn. It's top snack on the budget grocery list.
raisins or dried cranberries – Dried fruit is shelf stable, making it a good investment since it won't go bad quickly. Raisins and dried cranberries are generally affordable and a little goes a long way.
saltine crackers – Many crackers can be incredibly expensive, but soda crackers are long lasting and generally the cheapest on the shelf. They're super flexible, too, able to be used in baked goods (hello, soda cracker cookies!), as a substitute for bread crumbs, and for snacking.
canned tomatoes – Canned tomatoes are a pantry staple, a must have if you're going to make Homemade Salsa. They're also convenient for adding to soups and chilis.
canned crushed tomatoes – Crushed tomatoes are a key component in Marinara Sauce. Why buy canned pasta sauce when you can make your own in minutes.
canned tomato paste – Likewise, tomato paste is an important ingredient to pizza sauce which is so much more affordable to make at home.
canned tomato sauce – Having canned tomato sauce on hand makes for easy soups, stews, casseroles, and pasta dishes.
cabbage – Cabbage is one of the longer lasting vegetables. Whether you buy it shredded or whole, make sure cabbage is on your budget grocery list.
bananas – A nutrient-dense food, bananas are great for snacking, for homemade baby food, for baking, and for smoothies. Anytime you can add a multitasker to your grocery cart, you've got a winner. Remember you can freeze bananas if you can't use them up soon enough.
carrots – Another long lasting vegetable that is generally affordable, carrots are a staple to keep on hand for snacks, roasting, baking, and soup-making.
potatoes – Sweet or not, potatoes are where it's at for providing plenty of calories at a discount. They generally last long and can be used in so many dishes.
celery – One of the main components in stir-fries, veggie platters, and mirepoix, celery is typically a good cheap eat that will last you awhile in the fridge.
onions – Onions are a building block of almost any savory recipe. Buy them in bulk, and load up when you see a sale.
garlic – Garlic packs a lot of flavor for a small price. It comes in a number of forms. Compare prices to see what works best for you. Even garlic powder can come in handy.
fresh citrus – Prices of citrus will vary throughout the year, but having a lime, lemon, or orange on hand can add acidic flavor to any number of dishes. Watch prices and when you see them on sale, enjoy!
fresh green chiles – Buy your chiles fresh instead of canned to add heat to your cooking without upping the cost.
in-season, on-sale vegetables – Other than the above mentioned fresh vegetables, it's hard to gauge what will be the best bang for you buck. Focus on in-season, on-sale vegetables whenever possible. Watch for marked down meats as well.
frozen green beans – Frozen green beans will always be cheaper than fresh ones and you're guaranteed quality since the veg is frozen straight from the field. Do yourself a favor and don't cook according to the package, make Easy Garlic Green Beans instead.
frozen vegetables – In lieu of fresh, on sale veg, stock up on frozen vegetables. They are generally just as nutritious as fresh and the prep work is already done for you!
in-season, on-sale fruit – Like fresh veg, the cost of fruit will vary throughout the year, depending on what's in season. Watch the grocery sales and load up on what's in season and on sale.
applesauce cups – Apples have become rather pricey of late, and while homemade applesauce is the better item, it can be expensive. Store applesauce cups are very competitively priced and are great for kids' snacks and for using in baking.
canned pumpkin – Available all year round, canned pumpkin can be used in sweet and savory. A nutritionally dense food, it's great in Pumpkin Coffee Cake as well as Spicy Pork Chili with Pumpkin.
pork roast – Speaking of pork, it's one of the more affordable proteins. Some cuts will be cheaper than others, but generally speaking pork will be cheaper than most chicken, beef, or fish. Load up when you see a sale and stash the extra in the freezer.
chicken legs – Bone-in chicken legs tend toward being the most affordable cut of chicken. Compare prices at the store though! I have seen situations when the boneless skinless breast was cheaper than chicken legs or quarters.
whole chicken – It's easy to Roast Chicken at home and you can often find it very affordable. A rotisserie chicken, however, may even beat homemade so don't discount bringing one home next time you're at Costco.
canned chicken – Canned chicken has a lot of benefits: it's precooked, ready to use, super tender, shelf-stable, and often more affordable than fresh chicken. Consider it as a viable option for soups, casseroles, and Chicken Salad Sandwiches.
ground turkey – While ground beef is super easy to stretch, the price of beef can be too high for many budgets. Ground turkey is a nice alternative, but make sure that the only other ingredient besides turkey is rosemary extract. This will ensure a very fresh clean flavor and not that weird ground turkey thing that turns people off.
canned tuna – Widely available and generally affordable, canned tuna has been a good cheap eat for generations. It's an easy protein to keep on hand for simple Tuna Macaroni Salad or Tuna Pita Pockets.
sausage – Bacon may be your preference, but bacon prices probably are not. Consider sausage as a more affordable alternative to bacon. You can find it in all kinds of flavors, including turkey, pork, and even plant-based options.
ham – Like its fresh pork counterpart, ham is going to be the more affordable lunch meat. There are so many great Leftover Ham Recipes to Help You Save Money, you definitely won't get bored.
marked down meats – Depending on where you shop, you may be able to keep any meat you like on the table by purchasing marked down meats. Talk to your butcher about their manager specials and when they sell those items at a discount. Use or freeze these cuts prior to their best-by dates.
tofu – If you enjoy tofu, you'll be glad to hear that it's a very affordable protein to cook with. It can be fried, scrambled, grilled, baked, and even worked into smoothies.
peanut butter – Peanut butter is another affordable plant protein, one of those budget foods that can jazz up smoothies, breakfast toast, and baked goods.
bulk spices – Spices can be overly expensive, but that doesn't mean you can't keep them on hand. Just be sure to prioritize which ones you'll use most often, shop at an affordable store, and try not to buy more than you'll use in the next 6 months, the shelf-life for most spices. If you just need a few teaspoons, head to a natural foods store and buy just what you need from their bulk jars.
neutral cooking oil – While olive oil adds great flavor to sautes and salads, it does bring some flavor with it. If you're pressed for grocery money, choose a neutral cooking oil that you can use in both sweet and savory recipes.
vinegar – Vinegar brings much needed acid to sauces, dressings, and marinades. If you don't have the space and budget to buy several different kinds, focus on a type that can be versatile, such as apple cider vinegar which can be used in a range of recipes without things tasting weird.
butter – Butter knows how to bring the flavor to baked goods, especially Chocolate Butterhorn Pastry. Avoid paying full price which can get really high. Instead, stock up when it's on sale and freeze butter for later use.
plain yogurt – Plain yogurt is a budget food that can double for sour cream and buttermilk in recipes, but is also so much cheaper than the flavored varieties at the store. Buying a larger tub will also be more budget-friendly than the single serve cups.
evaporated milk – If the price of fresh milk is giving you sticker shock, consider using evaporated milk. It can be diluted to use as milk or used straight from the can as a substitute for cream. Bonus: it's one of those budget foods that can be stored in the pantry until you're ready to use it, freeing up fridge space.
cottage cheese – Cottage cheese is a protein-rich budget food that you can include in baking, smoothies, casseroles, and for snacking. It's one of the more nutrient packed cheeses, bring a bigger bang for its buck.
block cheese – It's generally going to be cheaper for you to buy block cheese than shredded. And it will melt better, too.
Parmesan – A little goes a long way to add flavor when it comes to Parmesan. Buy it in a block to grate yourself or get the green can variety for the biggest bang for your buck.
dry milk powder – Dry milk comes in handy when the price of fresh milk is out of sight. While you might not love the flavor for fresh drinking, you won't notice it in baked goods.
bouillon base – If you're not making homemade stocks and broths, keeping a jar of bouillon base on hand can be a quick and easy way to add flavor to soups, stews, and sauces. It's easy to stretch the purchase more than those canisters of broth.
ketchup – Keep to the standards when it comes to condiments, like ketchup. You can make spicy ketchup yourself. And as a former ketchup snob, I can verify that generic tastes just fine!
mustard – The same goes for mustard. You don't need five jars clogging up the fridge and sucking up your grocery money. Choose regular and (maybe) Dijon. Then dress them up with seasonings or honey as your whim suits you.
pickles – Pickles are fun to keep on hand, but again, you don't need four kinds. Really. Prioritize which is important to you, buy them whole, and then slice, spear, or chop them yourself.
sriracha – Sriracha is hard to recreate but it's cheap and gives you lots of options for making lots of great dishes.
mayonnaise – While you can easily make Foolproof Homemade Mayonnaise, it's also convenient to buy at the store. Skip the flavored varieties and make your own Homemade Chipotle Mayo or Herbed Mayonnaise.
soy sauce – Soy sauce is another budget food condiment that brings a lot of flavor to the table. It can be used to doctor up a number of sauces and dressings, eliminating the need to buy the pricier commercial bottles.
jam or jelly – Great on toast and delicious in a biscuit, jam or jelly also makes a great addition to salad dressing so that you don't have to buy the bottled kinds. It's also tasty in Oatmeal Thumbprint Cookies.
honey – Honey is a tasty sweetener for drinks as well as baked goods and morning oatmeal. Be sure to buy it in a size you will easily use to avoid its crystallizing too much before you can use it.
tea – Tea is one of the most budget foods when it comes to drinks you can make yourself. The price per serving is incredibly low, so feel free to make your own Starbucks Medicine Ball Tea or iced tea.
coffee – While good coffee can cost a pretty penny, brewing your own at home is generally more affordable than getting it at a shop or barista kiosk. You'll save more than a few pennies making Iced Mocha at home.
cocoa powder – Keeping cocoa powder on hand allows you to bake cookies and brownies and to make Homemade Chocolate Syrup for so much less! You can also make your own Malted Hot Chocolate Mix.
protein powder – While you might not consider protein powder a budget food, it can boost your baked goods and smoothies with protein that might be harder to come by otherwise. Price it out yourself, but my guess is it's cheaper than a steak.
potted herbs – Fresh herbs can elevate a dish like nothing else. Growing your own herbs is a great way to do it!
Get the Printable List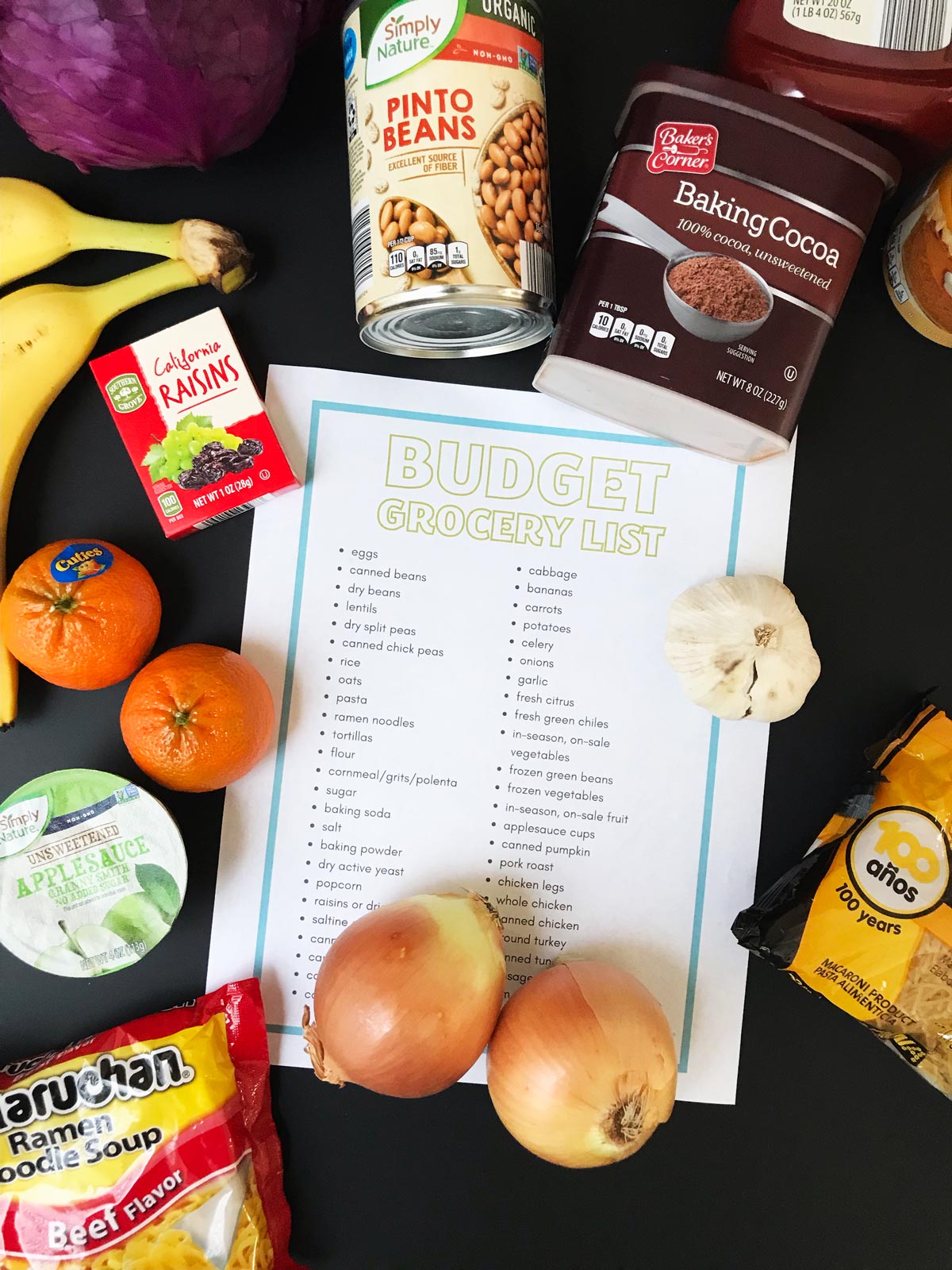 Those are the budget foods I recommend your leaning on to keep your costs low. Obviously, there will be variables based on product availability, location, and grocery store, but all the foods on this budget grocery list are what I would consider generally affordable.
Spoiler: these same foods have been on this list for more than 20 years. Some things don't change.
I've put them together into a printable Budget Grocery List, free for subscribers to my newsletter.
If you're not already on my mailing list, you can subscribe here. I'll send you immediate access to our free resource library, including this printable list.