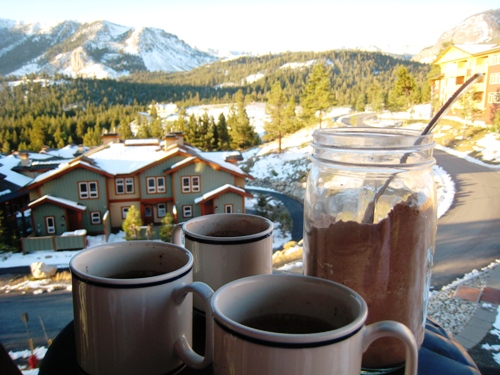 You've heard the saying before: necessity is the mother of invention. It is so true. And necessity spurned this hot cocoa recipe. Not only were we out of traditional cocoa mix, but I also did not have enough powdered milk to follow this Alton Brown recipe exactly. So, I improvised.
That's code for: I used whatever I could find in the cupboards.
It ended up that I had malted milk powder. Works for me! The malt and the spices combine with the chocolate for a delicious hot treat. Top it with whipped cream or marshmallows if you like.
We love this cocoa mix and intend to keep a steady supply on hand throughout the fall and winter.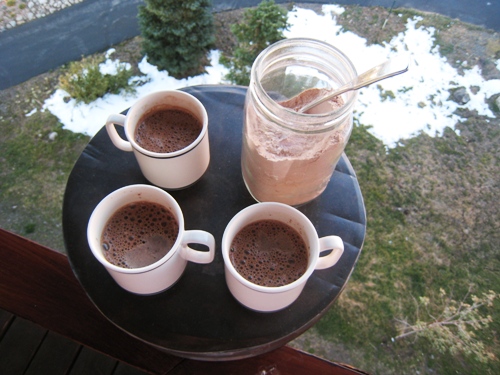 Recipe: Malted Hot Cocoa Mix
Ingredients
2 cups powdered sugar
2 cups powdered milk
1 cup cocoa powder
1/2 cup malted milk powder
2 teaspoons cornstarch
1 teaspoon salt
1/2 teaspoon cinnamon
pinch cayenne
Instructions
In a large mixing bowl, combine all the ingredients until evenly mixed. Store in an airtight container.
To serve: place 2 to 3 Tablespoons of the cocoa mix in a 6-ounce mug. Add water. Stir to combine. Serve hot.
Preparation time: 5 minute(s)
Cooking time: 1 minute(s)
Number of servings (yield): 12
What's on YOUR plate?
What's on Your Plate? is designed to be a conversation amongst good eaters.
Tell us about a recent meal. Did it meet with rave reviews? Or did it bomb? What side dishes did you pair with the star of the show? Did you try a new ingredient? Find the groceries at great prices?
What's on YOUR Plate?
Share with us a recent meal you prepared. Either link it up below or tell us about it in the comments. Please make sure that you link to www.goodcheapeats.com in your post so others know where the dinner party is.
And don't forget to visit the other good eaters participating today. I'm sure you will be inspired to make all sorts of Good Cheap Eats at your house.