Easy and delicious homemade treats to rival the bakery or candy store. Eat all you want, you can always make more.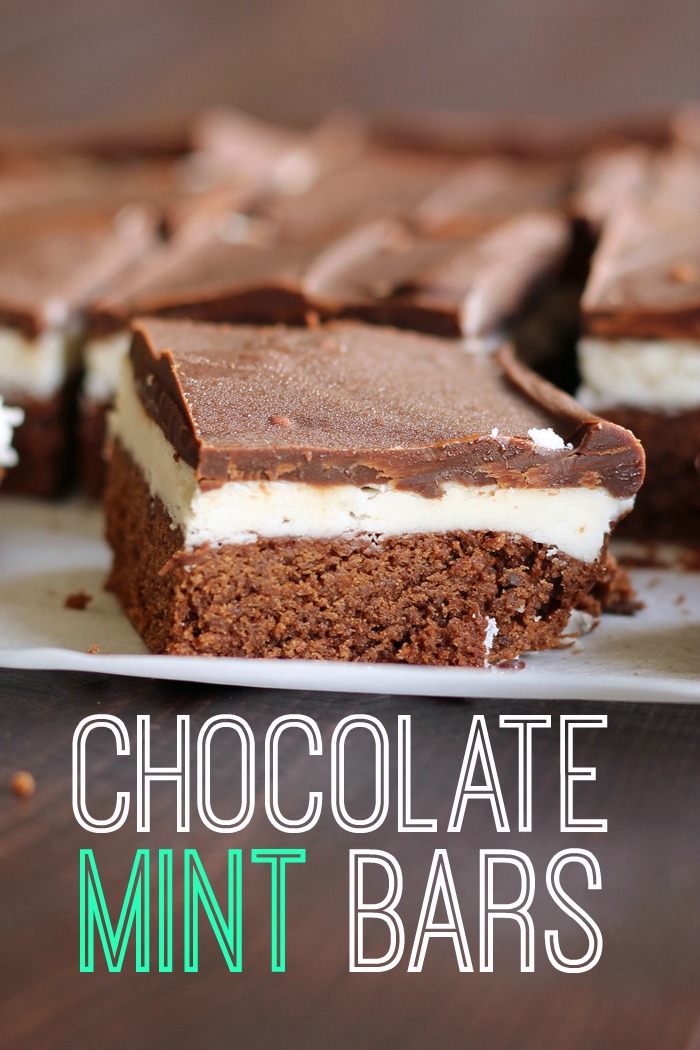 I loved the line quoted often from Michael Pollan, "Eat all the junk food you want as long as you cook it yourself." The idea is that since it's so much work than buying a convenience item or fast food, you'll eat less. I'd also argue that you will eat better since you can control the ingredients and make it what you really want it to be.
Such is the case for these Chocolate Mint Bars. I took a recipe from my childhood and did some tweaking.
The original made a full 9×13 pan. I reduced the size to an 8-inch square, yielding 16 pieces, enough for my people to each have two bars. This is more than enough for a sweet treat.
The original called for creme de menthe of which I have never bought. I reduced the price by using some half and half and peppermint extract.
The original also called for a full can of chocolate syrup. It's possible that it was made with real sugar 40 years ago, but today I know that stuff is loaded with junk. I used cocoa powder instead.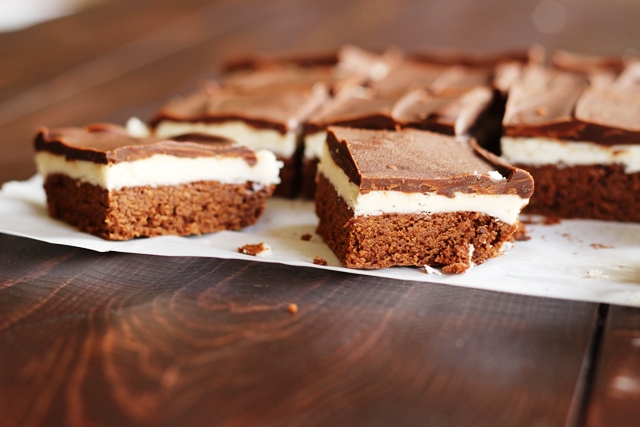 I used nut-free chocolate. This is a little hard to come by; so much chocolate is processed in the same facility as nuts. I was able to make sure that my no-peanuts-or-walnuts girl could enjoy these bars.
I also used whole wheat pastry flour. Yes, really. There was enough richness from the mint buttercream and the chocolate glaze, that we didn't even notice that the cake layer was whole grain. I know, I can't go so far as to call these "nutritious" but I feel less guilty. That's worth something right there!
Whether or not you care if your treats are homemade, whole grain, or allergy-friendly, you will love these. We sure do! You can eat these frozen, cold, or at room temperature. We like them all ways!
Chocolate Mint Bars
Homemade treats to rival the bakery or candy store, these chocolate mint bars are delicious and easy to make.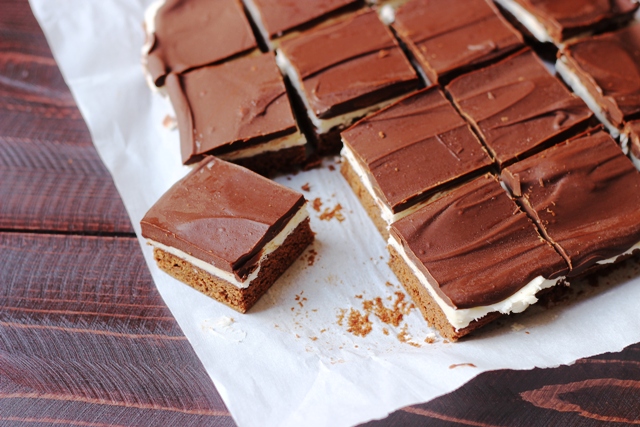 Preparation Time:10 minutes
Cook time:25 minutes
Total time:35 minutes
makes 16 bars
Ingredients:
1/2 cup whole wheat pastry flour (you can use all-purpose if you prefer)

1/2 cup sugar

1/3 cup cocoa powder

2 eggs

1/4 cup sunflower oil

1/2 teaspoon vanilla extract

1/4 teaspoon salt

1 cup powdered sugar

1/2 cup softened butter (1 stick)

1 tablespoon half and half

1 teaspoon peppermint extract

1 cup chocolate chips
Instructions:

Grease an 8-inch square baking dish with nonstick cooking spray or line the pan with parchment paper. Preheat the oven to 350°.
In a large mixing bowl, combine the flour, sugar, cocoa powder, eggs, oil, vanilla extract, and salt. Whisk well to combine. Pour this into the prepared dish. Bake for 25 to 30 minutes or until a tester comes out with a few crumbs attached.
Cool on a rack.
To prepare the mint layer, cream together the powdered sugar and 1/4 cup butter (1/2 stick). Add the half and half and peppermint and whip until light and fluffy.
Spread this mixture over the cooled cake.
To prepare the chocolate glaze, melt the remaining 1/4 cup butter (1/2 stick) in a small sauce pot. Remove the pan from the heat and dump in the chocolate chips. As the chips start to melt in the hot butter, whisk until smooth. Allow this mixture to cool slightly.
Spread the cooled chocolate glaze over the mint layer. Chill for about an hour or until ready to serve. Bars may be frozen for longer storage.

DIY on a Dime
This is part of the DIY on a Dime: Valentine's Day. For more easy and frugal gift ideas, check out the list. Originally posted 2/4/15.