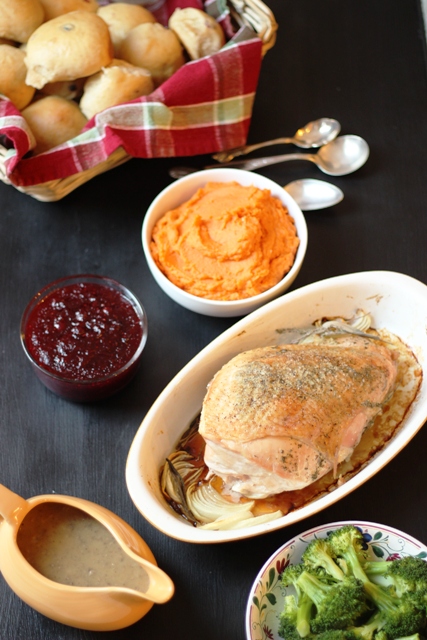 There's nothing to get you ready for a holiday like making the meal three and a half weeks in advance. Just call me Martha for baking a full turkey dinner while there are still bags of Halloween candy stashed all over my house.
But, you see, unlike Martha, preparing a turkey dinner gets me all hot and bothered. It's rare these last few years of food blogging that I have been able to cook a meal and pull off a photo shoot and keep my head on straight.
A Thanksgiving Menu
Since I wanted to share some new recipes with you, I did a dry run of our turkey day, finding some nice compromises to traditional dishes as well as foolproofing some old standbys. That said, I'm super excited about this menu. I'll be sharing them with you over the next couple weeks, ending with a printable meal plan and grocery list if you want to recreate this yourself for Thanksgiving or some other special feast.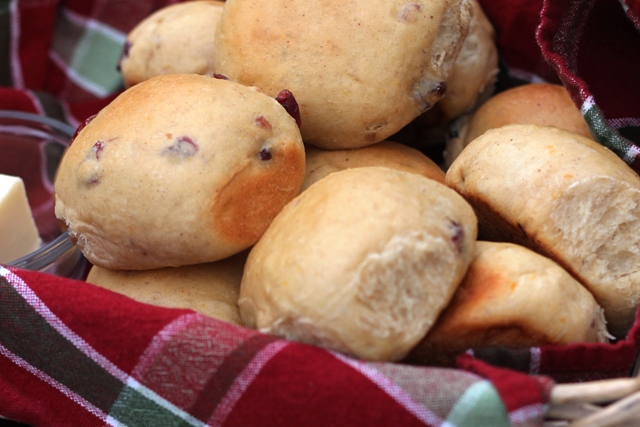 Today we start with the bread basket and these yummy dinner rolls. My people jumped on these Whole Wheat Cranberry faster than a bear runs for honey. There were none left. I think I got one.
Yes, Virginia, we'll be making a double batch soon and stashing it in the freezer. They really were good.
One of the things that I loved about them was that they didn't taste "wheaty". I think this is thanks to the white whole wheat flour. It's a whole grain, but doesn't have that strong wheat flavor that some whole wheat flours have.
I like the addition of the dried cranberries. Not everyone likes cranberry sauce, so this is a great way to bring the tart berry to the table. And if — IF — there are leftover rolls, they'd be great made into sandwiches with the turkey leftovers. Yum! I can't wait to make these again.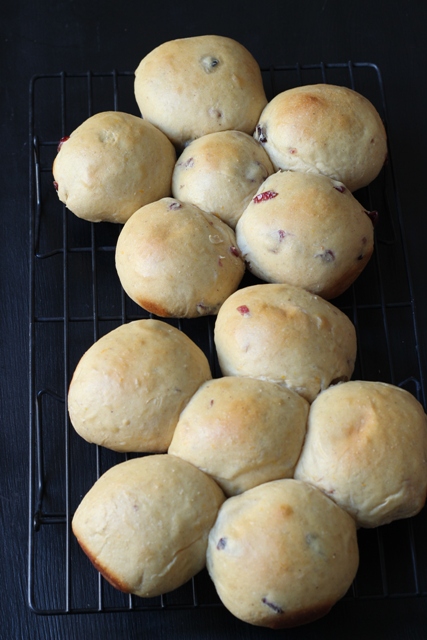 I baked the dozen rolls in two 9-inch cake pans. See the cute blossom shapes? You could also let them rise in a 9×13 pan. My feeling is go with the oven space you have available on Thanksgiving, particularly if you're going to bake these the day of. A fun twist would be to bake them in jars, like Aimee did a few years ago.
These rolls are definitely best served the day of baking, hot from the oven and slathered with butter, but you can make them the day before and store them in an airtight container. Bake them a few weeks in advance and store them, well-wrapped, in the freezer. Thaw them on the counter, wrapped. You can warm them in the oven (350 for about 5 minutes) before serving if you like.
To round out the bread basket, consider a mixture of different breads and rolls, like these: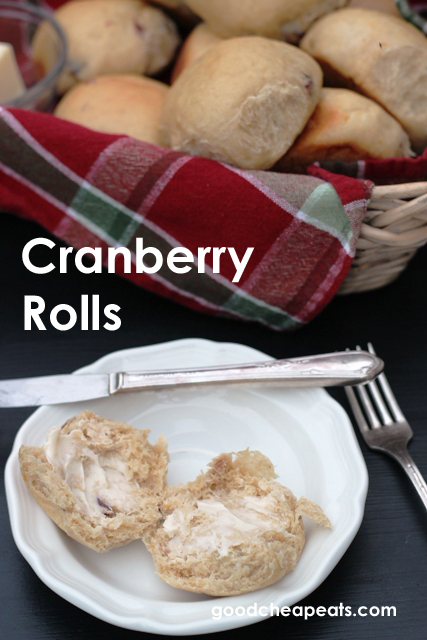 Whole Wheat Cranberry Rolls
Whole grain rolls dotted with sweet cranberries -- what's not to love? Bake a batch to eat now and one to freeze for later.
Ingredients
1

cup

milk

1

egg

¼

cup

butter

cubed

¼

cup

honey

2

cup

white whole wheat flour

1 ½

cup

unbleached, all-purpose flour

1

tablespoon

vital wheat gluten

optional

1

teaspoon

salt

½

teaspoon

ground cinnamon

¼

teaspoon

ground nutmeg

1

orange

zested

2 ¼

teaspoon

active dry yeast

½

cup

dried cranberries

2

tablespoon

milk
Instructions
Combine the milk, egg, butter, honey, flours, gluten, salt, cinnamon, nutmeg, orange zest, and yeast in the pan of your bread machine according to the manufacturer's directions. Set on the dough cycle and start the machine. After a few minutes of kneading, add the cranberries. Scrape down the sides of the pan, and make sure a dough ball forms.

(If making the dough by hand: Place the milk, butter, and honey in a medium saucepot and warm slightly. Transfer the mixture to a large bowl and add the yeast. Stir and allow the yeast to proof for 5 minutes. Add the egg, flours, gluten, salt, cinnamon, nutmeg, zest and yeast. Stir to combine well. Turn the mixture onto a lightly floured surface and knead. Continue kneading for 5 minutes, adding in the cranberries gradually, to create a smooth, elastic dough, adding more of the all-purpose flour as necessary. Transfer to a greased bowl and turn the dough ball to coat. Allow to rise until doubled in bulk, about 1 hour.)

Spray two 9-inch cake pans or one 9x13-inch pan with nonstick cooking spray. When the machine beeps or the dough has doubled in bulk, remove the dough from the pan and divide it into twelve equal parts. Form each portion into a tight round and place in the prepared pans. Allow the rolls to rise 30 minutes or until doubled in bulk.

Preheat the oven to 350ºF.

Brush the tops of the rolls with milk and bake the rolls for 15 to 20 minutes until golden brown. Cool on a rack before serving.

To make this in advance: The baked and cooled rolls can be placed in a ziptop freezer bag and stored in the freezer. Thaw them on the counter before serving. Rolls can be reheated in a 350° oven for five minutes to warm.
Notes
Nutritional values are approximate and are based on 1 roll from the recipe (makes 12). Refrigerate leftovers promptly and use within 4 days.
Nutrition
Calories:
224
kcal
|
Carbohydrates:
38
g
|
Protein:
7
g
|
Fat:
6
g
|
Saturated Fat:
3
g
|
Cholesterol:
26
mg
|
Sodium:
244
mg
|
Potassium:
96
mg
|
Fiber:
3
g
|
Sugar:
10
g
|
Vitamin A:
175
IU
|
Vitamin C:
1
mg
|
Calcium:
45
mg
|
Iron:
1
mg
What do YOU fill the Thanksgiving bread basket with?