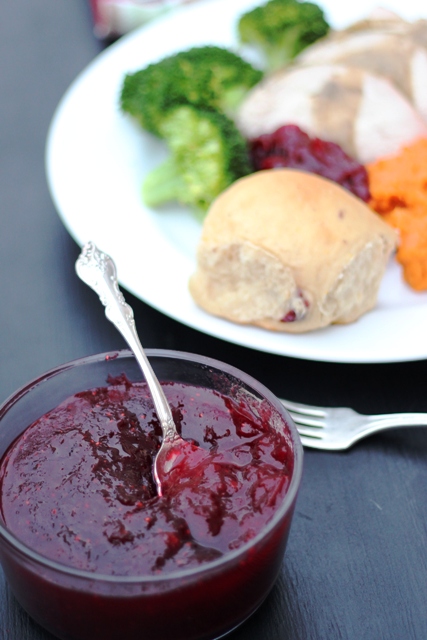 I have always loved cranberry sauce. But, my preferred cranberry sauce comes in round slices with ridges. Oh yes, yes, it does. My whole family prefers the jellied cranberry sauce that comes in a can.
I didn't think that we could ever change that. In fact one year, we did an experiment with Gramma's Homemade and my canned. You can see who won.
But, this year, knowing I had a ton of cranberries in the freezer, I decided to give homemade cranberry sauce another try. I remembered that most people I've known who've made the sauce and not liked it, commented that it didn't get thick. I decided to use less liquid in order to end up with a thicker product. I also subbed in orange juice for some of the liquid to add another layer of flavor. My final twist? I used brown sugar instead of white. I personally love the hint of molasses that brown sugar provides.
The result was a cranberry sauce that even my canned-only crowd loved! Yeah! I'm thrilled. I still have bags in the freezer that I bought on clearance for super cheap last Christmas — at $0.49 a bag! YUM!
Recipe: Easy Cranberry Sauce
Ingredients
12 ounce package whole cranberries (mine were frozen)
1 cup dark brown sugar
1/2 cup water
1/4 cup fresh orange juice
Instructions
In a large saucepan combine the cranberries, sugar, water, and juice.
Bring to a boil, stirring.
Cook at a low rolling boil, stirring occasionally for 10 minutes.
Cool completely at room temperature, then cover and chill in the refrigerator.
Sauce can also be stored in the freezer, for up to 2 months.
Preparation time: 3 minute(s)
Cooking time: 10 minute(s)
Number of servings (yield): 8