If you don't want the hassle of cooking a whole turkey, opt for a smaller portion by roasting a turkey breast half instead.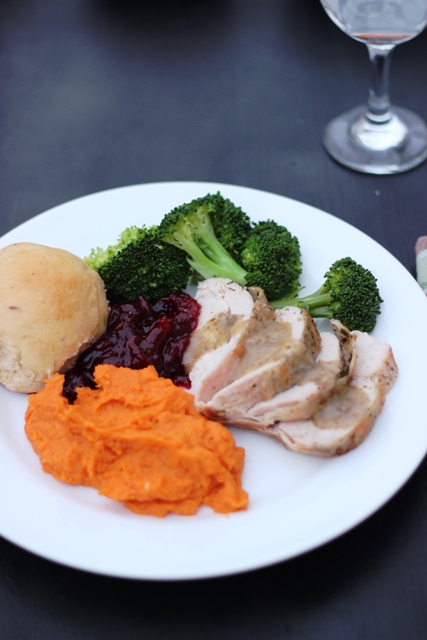 It used to be that every year I would buy a whole frozen turkey, let it take up valuable refrigerator space for the week before Thanksgiving, and then frustrate myself to no end about getting that bird dressed and cooked in a reasonable amount of time.
Then after the meal there was the issue of stripping the meat from the bones, making the stock, and dealing with leftover meat, usually only dark meat, which my family doesn't really care for, not matter how I hide it in casseroles. (If it were white meat leftovers, no problem! We love turkey, just not the dark stuff.)
So, after several years of threatening to make tri-tip instead of turkey, I found a wonderful, beautiful, tasty compromise:
The Turkey Breast
You can buy just a turkey breast. All year long. I found them at Sprouts for $2.99. No, that's not the cheapest price on turkey, but since we waste nothing from this cut, it pays off in the end.
Plus, when Sprouts didn't have as many as I wanted, the butcher grabbed a fresh turkey from the case, carved it up on the spot and gave me both breast halves. Whoo hoo!
(Well, he didn't give them to me; I bought them. But, I call that service with a smile! He even went looking through the store to find me to deliver them to my cart.)
You can buy a turkey with the thighs, legs, and wings cut off, giving you the full breast on the entire bone. You can also buy the breast halves individually. This is what I did last Thanksgiving and what I'm doing forever and ever again. Amen.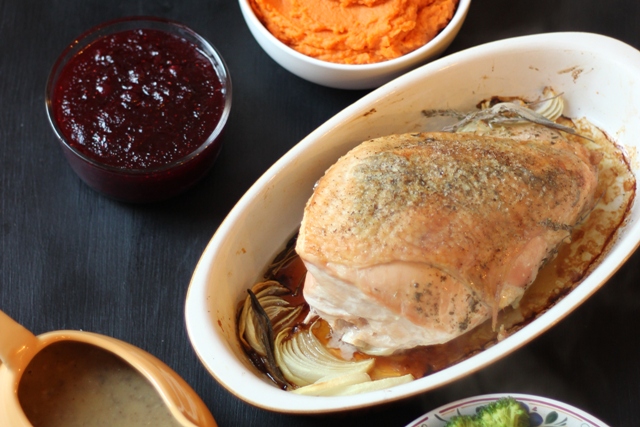 If you love dark meat, then this isn't for you. But, it's a great way to have your turkey without feeling overwhelmed or throwing out your back. Been there, done that.
This 3-pound turkey breast easily fed the eight of us, but wasn't enough for leftovers, so I will be making several turkey breasts in the future. I don't mind white meat leftovers. But, you knew that already.
Herb-Roasted Turkey Breast
If you don't want the hassle of cooking a whole turkey, opt for a smaller portion by roasting a turkey breast half instead.
Ingredients
3

lb

turkey breast half

1/4

cup

butter

softened

1/4

tsp

dried thyme

1/4

tsp

dried tarragon

1/4

tsp

dried rubbed sage

salt

black pepper

sprigs

fresh thyme

optional

sprigs

fresh sage

1

onion

sliced, optional
Instructions
Preheat the oven to 425°. Spray a baking pan with nonstick cooking spray.

Place the turkey breast half in the prepared pan.

In a small dish, combine the butter, thyme, tarragon, and sage.

Loosen the skin of the breast and spread the butter evenly under the skin. Sprinkle the skin generously with salt and pepper.

Place the herb sprigs and onion in the baking dish around the turkey breast.

Bake for 30 minutes at 425°. Reduce the heat to 325° and continue baking for 45 to 60 minutes, or until it reaches an internal temperature of 165°. Allow the turkey to rest before slicing.
Notes
Nutritional values are approximate and are based on 1/8 of the recipe. Refrigerate leftovers promptly and use within 4 days.
Nutrition
Calories:
228
kcal
|
Carbohydrates:
1
g
|
Protein:
37
g
|
Fat:
9
g
|
Saturated Fat:
4
g
|
Cholesterol:
107
mg
|
Sodium:
402
mg
|
Potassium:
432
mg
|
Fiber:
1
g
|
Sugar:
1
g
|
Vitamin A:
211
IU
|
Vitamin C:
1
mg
|
Calcium:
29
mg
|
Iron:
1
mg
Which do YOU choose: white or dark meat?