Cozy up with a delicious and easy Apple Crisp. It mixes up quickly, freezes well, and adds just the right sweet ending to any meal.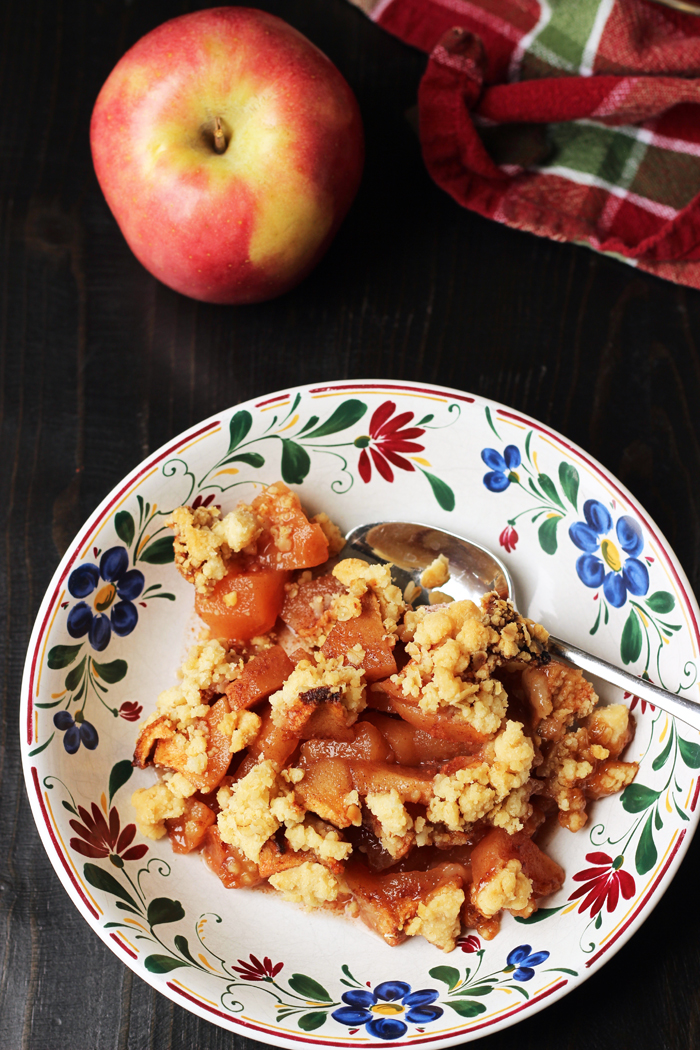 I'm getting this recipe in right under the wire. Spring and summer fruit are just around the corner, and we're not going to be all that interested in apples. But, we need to enjoy them while we can. And this easy apple crisp is just the ticket.
As I was reviewing these St. Patrick's Day crafts and recipes, I was surprised to see that I've never shared our recipe for Apple Crisp. I guess there are STILL some details of my life that I haven't divulged.
Celebrating special occasions according to theme is kinda my thing. If teacher sweaters with holiday applique were trendy, I'd be wearing one. This recipe is perfect for all kinds of holidays, including St. Patrick's Day.
Say what?! Aren't we supposed eat green cupcakes doused in Guinness?! I suppose you can. Nothing wrong with that.
Did you know, though, that apples are an integral part of Irish culture? In fact, in the old days if a tenant planted apple trees on the property where he was living, the landlord had to compensate him for improving the property when he vacated.
As my boys haven't gotten older, they haven't been as interested in my holiday/special occasion-observing ways — my girls, at ages 7 and 9, are all in — but no one complains over the food. I mean, Irish Stew, Soda Bread, Dubliner Cheese, and an easy Apple Crisp?
Sign me up, colleen!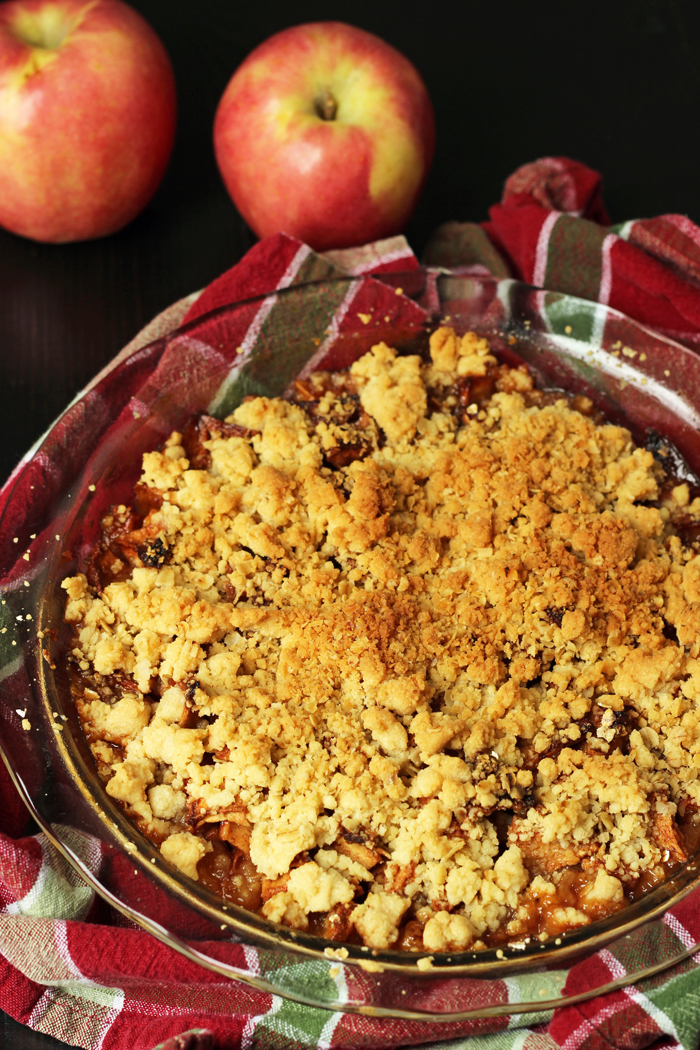 I do a couple things differently with this recipe. Instead of slicing the apples as for a pie, I cut them into chunks. I don't typically serve a crisp in slices with a fork and a plate, but in big scoops in a bowl to eat with a spoon. Cutting the apples into chunks makes eating easier and not so awkward.
I also choose not to sweeten the crumble top. There's plenty of sugar in the apple mixture as well as in the whipped cream to serve alongside.
You can use any baking dish you like for this recipe: pie plate, baking dish, or even small ramekins. If you use ramekins you can serve the crisp in the baking dishes and have one less dish to wash!
Tools I use to make it easy:
Easy Apple Crisp
Cozy up with a delicious and easy Apple Crisp. It mixes up quickly, freezes well, and adds just the right sweet ending to any meal.
Ingredients
6

apple

peeled, cored, and chopped

1

cup

granulated sugar

1

tbsp

lemon juice

1

tsp

ground cinnamon

pinch

ground nutmeg

1

cup

unbleached, all-purpose flour

1/2

cup

butter

cut into cubes

1/4

cup

rolled oats

whipped cream for topping the crisp

or ice cream, if you prefer
Instructions
Preheat the oven to 375 degrees. Lightly grease a 9-inch pie plate or 8 ramekins with nonstick cooking spray.

In a mixing bowl, combine the apples, sugar, lemon juice, cinnamon, and nutmeg. Pour into the pie plate, spreading evenly, or spoon into the ramekins.

In the bowl of a food processor fitted with a metal blade, place the flour and butter cubes. Pulse until pea-sized lumps form. Mix in the oats. Alternatively, you can do this in a small bowl and cut the butter into the flour with two knives or a pastry blender until crumbly.

Sprinkle the topping evenly over the apple filling. Bake 45-50 minutes, or until filling bubbles and topping is browned. Reduce baking time to 20 minutes for the ramekins. If topping browns too quickly, cover with aluminum foil until baking is complete. Allow to cool about an hour. Serve with whipped cream, whipped topping, or vanilla ice cream.
Notes
Nutritional values are approximate and are based on 1/8 of the recipe. Refrigerate leftovers promptly and use within 4 days.
Nutrition
Calories:
341
kcal
|
Carbohydrates:
57
g
|
Protein:
3
g
|
Fat:
13
g
|
Saturated Fat:
8
g
|
Cholesterol:
32
mg
|
Sodium:
103
mg
|
Potassium:
171
mg
|
Fiber:
4
g
|
Sugar:
39
g
|
Vitamin A:
441
IU
|
Vitamin C:
7
mg
|
Calcium:
18
mg
|
Iron:
1
mg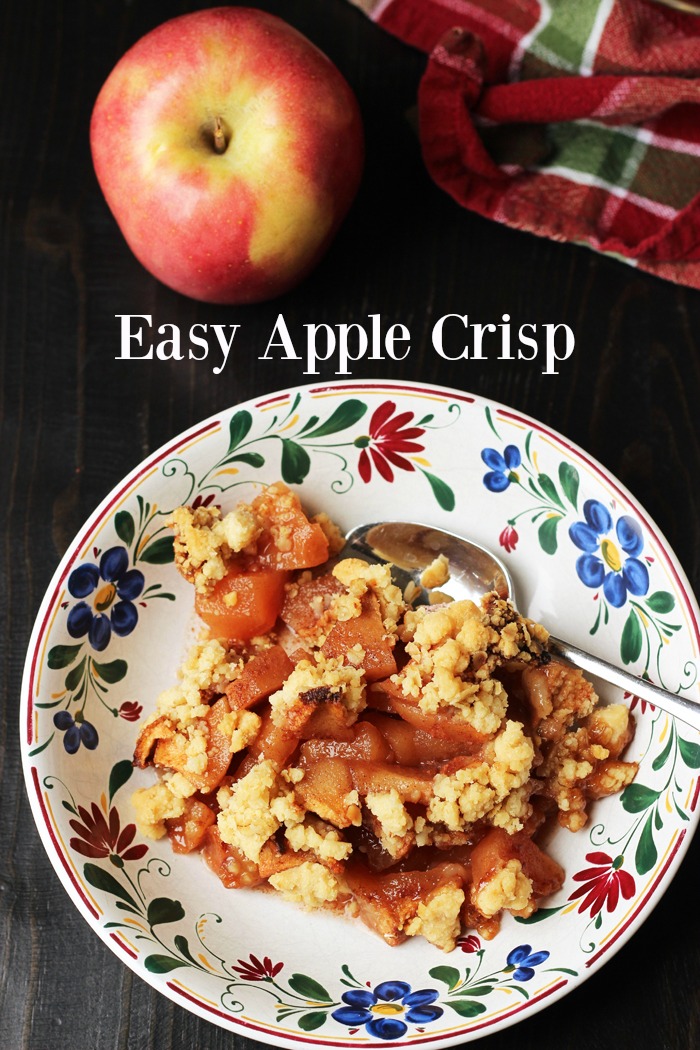 Are you looking for more good cheap eats?
check out my recipes on Life as Mom