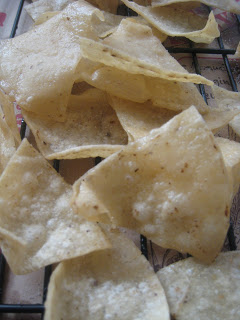 These are so simple to make — and so much better than store bought. Recently, I purchased three dozen tortillas for about $1.50. This makes the equivalent of about 2-3 bags of tortilla chips, making this a very frugal, delicious snack.
peanut oil
corn tortillas
salt
In deep fryer or large kettle, heat oil (at least one-inch depth) to 375 F. While oil is heating, cut corn tortillas into sixths. Prepare a metal rack for cooling by placing it over a flattened paper sack. In batches, fry tortillas until crisp. Remove to rack. Any drips of oil will be absorbed by the paper bag. Sprinkle with salt according to your tastes. Serve with your favorite salsa or guacamole or use to make nachos.
What's your favorite use for tortilla chips?