This Instant Pot split pea soup is hearty and delicious. It's the perfect dish to warm you up on a cold winter day. I've included instructions for the instant pot but also try this one on the stove or in the slow cooker as well. 
Let's get one thing clear right now. Split Pea Soup is not generally attractive. There may be some food photographer out there who can make it look amazing, but generally speaking, green soup can only look so good.
Now that we've addressed that important point, let's look beyond externals to the heart of the matter. Despite it's ugly exterior, Split Pea Soup is amazingly delicious. And really that's all that matters, at least where food is concerned.
I would never have come to this glorious revelation if I hadn't broken my jaw at the age of 19. Pride goes before the fall, and I was quite the prideful girl. I thought myself above Split Pea Soup. How wrong I was.
Since you're wondering by now, HOW one faceplants on the pavement, I shall sum it up as such:
Buy a very cheap bike from Kmart to get yourself from class to work to home.
Ignore the fact that very cheap bike has brakes that are stuck and fail to get someone to help you unstick them.
Kick said brakes on your way home from work in pitch black dark while you're riding, trying to get them unstuck.
Get your foot caught in the wheel of the bike so that it acts as a brake in and of itself.
When you bike stops, know that your body won't. Flip over the handlebars and smash your face on the pavement.
After the subsequent ride in an ambulance and wait in the ER, spend the next six weeks drinking your food and talking like a ventriloquist. Bonus: lose 15 pounds.
Sorry. You asked.  The moral of the story? There are two actually.  Don't kick your brakes AND Split Pea Soup is delicious!  Hopefully, you won't need to break your face in order to try this soup. I recommend the soup, not the face-breaking.
What is split pea soup?
Split pea soup is a hearty soup that is made with dried split peas. Usually ham or bacon is added to it. I added bacon to this instant pot split pea soup recipe. It is smoky comforting soup. And did I mention delicious?
Is split pea soup healthy?
This instant pot split pea soup is a great way to get a good intake of fiber – about 20 grams of fiber for every cup.
And, of course, it can be a great way to get more vegetables into your diet.
What's the difference between yellow and green split peas?
Yellow split peas do have a bit of a milder flavor and are a bit sweeter than green split peas. But they do have similar cooking times, nutritional content and similar flavors.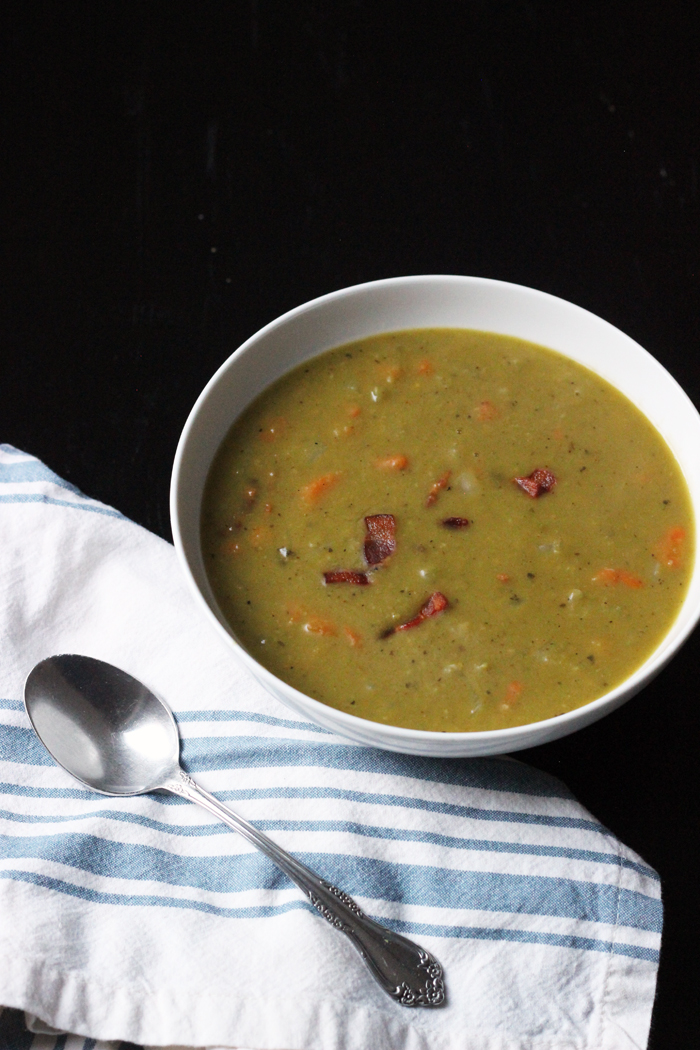 How do you make instant pot split pea soup?
Over the years, I've prepared Split Pea Soup on the stove, in the slow cooker, and now in the Instant Pot. I'll confess, the Instant Pot is slowly becoming one of my favorite kitchen gadgets. I'm going to be making Broccoli Cheddar Soup in it tomorrow. Stay tuned!
Anyway, back to Split Pea. It may not be gorgeous, but it saved my life. Okay, it didn't save my life, but it did save me from putting pizza slices in the blender as my doctor said I might be tempted to do.
I first tasted the love of Split Pea in a can of Andersens. Remember this was college, back when I still ate soup from a can.
Since then, I've played with different split pea concoctions. In my freezer book, you'll find a very traditional, thin Split Pea Soup. Today, I'm sharing a chunkier version. I like them both tremendously. You'll have to tell me which you like better.
Should split peas be soaked?
You don't need to soak them, which would be done overnight. But I do recommend that you sort and rinse them. Split peas can contain dirt, stones, or pea pod fragments. So sort through the dried split peas, and then give them a rinse in a strainer.
How to make this good and cheap:
Here are some of the strategies you can use to make this recipe more economical:
Tools I use to make this recipe easy:
This is a pretty straight-forward dish. You don't need any fancy equipment. However, having some good basic kitchen tools can really make your time in the kitchen more enjoyable. Over time, I've honed my collection so that they are perfect for my needs. Here are the tools that I like to use in this recipe.
This post contains affiliate links which provide a means for me to earn fees linking to Amazon and other affiliate sites.
Easy Split Pea Soup Recipe
Split Pea Soup is super easy to make, hearty and delicious. It's the perfect dish to warm you up on a cold winter day. Try this one on the stove, in the slow cooker, or in the Instant Pot.
Ingredients
4

slices

bacon

chopped

2

onion

chopped for 1 ½ cups

3

carrots

chopped for 1 cup

3

rib

celery

chopped for 1 cup

1

clove

garlic

chopped

1

lb

split peas

sorted and rinsed

4

cups

chicken stock

2

cup

water

1

tablespoon

Homemade Seasoned Salt

1

bay leaf

salt

black pepper
Instructions
In the instant pot on sauté or in a skillet over medium heat, cook the bacon until crisp. Drain the bacon bits on paper toweling and set aside.

Remove all but 2 tablespoons bacon drippings. Discard or reserve for another use.

In the hot drippings in the pot, cook the onions, carrot, and celery until the onion is clear, about ten minutes. Add the garlic and cook another minute more.
If using a slow cooker or stockpot:
If you're using a slow cooker or stockpot, you'll need to transfer the vegetables to that vessel.

If you're using a slow cooker, cook on low for 6 hours. If using a stock pot on the stove, simmer the soup, covered for 2 hours.
If using the Instant Pot:
If using the Instant Pot, add the peas, stock, water, bayleaf, and spice mix.

Secure the lid of the Instant Pot, set it to the manual setting for 20 minutes. Once the setting is complete, allow for a 10-minute natural release before releasing the pressure.
To finish the soup:
When the soup is done, adjust the seasonings with salt and pepper. If you like, use an immersion blender to smooth the soup to your preferred texture. Serve with reserved bacon bits.
Notes
To freeze: Divide the soup into meal-sized portions. Chill the soup completely in the fridge before storing in the freezer. Thaw and reheat before serving.
Nutrition
Calories:
266
kcal
|
Carbohydrates:
38.6
g
|
Protein:
18.2
g
|
Fat:
5
g
|
Saturated Fat:
1.5
g
|
Cholesterol:
10
mg
|
Sodium:
632
mg
|
Potassium:
727
mg
|
Fiber:
15.5
g
|
Sugar:
6.7
g
|
Calcium:
40
mg
|
Iron:
2.9
mg