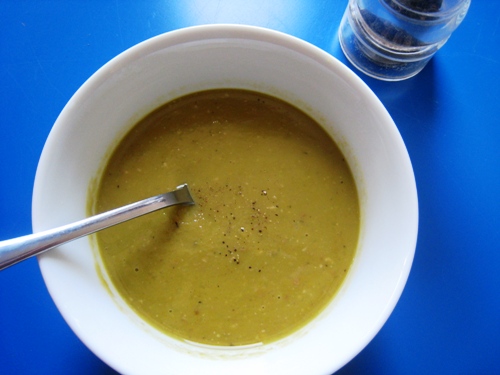 Years ago I remember reading that you shouldn't spend time freezing soups. The rationale was that soups are mostly water, easy to prepare, and would take up valuable freezer space. And for many years, I believed the lie.
But, this past winter, I've come to realize the true potential in bulk cooking several kinds of soups and freezing them in 2 cup and dinner-size portions. The benefits are numerous. Let me count the ways.
I get my way.
I get to enjoy the soups that no one else likes! I don't have to force feed it to anyone or make a smaller batch. I just cook like regular and divide it into 2-cup portions.
Everyone gets his way.
Every kid gets his choice of soup. When I make three kinds of soup in one cooking session, that means that three kinds of soup will be stored in the freezer. Everybody can be happy! Well, that is, if I make the kinds they like.
Meals are quick.
Lunchtime can come together in a matter of minutes. It doesn't take long to thaw soup in the microwave or by placing the container in cold water. Add toast or crackers and the meal is served.
Meals are healthier.
Not only can I get my kids to eat more vegetables in soup, but I can also control the salt intake because we're eating homemade soups instead of canned.
Soup is good food.
It's comfort food, especially when you're under the weather. And who wants to cook when you're sick?

Preparing soup from scratch is not difficult. You can easily whip up a batch from last night's leftovers. And I am following this trick with our little bits of leftovers to nickel and dime our way to a nice pot of soup. But, it's not hard to make several batches of soup at once to freezer for later.
Tips for Making Soup for the Freezer
Stock up on the right containers. I prefer reusable plastic containers with lids. I've tried wide mouth, quart size canning jars with plastic lids, but it you don't thaw ahead of time, it is difficult to get the soup out. With plastic, the little cube of soup pops right out for stovetop or microwave reheating.
Use common ingredients. One of the biggest time saving techniques in freezer cooking is to use common ingredients. Since soups often share many vegetables and broths in common, you can easily prep a lot of these ingredients and combine them in different ways for variety.
Get all your maids a cooking. I own two stockpots. But, I also have several crockpots. I could potentially have four different kinds of soup cooking at one time.
Choose a variety of soups to please everyone. If you're making three or four batches of soup at one time, make at least one kind that will please the picky eater in your crowd. This will serve you in many ways, especially on the night when he really doesn't like what everyone else is eating. Pull out a container of soup so that he won't starve.
Go light on the garlic and spices. Flavors can intensify in the freezer. Use a light hand in the preparation and adjust the seasonings on the serving end.
Buy or borrow a stick blender. A friend told me how wonderful it was to use in soups. I was a skeptic. But, now I'm a believer. I bought this one and am amazed at how easy it is to use. In the past, I've always blended soups in batches in the food processor. What a hassle and mess. This gadget is fantastic — and stores in a drawer out of sight.

My Freezer Cooking this Past Month
In case you hadn't guessed by now, my freezer is full of delicious soups. I've had so much fun developing and testing some great soups.
Here are some soups that work well for freezing:
What did YOU cook this month?
Share your freezer cooking adventure with us. Link up a post below or share your results in the comments.

Curious about freezer cooking? Consider purchasing my cookbook, Not Your Mother's Make-Ahead and Freeze Cookbook from Amazon, Barnes and Noble, or your local bookstore. It's chock full with over 200 freezer-friendly recipes, planning pages, shopping lists, cooking plans, and basic and advanced how-to's to making freezer cooking work for any home, family, and lifestyle.