Enjoy your favorite cafe-style easy Broccoli Cheese Soup at home for less money. I'll show you how easy it is to make with both stovetop and Instant Pot directions!
Broccoli Cheese Soup has long been a favorite of mine. I don't know exactly when my love affair with this creamy, cheesy, hearty soup began, but I well remember it being a part of my early parenting years.
When my husband would send me off on my Saturday Mornings Off, I would spend the morning shopping sans children, inevitably capping off my time with soup and sandwich combo at Panera. Specifically, Broccoli Cheese Soup and an Asiago Roast Beef Sandwich. It was the ultimate comfort food.
This soup is like that one. Only it's much cheaper and super simple to make at home. I've been making it for years, but recently decided to play with it a little bit. For one, I used dill Havarti cheese which added a great flavor and creaminess to the soup.
But, ultimately, I wanted to make this soup easily portable. My purpose: to take it to potlucks and be received like a rockstar.
It's that good.
How Do You Make Broccoli Cheese Soup?
Making the soup in the electric pressure cooker allowed me both a convenient cooking vessel as well as a way to keep the soup hot at the event until it was time to eat. I made the soup at home, secured the spill-proof lid for transport, and then kept it warm on slow cooker mode at the event.
Don't worry. You can make this soup completely on the stovetop, but if you've been wondering how to use your Instant Pot, this Broccoli Cheese Soup is one reason to add to your list.
As I was testing this recipe in the electric pressure cooker, I pondered the question of using two cooking vessels. This is how I've always prepared Broccoli Cheese Soup; one pot for the cheese sauce and one for the vegetable/broth mixture.
How Do You Thicken Broccoli And Cheese Soup?
This soup will thicken because of the flour used in the cheese sauce.
And while I considered using a beurre manie to thicken the soup and hope the cheese didn't get weird, I decided in the end that two vessels were the way to go. Trust me, this is delicious and well worth the extra pan to wash. Especially if you want to be received like a rockstar.
You can always add some delicious garlic breadsticks to the mix to really ensure rockstar status.. It's one of my tips for making soup night a success.
How to make this good and cheap:
Here are some of the strategies you can use to make this recipe more economical:
Tools I use to make this recipe easy:
This is a pretty straight-forward dish. You don't need any fancy equipment. However, having some good basic kitchen tools can really make your time in the kitchen more enjoyable. Over time, I've honed my collection so that they are perfect for my needs. Here are the tools that I like to use in this recipe.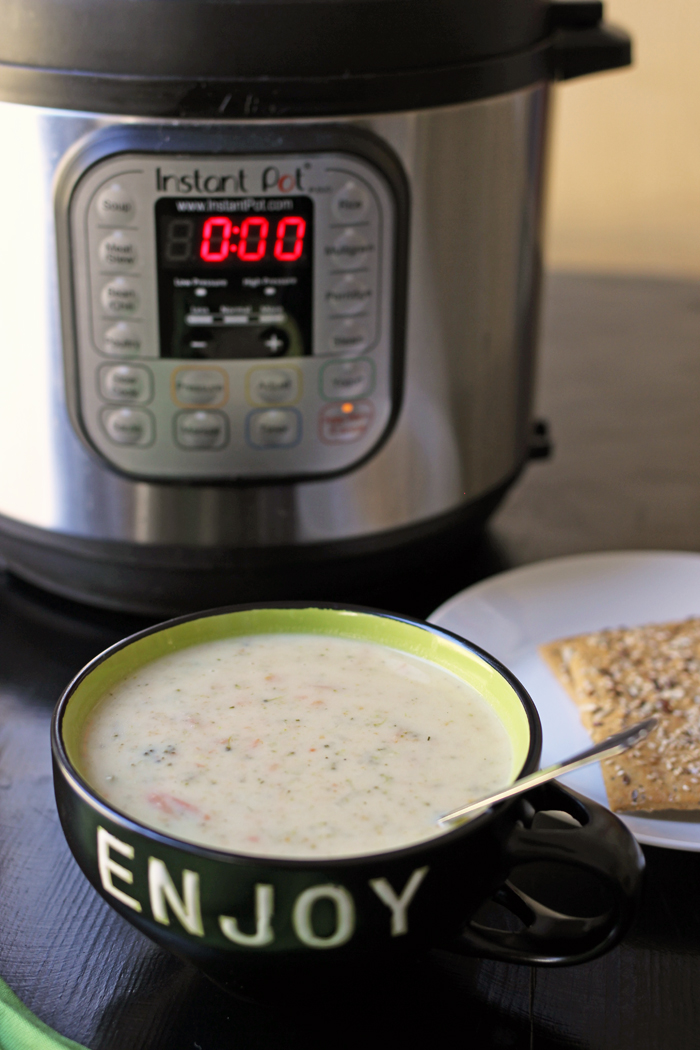 Easy Broccoli Cheese Soup
Enjoy your favorite cafe-style Broccoli Cheese Soup at home for less money. I'll show you how easy it is with both stovetop and Instant Pot directions!
Ingredients
1

tablespoon

olive oil

3

rib

celery

chopped for 1 cup

3

carrots

chopped for 1 cup

½

onion

chopped

4

cup

vegetable broth

or chicken stock

2

head

broccoli

chopped for 4 cups

⅔

cup

butter

⅔

cup

unbleached, all-purpose flour

4

cup

milk

4

oz

cheddar cheese (shredded)

(1 cup)

4

oz

dill Havarti cheese (shredded)

(1 cup)

salt

black pepper
Instructions
In the pot of an electric pressure cooker, heat the oil. Add the celery, carrots, and onion, and saute until the onions go clear, about 7 minutes. Alternatively, you can do this in a pot on the stovetop over medium heat.

Add the chicken broth and broccoli. If you are using the pressure cooker, attach the lid and turn on the pressure valve. Turn the machine on and set it to manual for 4 minutes. If you are cooking this on the stove, bring the pot to a simmer and cook until the vegetables are tender, about 20 minutes.

While the veggies are cooking, prepare the cheese sauce. In a medium saucepan on the stove, melt the butter. Add the flour, and cook, whisking for two minutes. Slowly whisk in the milk, stirring to combine. Allow the mixture to simmer, stirring, until slightly thickened. Whisk in the cheeses.

When the vegetables are done cooking, blend them slightly with an immersion blender. It's best to leave some chunks, but go with the texture you prefer.

Stir the cheese sauce into the vegetable mixture. Season to taste with salt and pepper. Serve hot.
Notes
Note: Store any leftover soup in the refrigerator in an airtight container for up to 4 days. Once the soup has chilled completely, you can freeze it for longer storage.
Nutrition
Calories:
548
kcal
|
Carbohydrates:
20.6
g
|
Protein:
37.6
g
|
Fat:
35.7
g
|
Saturated Fat:
21.1
g
|
Cholesterol:
149
mg
|
Sodium:
503
mg
|
Potassium:
462
mg
|
Fiber:
2.2
g
|
Sugar:
8.5
g
|
Calcium:
380
mg
|
Iron:
1.6
mg