Poached chicken is a pretty handy thing to have on hand. Tender, juicy chicken all ready to toss in salads, fold into sandwiches, or stir into casseroles? Here's how to make it easily.
Chicken is one of my favorite proteins to have on hand. It's readily available and easy to find on sale, and its versatility makes it a kitchen staple. What else can you toss in salads, fold into sandwiches, burritos, and wraps, and stir into casseroles?
While we love to grill chicken, I felt motivated to get into a groove with other ways of cooking chicken for recipes, especially when my wimpy Southern California self doesn't want to go outside to cook in winter. I love cooking a chicken in the slow cooker and making baked chicken for bone-in chicken, but don't love it for boneless, skinless breasts.
Poaching, whether in the Instant Pot (electric pressure cooker) or on the stovetop, is the way to go. Poaching is basically cooking food gently in liquid. You can poach pears, fish, eggs, and other foods. It produces a delicate flavor in the cooked food.
What Is The Best Way To Poach Chicken Breasts?
I'm offering you the directions for both methods: stovetop and pressure cooker. Both work extremely well for poached chicken. Currently my favorite is the pressure cooker method since it is more hands-free than the stove top. (Find more of my pressure cooker recipes here.)
While the instant pot doesn't require as much water as traditional poaching, it produces a lot of flavorful broth as a result of that particular style of cooking. It may not be "traditional poaching", but the end result looks and tastes just like poached chicken, so we're going with it.
Both methods are super easy and offer you a quick way to have poached chicken on hand all week to use in recipes.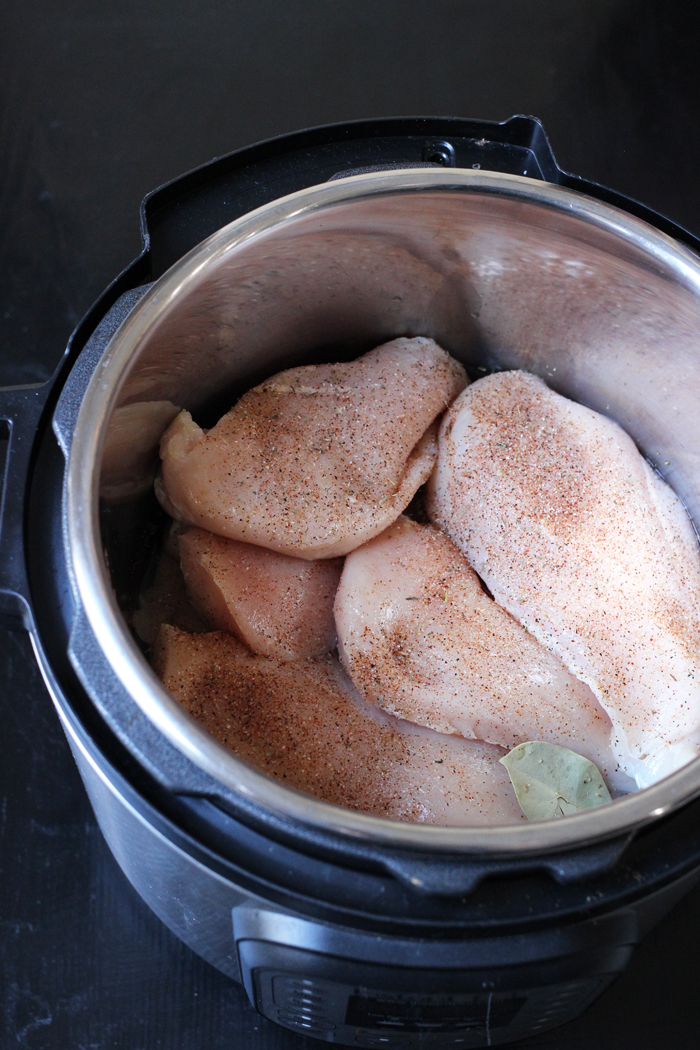 Perfectly Poached Chicken
You can vary the seasonings that you use in your poached chicken. I typically add a bay leaf, peppercorns, garlic cloves, and salt. If you know what flavor profile you want to use the chicken for, you can adjust the seasonings to complement your final dish. Try these extras:
I typically use water for poaching chicken. You can also use chicken stock, but I don't feel like it's necessary, especially if you're using the pressure cooker.
This is what it looks like when it's done: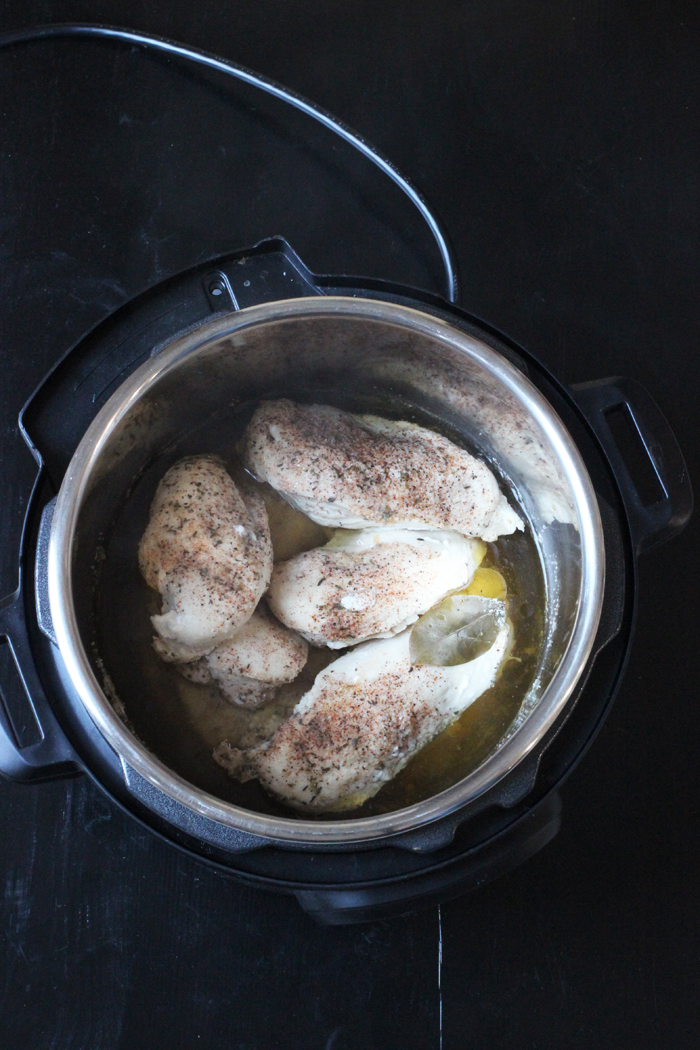 You can strain the liquid and use it in cooking. It's super tasty!
How to make this good and cheap:
Here are some of the strategies you can use to make this recipe more economical:
How I make this recipe easy:
This recipe really couldn't be easier than it is, but having the right kitchen tools can really make your time in the kitchen more enjoyable. Over time, I've honed my collection so that they are perfect for my needs.
Here are the tools that I use for this recipe:
Something new here on Good Cheap Eats that I'm slowly rolling out is the option to rate the recipes you try. After you've made Perfectly Poached Chicken, I'd love for you to come back and tell me how you liked it. Be sure to give it a starred rating in the comments. Thank so much!
Poached Chicken (Stovetop and Instant Pot Directions)
Poached chicken is a pretty handy thing to have on hand. Tender, juicy chicken all ready to toss in salads, fold into sandwiches, or stir into casseroles? Here's how to make it easily.
Ingredients
2

lb

boneless, skinless chicken breast

2

clove

garlic

5

peppercorns

1

teaspoon

salt

1

bay leaf
Instructions
Place the chicken pieces in the pot of the electric pressure cooker.

Add the garlic, peppercorns, salt, and bayleaf. Add 1 cup water.

Secure the lid with the pressure valve on. Turn the machine on and set it to manual for 12 minutes.

When the machine beeps, press cancel and allow the pressure to naturally release. This may take up to 30 minutes.

Remove the chicken from the pot. Cool, chop, and use in recipes.

Refrigerate the cooked chicken for up to 4 days or freeze it in an airtight package for longer storage.

If you like, strain the cooking liquid and use in recipes such as rice pilaf or soup.
Notes
To cook on the stovetop: Place the chicken pieces in a skillet and cover with an inch of water. Add the garlic cloves, peppercorns, salt, and bay leaf. Heat the pan until the water just starts to bubble. Reduce the heat and simmer for 15 minutes or until the chicken reaches an internal temperature of 160 degrees. Turn off the heat and allow the chicken to cool in the liquid. Store the chicken as directed in the main recipe.
Nutrition
Calories:
261
kcal
|
Carbohydrates:
1
g
|
Protein:
48
g
|
Fat:
6
g
|
Saturated Fat:
1
g
|
Cholesterol:
145
mg
|
Sodium:
845
mg
|
Potassium:
839
mg
|
Sugar:
1
g
|
Vitamin A:
68
IU
|
Vitamin C:
3
mg
|
Calcium:
14
mg
|
Iron:
1
mg
Tried this Recipe? Tell us what you think!
Your reviews help us develop better recipes and give newcomers the confidence to try your favorites. Scroll down to leave a starred comment.