Make things easy on yourself! Roast a whole chicken in the slow cooker for tender, delicious cooked chicken.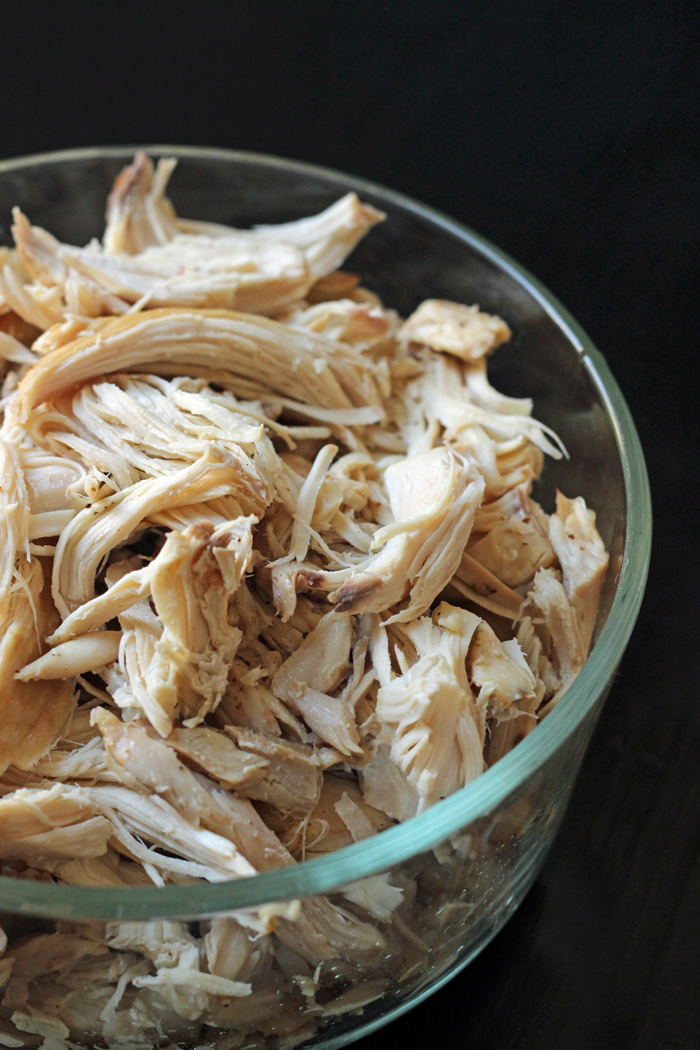 Cooking a whole chicken in the crockpot—as opposed to cooking pieces—can be a great way to stretch your grocery dollar. Not only do you get an abundance of cooked chicken plus a carcass to make homemade chicken stock, but you also benefit from lower prices and more tender meat. (Bone-in chicken tends not to dry out like boneless can.)
It's also a great way to bulk cook and provide for many meals in one fell swoop. You won't get the crispy skin that you do when you roast a whole chicken, but you'll have great tasting chicken meat.
Slow Cooker Whole Chicken
Cooking a whole chicken in a slow cooker is one of the easiest and tastiest ways to prepare a whole bird. It's not hard. The meat is tender and juicy. And it saves you a ton of time in the kitchen.
Ready to learn? Here we go.

Do you have to cook chicken before putting it into the slow cooker?
Nope! That's what makes it one of the easiest ways to prepare a whole chicken.
And the whole chicken in a crockpot will cook on a low setting in about 4 hours.
How do you cook a whole chicken in the slow cooker?
1. Thaw the chicken completely.
Typically whole birds are stored pretty cold, so even the ones I buy from the store are often partially frozen when I bring them home. Store it in the fridge in a dish to catch drips while it thaws.

2. Remove the giblets.
Remove the neck and giblets from inside the bird. Sometimes they are packed in a bag, sometimes not. You can use these for cooking, like in homemade stock, or discard. Your choice. (I ditch them usually, unless I'm making this recipe.) Pat the bird dry.
3. Season the chicken.
Place the chicken on a tray. I like to season my chicken with butter and seasoned salt. Rather than mess with softening the butter and getting my hands all greasy, I like to season the butter pats and slide them under the skin of the chicken. In this way, the melting butter and seasoning baste the chicken breast and keep it moist and flavorful.
If you're not using butter, you can rub on some olive oil and then season it. You can use any spice blend you like as well as plain old salt and pepper. Sometimes I give it a heavy sprinkling of dried onion flakes as well as salt, pepper, and garlic powder. Consider thyme, herbes de provence, rosemary, oregano, basil, or sage to add to your seasoning.
You can even just give it a good dousing in Homemade Seasoned Salt, Herbed Seasoning Mix, or Taco Seasoning Mix.
Buying herbs and spices in bulk and mixing my own spice mixes allows me a world of flavors for just pennies a teaspoon!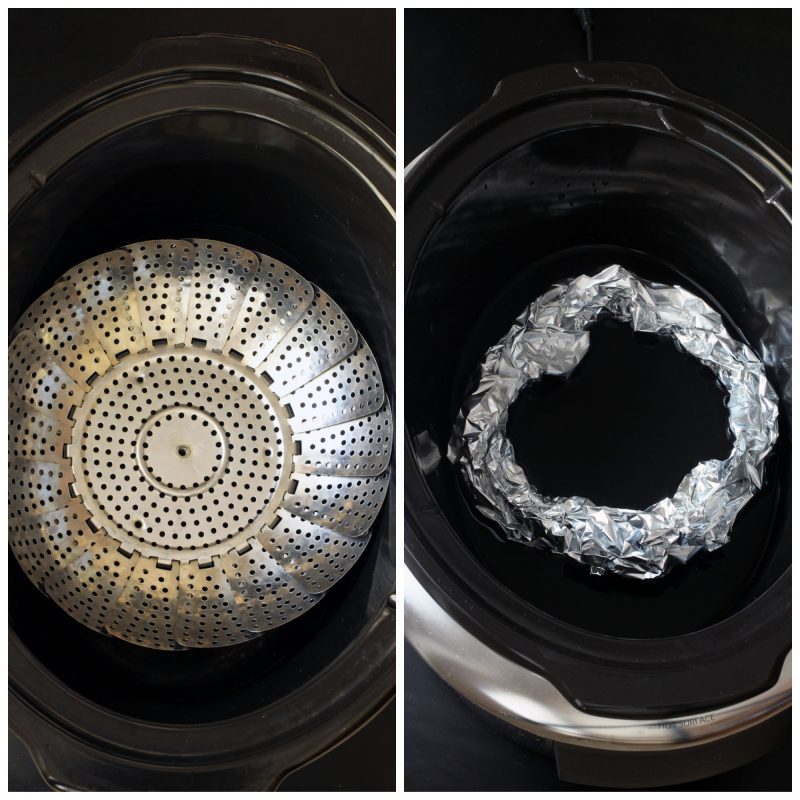 4. Position the chicken in the slow cooker.
The cooking chicken will accumulate quite a lot of drippings which is great for homemade gravy. However, it's nicer for removing the chicken and for carving it, if the chicken cooks atop a rack. You can use a collapsible steamer basket or a thick coil of aluminum foil to keep the chicken out of the juices.
I prefer a steamer basket whose handle is removable. Makes it a lot easier for positioning the chicken.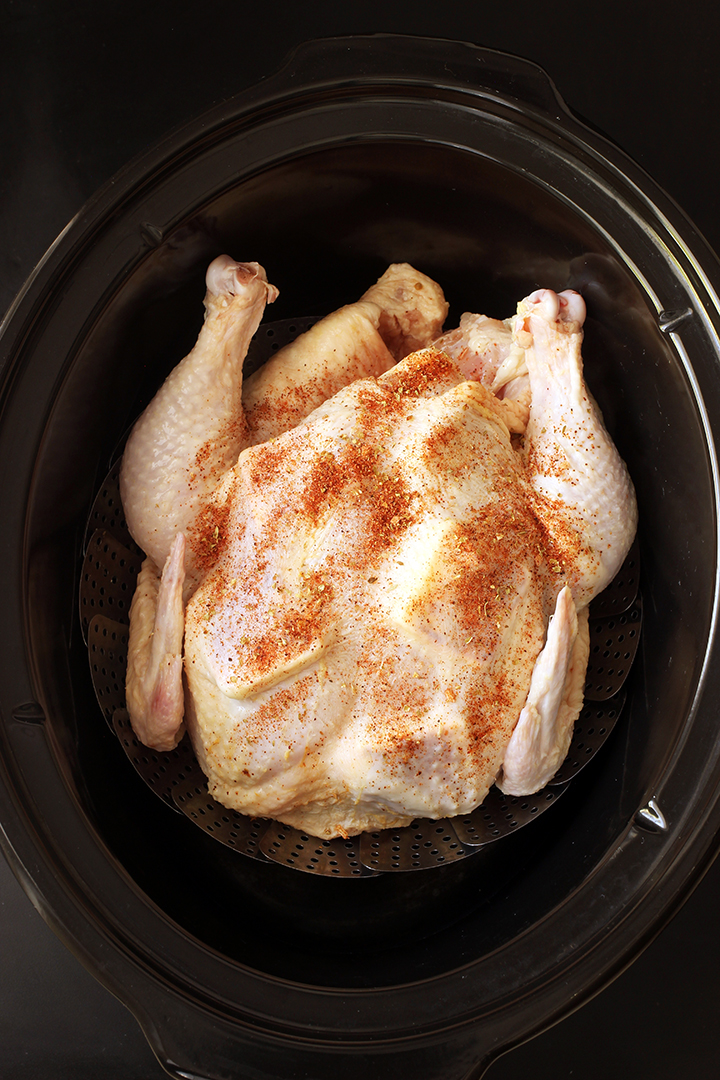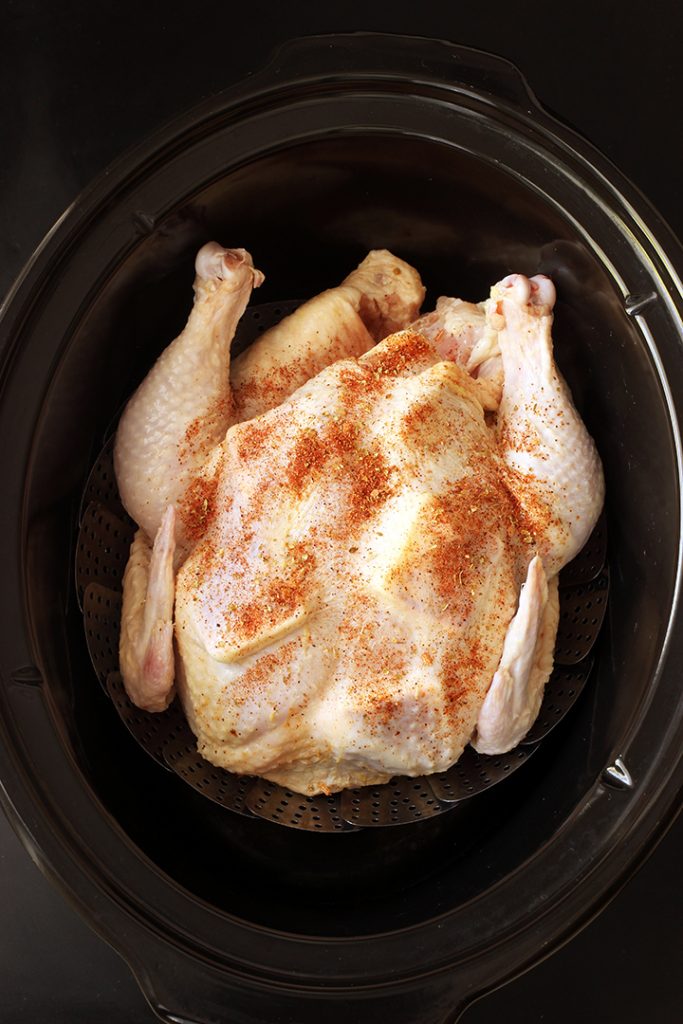 5. Cover and cook.
Once the chicken is settled in the slow cooker, cover it and cook on HIGH for 4 to 5 hours or LOW for 6 to 8 hours. You do not need to add any liquid. Chickens today typically have some solution added, so they rarely need added liquid. At the end of the cooking time, the meat will be tender, practically falling off the bone.
This is why it's so helpful to have the steamer basket for moving the chicken from crock to cutting board. The chicken is so tender, it's liable to fall apart and send bits of chicken all over your kitchen.
Ask me how I know. 😉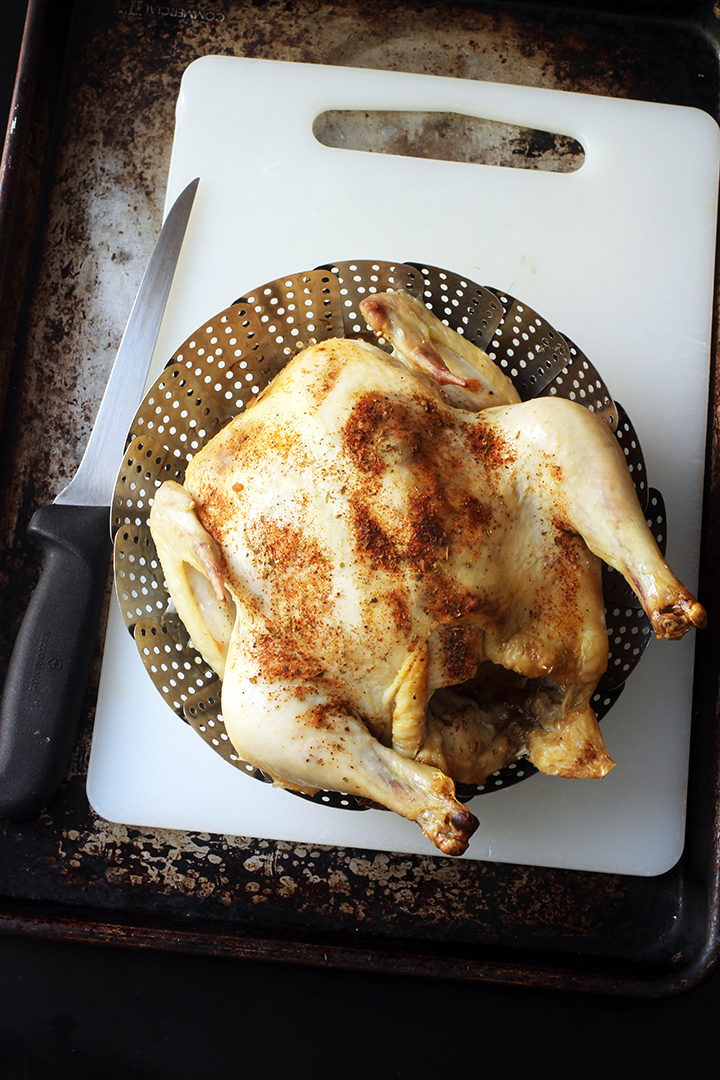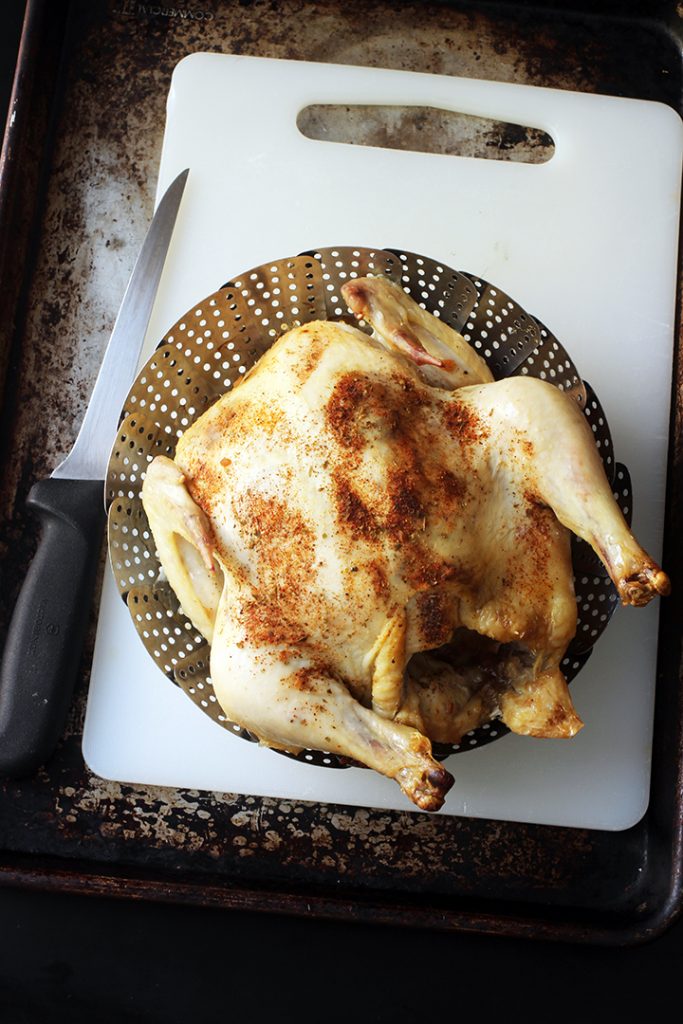 6. Carve the chicken and serve.
Then go ahead and carve the whole chicken. Depending on the size of your household, you can serve sliced chicken and chicken pieces one night and then have enough leftover for soup or chicken pot pie the next night.
Be sure to use the bones and drippings to make chicken stock as soon as you've finished carving the chicken. You don't even have to wash the slow cooker!
Do you need special tools to cook a chicken in the slow cooker?
Here's the kitchen equipment I find most useful when cooking a slow cooker whole chicken: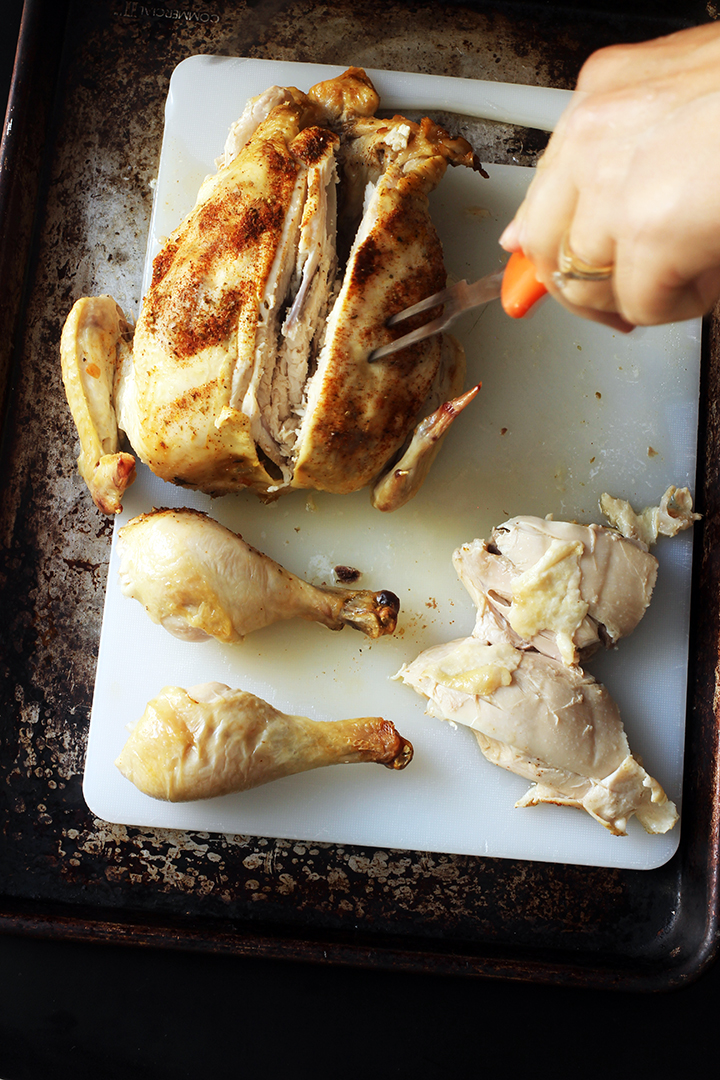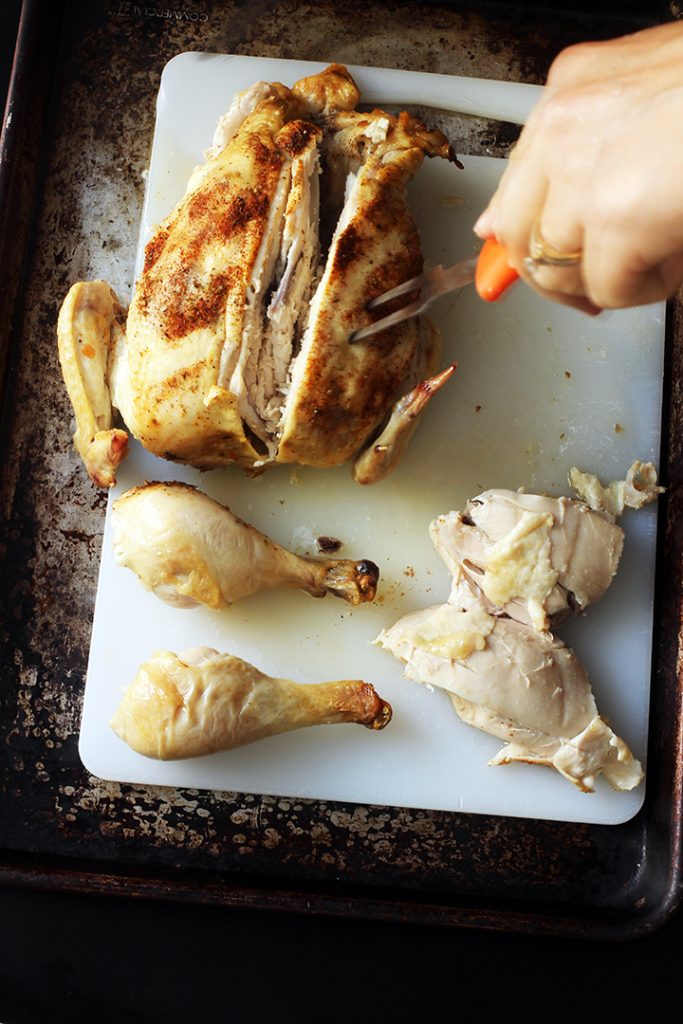 If you prepare this recipe, be sure to share a picture on social media and hashtag it
#GOODCHEAPEATS
. I can't wait to see what you cook up!
How To Cook Chicken In The Slow Cooker
Make things easy on yourself! Roast a whole chicken in the slow cooker for tender, delicious cooked chicken.
Ingredients
1

roasting chicken

3 to 4 pounds, giblets removed

4

tbsp

butter

olive oil can also be used.

2

tsp

Homemade Seasoned Salt

or other favorite seasoning blend
Instructions
Pat the chicken dry and place it on a tray. Remove the giblets, if any. Discard them or save them for another use.

Slice the butter into several pats. Season them generously with the seasoned salt or other spices.

Separating the chicken skin from the meat with your hand, slide the pats of seasoned butter into these spaces, distributing evenly. Season the chicken with any remaining spices.

Place a steamer rack or a coil of aluminum foil in the bottom of the slow cooker to keep the chicken off the juices that will accumulate.

Place the chicken on the rack. Cover and cook on HIGH for 4 hours or on LOW for 6-8 hours.

Once the chicken is cooked, to an internal temperature of at least 165 degrees, remove the chicken to a cutting board. Carve and serve chicken or chop or shred it for use in another chicken recipe.

The drippings can be strained and used to make gravy. Alternatively, use the bones and drippings to make homemade chicken stock in the slow cooker.
Notes
Promptly store leftovers in an airtight container in the refrigerator, for up to 3 days.
Nutritional values are approximate and based on 1 cup cooked meat.
For dairy-free, use plant-based butter or follow alternate step below.
Alternate Step 2: rub olive oil on the chicken and season with the seasoned salt. Place the chicken breast side down for best flavor.
Nutrition
Calories:
538
kcal
|
Carbohydrates:
1
g
|
Protein:
38
g
|
Fat:
42
g
|
Saturated Fat:
15
g
|
Cholesterol:
210
mg
|
Sodium:
995
mg
|
Potassium:
433
mg
|
Sugar:
1
g
|
Vitamin A:
2097
IU
|
Vitamin C:
5
mg
|
Calcium:
24
mg
|
Iron:
3
mg
Originally published January 17, 2012, this post has been updated for content and clarity.