Hot dips are the perfect appetizer to serve on cold nights. Typically, rich and cheesy, they break the ice at any get-together.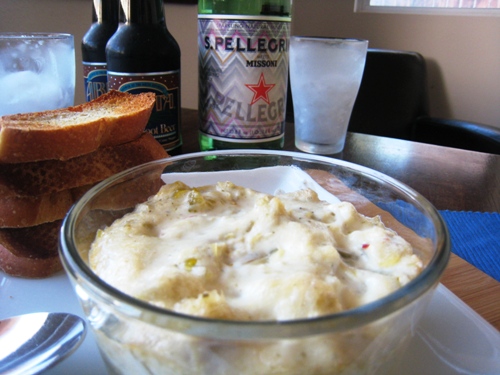 Savvy readers will have noted that with six children aged 3 to 14, I've spent a good portion of my life pregnant. In fact, I think I was continuously pregnant or nursing for about 13 years. As such, what I ate did not just affect me. It affected another little person. I basically ate for two for over a decade.
And while pregnant or nursing, I leaned toward comfort foods — and those rich in nutrients. Once I heard that artichokes were good for pregnant woman, I gave myself carte blanche to eat as much  artichoke dip as I wanted. Oh yes, I did.
I love artichoke dip. Hot, cheesy, and full of flavor, its soft texture provides such a lovely contrast to the crisp toasts I serve with it.
In fact, over the years, I've collected a small repertoire of hot dips that we enjoy throughout the winter months as well as on cooler summer evenings. Hot dips are perfect for cold evening get-togethers with friends. In addition to the aforementioned, perfect-for-pregnant-women, Artichoke Dip, herb-baked goat cheese and  Garlic Brie Bread are big favorites with me.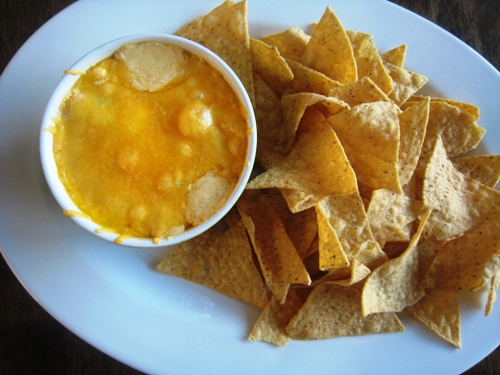 Recently, I messed around in the kitchen to create this Jalapeno Cheese Dip. It started because I was using up some leftover chopped jalapenos and bell pepper and then it kinda morphed from there. It is delicious cold with veggie dippers, but cozily warming if served hot from the oven with tortilla chips.
The leftover was fantastic as the filling for Jalapeno Poppers. And I imagine that it would be great as a sandwich spread, too.
Recipe: Jalapeno Cheese Dip
Ingredients
1 tablespoon olive oil
1 jalapeno pepper, sliced
1/2 cup chopped red pepper
1/2 teaspoon chopped garlic
8 ounces cream cheese
1 cup shredded cheddar cheese
1/4 cup sour cream
1 tablespoon chopped scallions
Instructions
Preheat the oven to 400°.
In a small saute pan, heat the oil until shimmering. Add the jalapeno, red pepper, and garlic. Saute for several minutes until the peppers and garlic are soft. Allow to cool.
In the bowl of a food processor fitted with a plastic blade, place the pepper mixture, cream cheese, and 1/2 cup shredded cheese. Blend until smooth. Stir in the sour cream and scallions.
Transfer the mixture to a greased baking dish. Top with the remaining shredded cheese.
Bake for 20 minutes or until hot and bubbly. Serve with tortilla chips
Preparation time: 15 minute(s)
Cooking time: 20 minute(s)
Number of servings (yield): 8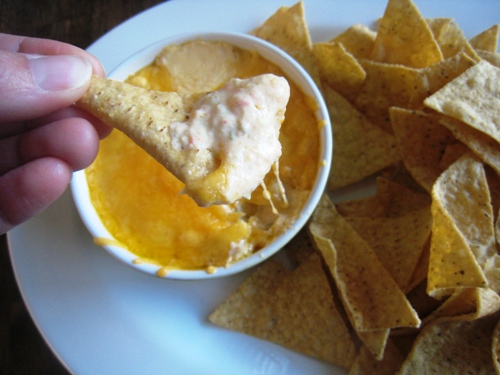 Do you have a favorite HOT dip?