Creating a Grocery Staples Checklist customized for the way you cook and eat can help you easily stock your kitchen and save money.
Do you know what you regularly buy at the grocery store? Do you know what the most commonly-used ingredients are at your house? Do you know off the top of your head what items you should snatch up when you see a great sale?
Believe it or not, knowing these things can be helpful!
When you're pressed for time and need to stock your kitchen, it's good to know what you're likely to use. You can save time and money, knowing what works for you in your kitchen, what are your pantry staples.
What are grocery staples?
Grocery staples are those ingredients that you consider to be main or important items in your family's diet.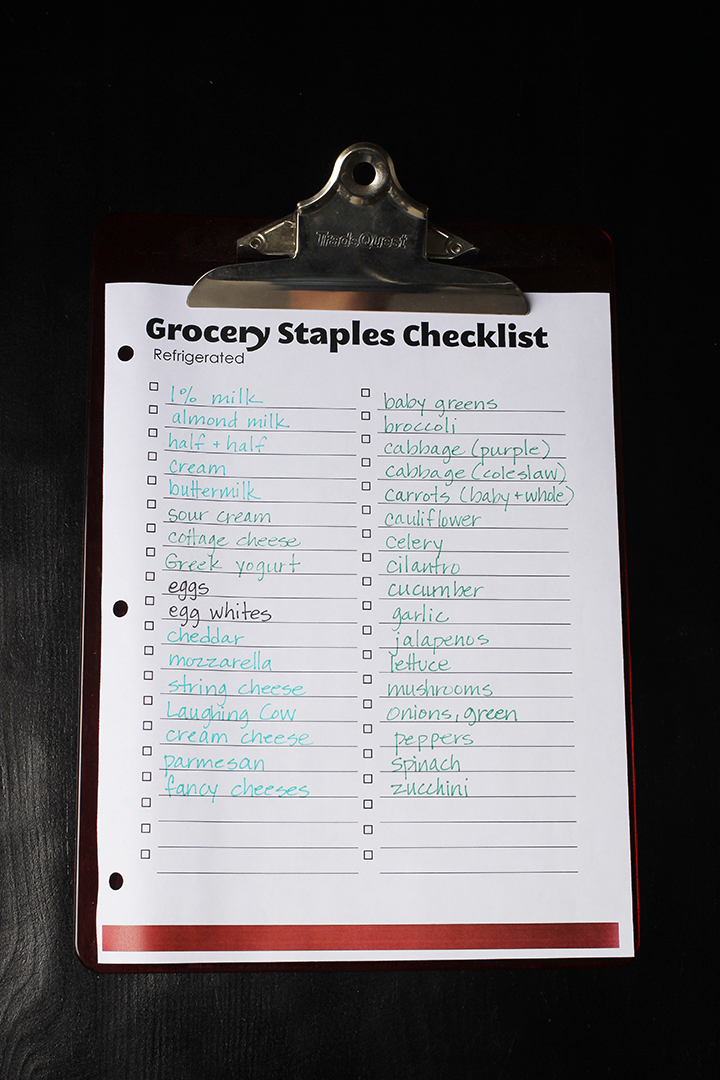 What's a Grocery Staples Checklist for?
A Grocery Staples Checklist is a list of the basic groceries that you use on a regular basis. It doesn't include special occasion or holiday food, but those ingredients that you use week in and week out.
Having such a list can be super handy when you:
need to stock your kitchen with the basics quickly without a lot of forethought.
are moving into a new home and starting your food storage from scratch.
want to build your pantry on a budget and need to know what to look for on sale that you know you will use.
want to delegate some of the shopping and meal planning to someone else in the household.
A quick glance at your grocery staples checklist and then at the cupboards and fridge will let you know what to buy without having to have an exact meal plan to go with.
Having a Grocery Staples Checklist will make it really easy to stock your kitchen for 14 days or longer.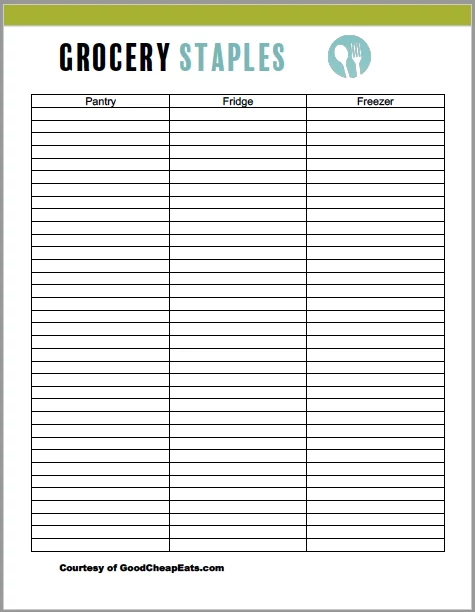 How do you make your own Grocery Staples Checklist?
I believe it's important to stock foods that you know you will use. If you do a google search for "pantry staples checklists", you'll find lists of ingredients that may or may not be what you eat.
It's in your best interests to develop a checklist that reflects how you eat and cook, not how Martha or Goop do.
Here's the quick and easy way to create your own checklist of staples, customized to your kitchen:
Brainstorm a list of breakfasts, lunches, and dinners that you frequently make. This list will serve you in meal planning, so it's going to be a valid time investment.
Consult the recipes of these meals (if you use recipes for them) and start a list of ingredients these meals call for. If you don't use recipes, it's just a matter of listing what you need to prepare them. Likely you'll start to see patterns of the same basics be used over and again.
Head to your kitchen and check your pantry, fridge, and freezer for items you know you use on a regular basis but might have slipped your mind, such as condiments, snacks, and beverages.
This is your grocery staples list.
I've put together a downloadable packet with blank pages for you to fill in with your grocery staples as well as some lists to help you make sure you haven't forgotten any basics.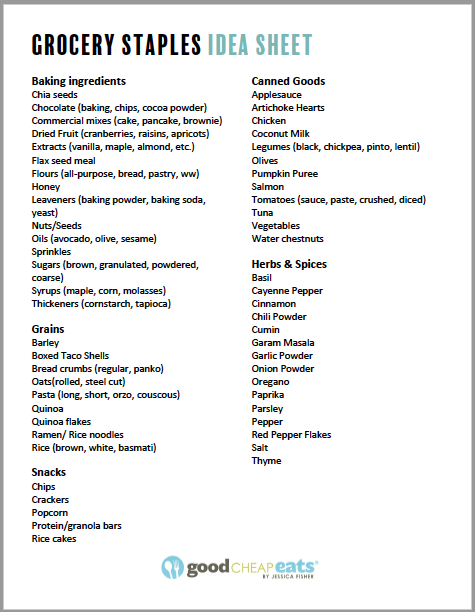 There are some common ingredients that might make your list, but keep in mind, depending on how you eat, not all these ingredients will be necessary for you to stock up.
Folks who eat gluten-free will likely have different ingredients on their staples list, as will vegans and folks who prefer paleo or keto.
That's why it's so important to create a list that works for you.
When you subscribe to the free weekly newsletter, I'll send you access to the printable straight away.
If you're already on my mailing list, look for an email bright and early on Saturday, April 18. It's heading out then.