Forget that stop at the deli salad counter! Mix up this easy and delicious slaw from good cheap ingredients.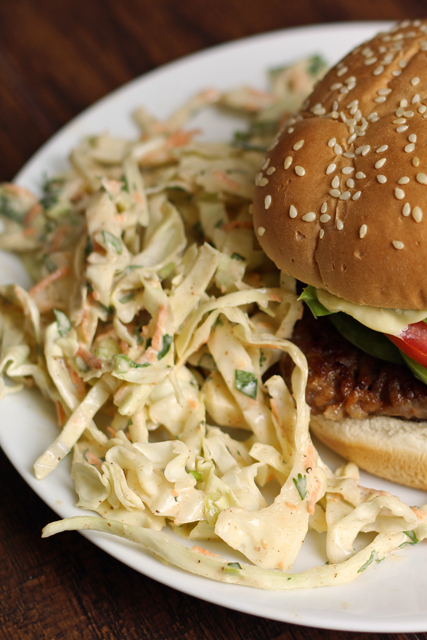 Salads and sandwiches make up some of my favorite foods on the planet. It used to be I would make my mom take me to the deli to pick up all the fixings — back in the days when grocery stores didn't have in-house delis. Yes, really. Can you imagine?
Or I'd order a special sandwich and side salad at Bob's Big Boy, my very favorite diner. Bob's doesn't exist anymore, not really. But, I still think about it.
Last week I took my daughter out to lunch at The Broken Yolk, just the two of us. We've always loved their breakfasts, so I figured we'd love lunch. We shared a club sandwich and potato salad.
My daughter, aged 6, is somewhat of a connoisseur of food now. She can't even remember eating at some fast food restaurants that we used to frequent. She was too little, and now we've cleaned up our diet. She took one bite of the potato salad — it was the sweet kind that they probably bought in a container — and said, "I don't like it. Yours is better."
Oy.
Well, she was kinda right. My Deli Potato Salad is better than the sweet kind you buy in a cardboard container. Ahem.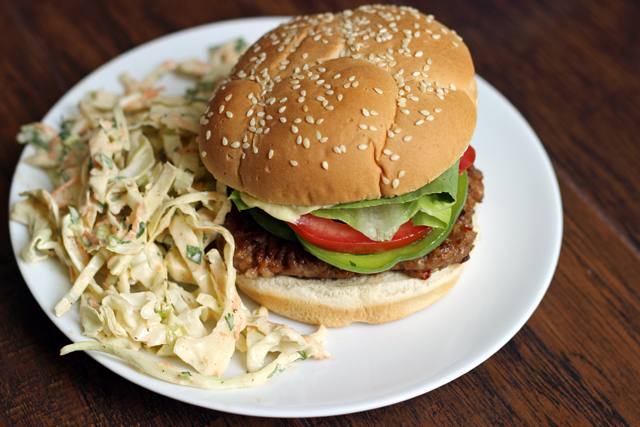 I will go so far to say that my coleslaw is too. This creamy coleslaw comes together in just minutes. I serve it with Pulled Pork Sandwiches, fish, BBQ, and of course, as pictured with my Spicy Sausage Burger. Mouth-watering again. Oy, again. This Creamy Coleslaw is the perfect foil for spicy foods. We never have any leftover.
It gets some sweet from the cider vinegar and some warmth from the cumin and ancho chile powder, but it's not overpowering. It's also meatless, naturally gluten-free, dairy-free, and make-ahead. What's not to love?
I don't like overly sweet, soggy coleslaw. This slaw is not like that. One of the tricks is not to let it sit for too long. If you're going to make it ahead, consider storing the dressing and the salad in the fridge in separate containers. Mix shortly before serving so you don't get soggy slaw.
In case, of course, you like softer slaw. Then, by all means mix and chill. Chill and mix. Mix and chill. It's all good.
Looking for more bright ideas to get dinner on the table? My latest cookbook is here! And it's designed just for you to make dinner quickly, easily, and affordably.
You can beat the clock without breaking the bank. And you'll eat well too.
Creamy Coleslaw
Forget that stop at the deli salad counter! Mix up this easy and delicious creamy coleslaw from good cheap ingredients.
Ingredients
16-ounce package

coleslaw mix

or 1 small head cabbage, shredded

4

green onion

chopped

1

tablespoon

fresh cilantro (chopped)

½

cup

mayonnaise

2

tablespoon

apple cider vinegar

½

teaspoon

ground cumin

⅛

teaspoon

ground ancho chile powder

salt

black pepper
Instructions
In a large bowl, combine the coleslaw mix, scallions, and cilantro.

In another bowl, whisk together the mayonnaise, vinegar, cumin, and chile powder. Whisk until smooth.

Pour the dressing over the vegetable mixture and toss to coat. Adjust seasonings as desired.

To make it ahead: The slaw can be made in advance and stored in the refrigerator for up to 2 days.
Notes
Nutritional values are approximate and are based on ⅛ of the recipe. Refrigerate leftovers promptly and use within 3 days.
Nutrition
Calories:
113
kcal
|
Carbohydrates:
4
g
|
Protein:
1
g
|
Fat:
11
g
|
Saturated Fat:
2
g
|
Cholesterol:
6
mg
|
Sodium:
101
mg
|
Potassium:
113
mg
|
Fiber:
2
g
|
Sugar:
2
g
|
Vitamin A:
134
IU
|
Vitamin C:
22
mg
|
Calcium:
27
mg
|
Iron:
1
mg
Tried this Recipe? Tell us what you think!
Your reviews help us develop better recipes and give newcomers the confidence to try your favorites. Scroll down to leave a starred comment.