Enjoy a simple but elegant starter with this Pear and Blue Cheese Salad with Maple Spiced Toppings. All of it is make ahead so you can enjoy your dinner to the fullest!
Ever been to a restaurant that served an out of this world salad?
Maybe it had tangy knobs of blue cheese scattered across the top. Or maybe there were crunchy, candied bits of nuts and seeds. Or maybe there was juicy, fresh, in-season fruit that, combined with the cheese and the candied toppings, made a veritable party in your mouth.
You know those salads?
Well, this is that salad.
Pear and Blue Cheese Salad with Maple Spiced Pepitas
This Pear and Blue Cheese Salad is one that I could eat at anytime of the day, month, or year. (I'd just use romaine or spinach in the summer.)
There are all kinds of flavors and textures at play here: soft, juicy pear, crisp, yet tender baby greens, the slight bite of the scallion, the tang of the blue cheese, the kicky sweetness of the maple-spiced pumpkin seeds.
Basically, this salad rocks.
And it's perfect to make right now.
Fall is a great time to indulge in pears. They are typically really affordable all year round, but you'll find a tastier selection in fall. And the combo of maple and blue cheese alongside your fall pears? Well, it's time to cozy up with your favorite people and make this salad.
It tastes like something you'd pay big bucks for, but is really one of those great things you can make yourself to save money.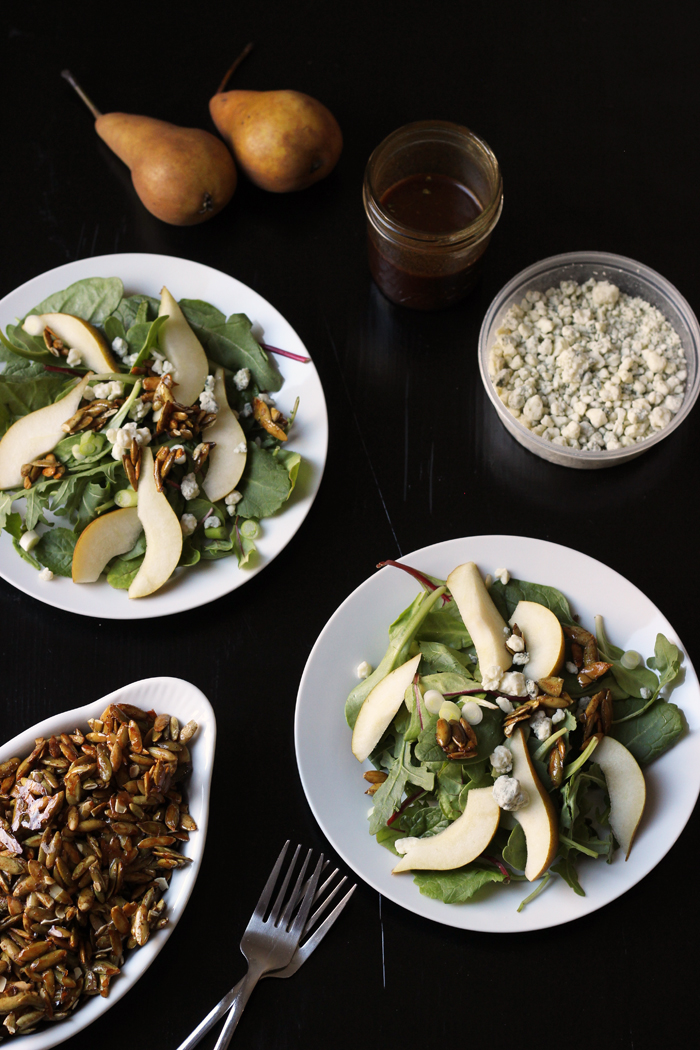 What pears are good for salad?
There are over 5,000 varieties of pears available world wide. Bosc, Bartlett, Anjou, and Comice are the most commonly sold in the US.
The type you choose for your salad will depend on the texture and flavor you prefer. Check out this chart of pear varieties to select the best one for you.
How do I choose pears?
While pears are available affordably all year round, they are in season from late July to early spring, depending on where you live and what variety you're looking for.
Choose pears that smell good and don't have visible dents or bruises. It's best to buy rock hard pears (they are picked hard) and let them ripen at home. Ripe pears can bruise significantly just on the way home from the store.
How do I store pears?
Pears should be stored at room temperature until ripe and then refrigerated once ripe.
How do I keep pears from turning brown?
If you are slicing pears in advance of serving, you can prevent them from turning brown by dipping them in lemon water.
Can I add chicken to this salad?
You absolutely can! It's an easy way to add some healthy protein the salad. Using chicken that's already cooked and prepped in your fridge makes this salad come together quickly. You can a Whole Chicken in the Slow Cooker and save the leftovers to make this salad with!
CAN I USE PRE-MADE BALSAMIC VINAIGRETTE?
I do recommend making your own dressing as it's always healthier and cheaper than buying a bottle of salad dressing. You can make this Balsamic Salad Dressing Recipe and keep it in your fridge to dress this salad with.
CAN I USE A DIFFERENT DRESSING?
I love balsamic dressing on this pear salad, but you can always switch it up and make a different salad dressing. Try this Easy Homemade Italian Salad Dressing Recipe instead!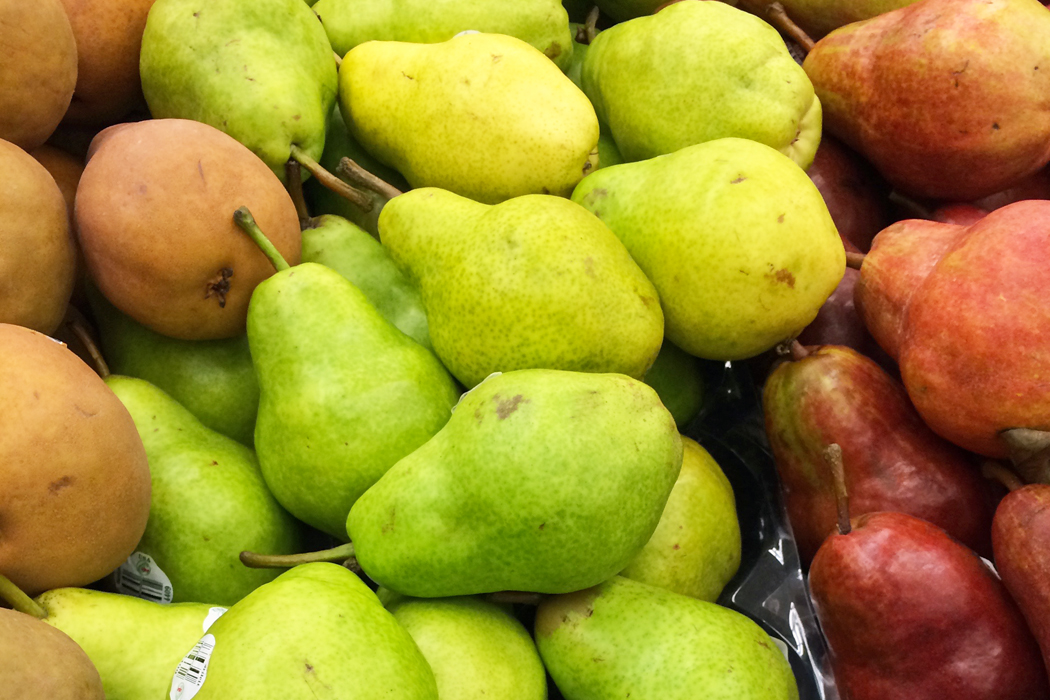 HOW DO YOU STORE SALAD SO IT DOESN'T GET SOGGY?
As I mentioned, I love making salads for meal prep. It takes just minutes on a weekend afternoon but I reap the rewards manifold throughout the week.
The trick, of course, is to keep the salad from getting soggy.
Moisture is the enemy when it comes to salads, so hold off adding the dressing until right before you serve it. Even before then, you can extend the shelf-life of your meal prepped salad by making sure the other components are very dry.
Use a salad spinner to get the salad greens very dry. My salads last a full four days when done in this manner with very fresh ingredients.
If you want to take it all a step further, in the vein of Mason Jar Salads, place the heavy, wet items in the dish first and top with the greens. You'll need to invert the dish or have room to shake it all up before you serve it.
Savvy readers will notice that this salad follows a certain template:
greens + protein (if adding) + fruit + nuts (pepitas) + cheese = awesome salad
You can recreate this at home with whatever you have on hand. Will it taste the same as this salad? Of course not. But, the point of Good Cheap Eats is to help you make the most of what you have. So, if blueberries and walnuts are what you got, go with it!
How to make this good and cheap:
A salad with fruit, cheese, and nuts tastes like a million bucks, but it doesn't have to be expensive. Here are some of the strategies you can use to make this recipe more economical:
Stock up on ingredients when they are on sale. The cheese and pepitas are the high price items in this recipe. Watch for sales and stock up.
Freeze the cheese. Stretch your cheese purchase by freezing it in small containers. This will extend the shelf life of your purchase and help you enjoy it for several weeks to come.
Make your own dressings. Bottled dressings are either way too expensive or full of junk. I love to make my own dressings. Not only are they quick and economical to prepare, but they allow me to control the ingredients that I use.
How I make this recipe easy:
This recipe really couldn't be easier than it is, but having the right kitchen tools can really make your time in the kitchen more enjoyable. Over time, I've honed my collection so that they are perfect for my needs.
Here are the tools that I use for this recipe: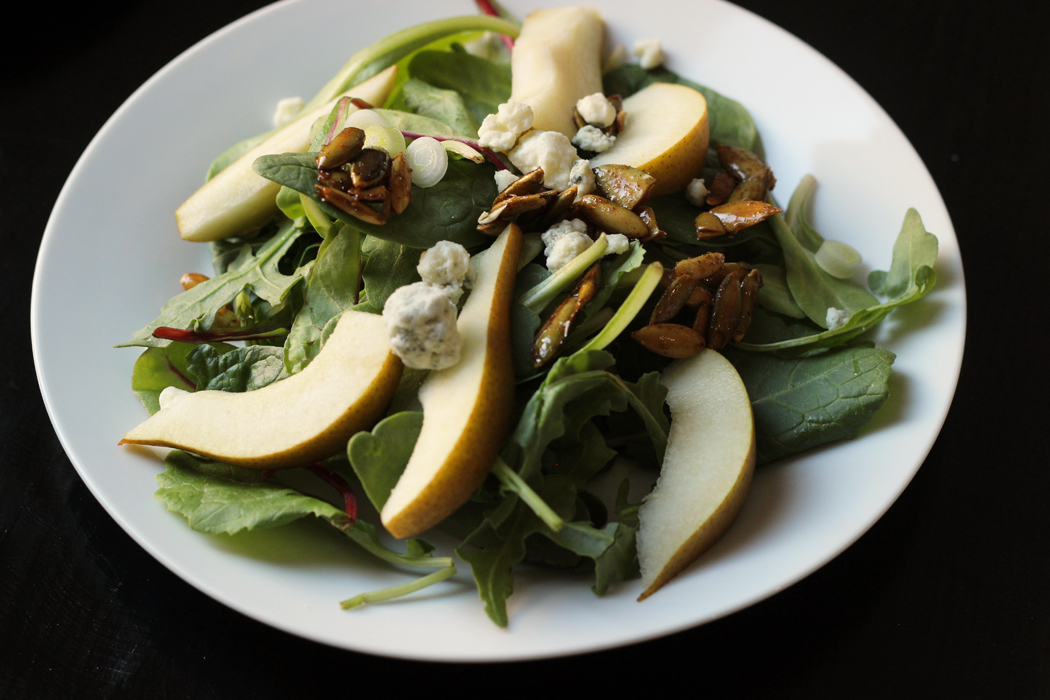 After you've prepared the recipe, would you do me a favor? I'd really appreciate it if you came back and left a starred review. Thanks in advance for your feedback!

If you prepare this recipe, be sure to share a picture on social media and hashtag it
#GOODCHEAPEATS
. I can't wait to see what you cook up!
Pear and Blue Cheese Salad with Maple Spiced Toppings
Enjoy a simple but elegant starter with this Pear and Blue Cheese Salad with Maple Spiced Toppings. All of it is make ahead so you can enjoy it to the fullest.
Ingredients
6

cup

baby greens

2

pears

peeled, cored and cut into ⅛s

2

oz

blue cheese crumbles

(½ cup)

½

cup

Maple Spiced Pepitas

¼

cup

chopped green onions
Instructions
In a large bowl combine the salad greens and enough dressing to coat. Divide the greens among 4 salad plates.

Nestle ¼ the pear slices atop each bed of greens. Sprinkle with the blue cheese crumbles, about 2 tablespoons per plate.

Sprinkle 2 tablespoons pepitas over each plate along with 1 tablespoon scallions. Serve immediately.
Notes
Notes: Apples or other seasonal fruit can be used instead of the pears. Gorgonzola or Roquefort cheeses can be used instead of the blue cheese.
Nutrition
Calories:
168
kcal
|
Carbohydrates:
17
g
|
Protein:
7
g
|
Fat:
9
g
|
Saturated Fat:
4
g
|
Cholesterol:
13
mg
|
Sodium:
253
mg
|
Potassium:
332
mg
|
Fiber:
3
g
|
Sugar:
9
g
|
Vitamin A:
895
IU
|
Vitamin C:
19
mg
|
Calcium:
113
mg
|
Iron:
1
mg