Knowing how to make a salad is a great skill to have, even better if it's great. Follow this easy template for salads that will please everyone at your table and never leave you bored.
Some folks say that salads are boring. Some say that they never taste fresh. Some say they don't know how to make one.
Well folks, today's the day to change that. Salads can be vehicles of absolute deliciousness — especially if you make it yourself. Prepping salads at home can save you money, offer you loads of veggies, and make a colorful addition to your dinner table.
Ever since I can remember, I've always loved salads. I don't mean like. I mean love, as in looooooooove.
Yeah, my husband thinks its kinda weird. As did my college roommate. But, most days I would rather have a salad than anything else. It feels healthy even when I glob on tons of ranch dressing and shredded cheese. And it can actually I healthy when I exercise a little self-control.
It's okay if you're not a salad fanatic. But, it's not okay not to know how make a good one. Today's the day to learn.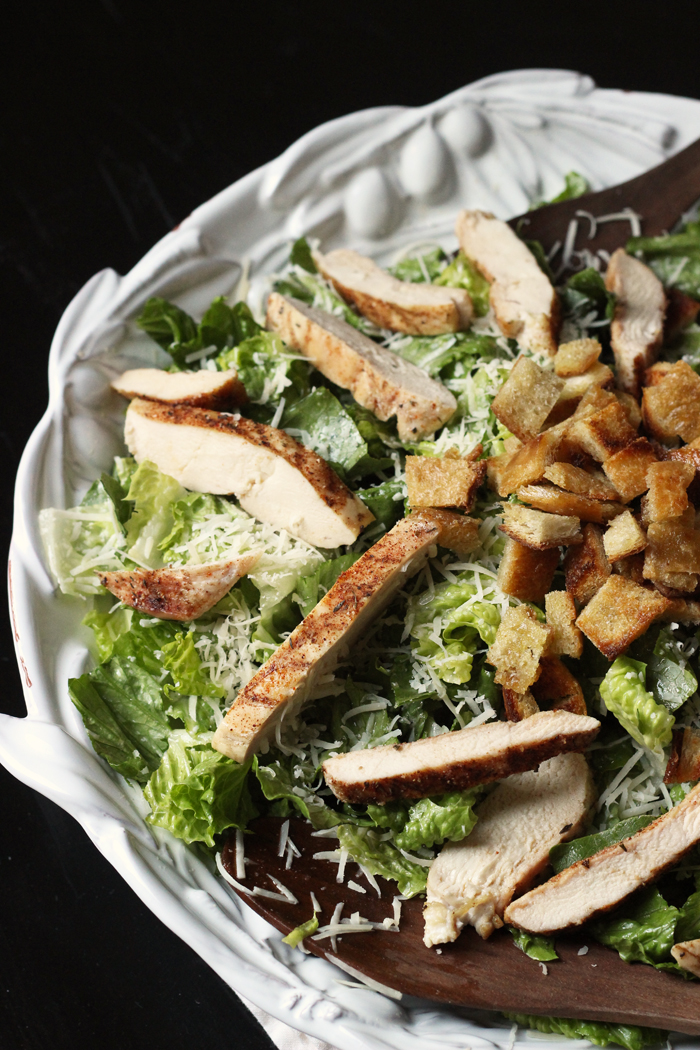 How do you make a good salad?
A good salad is based on fresh ingredients and toppings you enjoy. It's not soggy or boring. It's not dry; neither is it drenched in dressing. It's crisp and cold and packed with flavor.
A good salad leaves you wanting to eat salad again.
There is a wide world of ingredients out there for you to explore. If you only know salad as limp iceberg with a chunk of watery tomato and sad cucumber, then know that there's a lot of exciting stuff out there for you to try.
Consider these different combinations of flavors piled on a bed of greens:
steak, fajita veggies, jack cheese, and a lime-honey dressing
rotisserie chicken, raspberries, goat cheese, and pecans
sautéed chicken, strawberries, avocado, and a fruity vinaigrette
grilled chicken, croutons, parmesan cheese, and Caesar dressing
meatballs, cucumbers, tomatoes, hummus, and tzatziki.
Salad with Chicken, Oranges, Feta & Almonds
There are so many different ways to build a salad, you could go in a different direction every day of the year and never get bored. Ready to get started?
How to Make a Salad Great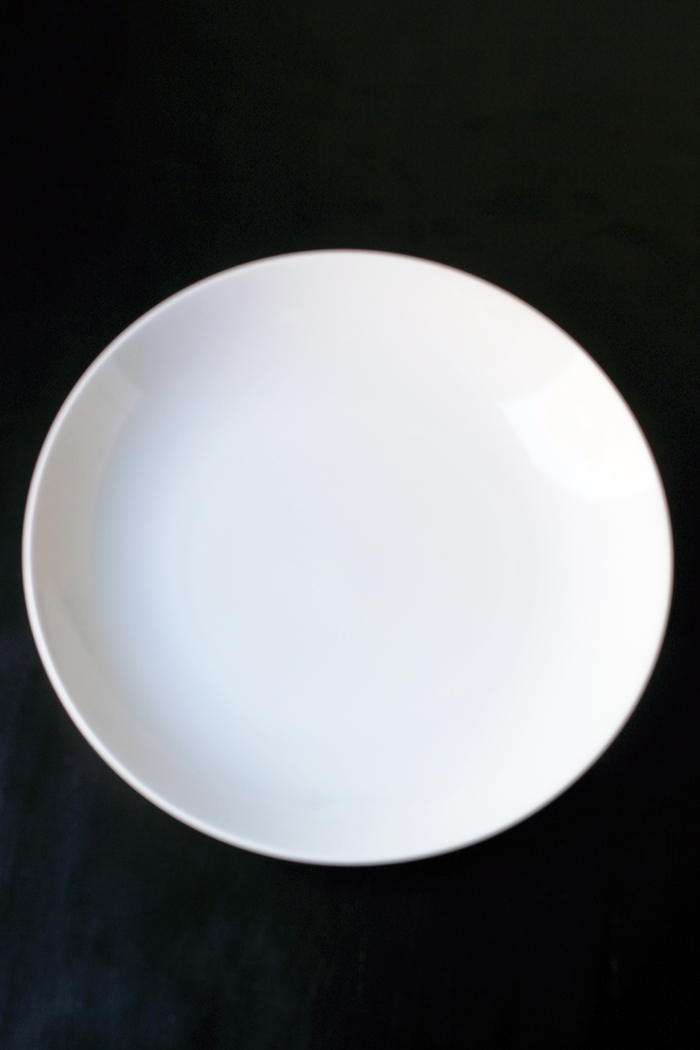 Start with a big bowl or platter.
You want to make sure that your serving platter or bowl is large enough to hold all the salad ingredients as well as allow room for you to toss the salad with the dressing.
If you're serving several people, this may mean a large salad bowl or platter. If you're making a salad just for one, a small mixing bowl or pie plate works well.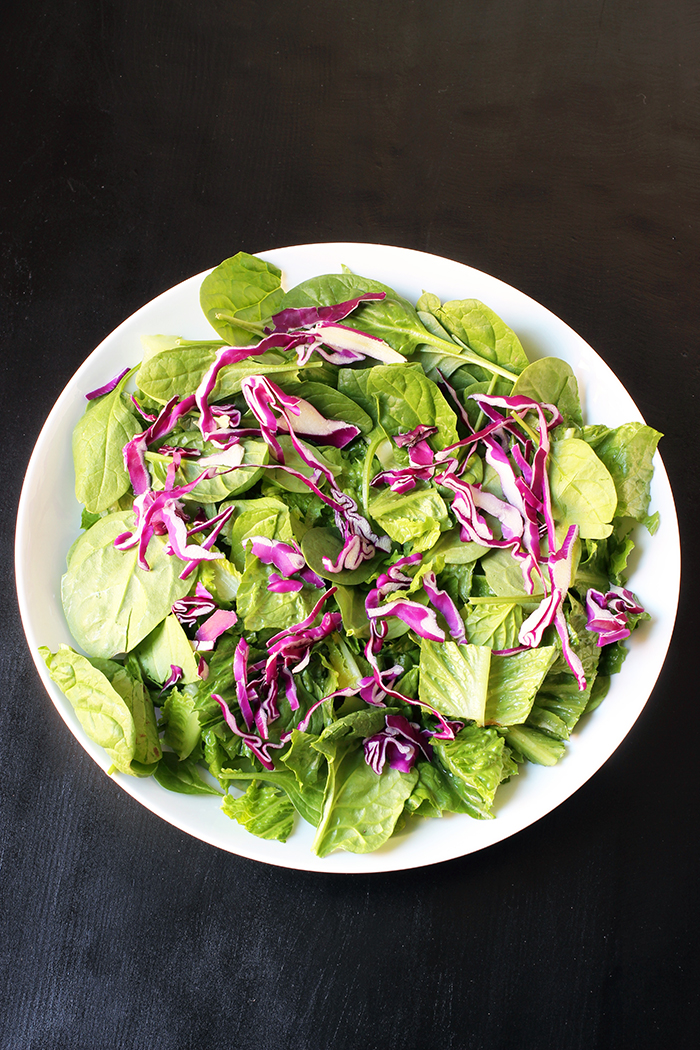 Lay a bed of greens.
The base of the salad is the lettuce or greens.
When I was growing up, that meant iceberg. But farmers' markets and modern grocery stores have opened the culinary horizons of lettuce and greens over the years. You likely have a choice of any of these:
romaine
green leaf
red leaf
butter lettuce
iceberg
frisee
baby spinach
baby kale
shredded cabbage
radicchio
chicory
Vary the colors and textures if you can. Experiment until you find the combinations and flavors you like the best.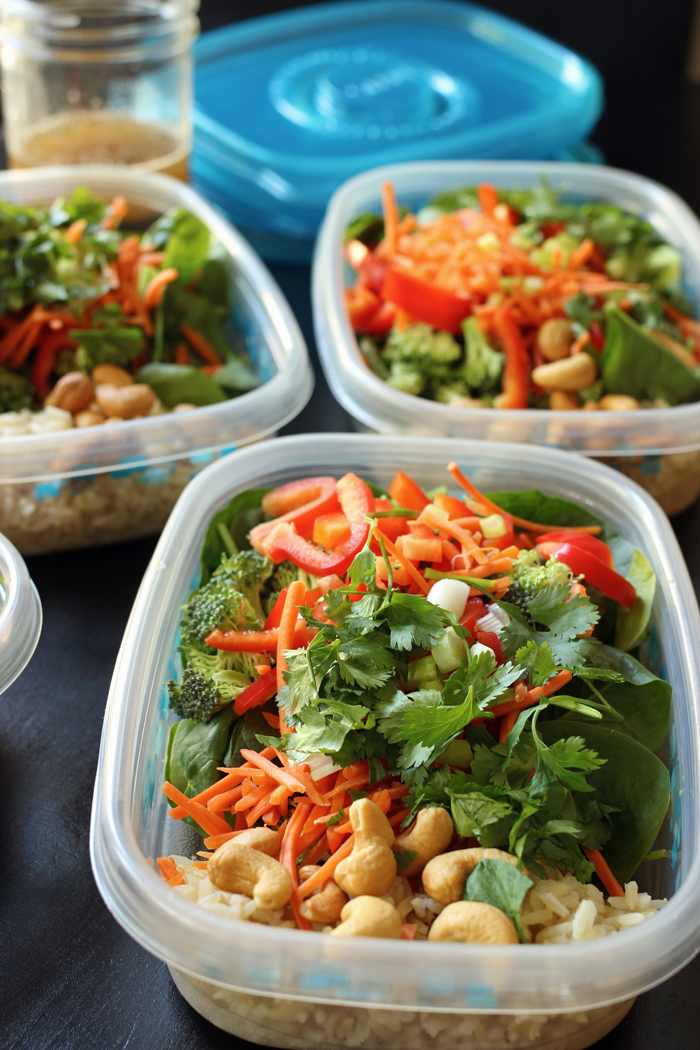 Pile on the fruits and veggies.
Salad add-ins are what give the salad its character. And honestly? Anything goes!
You can go with fruit like apple slices and dried cranberries or stick with the veggies and add avocado, carrots, tomatoes, cucumbers, olives, onion, etc. Try different combinations until you discover your favorites. And then try some new ones, just 'cause.
Consider these options:
fruit, such as berries, chopped apple or pear
tomatoes, chopped or whole grape/cherry variety
shredded or chopped carrots
chopped celery
cooked potatoes
steamed green beans
corn kernels
sweet peas or edible pea pods
chopped, steamed green beans
diced avocado
chopped bell pepper
sliced cucumbers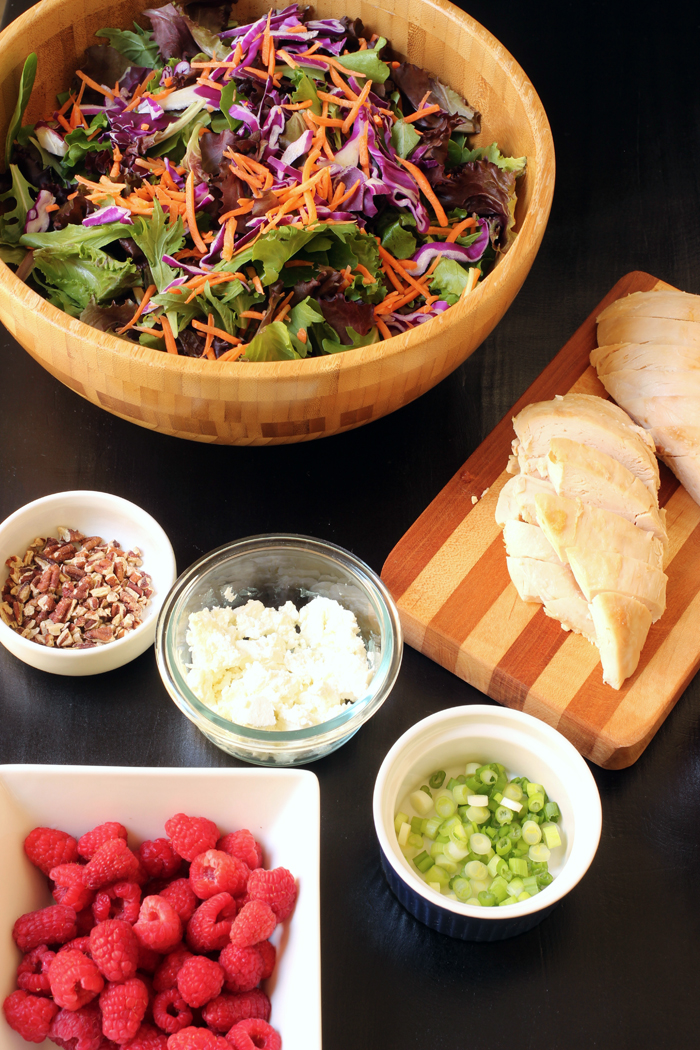 Add protein.
Real men — and women! — do eat salad, especially if there's some protein around. I think historically there's been a misconception that a salad can't be filling.
We'll have to blame the pear half-scoop of cottage cheese combo of the 70's for that!
Salad proteins can vary quite a bit. Check out all your options!
cheese: shredded, crumbled, or cubed
eggs: hardboiled, soft boiled, poached, or fried
beans and legumes: garbanzo, kidney, pinto, black, lentil, favas
meats: cooked chicken, beef, pork, turkey, ham, or bacon
seafood: cooked or canned tuna, shrimp, fish
soy: edamame, tofu, tempeh, or seitan
nuts and seeds: pecan, walnut, peanut, pepita, sunflower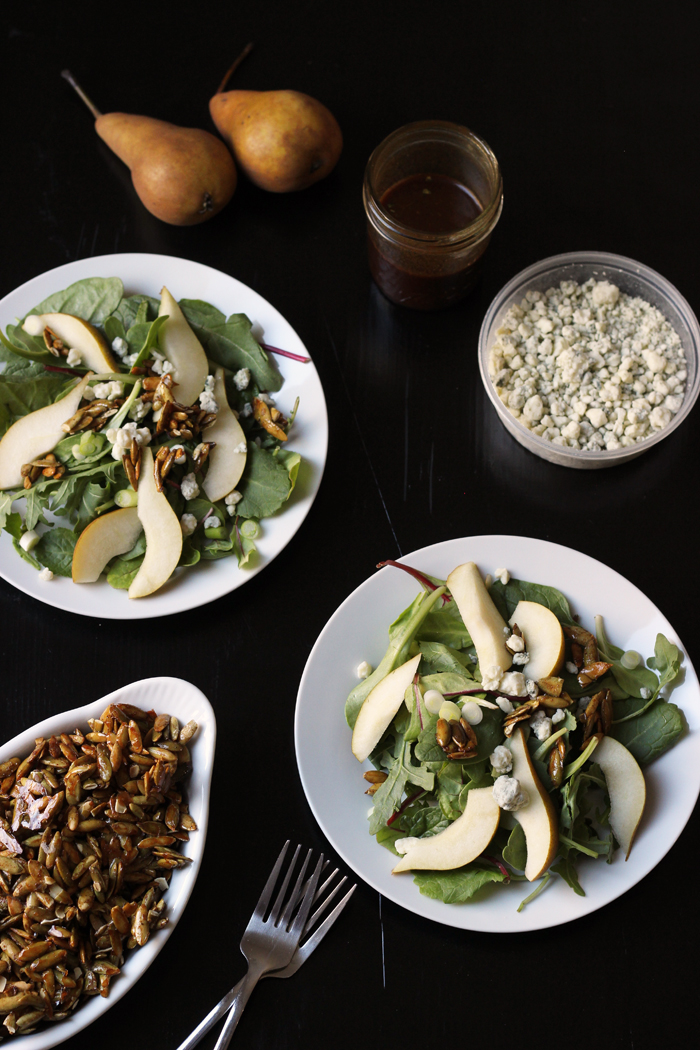 Top your salad with some crunch.
Varying the texture of your salad is key to making it great. Top your plate with some kind of crunch like Homemade Croutons.
Nuts, croutons, and seeds are great salad toppers that add texture and flavor. You can try these homemade salad toppers: Cheese and Garlic Croutons or Maple Spiced Pepitas for some extra pizzazz.

Make a great dressing.
I usually make my own dressings. It's not hard at all. Some of my favorites are
But, if you have a favorite bottled dressing, stick with it. It's always nice to have ready-made on hand.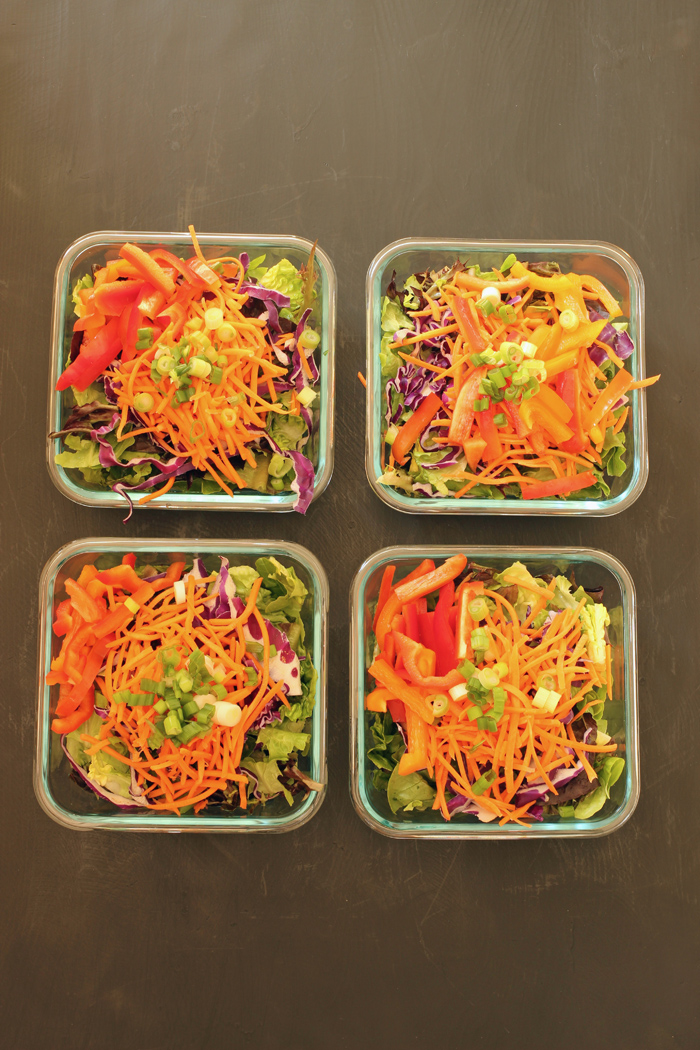 How do you make a salad for the week?
Almost every week I make my favorite meal prep salads. They make my meals so much easier.
Prepared food is good for up to four days. Undressed, chopped vegetables can last even longer. The key to keeping your dish fresh all week is to dry the ingredients well and leave off those that might make the salad soggy, like cut tomatoes or cucumbers.
Soggy leads to rapid decay, so pat everything dry and store it in an airtight container in the fridge. Don't add the dressing until serving.
How long does homemade salad last?
Homemade — without the dressing or very wet ingredients — should last at least four days. If you've included cut tomatoes or dressing, you will want to consume it within a few hours.
I've known of folks to put leftover salad in soup or eat a dressed salad the next day, but it will suffer from loss of taste and texture.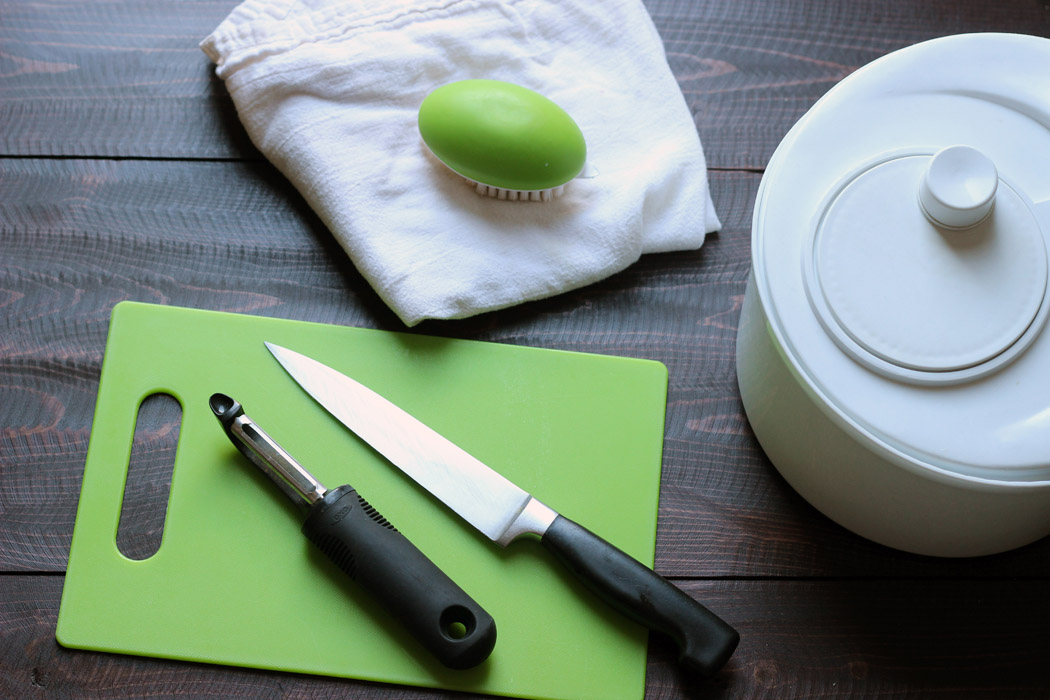 Tools to help you make salads easily
I think you're set for making a great dish now. Go get to it!