A great salad dressing makes the salad. Try this homemade Cilantro Lime Dressing Recipe to add sparkling fresh flavor to a variety of salads.
This post may contain affiliate links which provide a means for me to earn fees linking to Amazon and other affiliate sites.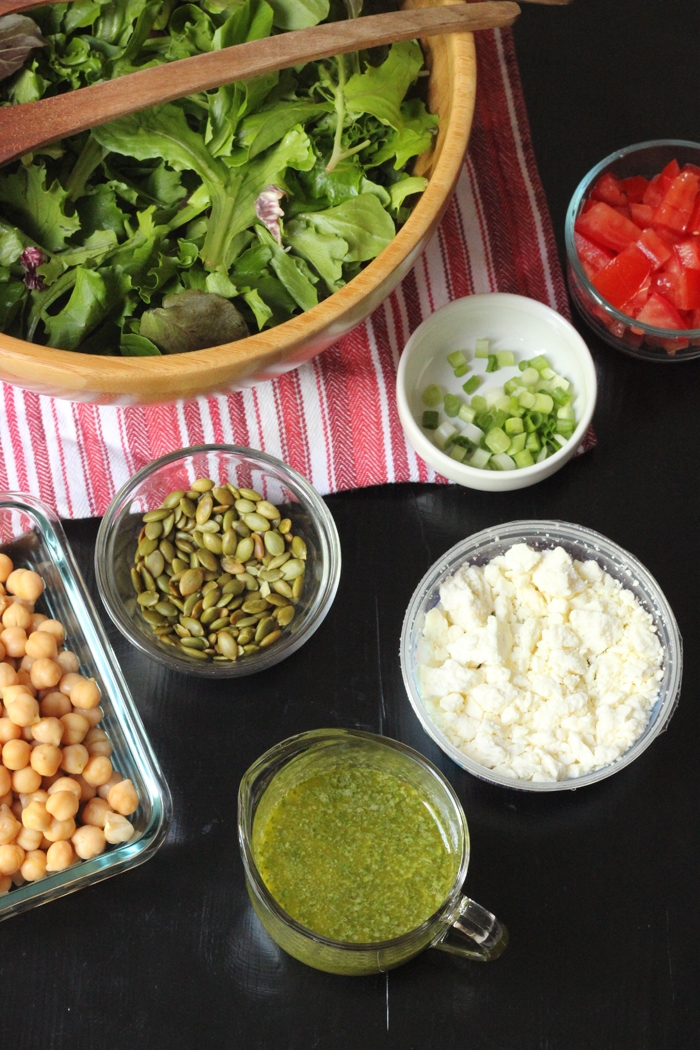 I've always been a salad girl. I know I've said it before, but truly. Salad is my jam. There's just something about enjoying a great salad that makes me happy. And if it has a delicious homemade cilantro lime dressing? #daymade
Over the years I've developed some standard dressings that serve as my go-to dressings: Buttermilk Ranch dressing, Basic Vinaigrette, Dijon Vinaigrette, Creamy Garlic Dressing with Cilantro and Blue Cheese. And now that I think of it, this Tarragon Balsamic Salad Dressing Recipe is pretty awesome as well. So many salad dressings, so little time.
Seriously, I don't think you could ever call a salad boring when you've got so many lovely dressings to choose from! How about another to add to your repertoire?
What do you need to make this cilantro dressing?
cilantro
fresh lime juice
green onion
salt
pepper
olive oil
How to make this cilantro lime dressing recipe
In a blender or food processor, you want to blend until smooth the fresh cilantro, fresh lime juice, and green onion until smooth.
Then season to taste with salt and pepper.
Then add the olive oil in a thin stream and blend well.
How long does this cilantro lime dressing last?
You can adjust the seasonings and then you can use it immediately! Any leftover cilantro dressing is good for up to 4 days. Just make to keep it covered and refrigerated!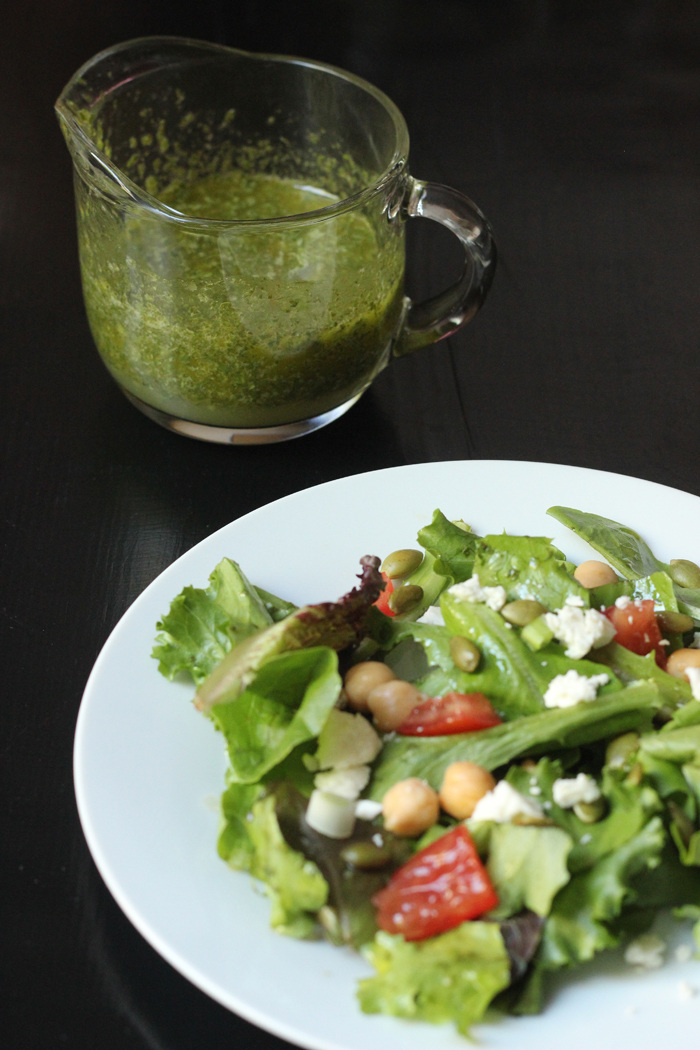 What can I serve this cilantro lime dressing with?
This cilantro lime dressing comes together in minutes. It's packed with fresh, vibrant flavors, and it goes well on a variety of salads. We have always enjoyed it on this Spring Greens with Pepitas, but recently I tossed it over roasted potatoes and onions for a warm potato salad and it was the bomb.
I'm also thinking that it would be excellent on this Santa Fe Salad with Chicken, Corn, and Black Beans or any taco salad for that matter.
Wow! How many salad combinations can we come up to go with just one dressing. People, let's light up your salad-loving life! Mix up a batch of this cilantro dressing and test it out this week. Be sure to let me know how you style it so I can add it to my repertoire.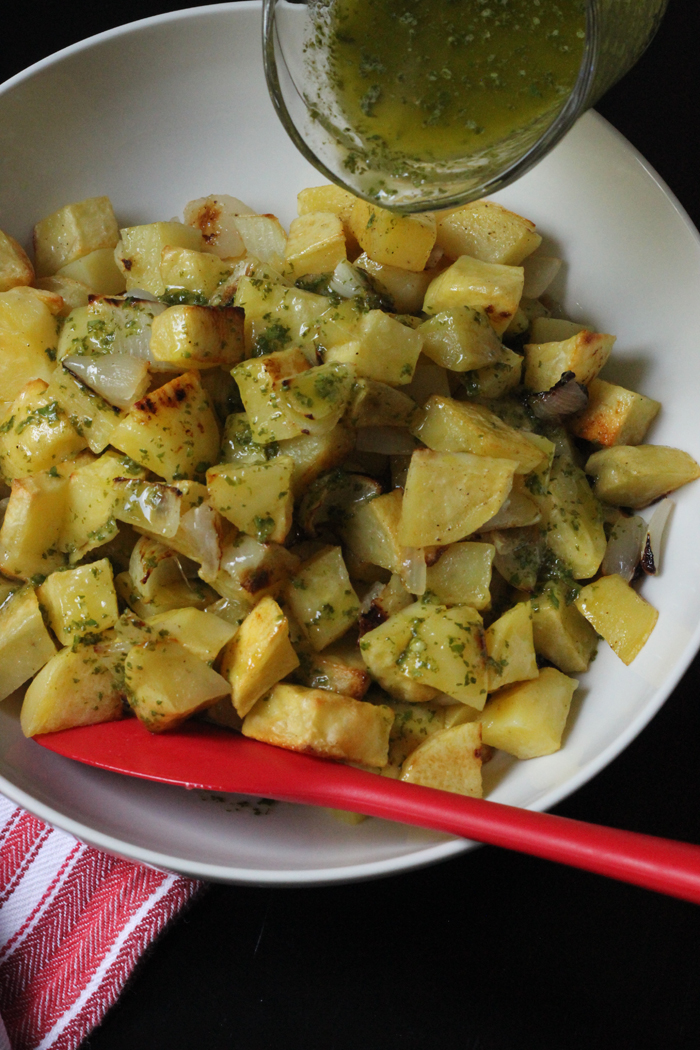 How to make this good and cheap:
Here are some of the strategies you can use to make this cilantro lime dress recipe more economical:
Stock up on ingredients when they are on sale. Instead of paying full price, buy more than you need when you see it on sale. Then you always have it when you want it. I do this for olive oil and bottled lime juice. It's always nice to have a stockpile of that kind of stuff.
Store your bulk purchase of limes in the fridge. Yes, citrus tastes best and juices more efficiently when it's at room temperature, but you can extend its shelf life by storing it in the fridge. ALDI had limes for 10 cents a piece last month, so I bought a load of them to have on hand.
Speaking of which, shop the stores that have the best prices. When I did my big grocery store showdown, I learned that ALDI and Costco have the best prices for a lot of the things I buy. You will naturally save money if you shop the best store for the items YOU buy. This may not be ALDI or Costco, so you'll need to do your own price comparisons. The time investment as your research it is super valuable!
Store your cilantro in a way that it doesn't become a gooey mess in the veggie drawer. Go here for details on how to save cilantro for details.
How I make this recipe easy:
This recipe really couldn't be easier than it is, but having the right kitchen tools can really make your time in the kitchen more enjoyable. Over time, I've honed my collection so that they are perfect for my needs.
Here are the tools that I use for this recipe:
Cilantro Lime Dressing Recipe
Ingredients
1/2

cup

fresh cilantro (chopped)

1/4

cup

lime juice

1

green onion

chopped

salt

black pepper

1/2

cup

olive oil
Instructions
In a blender or food processor, blend the cilantro, lime juice, and green onion until smooth. Season to taste with salt and pepper. Add the olive oil in a thin stream, blending well.

Adjust the seasonings and use immediately. Leftover dressing is good for up to 4 days, covered and refrigerated.
Notes
Store leftovers covered in the refrigerator for up to 2 weeks. 
Nutrition
Calories:
972
kcal
|
Carbohydrates:
6
g
|
Protein:
1
g
|
Fat:
108
g
|
Saturated Fat:
15
g
|
Sodium:
5
mg
|
Potassium:
71
mg
|
Sugar:
1
g
|
Vitamin A:
195
IU
|
Vitamin C:
19
mg
|
Iron:
1
mg