Want an easy potato side dish? This is it.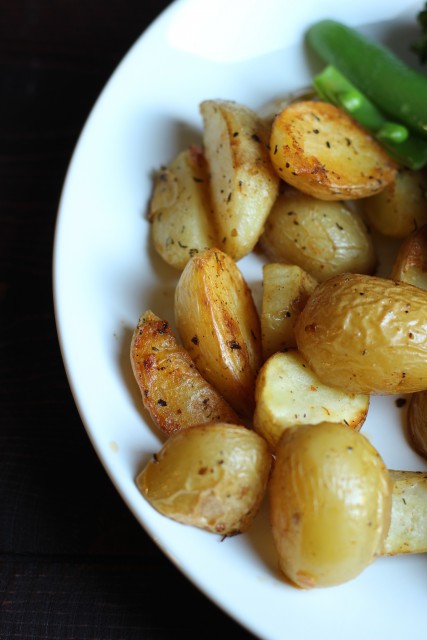 These uber-scrumptious potatoes are so easy to make, I'm not really going to spend a ton of time telling you about them. They are similar to my Simple Dill Potatoes — only SURPRISE! No dill. The main differences are that I used itty bitty gold potatoes and copious amounts of FishMama Spice. It took about five minutes to mix up the potatoes since I already has the spice mix on hand.
Remember to make a double batch of this amazing concoction of joy and happiness.
Then slide the pan into the oven at high heat and let the heat and spice do their magic. The oil helps the potatoes crisp and develop this delicious caramelization. Need I tell you that I was — for once — happy that my people dawdled on their way to the table when I made these recently.
You snooze, you lose, people! More potatoes for me!
If you only have room for russets or reds in the budget, that's totally cool, just cut them into chunky bite-size pieces. But, if you can get golds, do it. They have a buttery, rich taste that is amazing.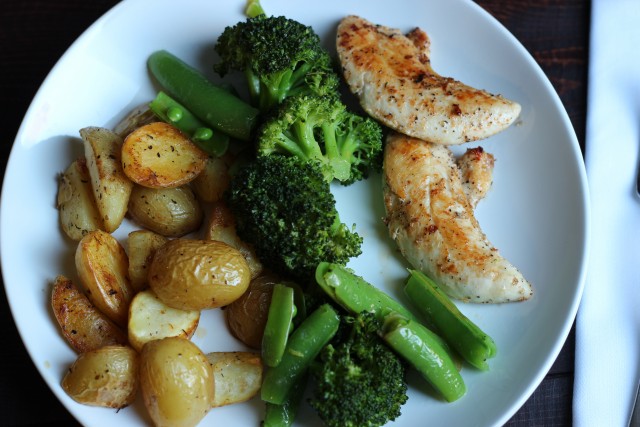 Recipe: Easy Roast Potatoes
Ingredients
3 pounds small gold potatoes, scrubbed and trimmed, and cut in halves or quarters if large
1/4 cup olive oil
1 Tablespoon FishMama Spice, plus more to taste
Instructions
Preheat the oven to 400 °.
In a glass 9×13-inch pan, toss the potatoes with olive oil to coat. Season generously with the FishMama Spice and toss until herb and spices are well distributed.
Bake for 30 to 45 minutes or until tender and golden brown. Stir once or twice during cooking to prevent sticking.
Adjust seasonings and serve hot.
Preparation time: 10 minute(s)
Cooking time: 45 minute(s)
Number of servings (yield): 8