Chicken Pot Pie is a sure-fire favorite at my house. Flaky, buttery crust surrounds chicken, vegetables, and a delectable homemade gravy for delicious comfort food.
One of our favorite savory, Homemade Pies, this chicken pot pie is great accompanied by a Quick and Easy Caesar Salad or Broccoli Cranberry Salad With Pecans. This was one of my favorite postpartum meals from a friend when one of my babies was born.
Years ago when I had my second baby I was surrounded by good cooks who spoiled me once the baby was born. This Chicken Pot Pie was one of those dishes that was dropped on our doorstep by a fellow mom-in-arms, ready to sneak a peek at our new bundle of joy.
It was the best chicken pot pie I'd ever had, so good that it prompted me to get over my fear of double pie crusts.
It was the first homemade chicken pot pie I'd ever had. And personally, I think this recipe is the gold standard by which all Chicken Pot Pies must be measured.
Homemade Chicken Pot Pie
A flaky buttery crust? Check.
Tender chunks of chicken? Check. (You can use turkey, too!)
Potatoes, carrots, and pease? Check.
A luscious, herb gravy? Check.
All the good things are included in this delicious pie.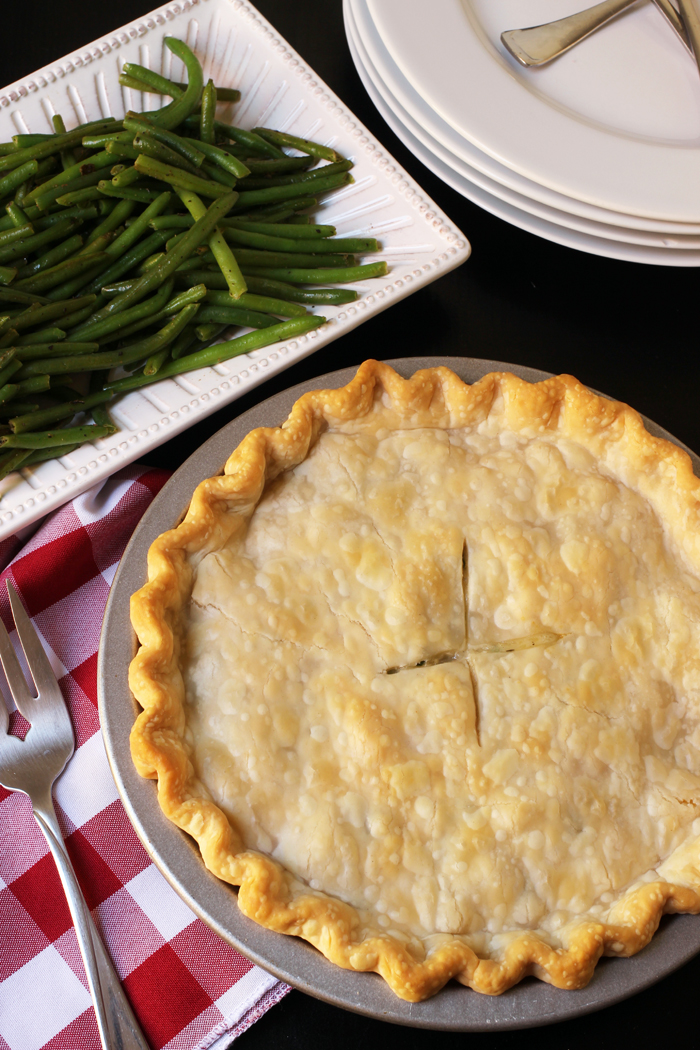 Homemade Chicken Pot Pie made easy
At first glance this recipe may seem a little time intensive; the whole double pie crust, gravy, cooked vegetables and meat thing can seem tedious.
Luck for us, there are plenty of ways to make it super duper easy so that you can enjoy this homemade Chicken Pot Pie often:
make many at once and freeze them = reduced time investment/pie
roast a chicken or turkey one night and turn the leftover meat, gravy, and veggies into pie!
use a rotisserie chicken and frozen veggies if you don't have time to cook them all fresh
use commercial pie crust for quick assembly
This homemade Chicken Pot Pie is so delicious, pleases everyone at the table, and freezes well so you can make several pies to enjoy weeks down the line. Trust me when I say you'll want to make more than one.
This is the typical reaction when Chicken Pot Pie is on the menu at our house: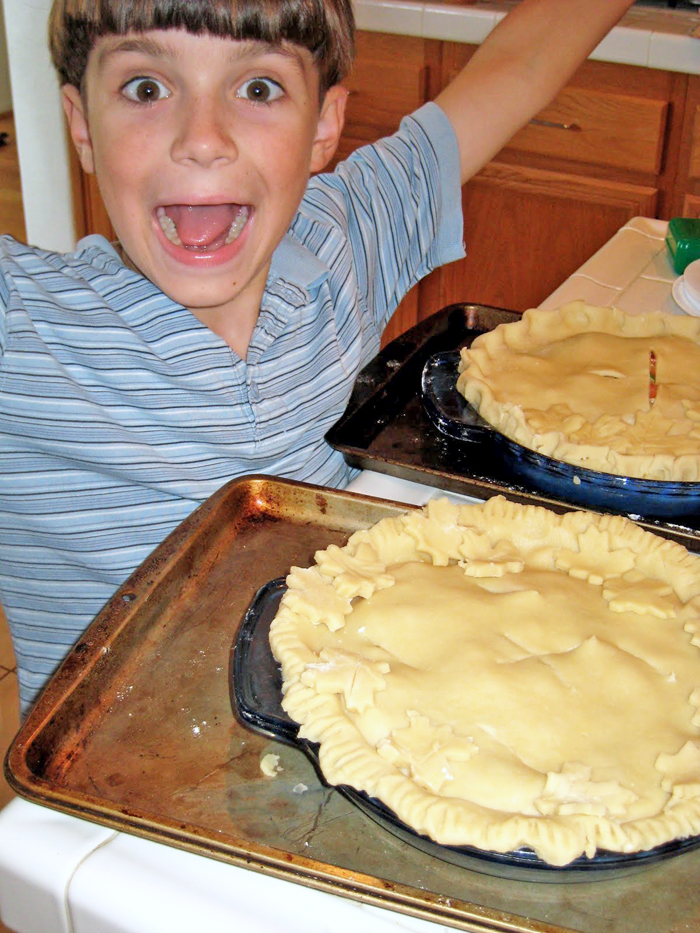 What sides go with chicken pot pie?
While a pot pie can be a complete meal as it contains a starch, protein, and vegetables, I've found that vegetable sides are ideal. Consider a green salad or steamed, sautéed, or roasted vegetables.
In the UK, a proper pie is often served with boiled vegetables, mashed potatoes, and gravy.
Can you freeze chicken pot pie?
This is a great make-ahead meal. Just like my apple pies, I often make several at once, wrap tightly unbaked, and freeze them.
How nice to pop a frozen HOMEMADE pot pie — no need to thaw! — into the oven on a night when I don't want to cook, but crave good home cookin'!
Bake the pie from frozen, no need to thaw. Scroll down for complete details.
How do I thicken chicken pot pie?
You'll want to use a very thick gravy when you assemble your pie. As the pie bakes, the gravy thins and the the veggies add a bit of liquid, too.
This recipe has been updated since its original publication to reflect a thicker gravy.
If you're using leftover or commercial gravy, you can thicken it up by simmering for a few minutes to cook off some of the extra liquid.
Can I use leftovers to make chicken pot pie?
Leftovers are a great short cut to making a pot pie. Anytime you roast a turkey, chicken, or beef or pork roast, save the leftover meat, veggies, and gravy. These can be combined together as a filling for your next pot pie.
Can I use a single crust instead?
If you want to lighten things up a bit you could try using my Single Crust Pot Pie with Chicken that only uses a top crust instead.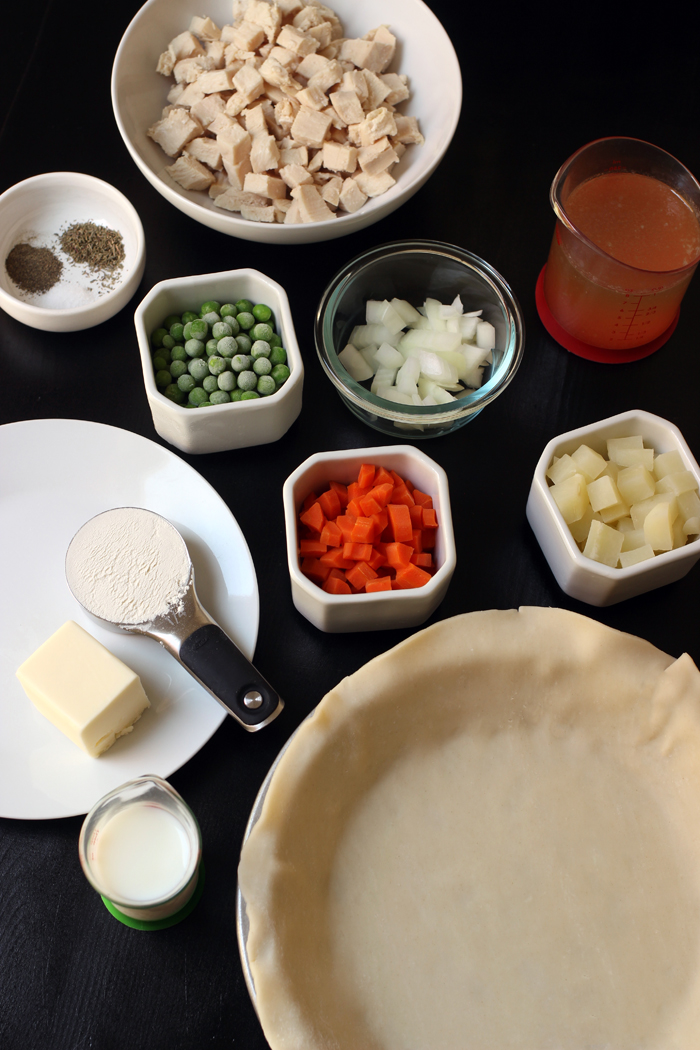 How do you make a Chicken Pot Pie?
Homemade Chicken Pot Pie can be intimidating. Remember, I was scared to make it the first time? This will be okay. Trust me.
The process is three-fold:
Make the gravy.
Prepare the filling.
Assemble the pie.
At any part in the process, you can take some shortcuts like using commercial gravy, a rotisserie chicken and frozen mixed vegetables, or a refrigerated pie crust.
If you're most concerned about how to assemble this darn thing, go ahead and use grocery store shortcuts the first time. Next time, make another component from scratch, and so on.
Pretty soon, you'll be a pro at pot pies!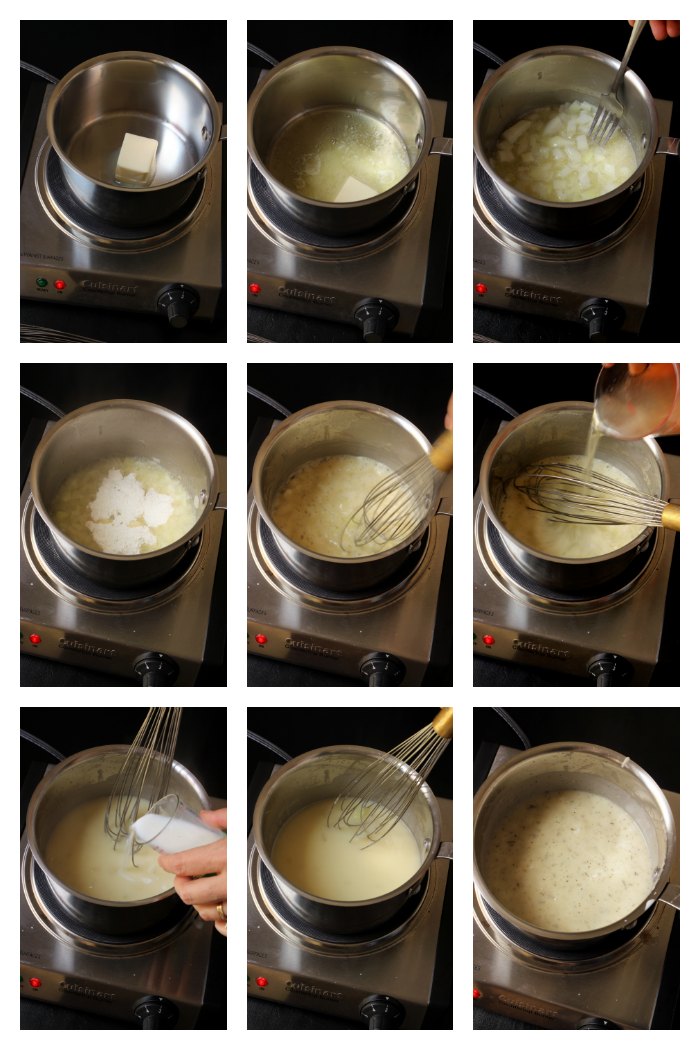 Make the gravy.
You need some gravy. It's not a pie without gravy. This can be commercial gravy or homemade. Homemade is best.
Melt the butter in a small saucepan. Add the onions and saute until tender and starting to go clear.
Whisk in the flour and allow this to bubble. It should have a light toasty smell.
Whisk in the chicken stock and milk. Simmer until thickened.
Stir in the seasonings. Taste and adjust the seasonings according to your preferences.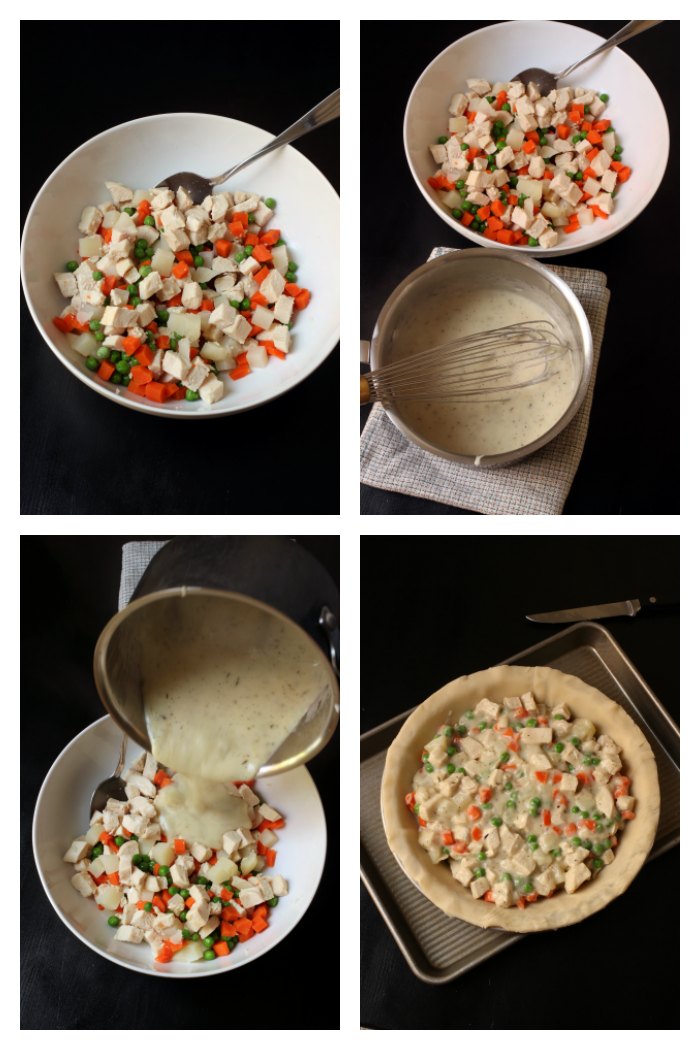 Prepare the filling.
The filling of a pot pie is typically cooked and cubed meat and vegetables, such a potatoes, carrots, and peas. You can also use green beans, corn, or other favorite vegetables.
Feel free to substitute a frozen vegetable mix if you like.
Combine the vegetables and the gravy in a large mixing bowl and the spoon it into a prepared pie crust.
Tip: I like to assemble and bake the pie on a small rimmed baking dish. That way, if the filling overflows, it does so on the baking dish and not on the bottom of my oven.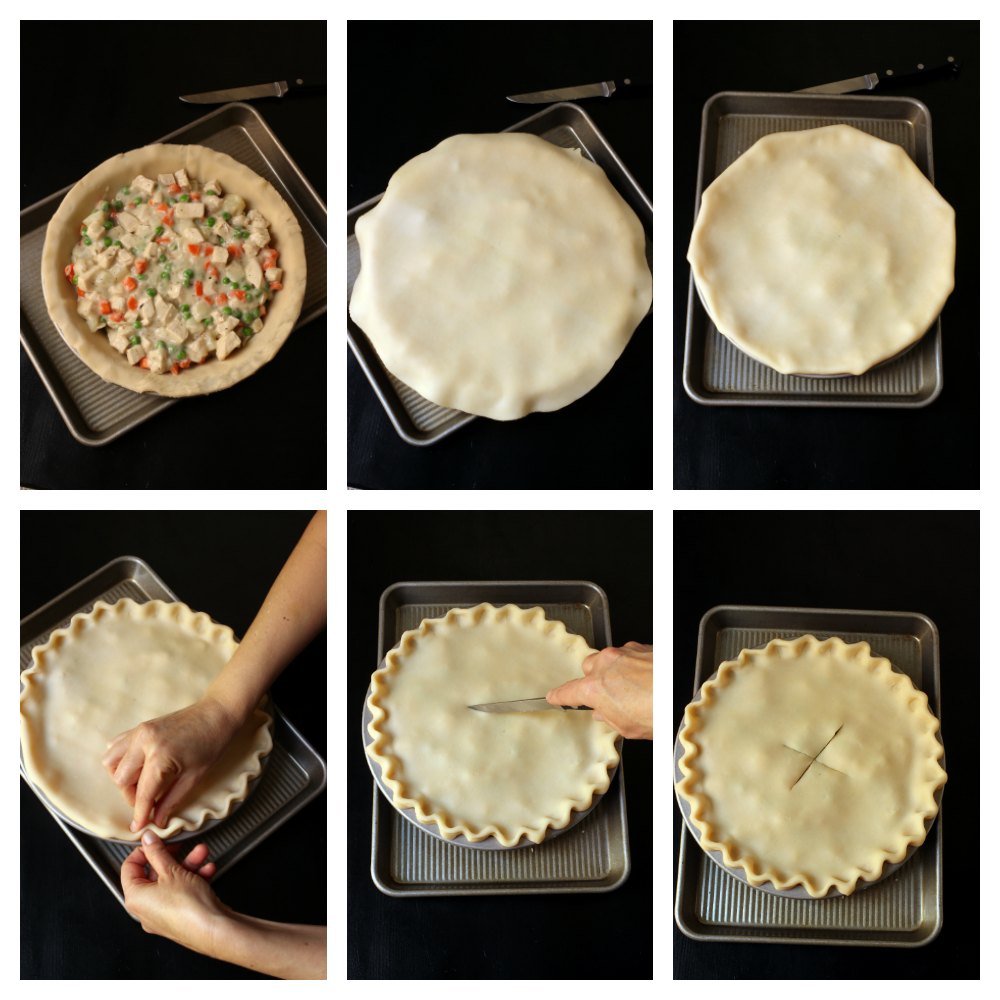 Assemble your pot pie.
Once you have your filling in the pie crust, top it with the second crust.
Fold the edges under the bottom crust and pinch to seal.
Flute the edges if you like or you can simply press them together with a fork.
Cut a slit in the top of the pie to allow steam to escape.
Bake according to recipe directions.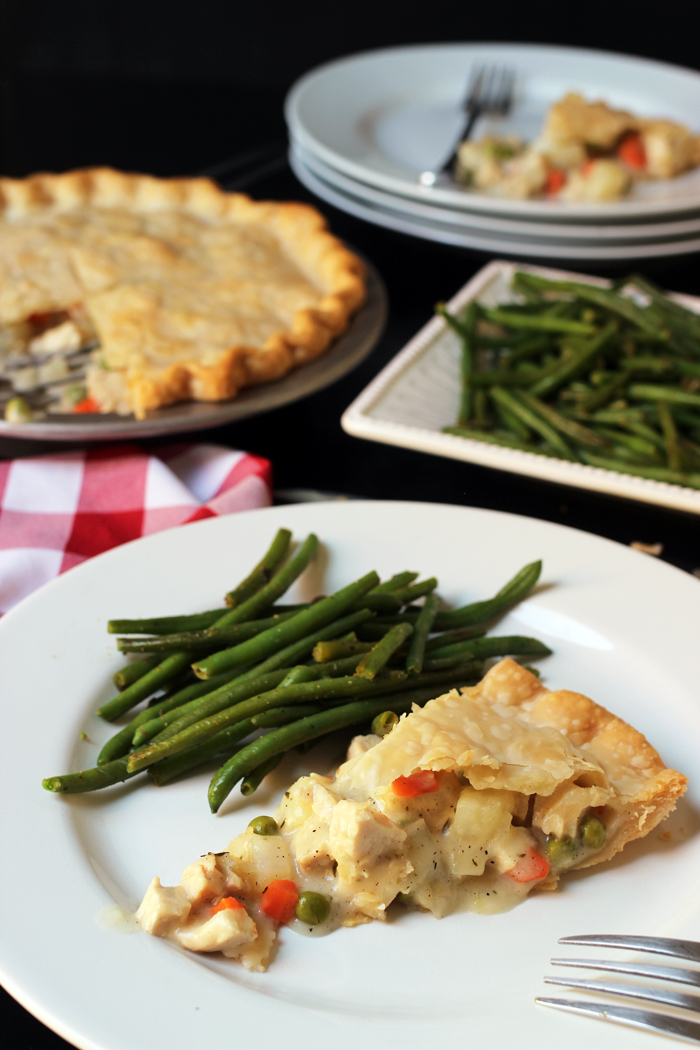 Homemade Chicken Pot Pie is so much better than the store bought kind! Here are some strategies to help make it more economical.
How to make this good and cheap:
Here are some of the strategies you can use to make this recipe more economical:
Stock up on ingredients when they are on sale. Chicken is your big ticket items here. Stock up when you see a good sale.
Shop at Costco. When I did my big grocery store showdown, I learned that Costco has the best price for a lot of the things I buy, plus they sell all the ingredients needed for this recipe. I love their rotisserie chickens and their cheapest-price-in-town for butter.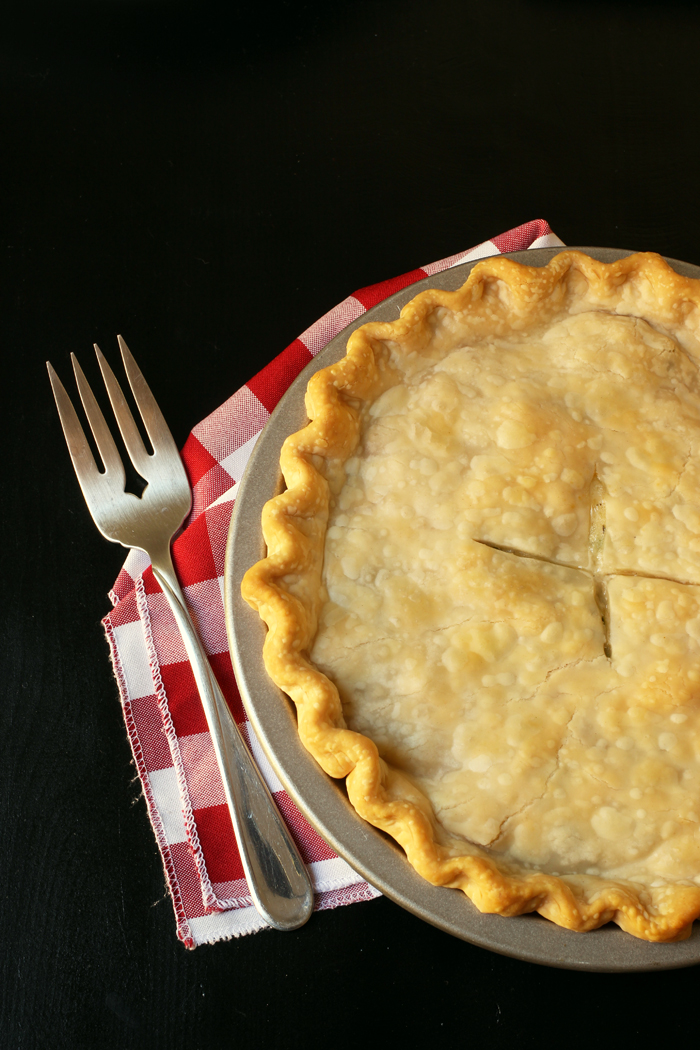 What tools do you need to make Chicken Pot Pie?
This recipe really couldn't be easier than it is, but having the right kitchen tools can really make your time in the kitchen more enjoyable. Over time, I've honed my collection so that they are perfect for my needs.
Here are the tools that I use for this recipe: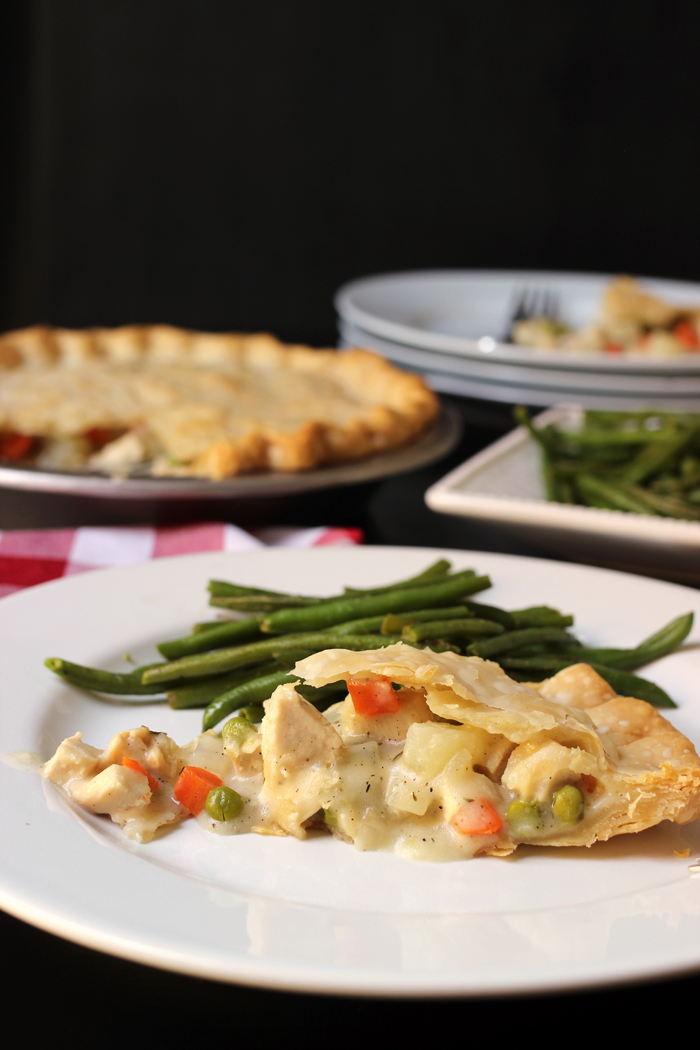 If you prepare this recipe, be sure to share a picture on social media and hashtag it
#GOODCHEAPEATS
. I can't wait to see what you cook up!
Easy Chicken Pot Pie Recipe
Chicken Pot Pie is a sure-fire favorite! Flaky, buttery crust surrounds chicken, vegetables, and a delectable homemade gravy for delicious comfort food.
Ingredients
2

cup

chicken (cooked and cubed)

½

cup

frozen green peas

1

carrots

diced and cooked (½ cup)

1

russet potatoes

diced and cooked (½ cup)

¼

cup

butter

¼

onion

for ¼ cup chopped

¼

cup

unbleached, all-purpose flour

1

cup

chicken stock

¼

cup

milk

¼

teaspoon

salt

¼

teaspoon

black pepper

1

teaspoon

dried thyme
Instructions
Combine chicken breast, peas, carrots, and potatoes in a bowl; set aside.

In medium saucepan, melt butter. Sauté onion until clear. Whisk in flour and cook until bubbly. Whisk in broth and milk. Bring to a boil. Reduce heat and simmer until thickened. Stir in seasonings. Pour over chicken-vegetable mixture and stir to combine. Cool completely if preparing for freezer. Otherwise proceed with recipe.

Line pie plate with bottom crust. Pour in filling. Position top crust, crimp edges, and cut a slash in the top. Bake at 375° for one hour or until crust is brown and filling bubbles.
Notes
If you want to make this ahead and freeze. Simply wrap with foil before baking, label, and freeze.
To serve from frozen: Do not thaw. Vent top by cutting a few slashes and brush with milk. Bake at 450° for 15 minutes and then reduce heat and bake at 375° until crust is browned and filling bubbles, about one hour more.
Mixed, frozen vegetables may be substituted for the peas, carrots, and potatoes. This is also delicious made with cooked turkey.
Nutrition
Calories:
338
kcal
|
Carbohydrates:
26
g
|
Protein:
12
g
|
Fat:
20
g
|
Saturated Fat:
8
g
|
Cholesterol:
47
mg
|
Sodium:
898
mg
|
Potassium:
223
mg
|
Fiber:
2
g
|
Sugar:
1
g
|
Vitamin A:
259
IU
|
Vitamin C:
16
mg
|
Calcium:
26
mg
|
Iron:
2
mg
Tried this Recipe? Tell us what you think!
Your reviews help us develop better recipes and give newcomers the confidence to try your favorites. Scroll down to leave a starred comment.
This post was originally published in September 2009. It has been updated for clarity.