Chicken Pot Pie is a sure-fire favorite at my house. Flaky, buttery crust surrounds chicken, vegetables, and a delectable homemade gravy for delicious comfort food.
Years ago when I had my second baby I was surrounded by good cooks who spoiled me once the baby was born. This Chicken Pot Pie was the first homemade chicken pot pie I'd ever had. And personally, I think this recipe is the gold standard by which all Chicken Pot Pies must be measured.
While it may seem a little time intensive — the whole pie crust, gravy, cooked vegetables and meat thing can seem tedious — there are plenty of ways to make it super duper easy so that you can enjoy homemade Chicken Pot Pie often:
make many at once and freeze them = reduced time investment/pie
roast a chicken or turkey one night and turn the leftover meat, gravy, and veggies into pie!
use a rotisserie chicken and frozen veggies if you don't have time to cook them all fresh
This homemade Chicken Pot Pie is so delicious, pleases everyone at the table, and freezes well so you can make several pies to enjoy weeks down the line. Trust me when I say you'll want to make more than one.
This is the typical reaction when Chicken Pot Pie is on the menu at our house: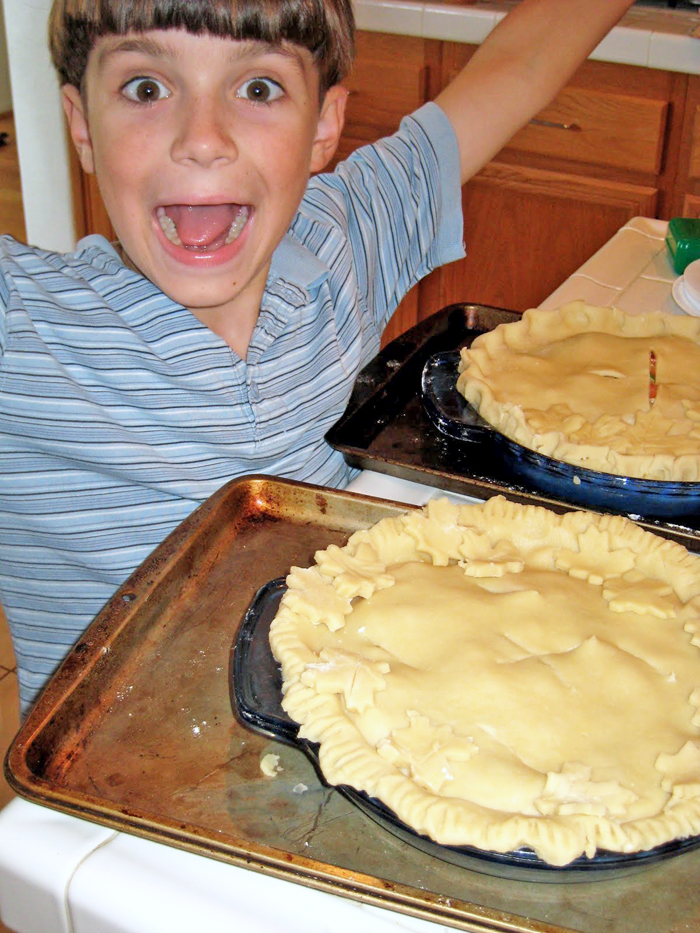 People seem so intimidated to make Chicken Pot Pie, but it's really a super easy recipe. And it's a great make-ahead meal. Just like my apple pies, I often make several at once, wrap tightly unbaked, and freeze them. How nice to pop a frozen HOMEMADE pot pie — no need to thaw! — into the oven on a night when I don't want to cook, but crave good home cookin'!
And this Chicken Pot Pie is so much better than the store bought kind!
How to make this good and cheap:
Here are some of the strategies you can use to make this recipe more economical:
Stock up on ingredients when they are on sale. Chicken is your big ticket items here. Stock up when you see a good sale.
Shop at Costco. When I did my big grocery store showdown, I learned that Costco has the best price for a lot of the things I buy, plus they sell all the ingredients needed for this recipe. I love their rotisserie chickens and their cheapest-price-in-town for butter.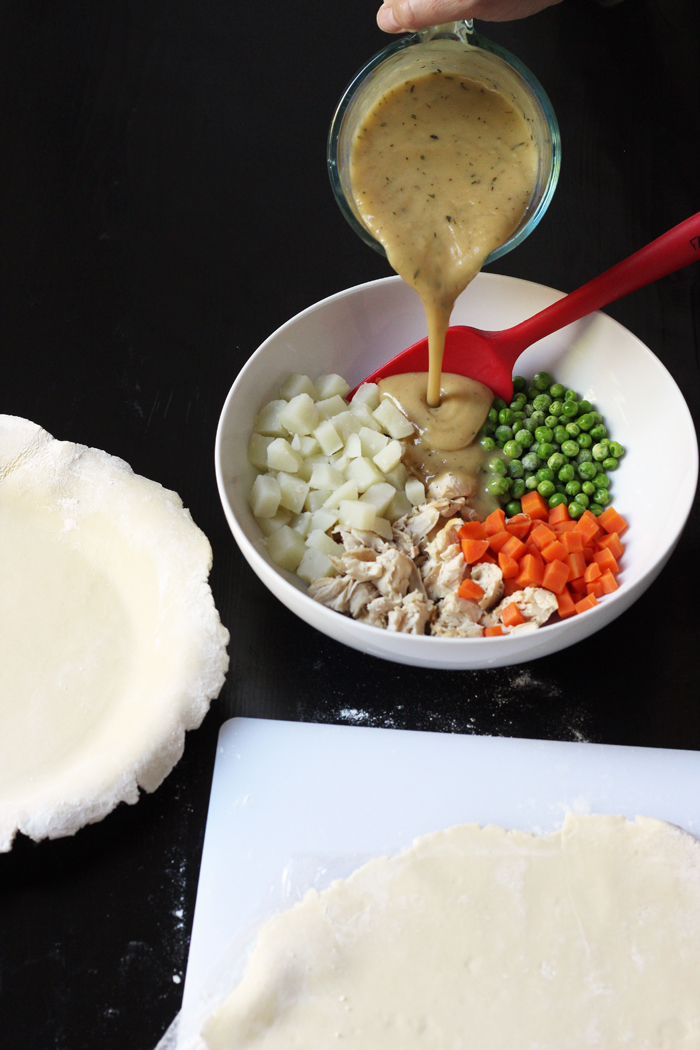 How I make this recipe easy:
This recipe really couldn't be easier than it is, but having the right kitchen tools can really make your time in the kitchen more enjoyable. Over time, I've honed my collection so that they are perfect for my needs.
Here are the tools that I use for this recipe:
Chicken Pot Pie
Chicken Pot Pie is a sure-fire favorite at my house. Flaky, buttery crust surrounds chicken, vegetables, and a delectable homemade gravy for delicious comfort food.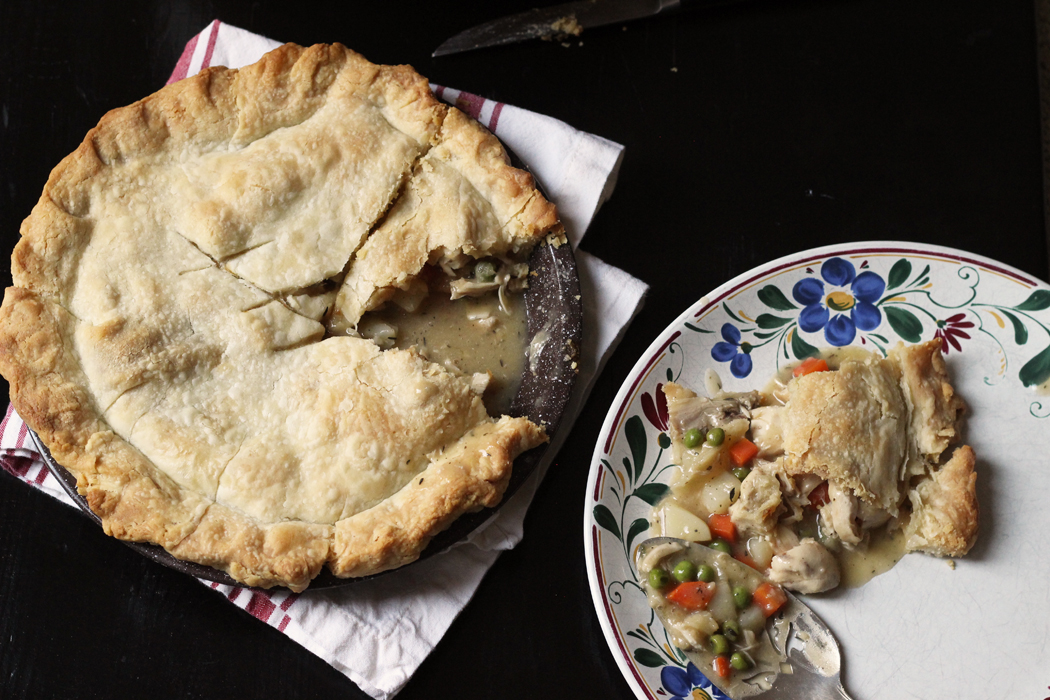 Preparation Time:30 minutes
Cook time:1 hour
Total time:1 hour 30 minutes
8 servings
Ingredients:
2 cups cooked, chopped chicken breast

1/2 cup frozen peas

1/2 cup cooked, diced carrots

1/2 cup cooked, diced potatoes

1/4 cup butter

1/4 cup chopped onion

1/4 cup flour

1 1/2 cups chicken broth

1/2 cup milk

1/4 teaspoon salt

1/4 teaspoon pepper

1 teaspoon dried thyme
Instructions:

Combine chicken breast, peas, carrots, and potatoes in a bowl; set aside.
In medium saucepan, melt butter. Sauté onion until clear. Whisk in flour and cook until bubbly. Whisk in broth and milk. Bring to a boil. Reduce heat and simmer until thickened. Stir in seasonings. Pour over chicken-vegetable mixture and stir to combine. Cool completely if preparing for freezer. Otherwise proceed with recipe.
Line pie plate with bottom crust. Pour in filling. Position top crust, crimp edges, and cut a slash in the top. Bake at 375° for one hour or until crust is brown and filling bubbles.
If you want to make this ahead and freeze. Simply wrap with foil before baking, label, and freeze. To serve: Vent top and brush with milk. Bake at 450° for 15 minutes and then reduce heat and bake at 375° until crust is browned and filling bubbles, about one hour more.
Note: Mixed, frozen vegetables may be substituted for the peas, carrots, and potatoes. This is also delicious made with cooked turkey.
Originally published September 24, 2009. Updated August 26, 2017.