Don't hesitate to make homemade pie crust! It tastes so much better than store bought. Who cares if it's not picture-perfect? You can do this!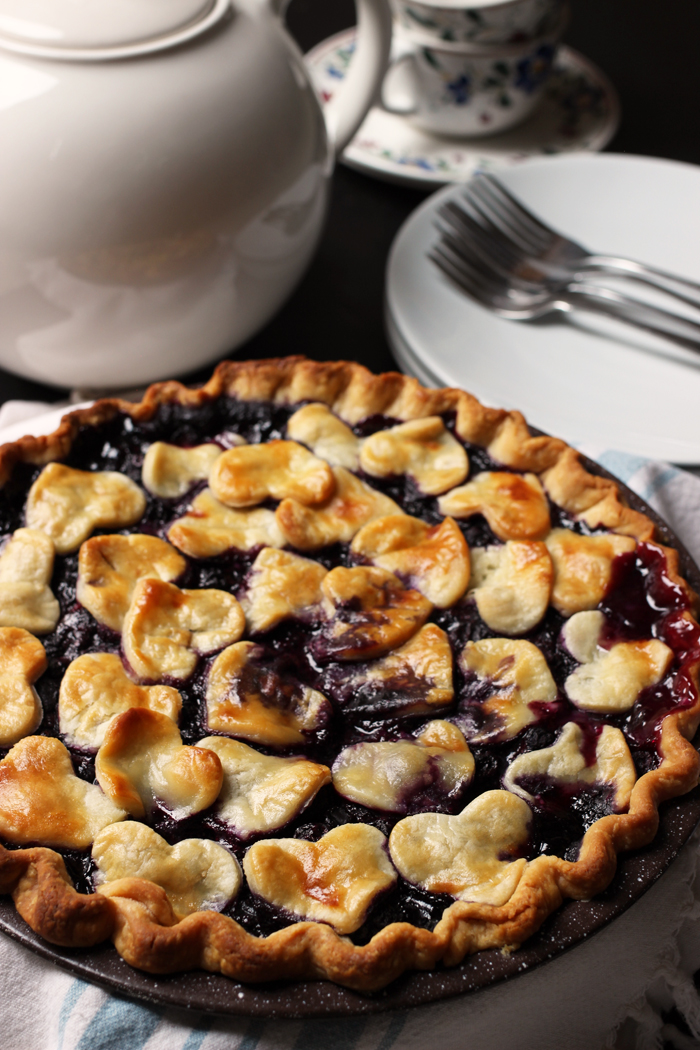 I am unashamedly a pie girl. I will choose pie any day of the week.
Some members of my family have distinctly different tastes than I do. Many prefer cake to pie. But, me? Mmmm. Nope. I'll take pie anyday, savory like Chicken Pot Pie or sweet, like Lemon Meringue or Mixed Berry.
I've been baking pies since I was ten years old, basically self-taught. I never took a pastry class; some might say, "It shows!" And that's okay. I don't mind that my homemade pie crust isn't picture-perfect. That is A-ok with me, for several reasons:
1. Homemade pie crust tastes better than store bought.
2. Homemade pie crust is less expensive than store bought.
3. Homemade pie crust is more fun and fancier than store bought.
4. I'm all about pie.
Since homemade pie with homemade pie crust is basically bomb, I am here to spread the love and encourage you to give it a try.
I know, people can get so intimidated by the idea of making homemade pie crust. I was apologetic for years, but even though I'm no expert and even though mine isn't always very pretty, I just go for it. I think you should, too.
Taste matters most anyway, so don't worry if it's not gorgeous. Food presentation isn't everything, after all.
There are two basic methods to making homemade pie crust: the rolled pastry and the pat-in-pan pie crust (like Gramma John's).
The first is more traditional and can hold up to rolling on a board and lets you cut out fancy shapes.
The latter, while Blue Ribbon good, doesn't always hold its shape well in those other applications. Let's unpack the mystery of traditional homemade pie crust.
To create a light and flaky homemade pie crust:
1. Use cold ingredients.
The fat in pie crust (I recommend butter) is what creates those flaky pockets in your homemade pie crust. If the butter melts before you get the pie to the oven, it will be absorbed by the flour and lose its flakiness potential.
Likewise, chilling the dough before rolling it and prior to baking can help maintain this light and flaky potential.
2. Work quickly.
Light and flaky pie crust requires that you mess with it as little as possible. I like to use the food processor because it mixes up super quickly, thus less messing. You can use a pastry blender or a fork or two knives to cut in the butter, just work quickly.
3. Don't add too much water.
The humidity in the air and the type of flour you use can effect the end result of your homemade pie crust. Note that most recipes give a range for how much water to add. Add ice water just until the dough holds together.
4. Weigh your flour properly.
Too much flour will mess up the texture of your dough. Weighing your flour (as opposed to measuring it in a cup) will give you the more accurate measure.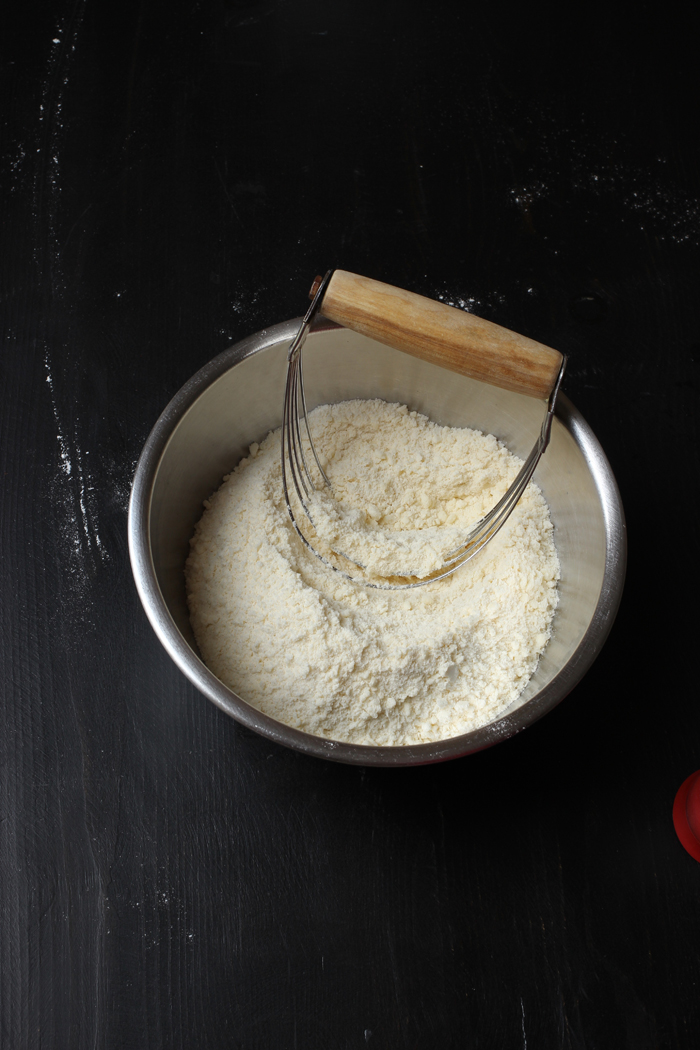 How to make this good and cheap:
You know I don't typically want to make something if I can't make it good as well as cheap. Here are some of the strategies you can use to make this recipe more economical:
Stock up on ingredients when they are on sale. When I find regular kitchen staples on sale, I buy a lot. I'm currently using a price book to track prices and that's saving me money. For this recipe, keeping an eye on the price of flour and butter can help keep the price down.
Buying in bulk – Bulk pricing can reduce your unit cost dramatically. It's usually cheaper to buy a big bag of flour than it is a small one. I have gotten into the habit of buying cases of flour from Bob's Red Mill or VitaCost so that I always have baking supplies on hand. Store extra flour in the freezer to extend its shelf life and protect against pests.
How I make this recipe easy:
This recipe really couldn't be easier than it is, but having the right kitchen tools can really make your time in the kitchen more enjoyable. Over time, I've honed my collection so that they are perfect for my needs.
Here are the tools that I use for this recipe: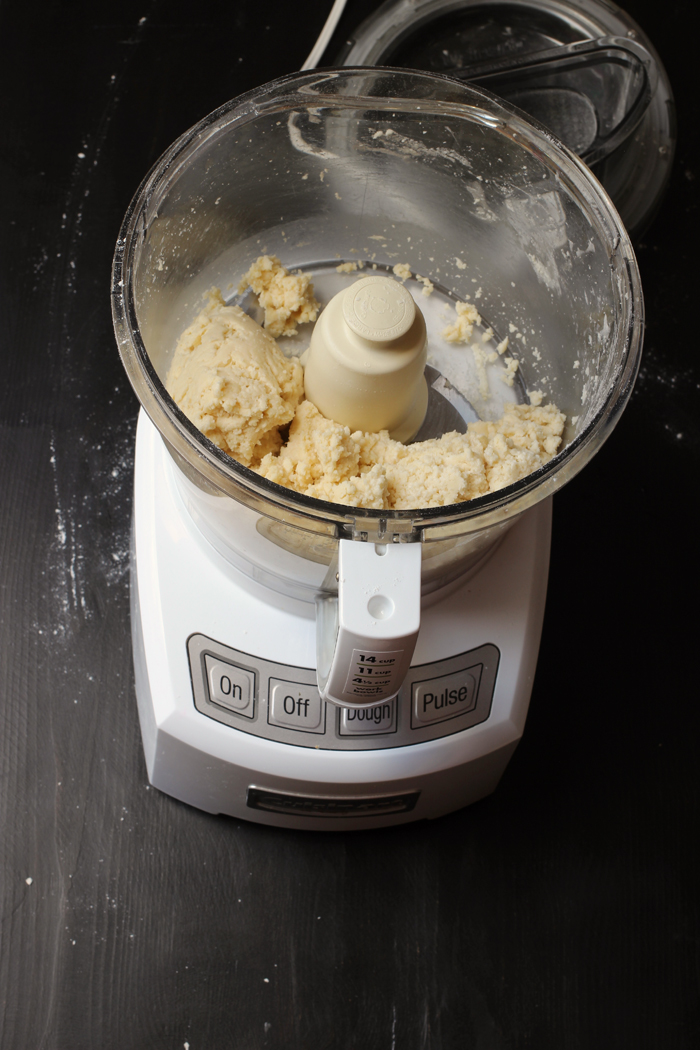 How do you make homemade pie crust?
Remember I said this wasn't hard, right? If you can measure, push a button, roll a rolling pin, and cut with a knife, you can do this. Will you get better with practice? Absolutely. Will it sometimes not turn out? Maybe. Will it taste better than the freezer section? You betcha!
Combine the ingredients in the food processor or in a bowl with a pastry blender or two knives held together like a two-pronged claw.
The dough should hold together but not fall apart in crumbs. This recipe makes enough for two single-crust pies or one double crust. Once the dough is prepped, divide it into two portions, form each portion into a disk, and wrap them in plastic wrap.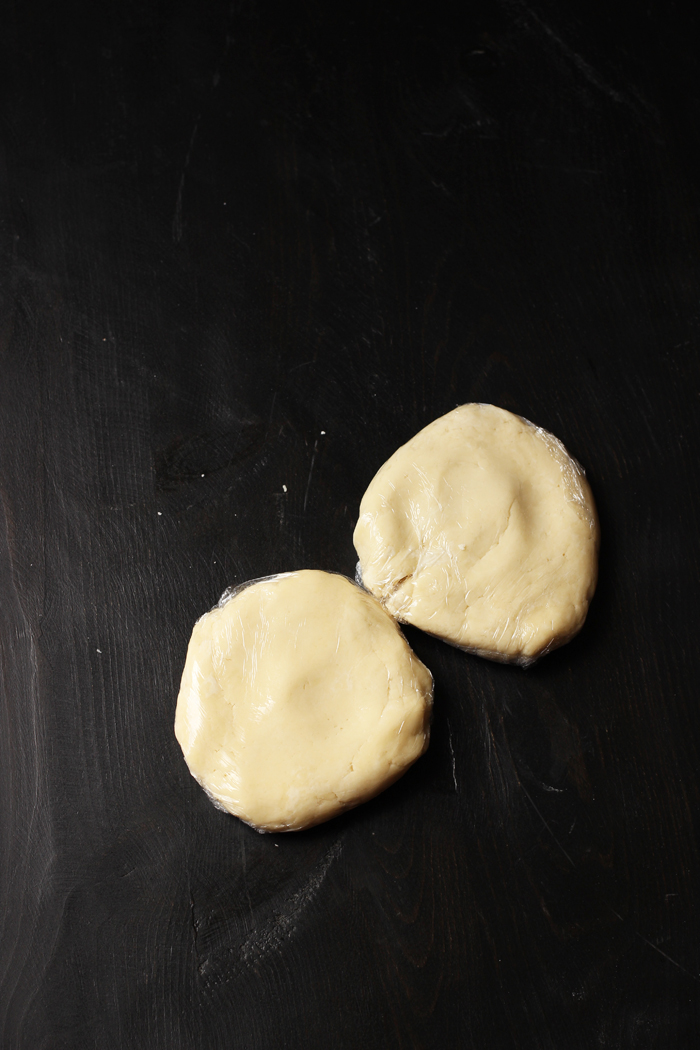 Chill the dough 30 to 60 minutes. You can store it in the refrigerator up to 2 days in advance, or or place it in a freezer bag to store in the freezer, for up to 2 months.
When ready to assemble your pie, flour a large surface and roll out your dough with a floured rolling pin.
(If using frozen dough, thaw it completely in the refrigerator and let warm slightly at room temperature before rolling it out.)
They say that to keep a tender crust, to use as little as flour as possible and to work quickly. But, cut yourself some slack if you're just learning. It'd be nice if it turned into a perfect round circle. I prefer elliptical pie crusts myself.
As I mentioned earlier, I use the plastic wrap that I wrapped the dough in as an aide in rolling out the dough.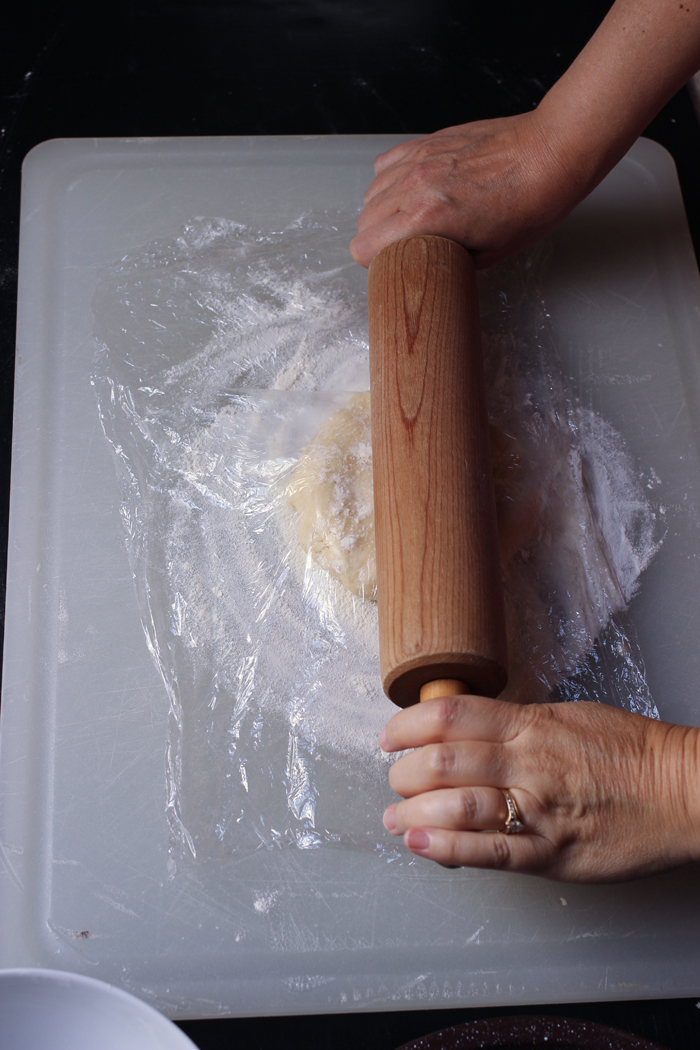 Not only does this prevent the dough from sticking to the rolling pin, but it also helps me use less flour so that I can have a flakier crust.
Bonus: with the dough attached to the plastic wrap, it makes it easier to move the crust to the pie plate without tearing it.
You can totally ditch the plastic wrap trick if you prefer. Just be sure to flour your rolling pin to help prevent sticking. Transfer your crust to a pie plate by gently rolling it around the rolling pin to transfer.
What if the dough tears?
Patch it up. Unless you earn your living as a pastry chef, it's not the end of the world if your dough tears while you're making your homemade pie crust. Take some of the trimmings and patch it up.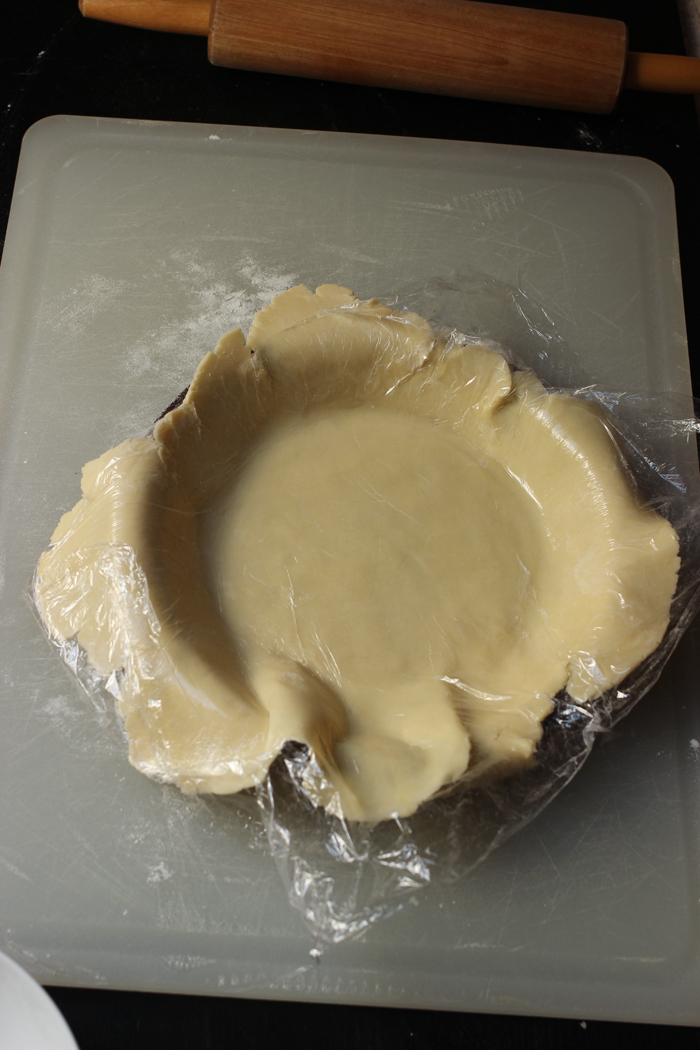 If you're going for a single crust, just trim the sides about 1/2 inch from the rim of the pan. Fold the edge under and crimp the edges by pinching the dough around your thumb and forefinger.
The internet is full of lots of different pie crust edges, so feel free to experiment!
If you're doing a double crust pie, pour in your filling and center your top crust over the filling. Trim the edges of both crusts at the same time as directed above. Then fold the top crust under the bottom and pinch together.
You can crimp the edges and add some cutouts made with any extra dough. Brush the cutouts with water to help them stick and take a sharp knife to draw a few fancy details.
One fun way to top a pie is to cover it completely in pie dough cut-outs. Once you've laid the cutouts over the surface of your pie filling, you can do the egg wash and bake according to pie recipe directions.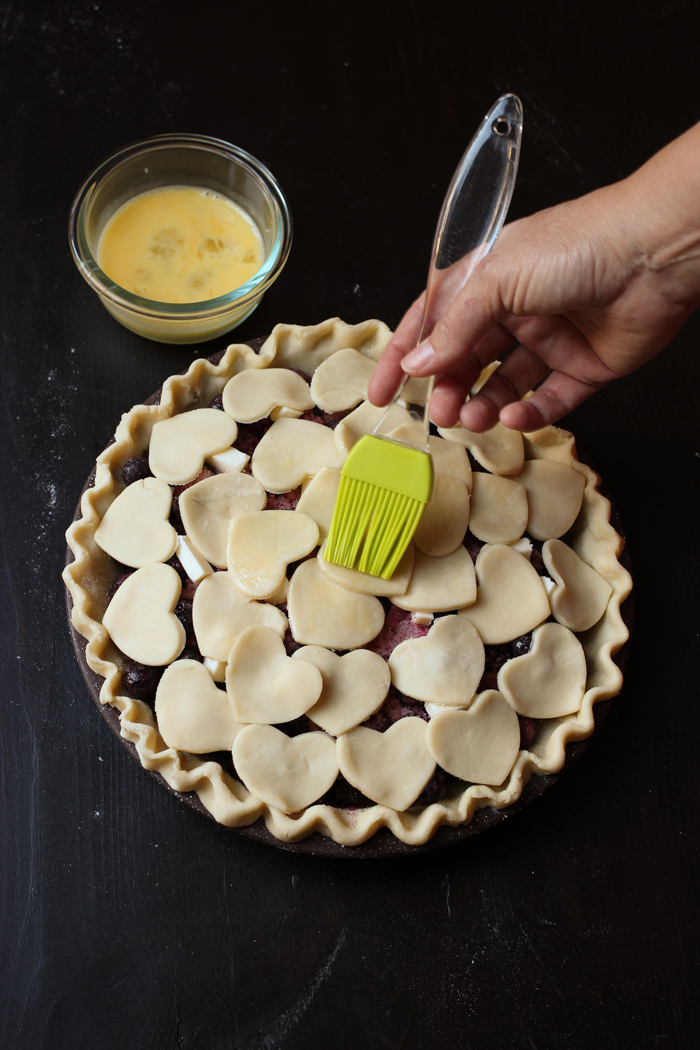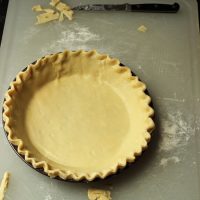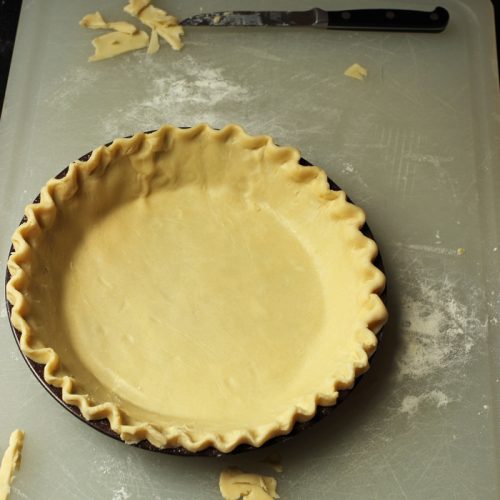 Print Recipe
Homemade Pie Crust
This easy homemade pie crust recipe comes together quickly and easily, resulting in a light and flaky crust for all your homemade pies.
Ingredients
2

cup

unbleached, all-purpose flour

1/2

tsp

salt

3/4

cup

butter

(1 1/2 sticks)

1/4

cup

water

or less
Instructions
Combine the flour and salt in the bowl of a food processor fitted with a metal blade. Add the butter.

Pulse until coarse crumbs are formed. Add the water a little at a time until dough starts to stick together.

Divide the dough into two portions and wrap each in plastic wrap, flattening each half into a disk. Chill for 30 to 60 minutes.

On a lightly floured board, place one of the disks. Place the plastic wrap over the dough and roll out the disk to a thin circle. Repeat with the other portion of dough.

Transfer one portion of dough to the pie plate. Trim the edges about 1/2 inch from the edge of the plate.

If making a double-crust pie, add the filling and position the top crust over the top. Crimp the edges.

If making a single-crust pie, fold the excess dough under itself and crimp together, pinching it between thumb and forefinger.

Bake according to pie recipe instructions.
Notes
The pie dough can be prepared without a food processor. Place the flour, salt, and butter in a bowl. Cut the butter into the flour using a pastry blender or two knives, until coarse crumbs are formed. Add water until the dough holds together.
Pie dough can be frozen, tightly wrapped and placed in a freezer bag for up to 2 months. Thaw completely before proceeding.
Nutrition
Calories:
1057
kcal
|
Carbohydrates:
95
g
|
Protein:
14
g
|
Fat:
69
g
|
Saturated Fat:
43
g
|
Cholesterol:
181
mg
|
Sodium:
1185
mg
|
Potassium:
154
mg
|
Fiber:
3
g
|
Sugar:
1
g
|
Vitamin A:
2099
IU
|
Calcium:
39
mg
|
Iron:
6
mg