Wondering if Walmart Grocery Pickup is a good fit for you? I've tried it for ten months and here's how it's worked out for me.
Estimated reading time: 7 minutes
Jump to:
Last spring I did something I never thought I would do. I ordered groceries via an app to pickup at the store.
Yep. I surprised even myself. Let someone else do the shopping? That was unheard of. I don't even delegate that to family members!
The truth is I like to shop myself, primarily because secretly I think I will do a better job. And because it's a fun thing to do. Usually.
But as we became more entrenched in stay-at-home orders last spring, I decided it was time to give it a try. The mask-wearing, the one-way aisles, the lack of order at the store, the shortages…. grocery shopping was no longer fun.
I placed an online order with Walmart Grocery Pickup. And then another. And another.
Turns out, I'm okay with letting someone else grocery shop. More than okay. I've been doing grocery pick up at least once a month since April and I must say: I'm a believer.
Here's why: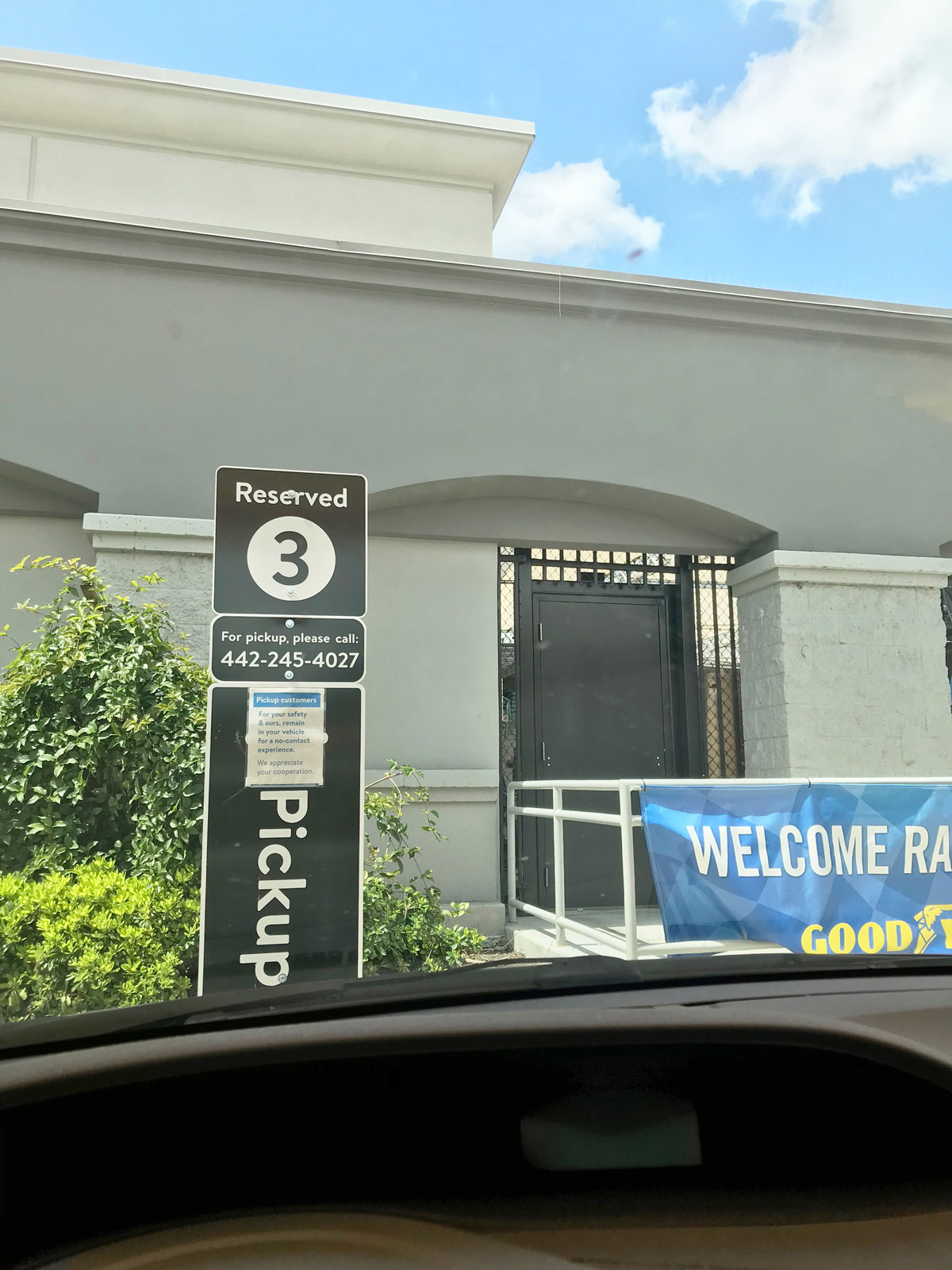 Benefits of Grocery Pickup
I can shop whenever and wherever I want.
One of the things I love about grocery pickup is that I can place my order (ie do my grocery shopping) whenever and wherever I want: in bed late at night, in the car returning from a road trip, while I make pancakes on a Sunday morning.
It's super convenient to shop without leaving my house.
I can see the total before I complete the purchase.
Keeping to a grocery budget is one step to maintaining financial health. This can be hard to do when you're walking through the store hangry, throwing things higgledy-piggledy into the cart.
When I use grocery pickup, I can see a running total as I shop and make adjustments as I go. Just delete when the total gets too high.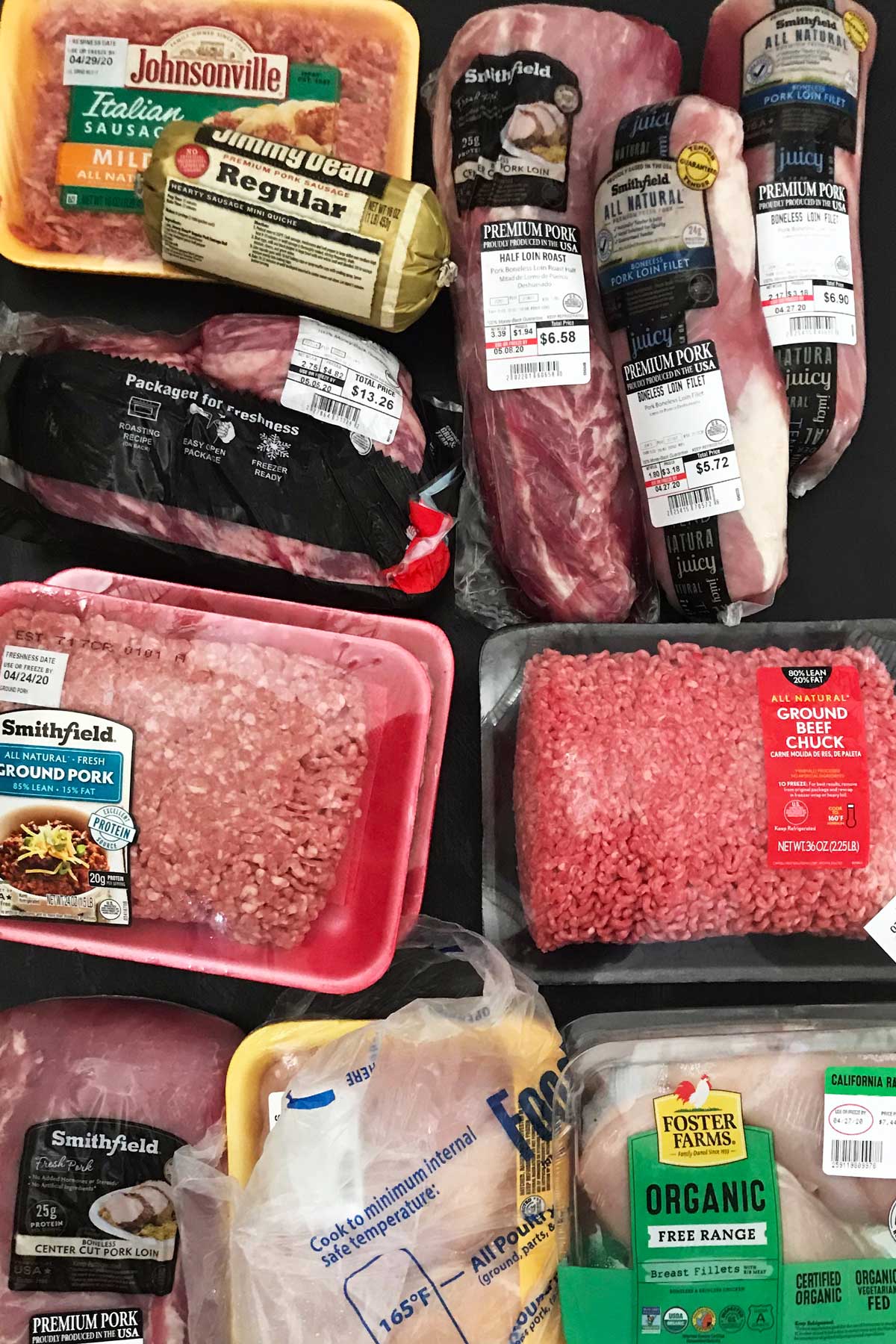 I don't have to schlep through the store.
As much as I love to grocery shop, I am happy not to have to fight my way through the aisles every time I need groceries. If this service had been available when I was carting all six kids through the stores? Wow. Just wow.
Not only that, I don't have to unload the cart onto the belt, wait in line, or repack the cart. Mischief managed.
I don't have to load the car.
Something better than not having to shop is not having to load the car!
Instead I drive up to the designated area, tap on the app to let them know I'm there and which spot I'm parked in. Then I wait for someone to cart out the groceries and load the cart.
After ten months of at least one monthly pickup, I've never had to wait for more than five minutes.
I save a ton of time and stress.
I've realized that as much as I love to grocery shop, there are times when it's better for me to let someone else do it for me. I save time and avoid stress by delegating this task.
And since it doesn't cost anything extra, why not?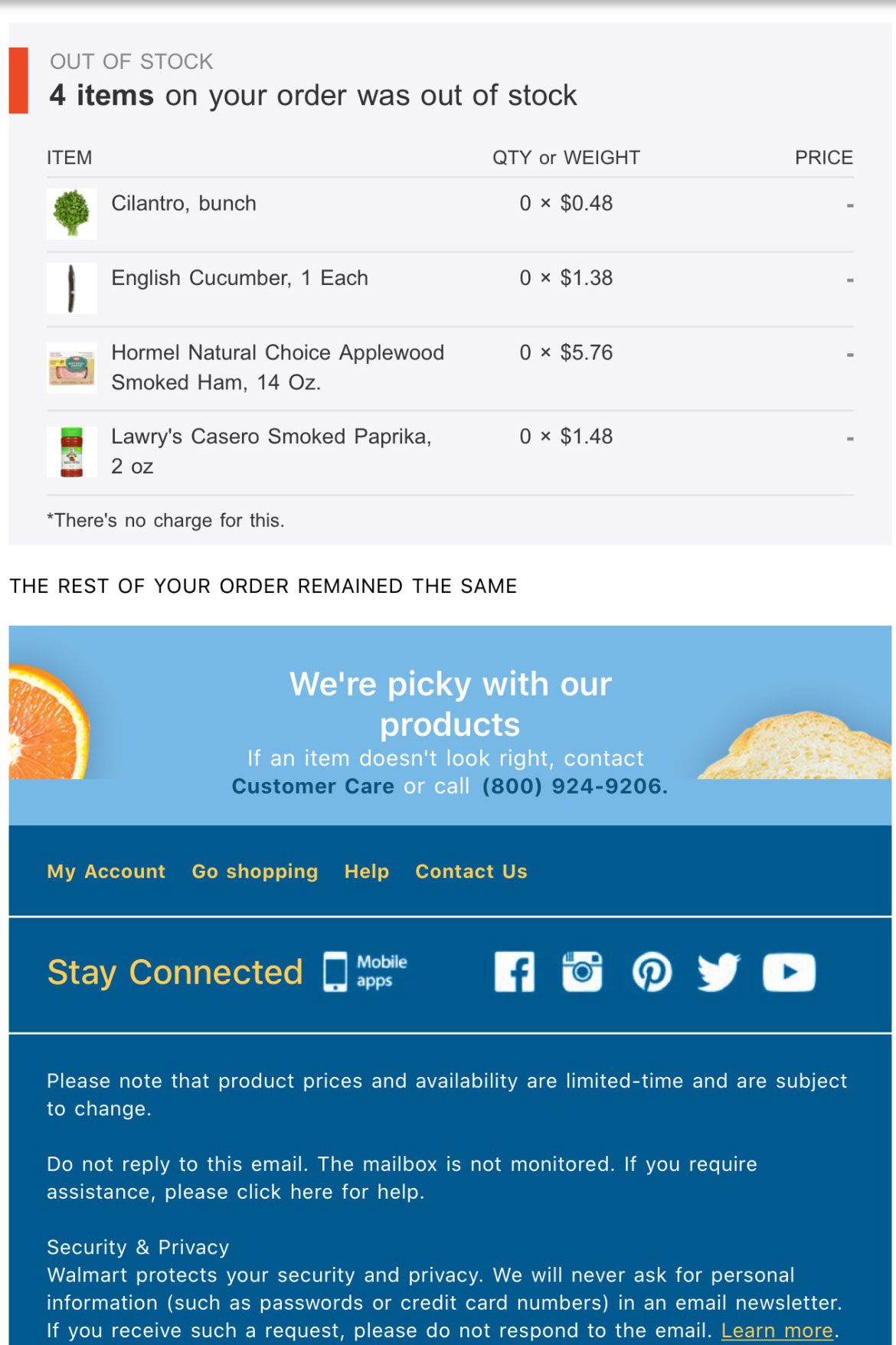 Caveats
There are limitations to all good things. While I am a huge fan of Walmart's grocery pickup, I realize that it might not be for everyone. Here are some of the caveats I see that might not make it a win for you:
You're counting on getting everything you order. Even though it may be in stock when you place your order, the store may run out of that item before you pick it up. When this has happened, I've stopped at an alternative store to get those items prior to picking up my Walmart order. If you are adamantly opposed to making two stops, this could be a deal breaker.
You love to bargain shop. While you will get the same prices as shopping in-store, you will not find clearance items in the app. I love clearance shopping and manager's specials, but not typically at Walmart. My location doesn't often offer clearance items, so I don't feel like I'm missing anything by not shopping in store.
Your Walmart is more expensive than other stores. I was pleasantly surprised that my Walmarts offer competitive pricing to ALDI. Totally not what I expected, but a pleasant bonus feature. The same may not be the case for you. If Walmart isn't competitive where you live, it may not be worth it, even if pickup is free.
You make lots of impulse buys. If you love to be spontaneous while grocery shopping, then online ordering might not be the thing for you. You need to decide sight-unseen what you're buying.
You don't like blind shopping. If seeing the item before you purchase it is important to you, then don't do grocery pickup. I'm pretty picky about the produce I choose in-person, so the first few times I ordered, I opted not to buy fresh produce. After packaged goods proved to be successful, I expanded my options. For the most part, it's all been fine, but if you want to choose everything, then go in person.
Your location is sucky. I don't know how else to put it, but some locations of a brand aren't always as good as others. I have ordered online from two different Walmart locations, and both experiences were positive. Your mileage may vary.
Tips for Success
Read the item description carefully.
Since you're not picking the physical item up in your hand, but virtually adding it to your cart, some fine details may get overlooked.
Pay special attention to size or quantity of the thing that you're ordering. A friend thought she were ordering ten bananas and received ten pounds of bananas. Another friend ended up with five pounds of Twizzlers because she didn't read the fine print.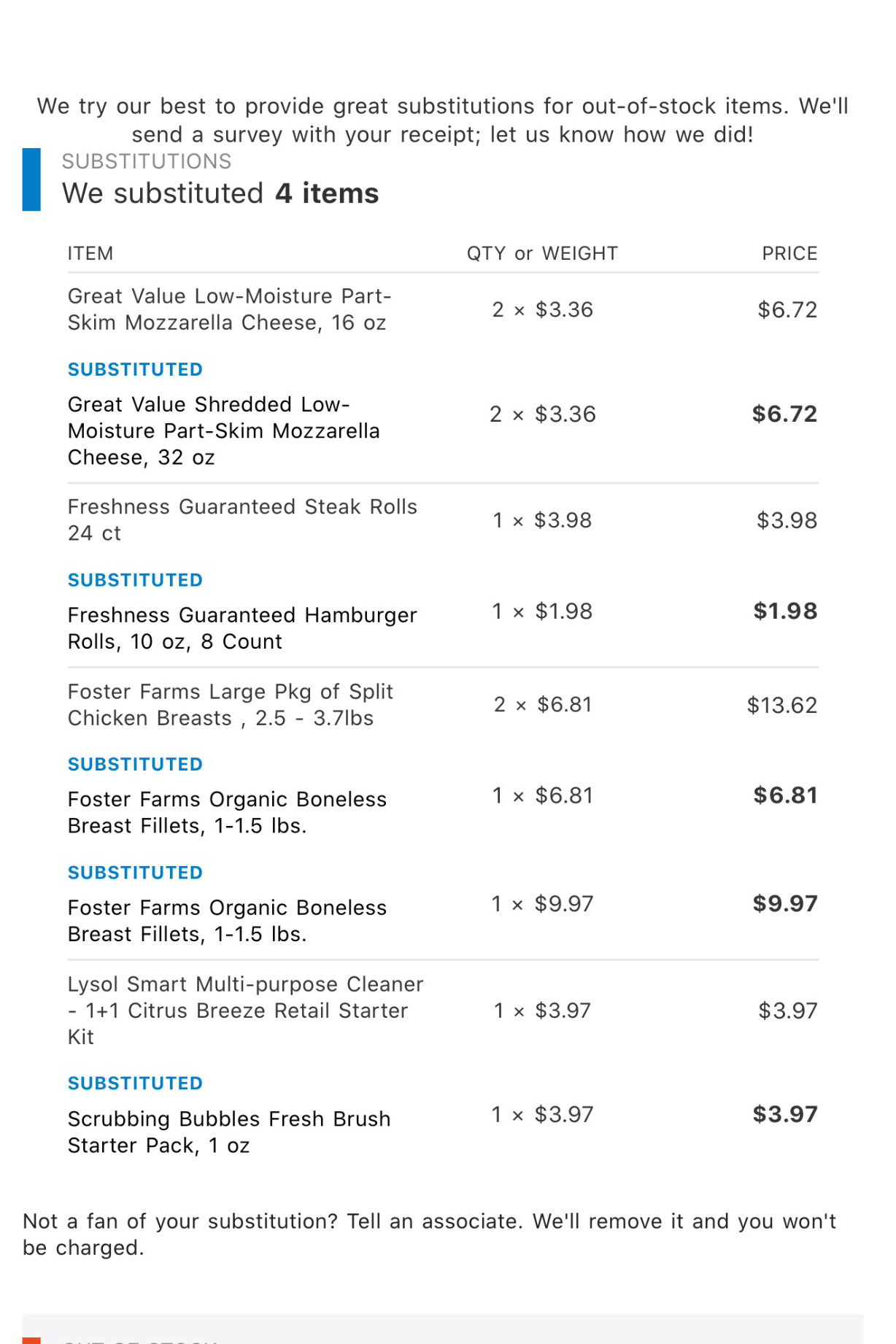 Be aware of the substitutions.
When an item is out of stock, the personal shopper will often choose something to substitute. Sometimes, this is an upgrade to what you ordered, like organic instead of conventional, for the same price. That's awesome!
Other times, it's a completely different or vaguely similar product. Not so awesome.
Thankfully, Walmart will email you about the possible substitutions and you get a chance to decline them when you pick up your order.
Check your order when you get home.
Humans make mistakes. That is life. Check your order to be sure you got the correct size and quantity you were charged for.
In the last six months, I've had only one order with errors. A cucumber was mushy and rotten; I received 1 onion instead of one 3-pound bag of onions. I called to report the errors and was immediately issued a refund. Easy peasy.
How to Save More Money
Use Ibotta.
Once you've established your Walmart account, link it to your Ibotta account. Ibotta offers cash back offers. With most in-store purchases, you need to upload your receipt to the Ibotta app. Once you link your Walmart account to Ibotta, you'll receive the cash back instantly.
Work the Good Cheap Eats System
Don't forget that savvy grocery shopping is only one step of the Good Cheap Eats System. You'll save more money if you remember to shop your kitchen, meal plan to save money, avoid food waste, cook from scratch, and freeze extras for later.
While I still love to grocery shop in person—finding deals is one of my hobbies! — I'm more than happy to let Walmart do my shopping for me. It's turned out to be one of the silver linings of pandemic living.
So, what do you think…
---
Is grocery pick up a good fit for you?