The Good Cheap Eats System is a proven way to save money on groceries so you can do bigger, better things. Imagine the possibilities of having your grocery dollar stretch to meet your needs and still have leftover.
With this System, you'll not only get space in your budget, but you'll also get some much needed peace of mind, able to rest in the fact that you're doing right with your resources.
Estimated reading time: 6 minutes
Jump to:
I took this picture overlooking the ocean at our resort in Maui in December 2019. It represents a lot of things to me, but mainly this:
The System worked.
Back in 2007 we were in the throes of debt. And here over a dozen years later we can spend ten days in Hawaii on a paid-in-cash vacation. Paid. in. cash. With savings to boot.
If you had told Past Jessica that story, she would have laughed in your face. Because that was impossible to believe. But here we are.
In case you don't know the back story, here it is in 100 words or less:
2007: we'd spent all the money we'd made in the California housing boom, over 200k. We were 18k in consumer debt, owed several 100k on two mortgages. No savings. Loss of income. Five kids with another on the way. SAHM. Lack of work for our small business.
Oy.
Not to be defeated, Bryan and I started to right the ship. Over the course of the next 18 months, we both took on extra work, and we sold lots of things, including a house. (We held onto one as a rental, but it was a steady leak for several more years until we sold it, paying off $42k in negative equity to do so.) Whew. Mess, right?
We built a zero-based budget every month and slowly paid off the debt, even with an unpredictable income.
One of the things that came out of that season was the Good Cheap Eats System to saving money on groceries.
Why It Matters
With all that debt, why did it matter what we spent on groceries?
True, groceries may seem like a small thing when you've got 100s of thousands of dollars in debt, but as the old proverb says, "Little drops fill a mighty ocean."
You see, I couldn't control the cost of our truck payment or our mortgages, but I was in complete control of what went in the grocery cart. Through careful food management, I was able to whittle our grocery expenses down to the bare minimum so that we could divert more money to debt reduction.
Those strategies are the Good Cheap Eats System. It works to help you save money and do the things you really want to do. Like pay down debt. Save for a new car, college, a house. Invest in retirement. Take a trip to Hawaii.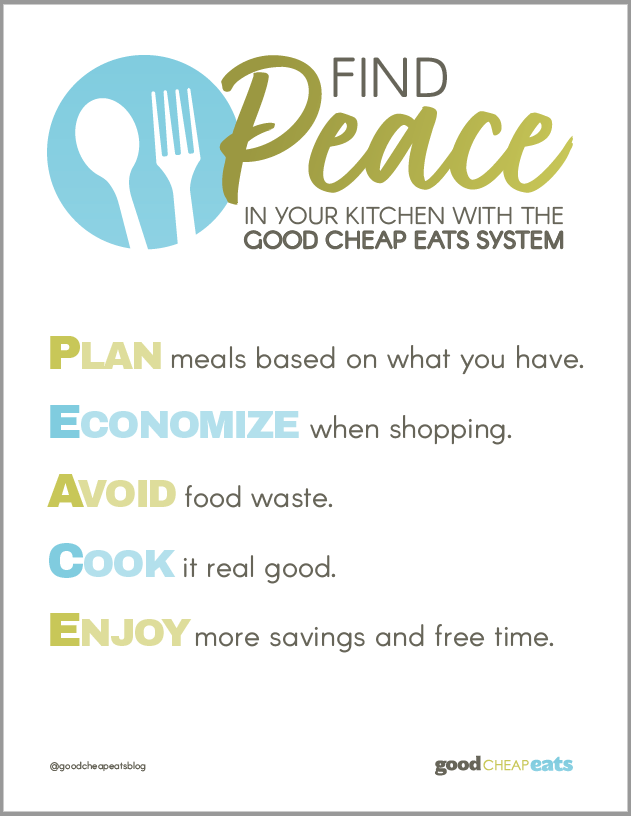 The 5 Steps to Find PEACE in Your Kitchen
Maybe you already do the steps that are included in the Good Cheap Eats System. Maybe there are a few you excel at and others you've never tried.
I guarantee that practicing this system will make you a lean, mean, money-saving machine — at least where food is concerned.
Remember the word, PEACE and you will easily learn the system.
Plan meals based on what you have.
Shopping the kitchen is your first and best step. You don't even have to leave the house. Check to see what food you already have and make a plan to use it up before you buy more.
You don't need to eat it down to bare bones of course, but there's no reason you need to go grocery shopping if you've got plenty of good stuff at home in the fridge, freezer, and pantry.
Meal planning is usually a given for home cooks, but there are many different approaches to it, some that can be quite pricey.
Meal planning to save money involves the idea of focusing on what you have first and then filling in the gaps with ingredients that are on sale or clearance or that are naturally frugal, like rice, beans, eggs, etc.
This doesn't mean that you can't enjoy filet mignon on occasion, but that your default is with money-saving in mind.
Economize when shopping.
The next step in the System involves grocery shopping. No coupons required.
Instead you're going to stock your pantry on a budget so that you never have to pay full price for the foods you want to serve. By visiting the store with the best prices and shopping the sales and clearance, you can stretch your grocery dollar so that it works harder for you.
You spend less and eat like a king or queen!
Avoid food waste.
When food goes in the trash, it's not just food that you're wasting. In fact, you've neglected to consider the time it took to shop and prepare it, the money you spent to buy it, and the energy resources to transport and store it. Food is more than just food sometimes.
Anytime you can avoid food waste is an opportunity to save, so make a plan for leftovers and learn to be a good steward of your kitchen. Using up little bits here and there can add up to savings.
Cook it real good.
Home cooked food is usually cheaper and more nutritious than other options. While it can feel like a monumental feat at times, it is always worth the effort.
Cooking at home allows you to adjust for allergies and preferences as well as to make your favorite restaurant meals for less.
When you freeze extra for later in the way of freezer meals and meal components, you're buying yourself time in the future as well as extending the life of your grocery investments.
Enjoy more savings and free time.
Your life doesn't revolve around the kitchen. Or the grocery store. And it shouldn't. There's a big world worth seeing and a life worth living. Do more of the things you love with a little more money in the budget.
Enjoying the fruits of your labor is part of the process. So there you have it: PEACE in your budget, in your life, in your kitchen.
PLAN meals based on what you have.
ECONOMIZE when shopping.
AVOID food waste.
COOK it real good.
ENJOY more savings and free time for the things you love.
The only mnemonic device you need to save more on groceries!
Ways to Learn the System Well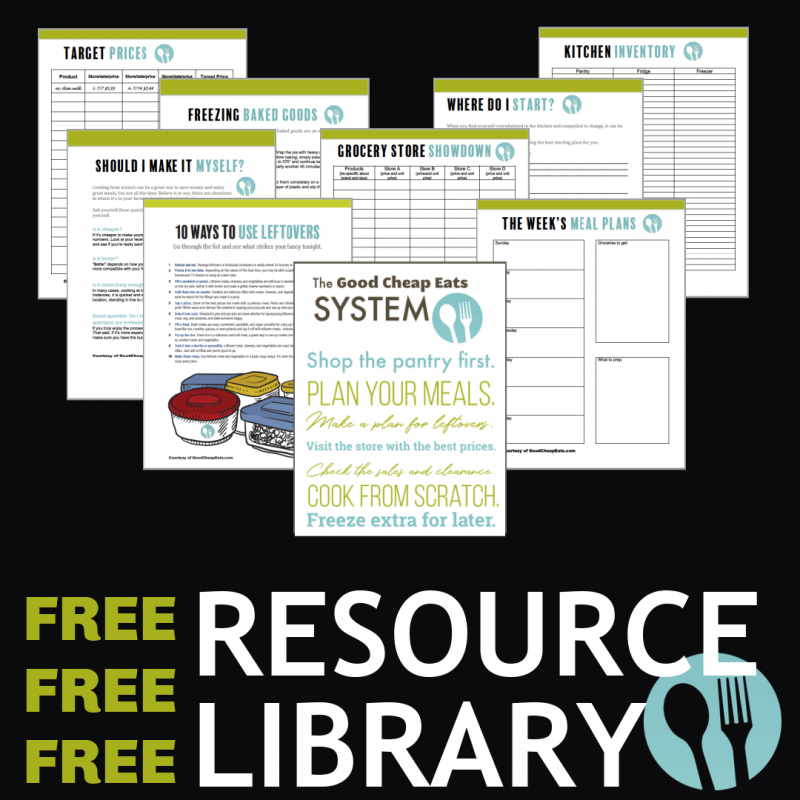 There are a number of things you can do to learn the System well:
Subscribe to get free access to our resource library and a 5-day email course to learning the system. There are worksheets for each step in the System.
Want to dive deeper? Grab the revised edition of How to Save Money on Groceries. It's available as an instant download in our e-store.
For real time support with others working the System, join the Good Cheap Eats Club.