When you shop your kitchen before heading to the store, you use what you have and save money. Not only that, but you learn better shopping habits. Shopping your kitchen and using what you have informs your grocery shopping going forward so you buy more of what you like and less of what you don't.
Join this month's Pantry Challenge to learn how to make the most of food you have on hand so you can save time and money.
It's that time again! Time for our yearly Pantry Challenge here at Good Cheap Eats. This is our 14th year of shopping the kitchen in a big way.
My family might groan a little bit, but trust me when I say they will eat fantastically well this month — and we save money!
Saving money on food costs is one of my big life pursuits and also the driving force behind the Good Cheap Eats System. I know that saving money on groceries frees those funds up for bigger and better things, like saving for retirement, helping the kids with college costs, traveling the world, and more.
Over the last 14 years, making an effort to save money on groceries has allowed us to pay off debt, build a large emergency fund, spend two months in European, replace our vehicles, and contribute to our kids' college educations.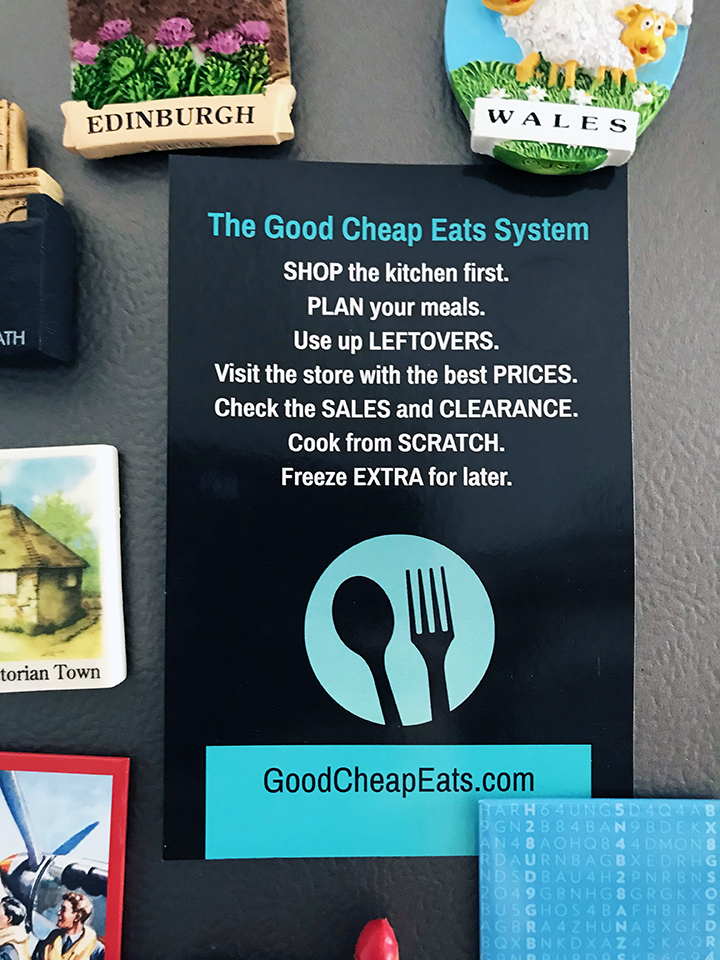 The first step in the System is to shop the kitchen first, basically what we do — on steroids — during a pantry challenge.
Why Shop Your Kitchen?
When you shop your kitchen, you're doing several things:
You avoid overbuying.
When we head to the store without really knowing what's already on hand in the kitchen, we're more likely to buy extras of things we already have. Conversely, by shopping the kitchen first, you use what you have and only buy what you actually need.
You avoid food waste when you shop your kitchen.
Many of us buy ingredients with the full intention of making this recipe or that. Life happens, though, and sometimes the recipe doesn't get made. The ingredients are forgotten and languish in the pantry, fridge, or freezer. If long-forgotten, they end up getting tossed because we didn't use them in time.
By shopping the kitchen, you make sure you use what you have before it goes bad.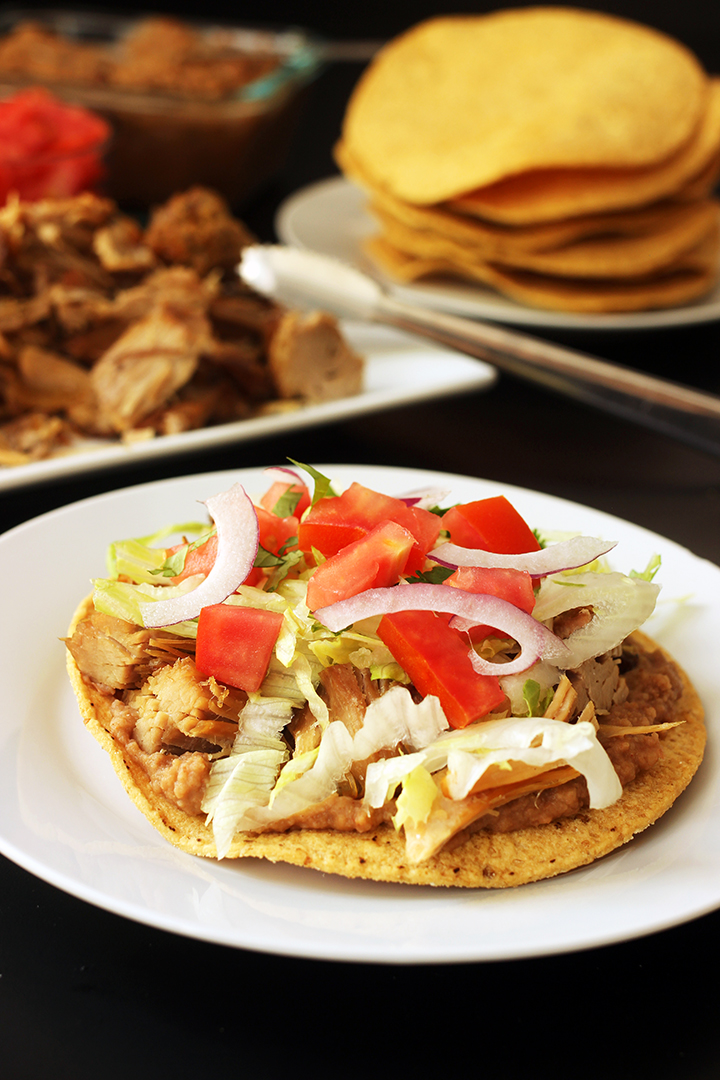 You learn to be more creative in the kitchen.
Whether you make more things from scratch, like pantry staples you've run out of, or simply play a real live game of Chopped, when you shop your kitchen first this allows you/forces you to get more creative in the kitchen.
You expand your cooking skills. You are able to avoid pricier restaurant fare because you can make just as good — or better — at home! This gives you so many more options in how to spend your food dollar.
You adjust your shopping habits to save more money in the future.
When you shop your kitchen, you start to see patterns in your shopping habits that might be costing you money. Surprisingly, you may notice that your family isn't really eating the same things they always did. Huh. You find out what eating habits are changing.
Once you notice these, you can shift gears and adjust your shopping to be more in line with how you really live. In turn, you save money.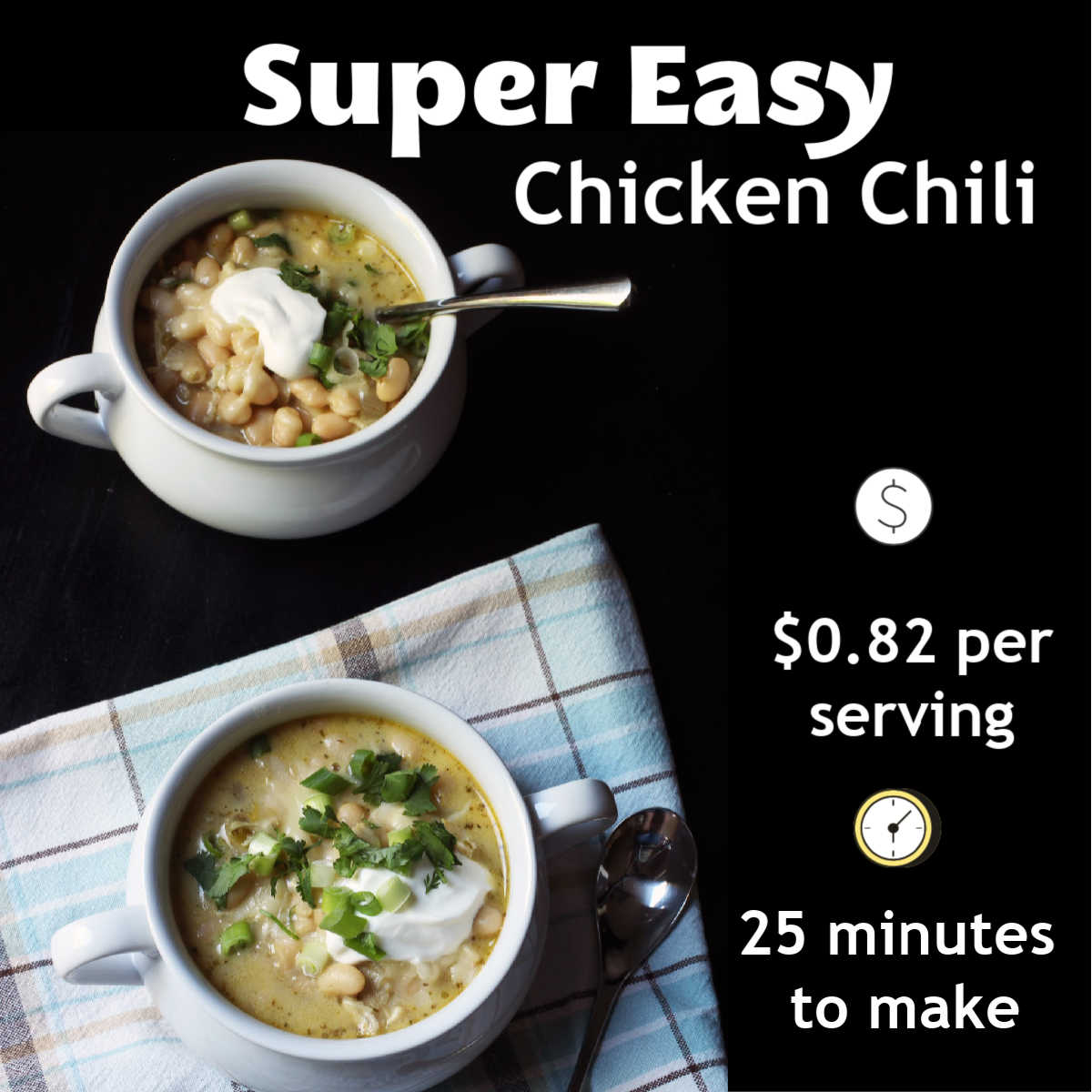 You save money when you shop your kitchen!
Folks will argue with me that a pantry challenge doesn't save money since you eventually buy more food to replace what you've used up. To those people, can I direct you to points #1 and #2. And #3. And #4.
Spending focused time in your kitchen helps you enjoy more great meals for less money.
You use up things you acquired over the last few months.
I've talked to plenty of people who, for one reason or another, acquired a lot of different foods during the pandemic. Whether it was a panic buy of things you never buy (hello, canned soup) or the fact that grocery pickup substituted things you wouldn't normally purchase, chances are you, too, have some things that need using up.
For me, I've got some self-rising flour that I grabbed when flour was scarce. It's not a regular in my shopping list, so time to use some up.
Out with the old as far as I'm concerned! Let's use up these things during the pantry challenge.
Note: during this month's challenge, I do recommend that you keep an emergency supply separate from what you want to eat down.
I store my 14-day supply in waterproof tubs in the cupboard under the stairs. It's there in case of an emergency, so I don't worry about using what's in the kitchen already.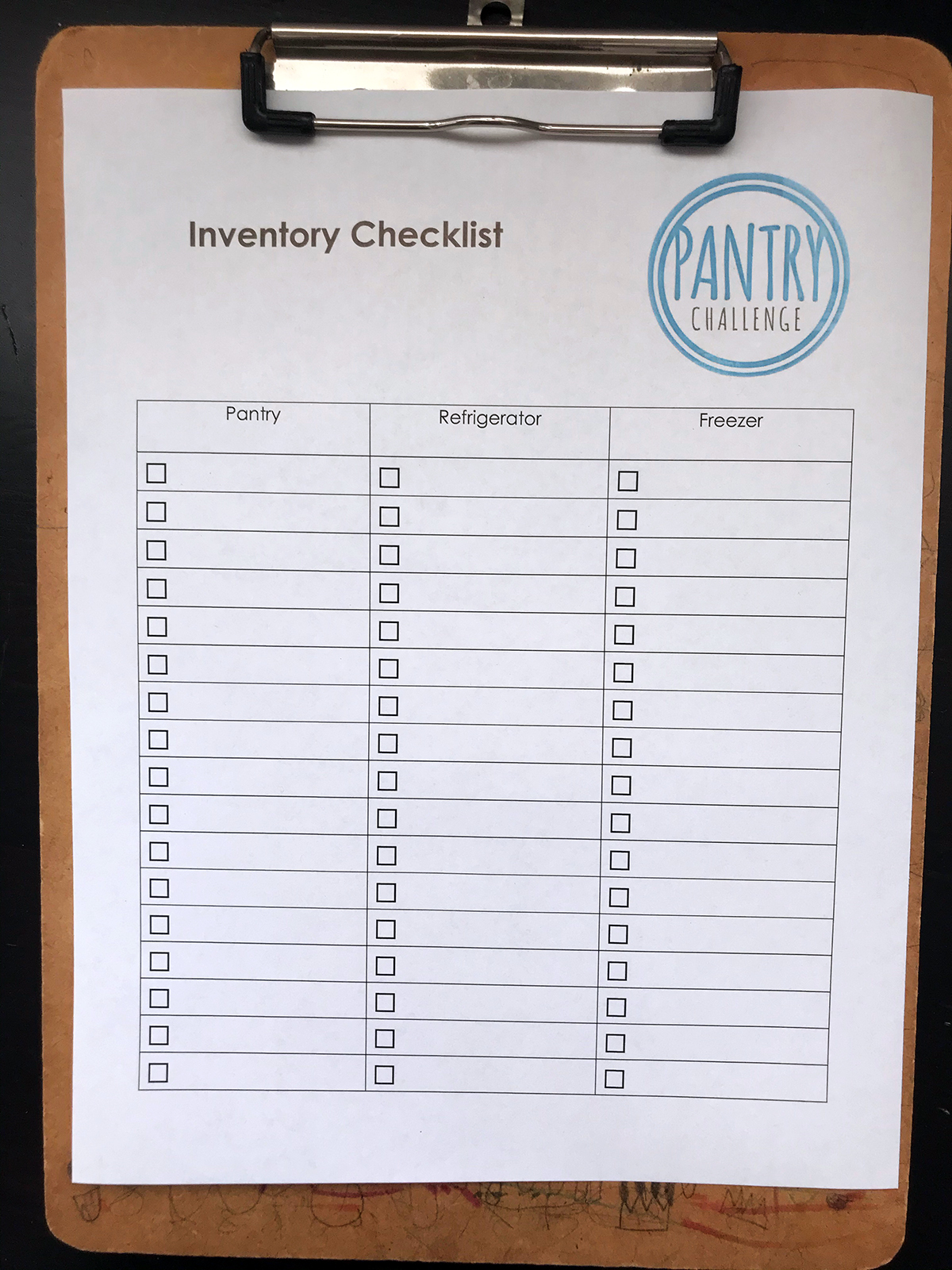 How to Shop Your Kitchen
This month is a great time to learn how to shop your kitchen. The process is pretty simple.
Take inventory of what you have.
Pull things out of cupboards, fridge, and freezer to see what you really have on hand. It's best if you write this down and consult it frequently.
Read: Freezer Inventory: How To Keep Track of What You've Got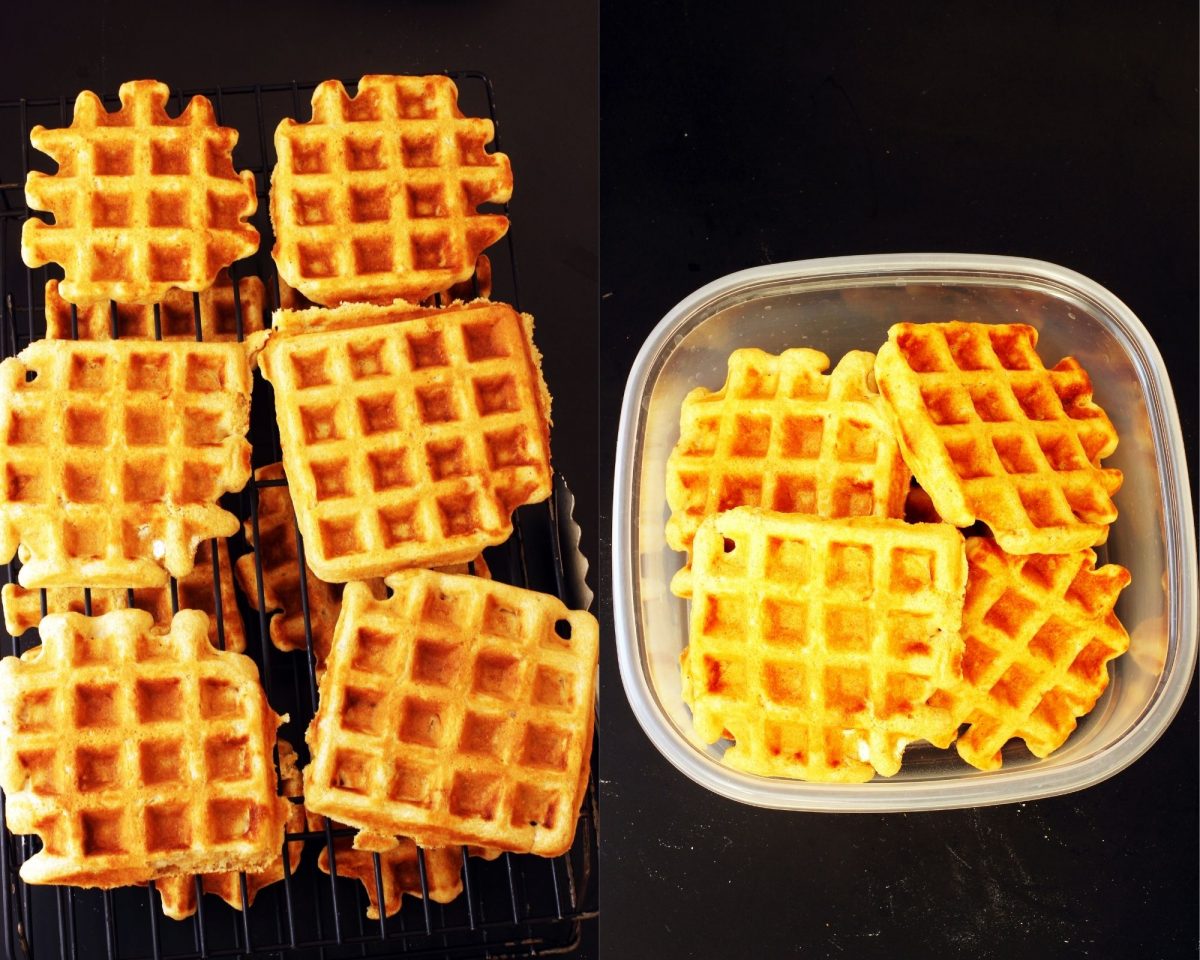 Generate some meal ideas based on what you have.
Once you've got your inventory, create a master list of meals you can make. This will help you plan.
Read: The Easy Meals You Need to Make When There's "Nothing" to Eat
Set aside some time for meal prep.
After years of shopping the kitchen during the month of January, I've learned how important meal prep is. You will get tired. You will want something to eat.
Do yourself a favor and prep some foods in advance so you don't have to cook every meal every day. Trust me!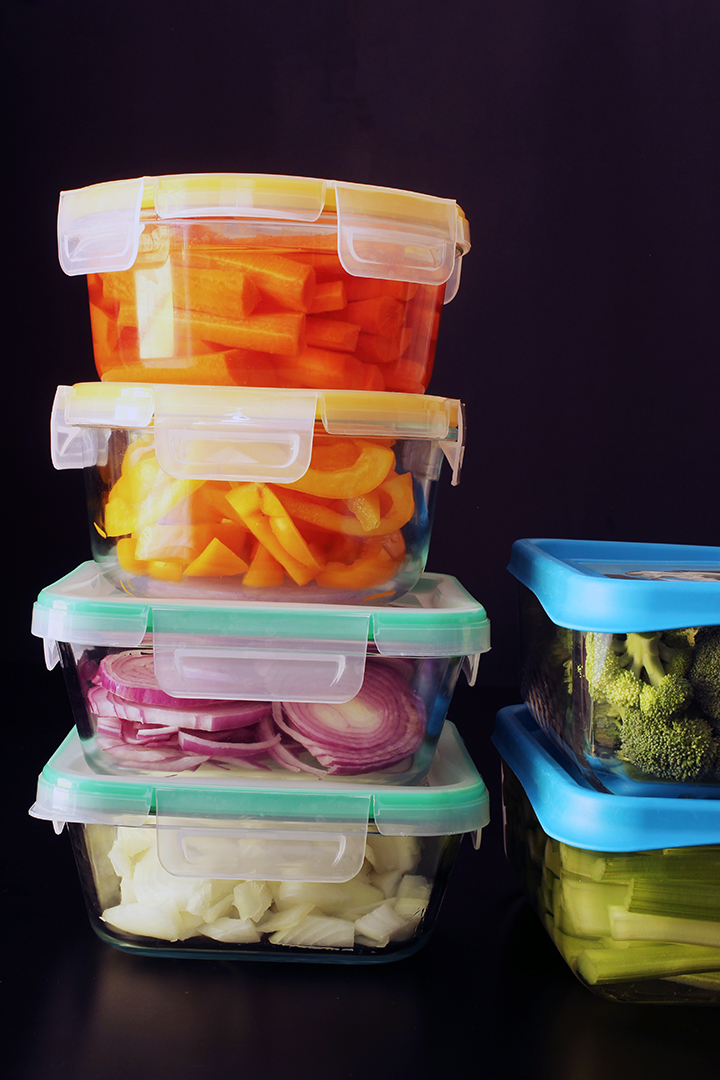 What my challenge will look like this year…
I've been doing this every January for over a dozen years. Each year takes a slightly different turn because each year my family has grown and changed — in age as well as food preferences and restrictions.
Here are some of the circumstances we're working with:
There are currently seven of us in our household, six omnivores and one who is in the process of a full diagnosis for celiac disease. One of my daughters has a life-threatening peanut and walnut allergy that we accommodate for.
Two of my kids are in college, but live at home, eating or packing most meals from my kitchen. My husband works at a local university and packs his meals from home as well. I work from home along with my three homeschooled teens so we're eating all day from home most days, particularly in January.
The most recent USDA food cost reports (November 2021) estimate that it costs $1492.65 for a family of our make-up to eat all meals at home. My budget has hovered around $1200 these last few years, so this is a huge increase. I plan to beat the feds' estimates.
I am currently fighting high cholesterol and some wicked anemia (in my mind, two competing conditions), so my food this month is going to need to cater to both issues as my February meeting with my cardiologist approaches.
We have two refrigerators, an upright freezer, and a walk-in pantry. All are full to the gills and I don't have a great idea of what's there, though I suspect a lot of tortilla chips and sweets.
Of course, I recognize what a blessing it is to have excess food and that it's a "good" problem to have when we have so much food we need to spend a month using it up. Here's to using it up and clearing the kitchen clutter.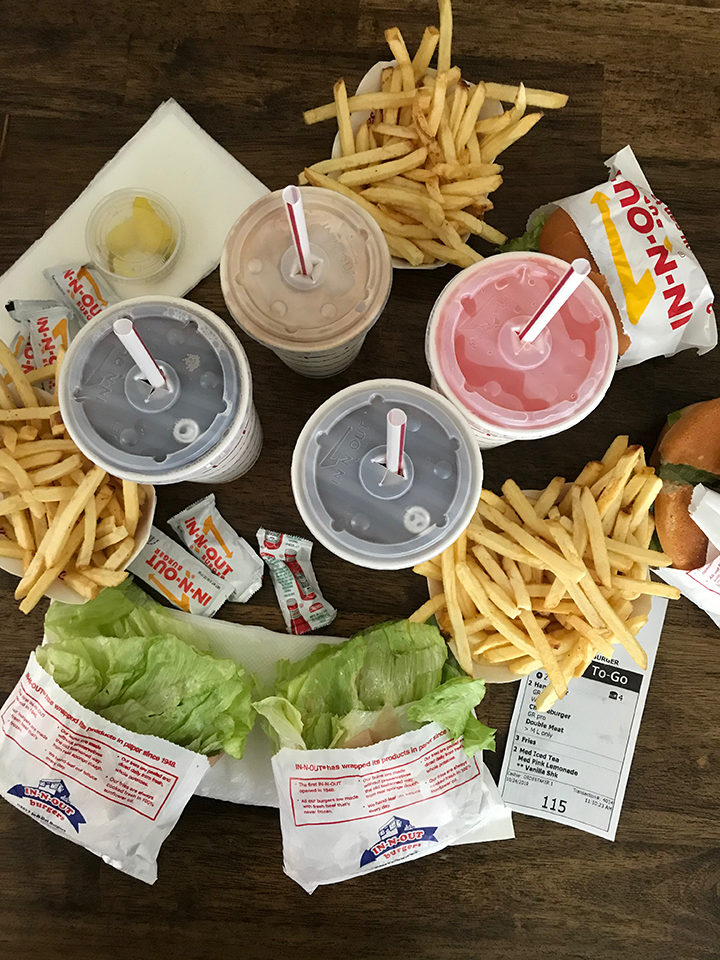 Are there rules to shop your kitchen?
As always, I encourage you to make your own rules. It's your kitchen, your food, your mouths to feed. That said, I do encourage you to make some rules. It's a challenge and you want to see it through.
Ask yourself these questions as you craft your shop your kitchen rules:
Want to save money?
Do you need to clear space?
Are there excess panic buys in your cupboards to use up?
Is there food on hand that you wouldn't normally buy that would be good to use up?
Do you need to get a grip on shopping and spending and just be content with what you have? (This is a huge psychological benefit to shopping your kitchen!)
Can you make it a full month or would a week suffice?
Will you shop sales, do grocery pick-up, change your approach?
Are you still getting take-out to support local businesses during a pandemic?
Here are my rules this year:
I'm starting January 1 and will try to make it through to the end. I'll post a round up of our meals here on the blog every night. I won't reply to every comment because there are just so many hours in the day. Regulars, help newbies out and answer questions if I haven't gotten to it yet.
Should we get sick or a zombie apocalypse occur, I get an out. Just saying. I will buy what we need.
I'm going to focus on using what we have, especially in the pantry, but try to keep meals balanced. In the past, I've done a lot of carbo-loading (ie bread and cheese) in January. Good for the under-40 crowd, not good for those of us who are dealing with high cholesterol and thyroid issues.
We will still get the occasional restaurant meal. We don't typically eat out a lot, but we have our seasons where it gets crazy. My husband and I do a weekly date night, and we get one family meal a week on average.
My goal is to spend no more than $700 on groceries this month, down from a USDA estimate of $1493 for a family of my size. I'm not sure what's crazier? The estimated food cost or the goal to spend less than half.
I'm cashing out my rebates. While my Costco rebate check is pretty low — we shop ALDI more often than Costco these days — I do have a sizeable Ibotta balance that I've been saving for the Pantry Challenge. Since I don't take those rebates into account when I track my monthly spending, it's a bit like "free money". I've been letting it add up for the last year and have accrued $343.22 in Ibotta earnings. That will go toward my grocery spending this month in addition to my Costco rebate check of $54.36, almost $400 total. Here's hoping groceries aren't more than $300 out of pocket this month!
(If you're interested in trying Ibotta, you can get an extra $5 back on your first purchase when you use my referral link.)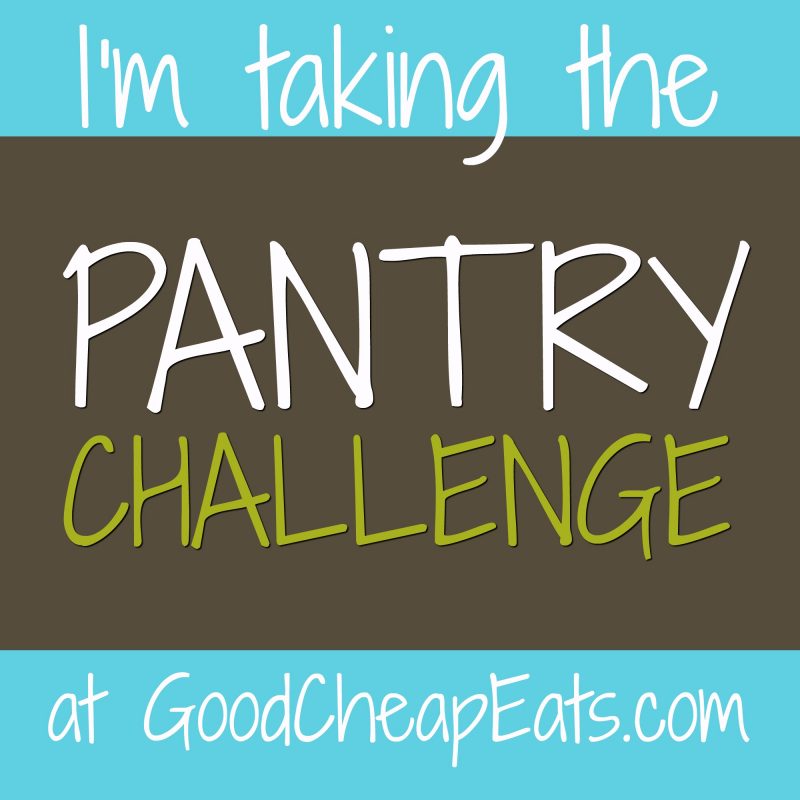 Ready to get started?
Let me know in the comments what guidelines you'll set for yourself during the Shop Your Kitchen Pantry Challenge in January!
Feel free to grab the image above and share on social so your friends and family can join us.
See ya tonight!