Keep a freezer inventory so you can keep track of what you've got — and enjoy it before it loses its freshness, taste, and texture.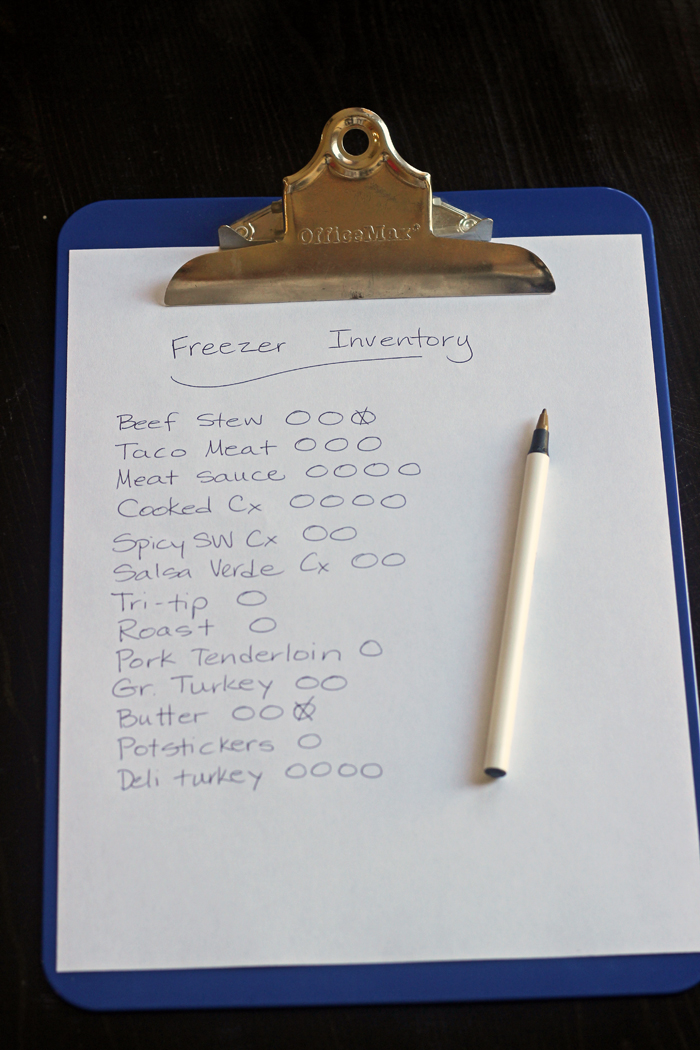 Making many meals ahead of time or doing a full day of freezer cooking is a great thing — provided that you use what you've made in a timely manner. There's no time, money, or effort saved if you end up pitching unmarked or old, unused food.
Labeling well is one answer to this dilemma. I mark my packages with the date and name with a Sharpie pen. If it's a dish that has special cooking instructions, I mark those on the package as well so that I don't have to look up a recipe when it's time to cook. This also makes it easy to give a meal away or to take a mom's night off and let FishPapa do the cooking.
A Freezer Inventory
Hand in hand with good labeling comes keeping good track of what's in your freezer. That's where a Freezer Inventory Sheet is super handy. This is my inventory sheet from last month's Big Cooking Day: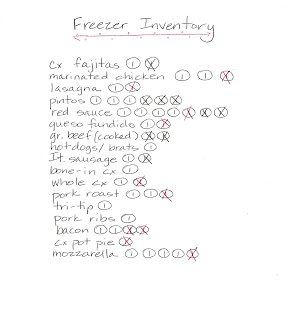 I simply a list of my different meals or proteins that I stashed away. Then I made a tallymark with a circle around it for each one that I was storing in the freezer. I keep this on the front of my fridge. As I pull something out of the freezer, I cross off one of my circle doodahs. At a glance, I know how many of each item I have left. You can use a different symbol or even number each circle, if you want. But, this works for me.
As long as I cross it off each time I pull something from the freezer, I've got a great record of what's left to eat. This helps me tremendously with meal planning.
How do you keep track of what you have in the larder?