Don't let good food go to waste! Keep a freezer inventory so you can keep track of what you've got — and enjoy it before it loses its freshness, taste, and texture.
Whether you do a freezer cooking session for the holidays or load up on freezer meals to take on vacation, know what you have so that you can use it up within a good time frame.
Jump to:
Ever go to the freezer thinking you've got a batch of marinara sauce to use for dinner, only to find, NO, you used that last month and forgot you did so? Or buy a few packs of pork chops on sale, thinking you're being really wise only to find that you've got SIX packages in the freezer already?
Making freezer meals, shopping the sales, and pantry challenging it are all great things — provided that you use what you have in a reasonable way. A freezer inventory is what you need.
Why Do This
There's no time, money, or effort saved if you end up pitching unmarked or old, unused food. Or overbuy and find yourself eating pork chops every week for two months.
Taking a food inventory is the first best step to meal planning and shopping your kitchen. Keeping good track of what's in your freezer with a freezer inventory can help you save money, eat well, and avoid food waste.
Types of Tracking
There are a number of ways to track your freezer inventory.
In an app: There are several different apps you can buy for your device that will help you track what you have in the fridge or freezer. Many of these operate by having you scan the barcode on products. This is fine if you buy a lot of packaged foods, but not so helpful if you're freezing hand-packaged ingredients or homemade freezer meals. Be sure to check that the app you choose allows for manual entry of custom items.
On the freezer door itself: Some people keep their freezer inventory written directly on their freezer — yep! they write on the door — in dry erase or wet erase marker. If your freezer gets a lot of traffic or if children and jokesters live in your house, this might not be the best bet.
On a dry-erase board: You can write your freezer inventory on a magnetic dry-erase board that attaches to your fridge/freezer or on a regular board that hangs on the kitchen wall.
On a paper template: I like using a paper template that I've laminated and stick on a clipboard. It can travel through the house with me, from the kitchen to the garage and provides an easy writing surface. I have magnetic hooks on the fridge for hanging the clipboard.
Here's what a Freezer Inventory Sheet can look like: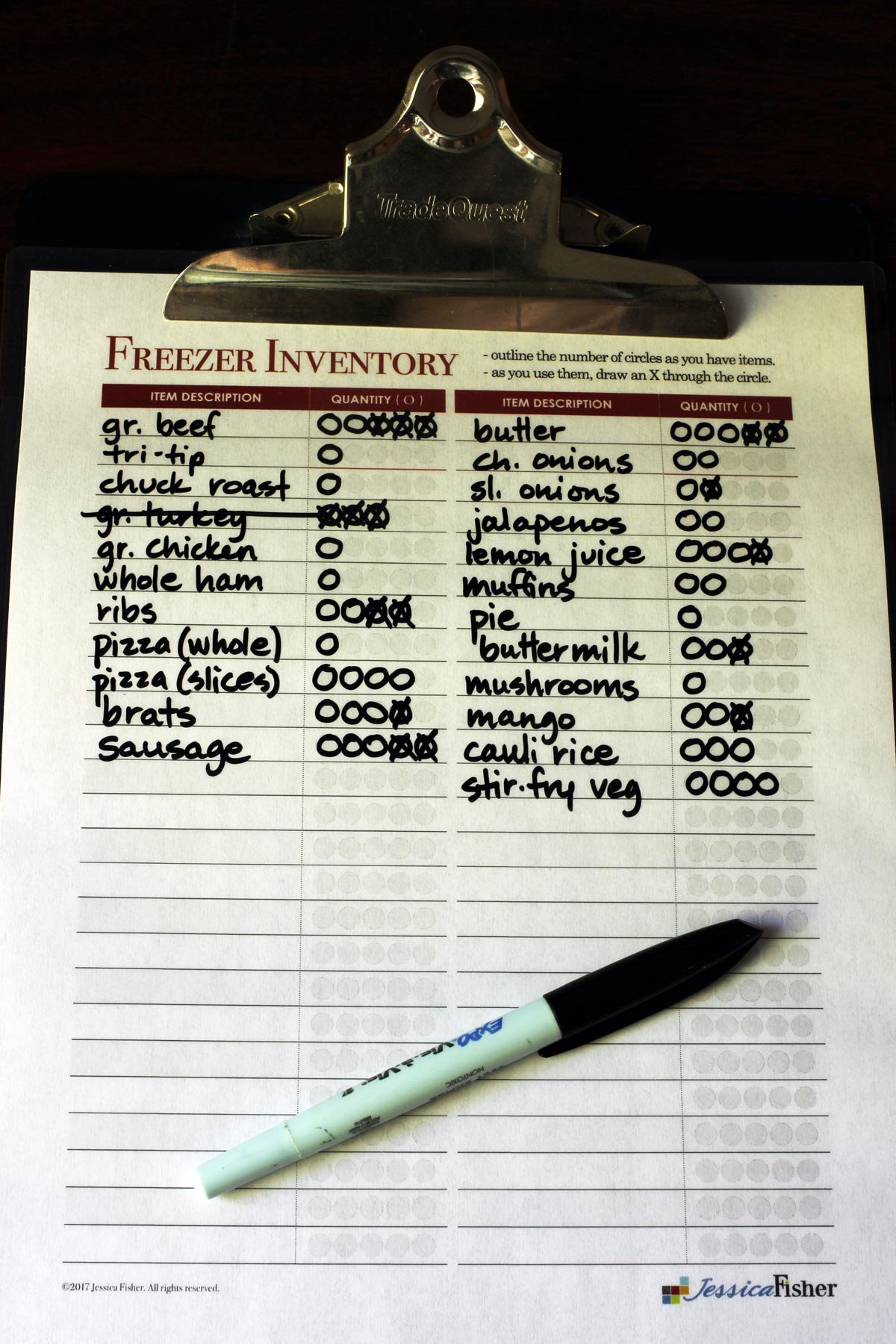 Purchase the Freezer Cooking Planner for the printable template pictured here.
Step-by-Step Instructions
Create a list of the different meals or ingredients that you have stashed away in the freezer. If your freezer is quite full, you may need to empty the freezer completely to understand exactly what you have.
Next to the item's name, draw a circle for however many you have on hand. If you have three portions of beef stew, draw three circles.
As you use up the items in your inventory, cross out a circle. In this way, you'll know at a glance how many you have left.
Keep this freezer inventory on the front of your fridge or freezer.
As long as you cross it off each time you pull something from the freezer, you'll have a great record of what's left to eat. Not only will this help you tremendously with meal planning, but it will help you make good use of sales, knowing what you have and what you need.
This same process will work if you need to keep track of a pantry or fridge inventory.
FAQs
What food items do you keep in a freezer?
There is a huge variety of foods you can freeze. You can freeze rice, sauces, soups, casseroles, beans, many cooked vegetables as well as many fruits, baked goods, and so much more! Avoid items with mayonnaise as well as fresh vegetables that you want to stay crisp, such as lettuce or cucumbers. You'll also want to avoid freezing certain vegetables uncooked as they will change colors or texture. Check our extensive archive of freezer-friendly strategies.
How can I keep track of food inventory at home?
There are multiple ways to track your food inventory: in an app, written on the appliance (fridge or freezer), written on a dry-erase board, or written on paper.
How long do foods last in the freezer?
Food kept frozen below zero will be safe to eat indefinitely. However, its taste and texture may decrease over time. Home freezing, however, is difficult to maintain at those safest temperatures. The shelf life of frozen foods will vary based on the item and whether it's stored in a fridge-freezer or deep freeze. The USDA offers extensive information about freezing and food safety.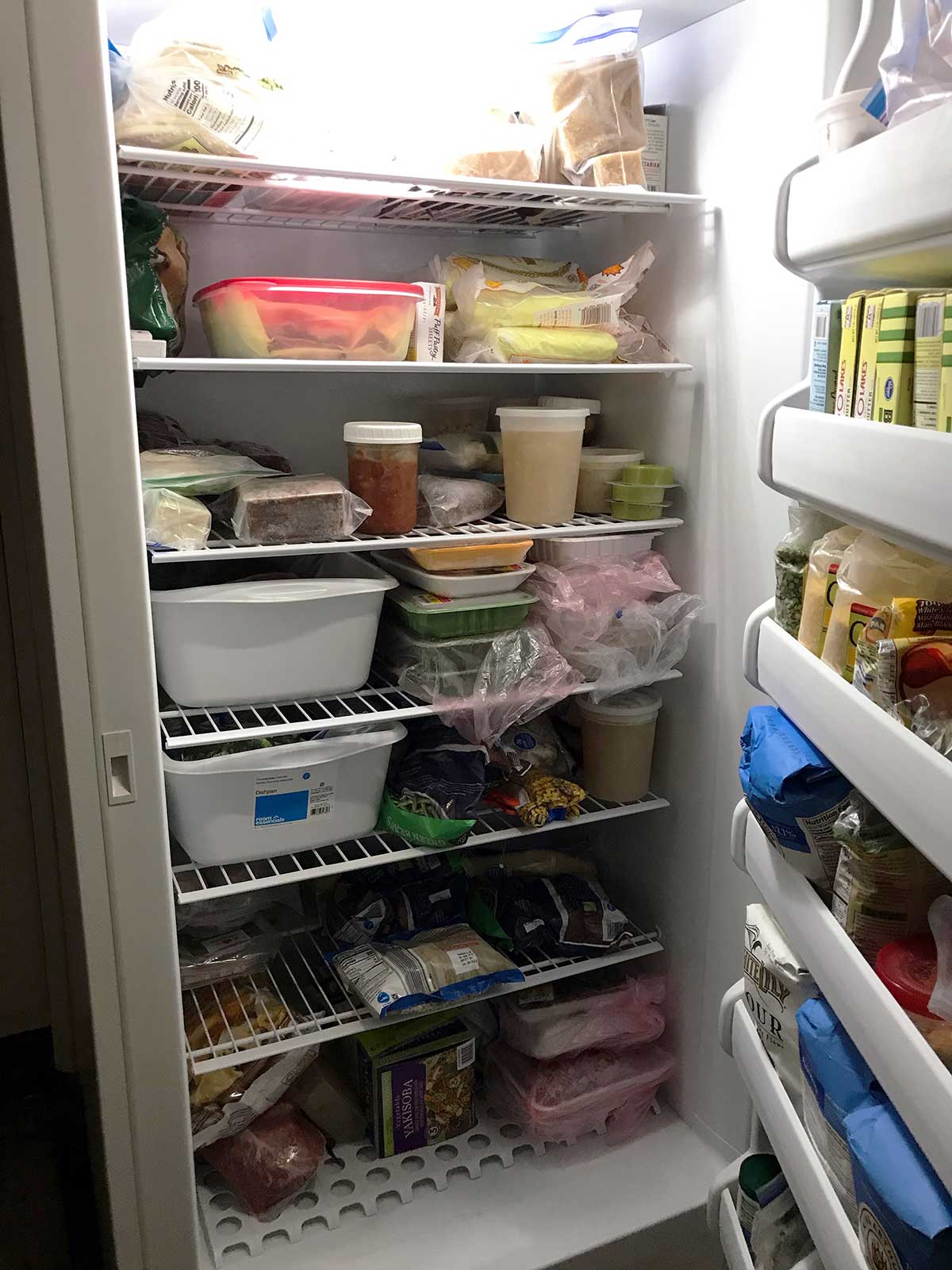 Great Freezer Meals
This post was originally published on November 4, 2009. It has been updated for content and clarity.