Cheese Enchiladas are quick and easy to prepare, but they taste like something special. They are a delicious, meatless meal you can make in a snap, freezer-friendly and even worthy of packing for work or vacation.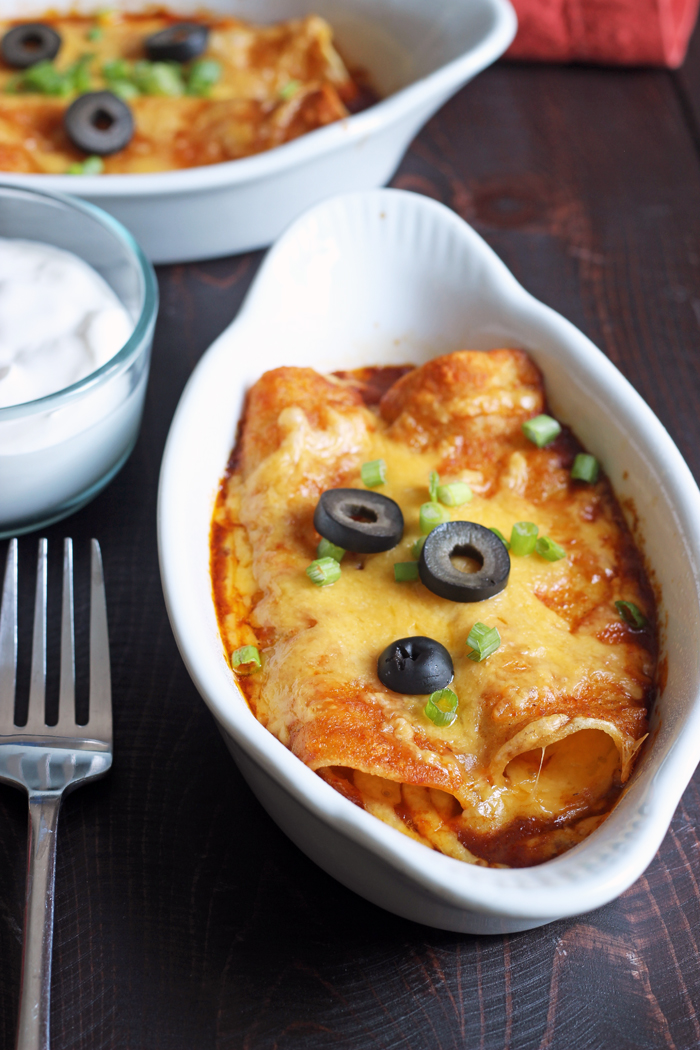 It was a busy weekend, so I didn't spend Sunday afternoon prepping lunches for the week like I normally do. But, I was still able to send a stack of black boxes with my husband to work, packed with one of our favorite meals: Cheese Enchiladas!
You see, I did myself a favor a few weeks ago when I made these enchiladas for dinner. I made some extra lunch-size pans and stashed them in the freezer. Woo hoo! Wife of the Year, right there.
But seriously, that's the trick to living a richer life, planning things in advance and doing a little work on the front end, so you can reap big rewards, even something as simple — yet delicious! — as a tray of homemade Cheese Enchiladas to send to work with your husband.
This year I've been working toward serving more meatless meals. Occasionally opting out of meat can be great for your budget as well as lessen wear and tear on the environment. And require you to grocery shop less often!
That's a fringe benefit I've discovered. I don't worry so much when the freezer holds few proteins, I just make a meatless meal!
Years ago when we went to one income, I read Miserly Moms by Jonni McCoy; it's a great book to get you thinking how to save on food costs. One of her suggestions was to serve a meat-less meal once a week. We've done that intentionally for over 20 years now, and we're just fine.
My children are self-professed carnivores, and it can be hard for them to take — at times. In lean seasons, we've gone meatless 6 out of 7 nights. But, we have several regular meals to which they have just become accustomed: Beans and Rice, Bean Tostadas, Pasta with Marinara Sauce, Vegetable Fried Rice, and these Cheese Enchiladas.
What kind of tortillas are best for enchiladas?
I love using corn tortillas, but flour tortillas work best as well.
Of course, I love making my own corn tortillas and suggest you do the same! They are so much better than storebought.
What do I serve with enchiladas?
Here a few things to serve with enchiladas: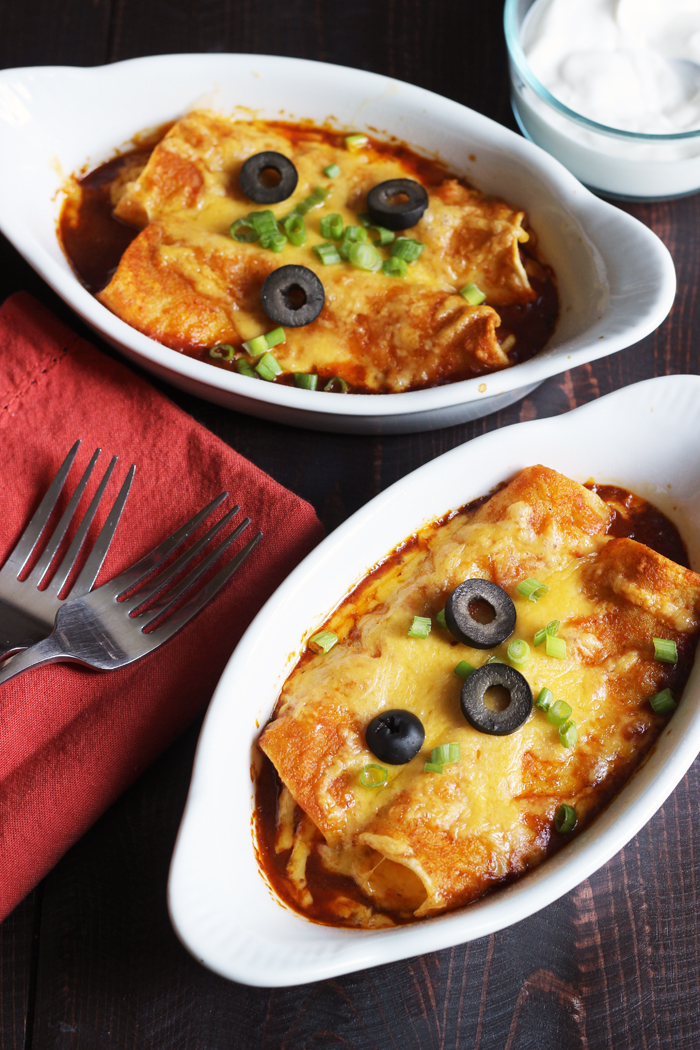 How to make this good and cheap:
Here are some of the strategies you can use to make this Cheese Enchiladas recipe more economical:
How I make this recipe easy:
This Cheese Enchiladas recipe really couldn't be easier than it is, but having the right kitchen tools can really make your time in the kitchen more enjoyable. Over time, I've honed my collection so that they are perfect for my needs.
Here are the tools that I use for this recipe:
And some ingredients short-cuts:
Freezer-friendly tip:
Since this is one of our favorite budget meals, it's easily a crowd pleaser to pack on vacation with us. I just load the frozen pans into the cooler and dinner is ready to slide in the oven when we get to our destination.
If two pans are too much for one dinner at your house, freeze the other pan for another night or your next weekend away. You can also divvy them up into smaller containers to take to work. They easily reheat in the microwave.
Cheese Enchiladas
Cheese Enchiladas are quick and easy to prepare, but they taste like something special. They are a delicious, meatless meal you can make in a snap.
Ingredients
oil for frying the tortillas

2

dozen

corn tortillas

3 1/2

cup

red enchilada sauce

20

oz

cheddar cheese (shredded)

(5 cups) can also use jack

1/4

cup

sliced black olives

2

green onion

chopped
Instructions
Grease two 9×13-inch baking dishes. Preheat the oven to 350 degrees F.

In a small fry pan, heat 1 inch of frying oil. Fry the tortillas in the hot oil until leathery, but still pliable. Drain on paper towels.

Spread a small amount of sauce across the bottom of each baking dish. Reserve 2 cups of cheese for topping. Place a small handful of cheese down the center of each tortilla, roll and place seam side down in greased baking dish. Pour the sauce over the tops of rolled tortillas.

Sprinkle the remaining cheese as well as olives and onions over top. Bake in 350F oven until heated through and cheese is melted.
Notes
To freeze: wrap, label, and freeze prior to baking. To serve, bake according to recipe instructions, adding 5 to 7 minutes if baking from frozen.
You can also package the enchiladas into smaller, microwaveable dishes to pack for work lunches. You can cook the enchiladas in the microwave for 2-3 minutes for an individual serving.
Nutrition
Calories:
341
kcal
|
Carbohydrates:
13
g
|
Protein:
20
g
|
Fat:
24
g
|
Saturated Fat:
15
g
|
Cholesterol:
74
mg
|
Sodium:
1352
mg
|
Potassium:
81
mg
|
Fiber:
2
g
|
Sugar:
7
g
|
Vitamin A:
1408
IU
|
Vitamin C:
2
mg
|
Calcium:
514
mg
|
Iron:
1
mg
Originally published April 24, 2009. Updated April 16, 2018.