While enchiladas may be a simple fix, they taste like something special. A delicious, meatless meal you can make in less than 30-minutes, freezer-friendly, and packable for work or vacation, this Cheese Enchilada Recipe will have you coming back for more.
Paired with Mexican Rice, Easy 4-Ingredient Guacamole, and a Homemade Pico de Gallo, you've got the makings for a fantastic meal. And best yet — you can easily scale this recipe for multiple freezer meals so you can indulge yourself whenever you like!
Jump to:
The trick to living a richer life is planning things in advance and doing just a little work on the front end so you can reap big rewards, even something as simple — yet delicious! — as a tray of homemade Cheese Enchiladas.
Doesn't matter how busy you are, doing a lunchtime meal prep or loading some freezer meals can save you so much time and energy. And when you make this Cheese Enchilada Recipe, you'll be eating like a king!
Why Make This
It's incredibly affordable. Years ago when we went to one income, I read Miserly Moms by Jonni McCoy; it's a great book to get you thinking how to save on food costs. One of her suggestions was to serve a meat-less meal once a week. We've done that intentionally for over 20 years now, and it's been a great way to save money. At just 54 cents/serving, this Cheese Enchilada recipe totally fits the bill.
It can be portioned for a party or into single servings. You see, I did myself a favor a few weeks ago when I made these enchiladas for dinner. I made some extra lunch-size pans and stashed them in the freezer. Woo hoo! Wife of the Year, right there.
It's great for gifting. This is universally a well-received dish. It was one of my favorite postpartum meals from a friend when my first baby was born.
It freezes beautifully. This Cheese Enchilada Recipe makes a big batch (24 enchiladas!) and is incredibly freezer-friendly. Once you get an assembly line going, it's easy to make several dozen at one time to pack away for later.
Ingredients
Here's what you'll need to make some of the best Cheese Enchiladas ever: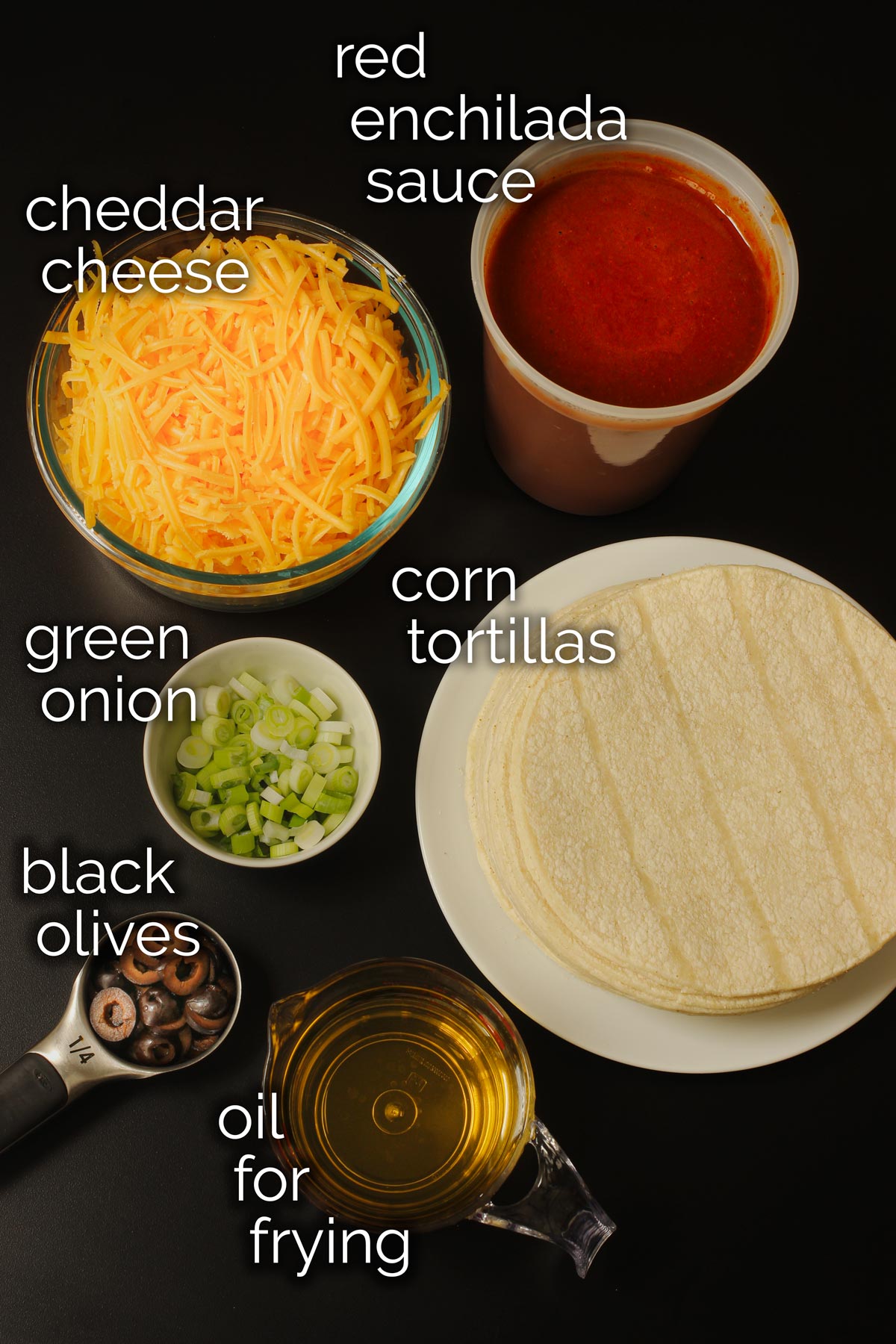 corn tortillas – These come in large bags at a cheap price, making them perfect for bulk cooking. If you don't make them all into enchiladas, you can use them in Sour Cream Chicken Enchilada Casserole or fry them into Tortilla Chips.
oil for frying – You can use your favorite cooking oil for frying the tortillas. You don't need more than a cup or so. The frying step is pretty crucial for the best texture cheese enchilada. See the notes below.
enchilada sauce – If I don't make my own red enchilada sauce, I use Las Palmas red chile sauce. It's all chile. However, if you prefer a tomato-based sauce, go with Ortega or La Victoria.
shredded cheese – You can use cheddar, jack, pepper jack, or a combination of any of them. Buying the cheese shredded is a nice shortcut, but check for the additives in the package. Sometimes the caking agents prevent the cheese from melting smoothly, in which case you'll want to shred your own. Be sure to click the green box below for some money-saving strategies.
sliced olives – Slice olives are a nice garnish for the top of the casserole. Slicing your own from whole olives will be cheaper than buying a can of sliced olives, but make sure to use up the rest of the can of whole olives. They go nice in a Relish Tray.
chopped green onion – Another simple touch that brings flavor and visual appeal to your enchiladas, chopped green onions are super cheap. You'll only need two, so be sure to make a plan to use the rest of the bunch to avoid food waste.
Step-by-Step Instructions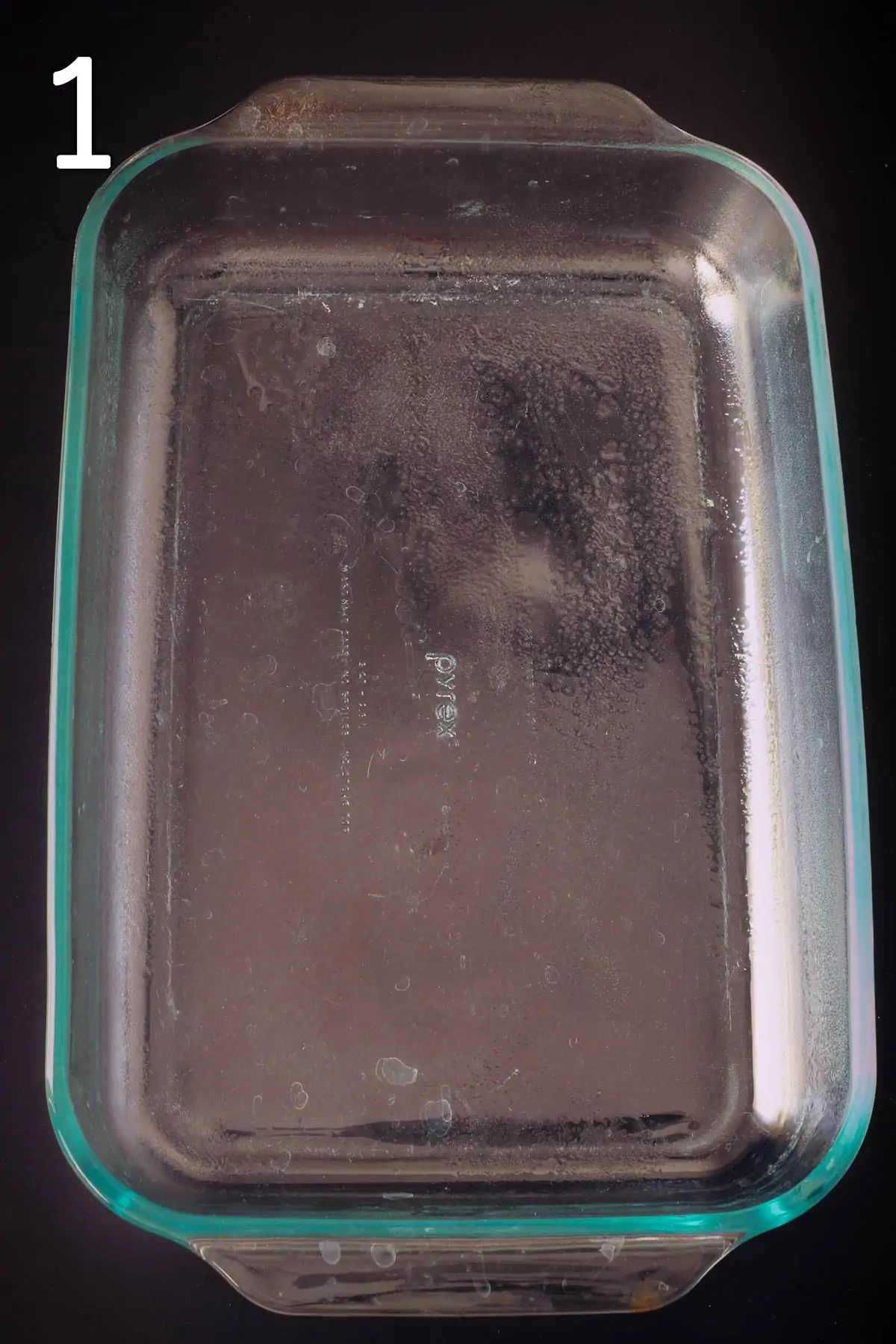 1. Prepare the pans
You can use two 9×13-inch baking dishes or several smaller baking dishes. This Cheese Enchilada Recipe makes 24 enchiladas, so you can use a combination of different size pans to suit your needs.
Grease the pans and place a small bit of sauce in the bottom of each one.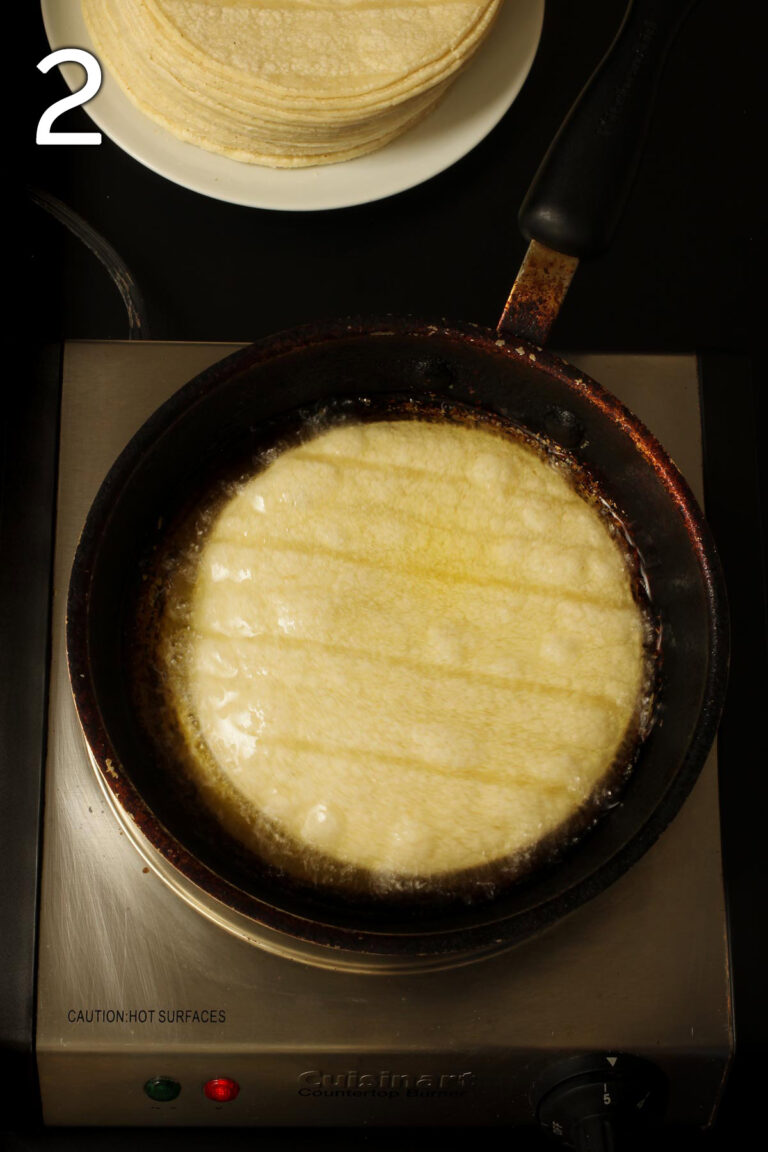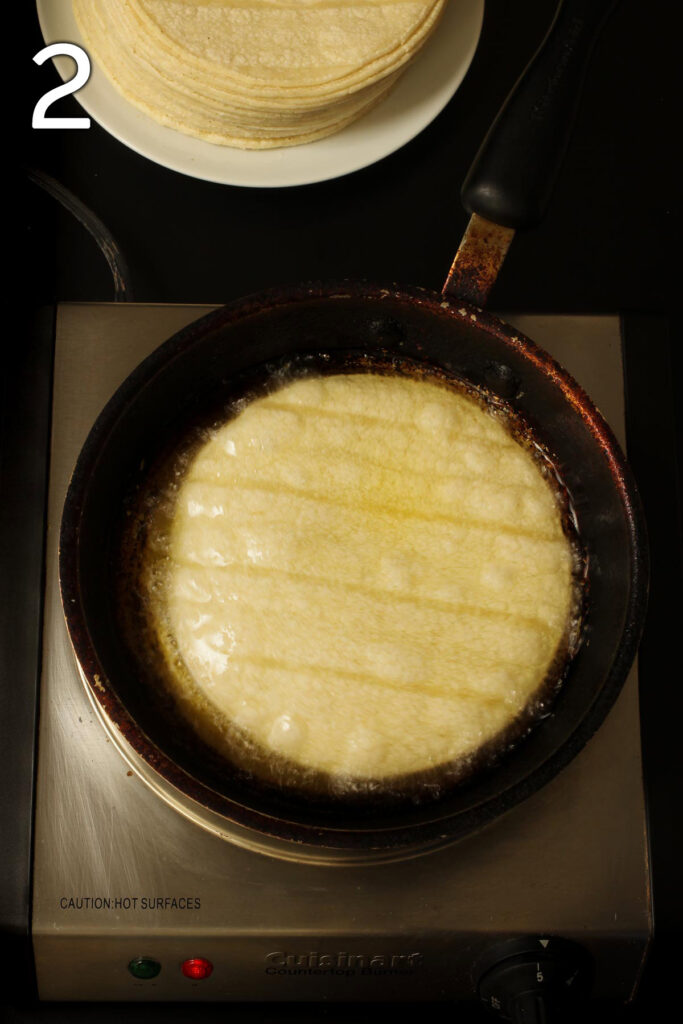 2. Fry the tortillas.
Pour cooking oil to 1-inch depth in a skillet or fry pan. I have an ugly pan that I sacrificed years ago for just this purpose. Heat the oil until very hot.
Fry the tortillas in the hot oil, turning once, until leathery, but still pliable. Transfer the tortillas to a baking dish or drain on paper toweling.
Tip: In order to reduce the amount of oil on each tortilla, let one drip off excess oil back into pan while you fry the next one.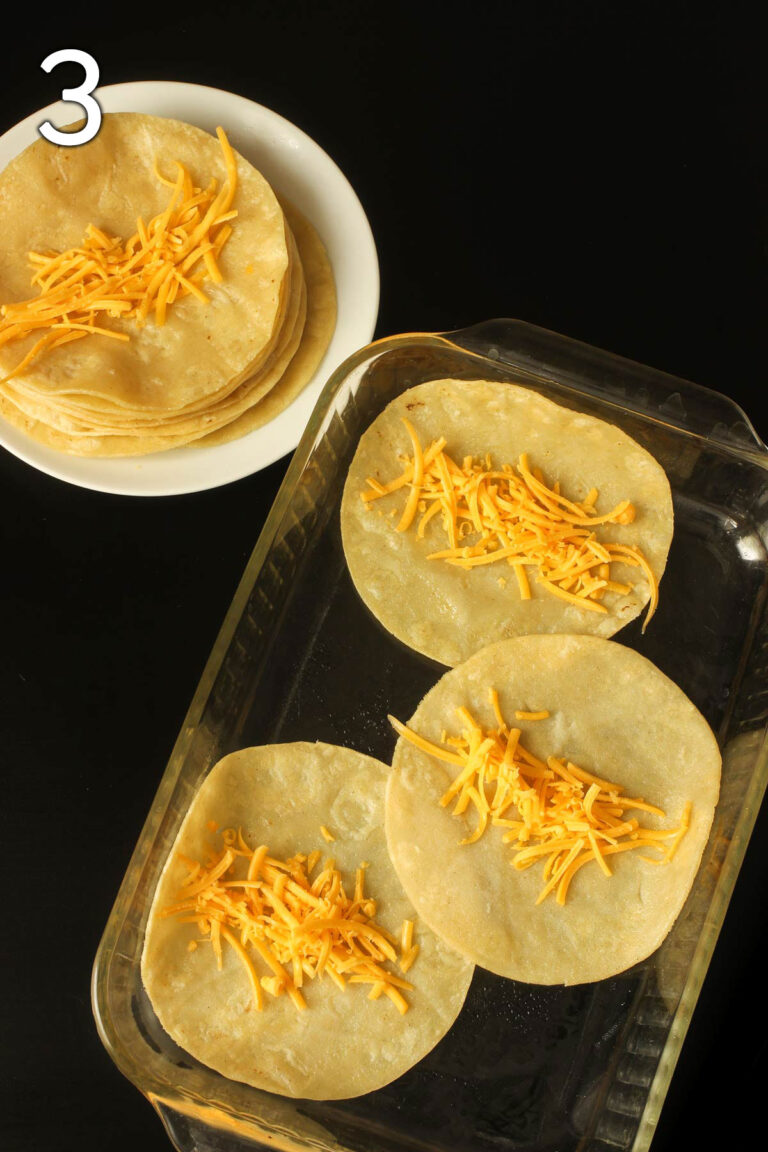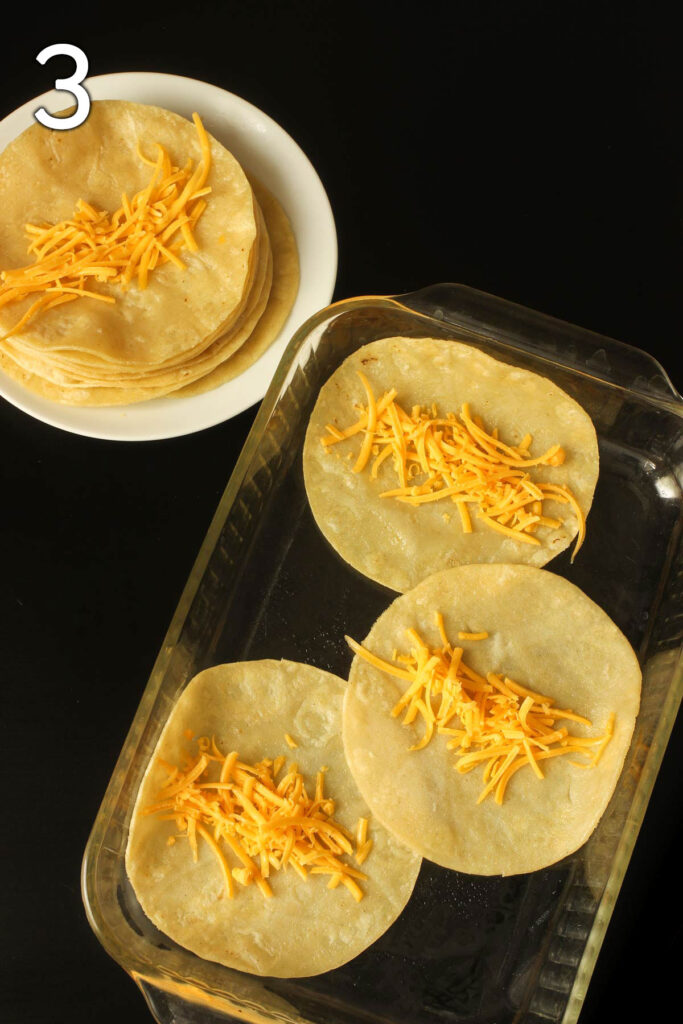 3. Assemble the enchiladas.
Set aside 2 cups of cheese.
In assembly line fashion, lay out a number of fried tortillas, place a bit of cheese on each one, roll them up and place them seam-side down in the prepared dishes. Continue rolling the enchiladas until all the tortillas have been rolled and placed in the dishes.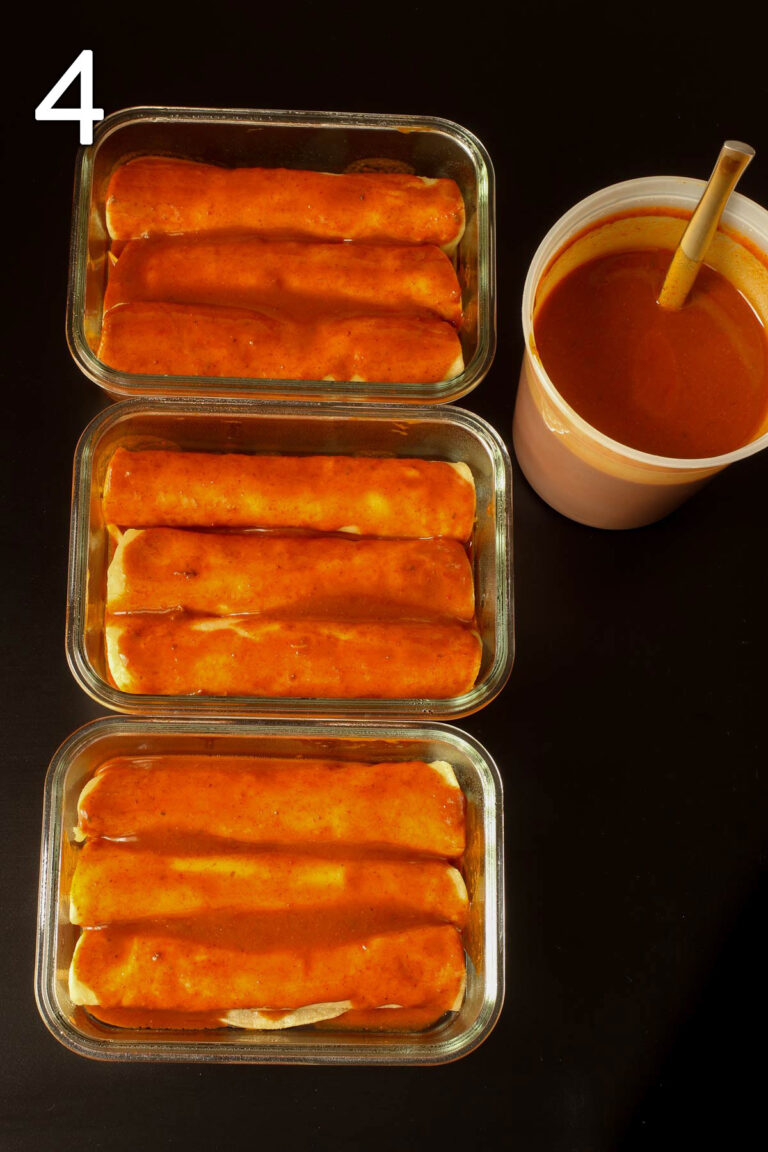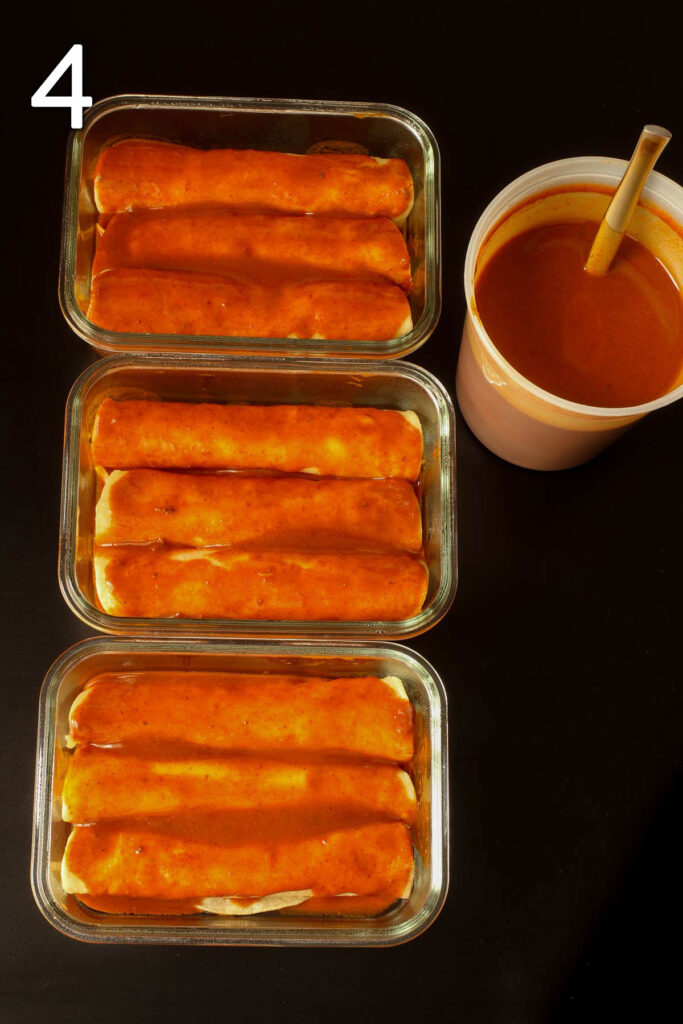 4. Add the toppings and bake, chill, or freeze.
Top the rolled enchiladas with sauce, cheese, sliced olives, and chopped green onions. At this point you can cover and refrigerate or go ahead and bake them.
Once the enchiladas are completely cold, you can store them in the freezer for up to 6 weeks.
Enchiladas can be refrigerated for up to 12 hours in advance of baking.
Bake, uncovered, in a 350-degree oven for 15 minutes or until the enchialdas are hot through and the cheese is bubbly.
If baking from frozen, allow a few extra minutes for a cold pan and consider covering the pan with foil at the end to avoid drying it out.
FAQs
Do you have to fry the corn tortillas for enchiladas?
In traditional enchiladas, the corn tortillas are dipped in red sauce and then fried in oil. This is messy and very time-consuming.

While I find it fine to skip the sauce-dipping step, the frying step is rather crucial to the resulting texture of the enchiladas. Frying the corn tortillas briefly in oil helps the tortillas retain their shape when baked. It also helps the enchiladas hold up better as a freezer meal.
What kind of tortillas are best for enchiladas? 
Corn tortillas are traditional and hold up best when sauced. Some people prefer using flour tortillas as they don't need to be fried before assembling the enchiladas, but they develop a gummy texture once sauced. If you need/want to use flour tortillas, it's best to bake them without sauce and then add the sauce later.
Can cheese enchiladas be made ahead of time?
Cheese enchiladas are a great meal to make in advance. You can prep enchiladas and refrigerate them for up to 12 hours in advance or freeze them for longer storage.
Are cheese enchiladas gluten-free?
Cheese enchiladas can be gluten-free, provided you check the ingredients used in the enchilada sauce and tortillas. Sometimes those items use wheat. Additionally, flour is sometimes used in packaging shredded cheese, so check that as well.
Recipe Costs
Knowing how much it costs you to prepare a recipe can help you decide if it's the type of recipe to make regularly or one you might want to save for special occasions. Let's crunch some numbers and see how this recipe pencils out.
corn tortillas – $1.44
enchilada sauce – $2.07
cheddar cheese – $2.50
sliced black olives – $0.25
green onions – $0.16
Shopping at a mid-range grocery store at non-sale prices, you can expect to pay about $6.42 for 2 dozen cheese enchiladas. This works out to be 54 cents/serving!
Comparable TV dinners range $3.50 to $5.00 for the same amount of enchiladas. Making your own is cheaper and tastier!
How to save even more
Here are some of the strategies you can use to make this Cheese Enchiladas recipe more economical:
Stock up on ingredients when they are on sale. The ingredients in these Cheese Enchiladas are all pretty cheap. All the same, stock up when you see a good sale on cheese, tortillas, black olives, or canned enchilada sauce. It's one tip for saving money on my groceries.
Shop at Costco or ALDI. When I did my big grocery store showdown, I learned that those two stores have the best price for a lot of the things I buy, plus they sell all the ingredients needed for this recipe. I LOVE one-stop recipes.
Make your own enchilada sauce. Have you ever read the can of enchilada sauce? Even Trader Joe's brand has a ton of ingredients, many of which I cannot pronounce. No worries; Enchilada Sauce is super easy to make yourself.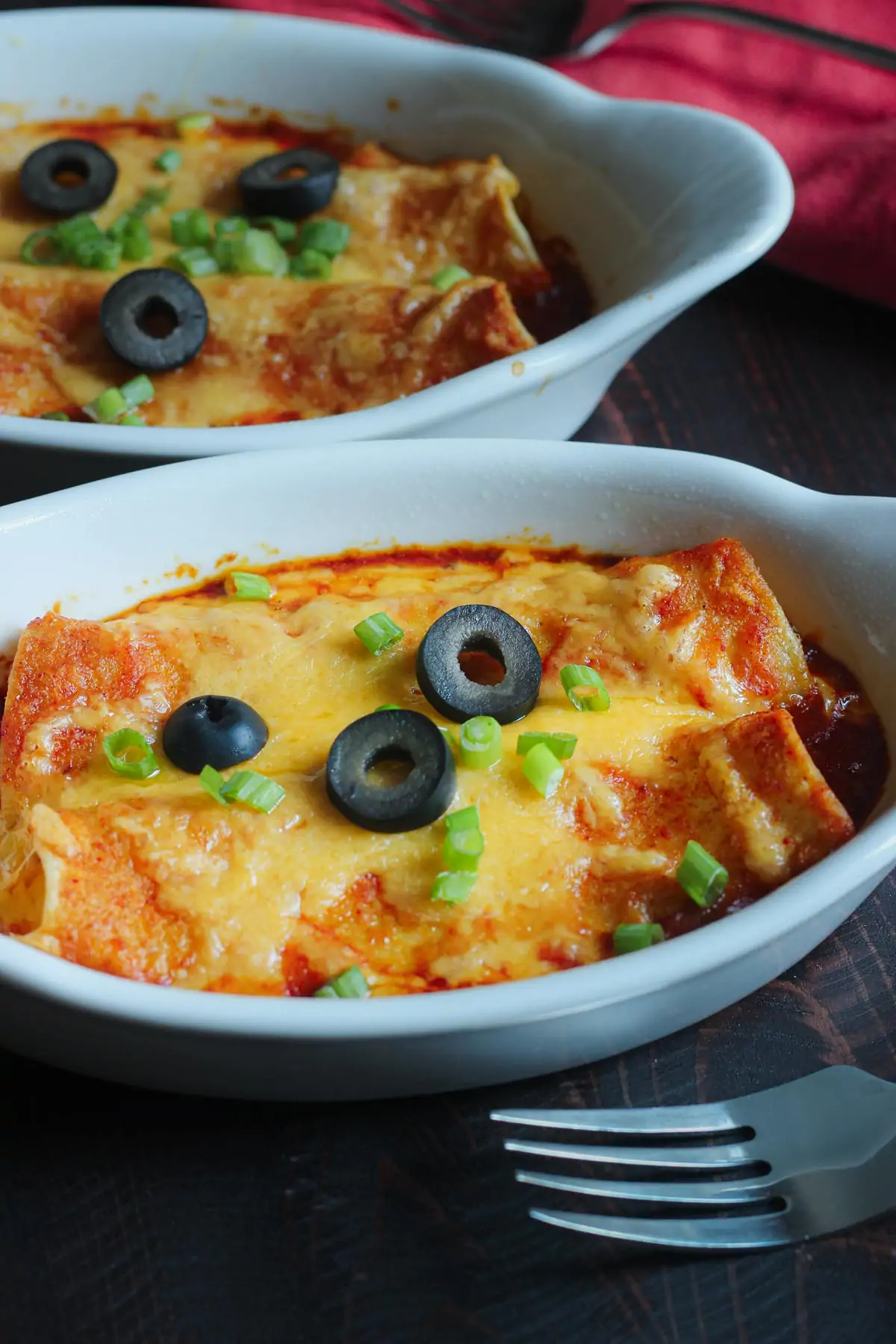 More Great Freezer Meals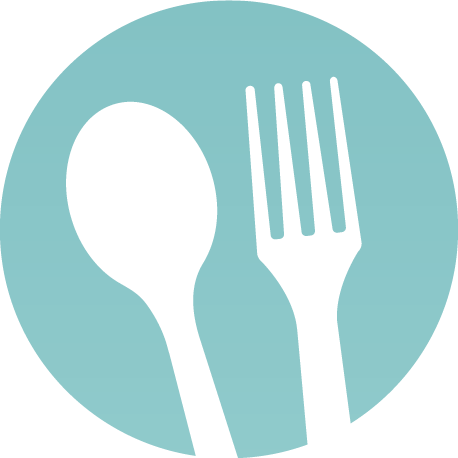 Tell us what you think!
We love to hear your experiences with Good Cheap Eats. Click the STARS on the recipe card or leave a STARRED comment to let us know what you think of the recipe.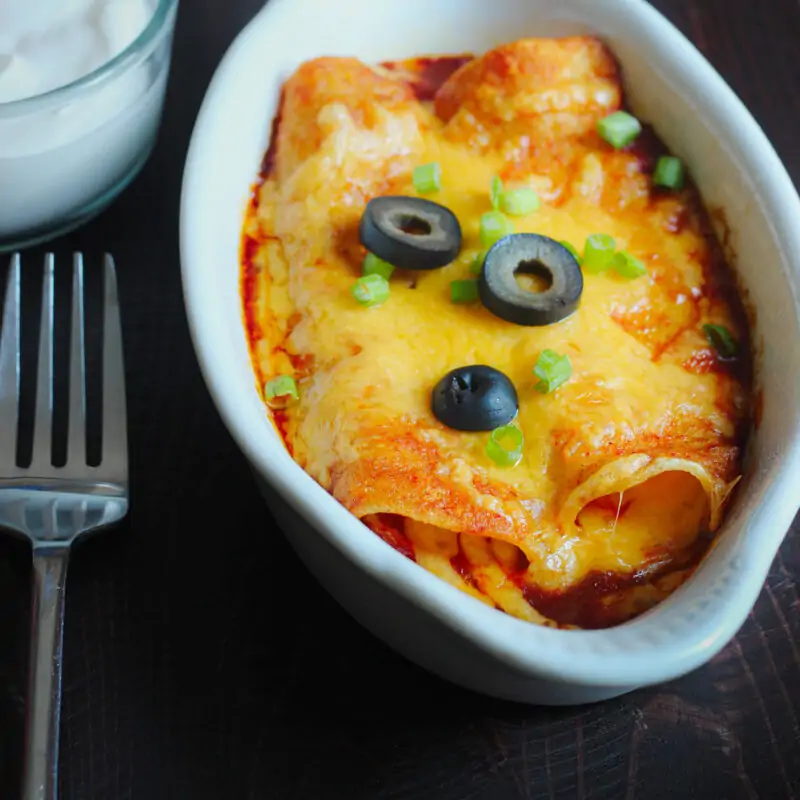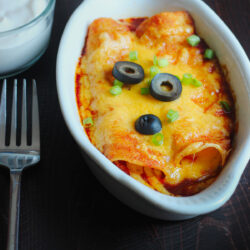 Cheese Enchilada Recipe
Cheese Enchiladas are quick and easy to prepare, but they taste like something special. They are a delicious, meatless meal you can make in a snap.
Print
Pin
Rate
Ingredients
oil for frying the tortillas

2

dozen

corn tortillas

3 ½

cup

red enchilada sauce

20

oz

cheddar cheese (shredded)

(5 cups) can also use jack

¼

cup

sliced black olives

2

green onion

chopped
Instructions
Grease two 9×13-inch baking dishes. Preheat the oven to 350 degrees F.

In a small fry pan, heat 1 inch of frying oil. Fry the tortillas in the hot oil until leathery, but still pliable. Drain on paper towels.

Spread a small amount of sauce across the bottom of each baking dish. Reserve 2 cups of cheese for topping. Place a small handful of cheese down the center of each tortilla, roll and place seam side down in greased baking dish. Pour the sauce over the tops of rolled tortillas.

Sprinkle the remaining cheese as well as olives and onions over top. Bake in 350F oven until heated through and cheese is melted.
Notes
To freeze: wrap, label, and freeze prior to baking. To serve, bake according to recipe instructions, adding 5 to 7 minutes if baking from frozen.
You can also package the enchiladas into smaller, microwaveable dishes to pack for work lunches. You can cook the enchiladas in the microwave for 2-3 minutes for an individual serving.
Nutrition
Calories:
112
kcal
|
Carbohydrates:
3
g
|
Protein:
7
g
|
Fat:
8
g
|
Saturated Fat:
5
g
|
Polyunsaturated Fat:
1
g
|
Monounsaturated Fat:
2
g
|
Cholesterol:
25
mg
|
Sodium:
472
mg
|
Potassium:
27
mg
|
Fiber:
1
g
|
Sugar:
2
g
|
Vitamin A:
486
IU
|
Vitamin C:
1
mg
|
Calcium:
172
mg
|
Iron:
1
mg
Tried this recipe?
Tell us what you think! Your reviews help us develop better recipes and give newcomers the confidence to try your favorites. Scroll down to leave a starred comment.
Originally published April 24, 2009. It has been updated for content and clarity.