Mexican rice is a delicious and easy side dish to accompany tacos, fill burritos, or otherwise enhance your Mexican style meal. This dish is perfect for a quick and easy dinner!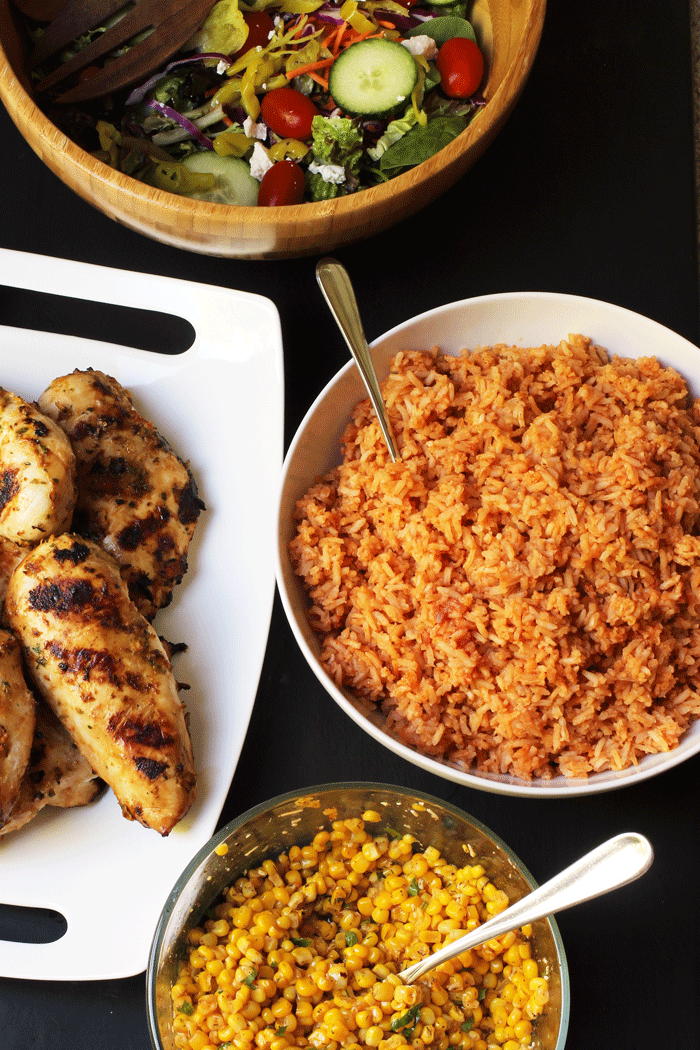 At a Mexican restaurant, the side of rice and beans is pretty standard, right?
And when you're there, it might not seem like such a big deal, what with the frosty margarita, the sizzling fajitas, and the salsa picante.
But when you get home…?
When you get home and want to make Mexican food yourself, well, the rice matters. It matters big time.
How many times have you wondered how they make that rice? Or rather how you can make that rice yourself at home?
Well, you can stop wondering. Today I'm sharing my go-to recipe for Mexican rice, taught to me many moons ago by my college friend Elva. My roommate Laura didn't have the patience to teach me, but Elva, Elva stuck it out.
So, today I'm passing on the secret.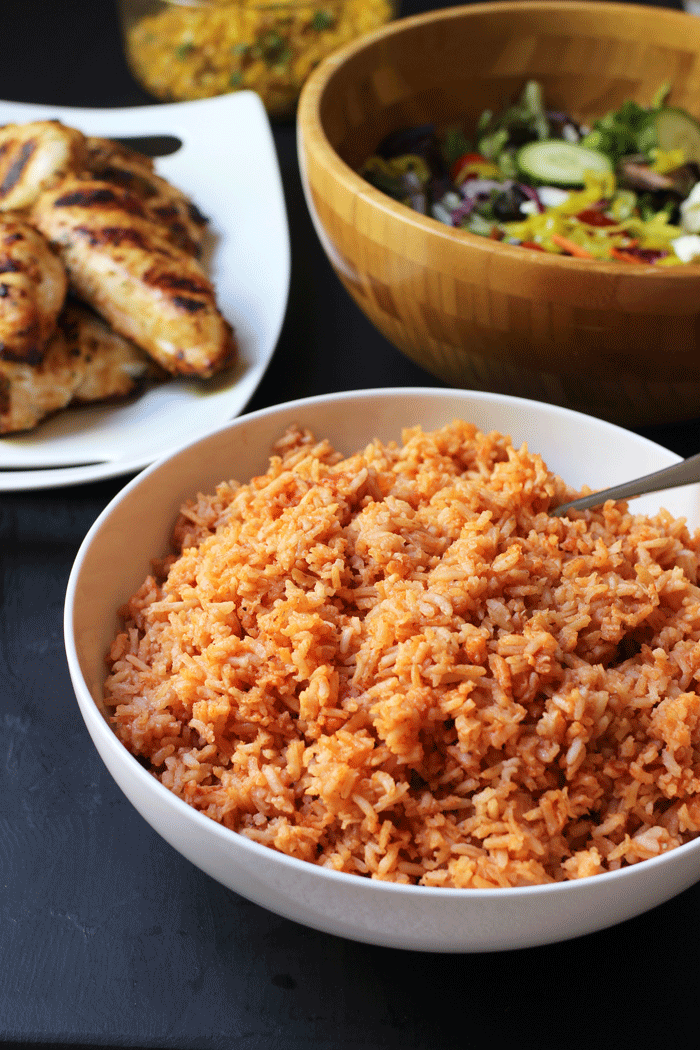 You see, Mexican food is a cuisine near and dear to my heart. Growing up in Southern California, my family loved, loved, LOVED to visit Downtown Los Angeles and the historic Olvera Street. It was by far a favorite family pastime.
The original neighborhood, like the first street of the City of Angels, Olvera Street features some of the best eating I've had in my life. The corner restaurant, La Luz del Dia is my favorite. And I knew how to order starting at a very young age.
Carnitas Tostada, por favor — y dos tacos de carnitas. And a 7-Up.
Such a creature of habit, I ordered the same. thing. every. time. And over the years have recreated my favorite Olvera Street dishes at home: Pork Carnitas Tacos, Carnitas Tostadas, and Homemade Corn Tortillas.
It's been years since I visited Olvera Street, but now it almost doesn't matter. Since there are so many Mexican Dinner Recipes I can make at home. While dining out on a budget is totally doable, sometimes it's just nice to eat at home.
Mexican Rice is one of them. This Mexican Rice is very versatile; it's great as a side dish, but can also make a frugal, meatless main dish, like beans and rice.
This is an easy rice pilaf that will astonish you at its simplicity. Promise.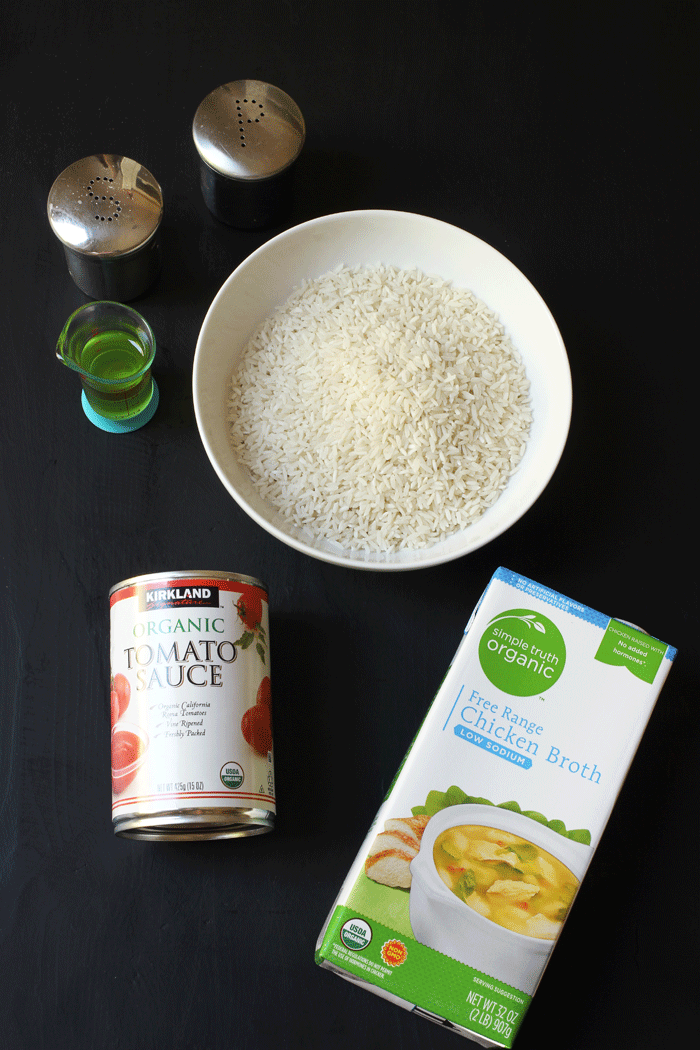 Is there a difference between Spanish rice and Mexican rice?
Traditional Spanish rice is more along the lines of what you'd find in paella. It's a pilaf cooked with similar basics like rice and tomatoes, but Spanish rice will contain saffron, whereas Mexican rice does not.
What can I eat with Mexican rice?
Mexican rice is great as a side dish alongside grilled meats, tacos, and fajitas. It also serves as a great burrito filling or a base for burrito bowls.
Can I make Mexican rice with brown rice?
You can prepare this recipe with brown rice but the final product will have a much softer, mushier, texture. If you want to use the whole grain, be sure to increase your cooking time to 40 to 45 minutes instead of the recommended 15 to 20.
Can I make Mexican rice in a pressure cooker?
Yes! Using the pressure cooker to prepare this rice is a nice way to free up more room on the stove. See the recipe notes below for full instructions.
How do you make Mexican rice?
This Mexican rice recipe is the simplest version you can make, using only six ingredients. Feel free to embellish it by adding chopped onion and spices such as lemon pepper or cumin.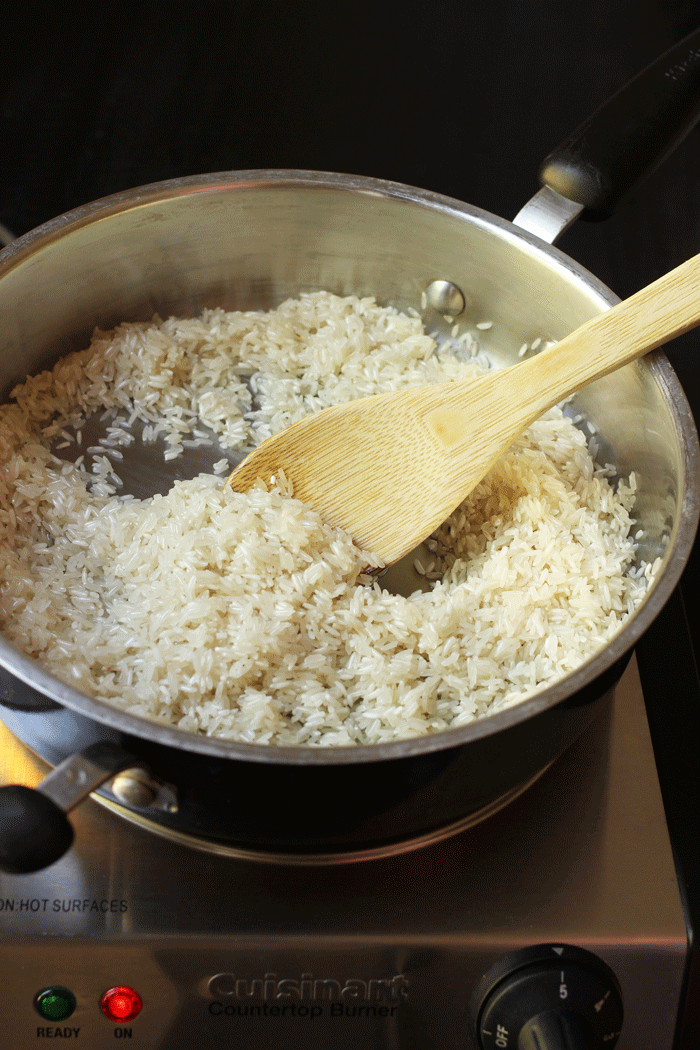 Heat some oil in a pan with a lid. Once it is shimmering, add the rice, and cook, stirring until the rice has turned white and even a bit brown in spots.
(If you wanted to add chopped onion, now would be the time to do so.)
This process may take some time, so be patient. I remember Elva telling me I had to wait longer, so you probably will too.
It should look like this: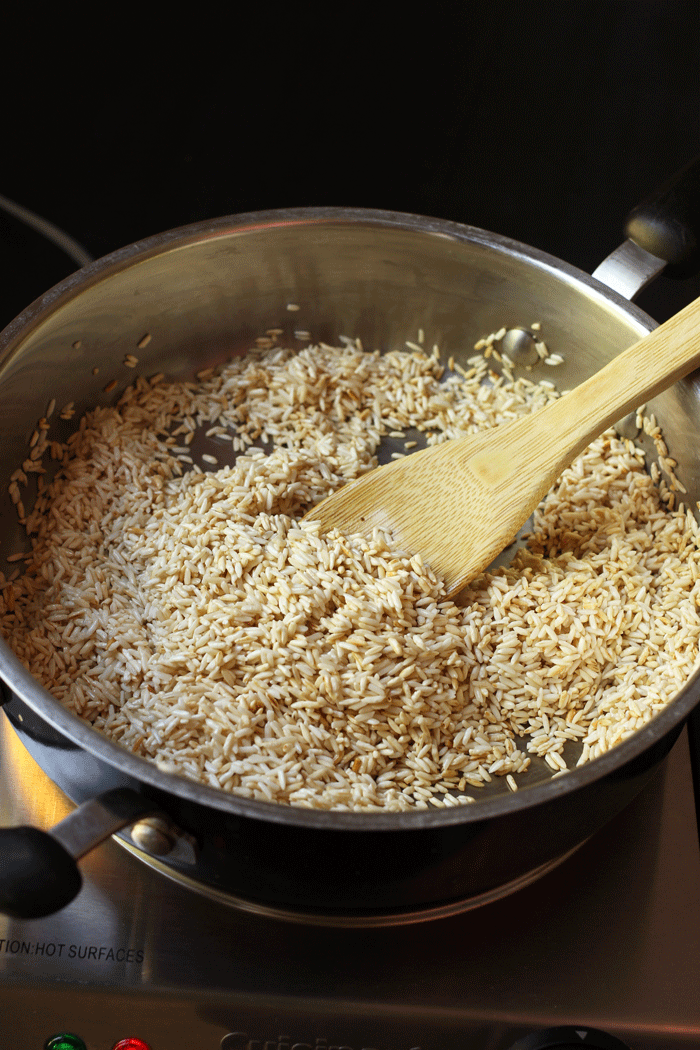 Once the rice is whitish-brown, add the tomato sauce. It may splatter a bit when you pour it in, so be careful.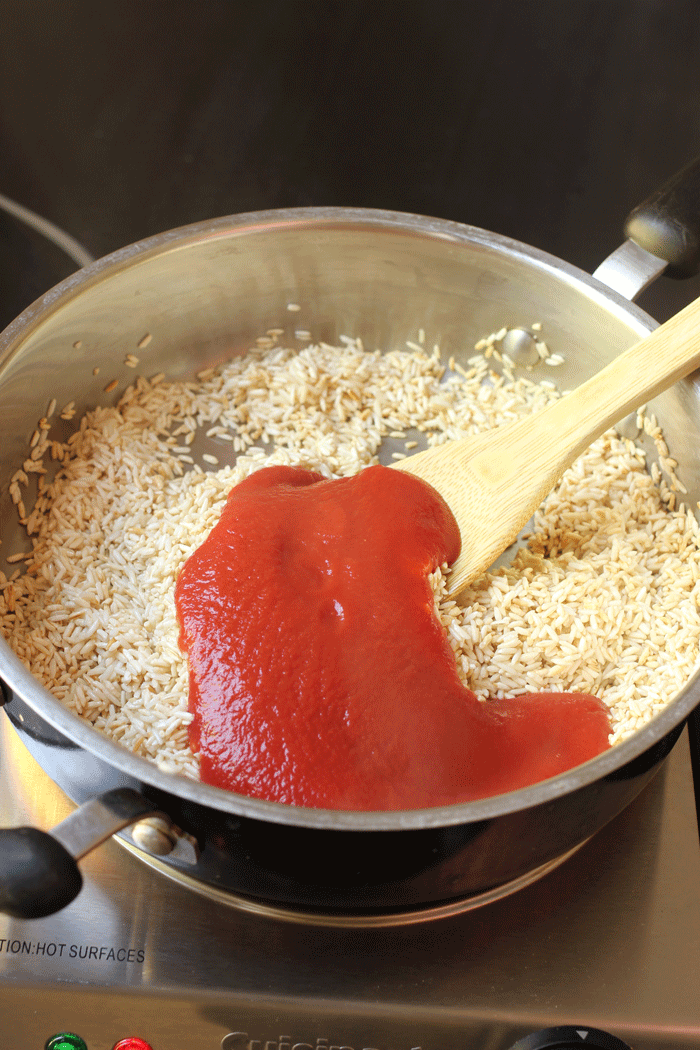 Stir the tomato sauce around in the rice quickly and then add the chicken broth or stock.
If you wanted to add cumin, now would be the time to do so.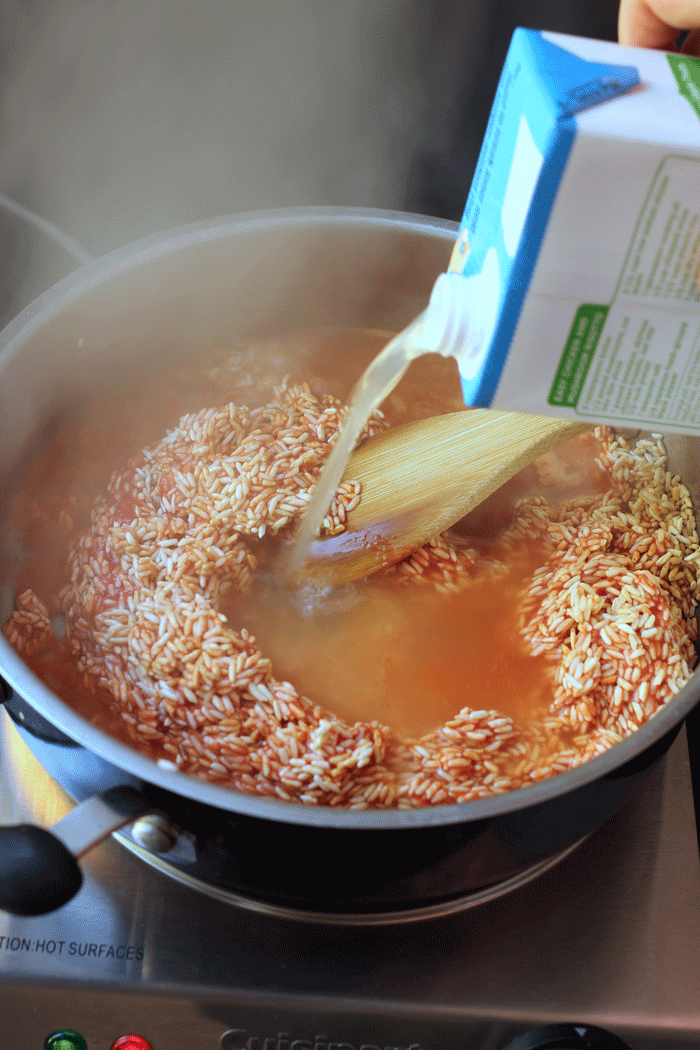 You'll likely produce steam and hissing when you do this, so just be careful not to burn yourself.
You don't want to release too much starch in the rice, so don't stir too much, just enough to combine the rice, tomato sauce, and chicken broth well.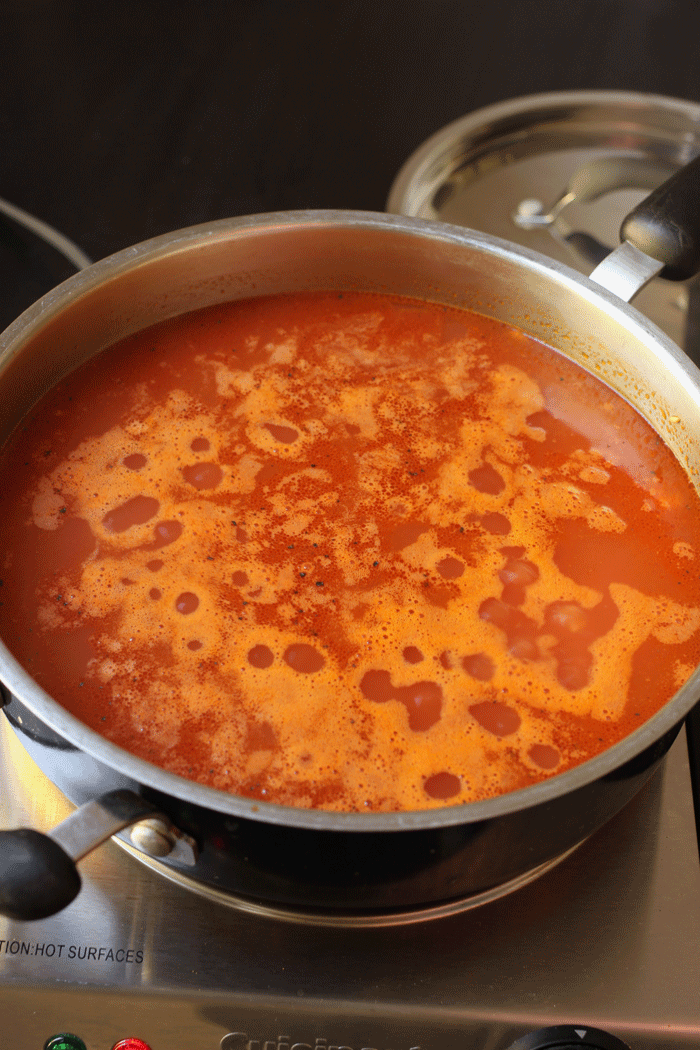 Allow this mixture to come to a regular simmer. Once it is bubbling well, cover it with the lid, and reduce the heat to low.
Set the timer for 15 minutes and allow the rice to cook. While it's simmering, the rice will absorb all or most of the liquid. You may need to cook it as long as 20 minutes to get to this point.
When the rice appears "dry", it's done. Fun fact: Mexican rice is called sopa seca in Spanish: dry soup.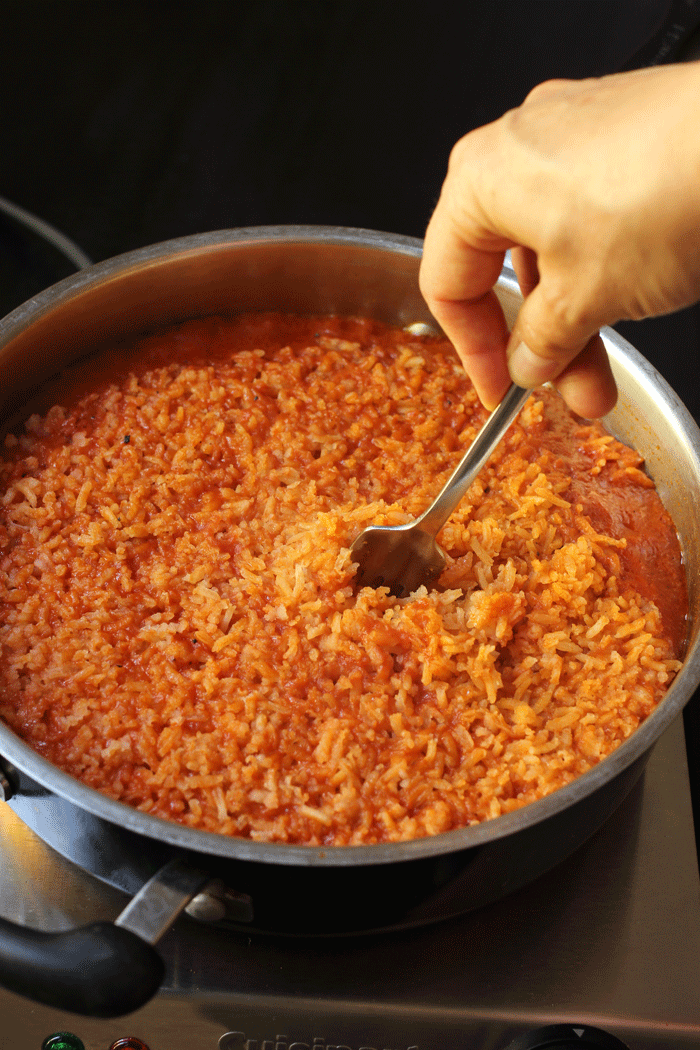 Fluff the rice with a fork and mix in any tomato sauce that may have risen to the top. Season the rice to taste with salt and pepper.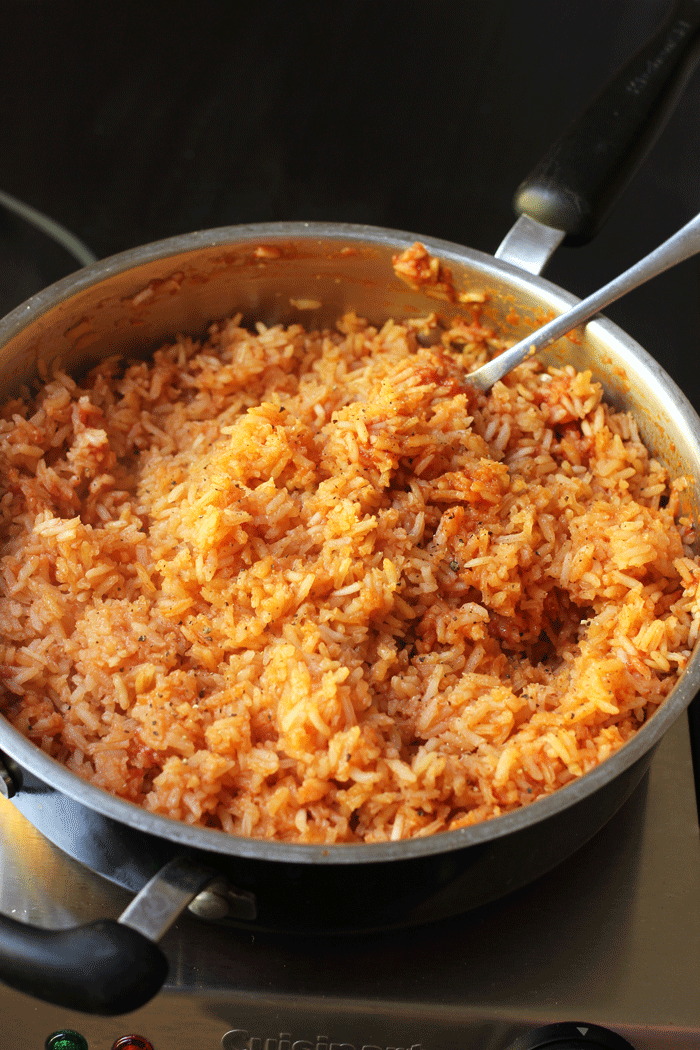 The rice is ready to serve. It is good in the refrigerator for up to 4 days, making it a great meal prep base for packing lunches.
How I make this cheap:
Here are some of the strategies I use to make this recipe more economical:
Buy in bulk. I know that Costco is the best place to buy ingredients in bulk, like brown rice or chicken stock, when there isn't a great sale elsewhere. I keep track of prices so that I know who has the best deal where. If you don't think you'll eat through a ten pound bag of rice too quickly, split the purchase with a friend or store the extra in the freezer to extend its shelf life. Yes shopping at Costco can save you money, if done right.
Make my own stock. Homemade chicken stock is so easy to make and practically free if you're already roasting a chicken or buying rotisserie chickens. Extract all the flavor from the bones before you toss them.
Tools I use to make this recipe easy:
Having the right kitchen tools can really make your time in the kitchen more enjoyable. Over time, I've honed my collection so that they are perfect for my needs. Here are the tools that I like to use in this recipe.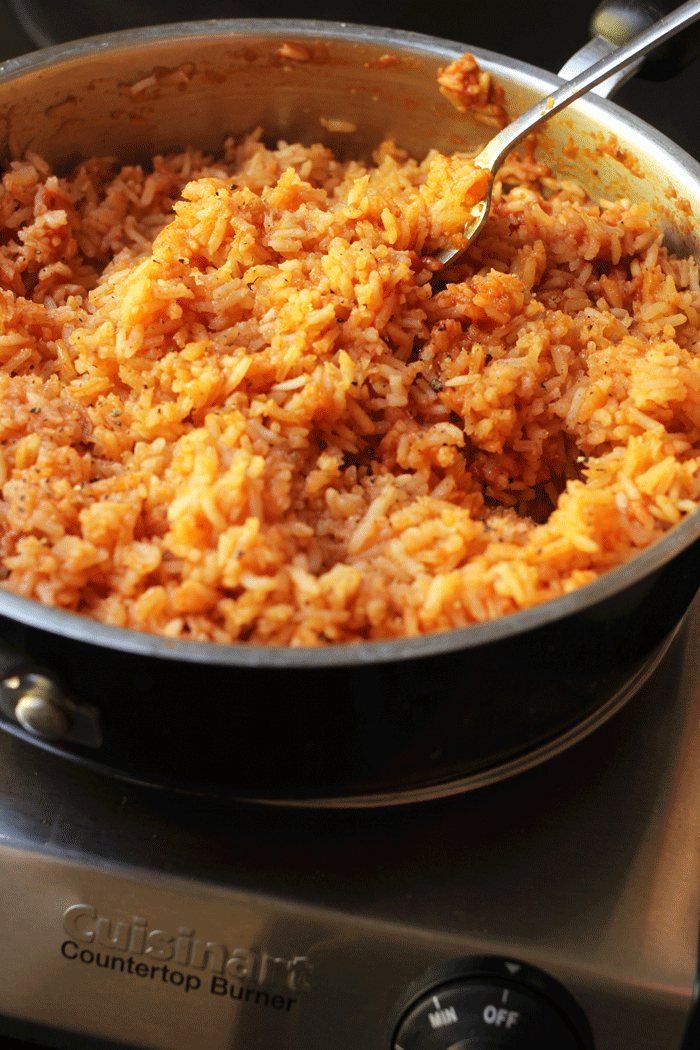 After you've prepared the recipe, would you do me a favor? I'd really appreciate it if you came back and left a starred review. Thanks in advance for your feedback!

If you prepare this recipe, be sure to share a picture on social media and hashtag it
#GOODCHEAPEATS
. I can't wait to see what you cook up!
Mexican Rice
Mexican rice is a delicious and easy side dish to accompany tacos, fill burritos, or otherwise enhance your Mexican style meal.
Ingredients
2

tbsp

neutral oil

2

cup

long grain white rice

uncooked

8

oz

tomato sauce

4

cup

chicken stock

salt

black pepper
Instructions
To prepare the rice in a pan on the stove top:
In a large sauté pan with a lid, heat the oil over medium heat. Add the rice and cook, stirring, until rice turns white and very lightly brown. Remove from heat and stir in tomato sauce. Be careful of splatters. Stir well. Stir in chicken broth and return to heat. Bring to bubbling.

Cover and reduce heat to low. Cook for 15 minutes or until almost all liquid is absorbed. Remove lid and fluff with a fork.

Continue to cook on low for about five minutes to remove any extra liquid. Season to taste with salt and pepper and serve.
To prepare this recipe in the electric pressure cooker:
Heat the oil in the pot on sauté. Add the rice and continue cooking, stirring, until the rice turns white and very lightly brown.

Stir in the tomato sauce and only 1 1/2 cups chicken broth. Stir gently to combine.

Cover and secure the lid. Turn the pressure valve on. Hit the manual button and cook for 4 minutes.

When the timer beeps, allow the rice to rest for 10 minutes before releasing the pressure valve. Once all the pressure has escaped, remove the lid and fluff the rice with a fork.
Notes
Notes: Store cooked rice in a covered container in the refrigerator for up to four days. 
If preparing Mexican rice with long grain brown rice, increase the cooking time to 40 to 45 minutes. 
Nutrition
Calories:
213
kcal
|
Carbohydrates:
39
g
|
Protein:
4
g
|
Fat:
4
g
|
Saturated Fat:
1
g
|
Sodium:
593
mg
|
Potassium:
249
mg
|
Fiber:
1
g
|
Sugar:
1
g
|
Vitamin A:
133
IU
|
Vitamin C:
10
mg
|
Calcium:
24
mg
|
Iron:
1
mg