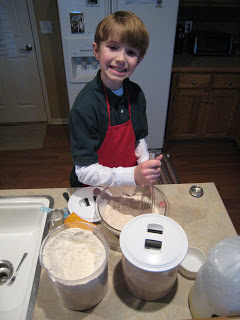 You run to the store with your carefully crafted grocery list. But, distractions draw you away from checking to see that you have all you need. A day or two later, when you set out to prepare a certain recipe, you find that you are missing an important element.
Sometimes you just can't think of everything.
Thankfully, there are a number of substitutions that you can use if you're missing something. Here's a sampling:
If your recipe calls for…
** 1 Tablespoon of baking powder, use 3/4 teaspoon baking soda plus 2 teaspoons cream of tartar
** 1 cup buttermilk, use 1 cup plain yogurt OR 1 Tablespoon lemon juice plus enough milk to equal 1 cup
** 1 cup corn syrup or honey, use 1 1/4 cup granulated or packed brown sugar plus 1/4 cup liquid
** 1 cup powdered sugar, use 1/2 cup plus 1 Tablespoon granulated sugar
** 1 cup sifted cake flour, use 1 cup minue 2 Tablespoons sifter all-purpose flour
For more kitchen tips, visit Tammy's Recipes every Tuesday.