Enjoy Mexican food? Looking for some great recipes that are easy and cheap? Check out these Mexican dinner ideas and tips for making great Mexican food every week.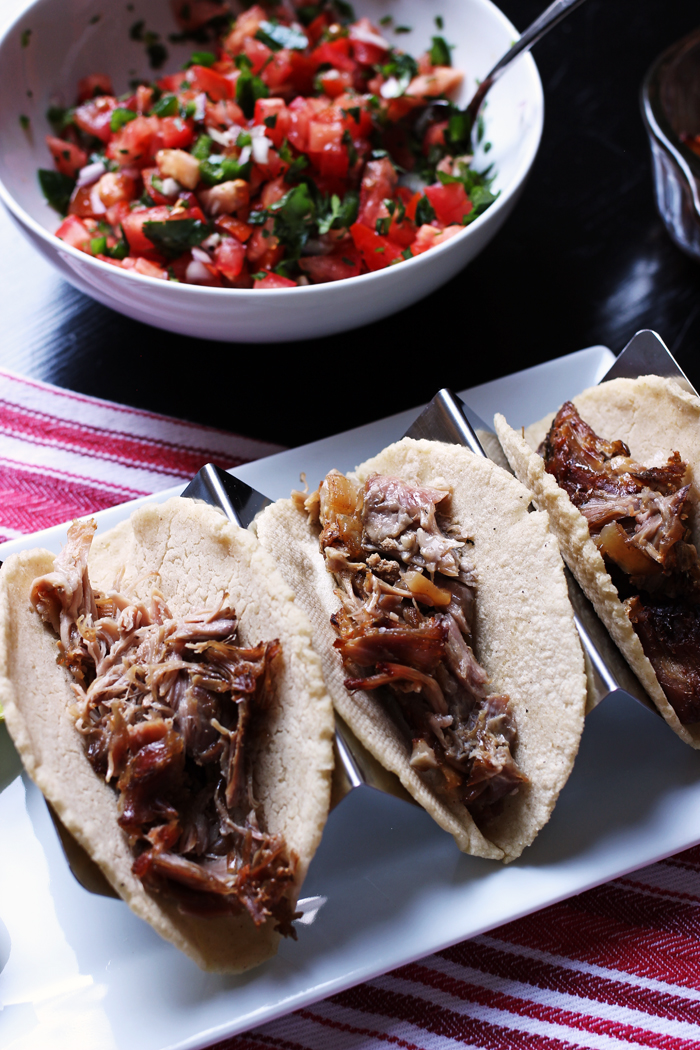 Nowadays, you can find a decent taco almost anywhere. Even Europe. (Well, Chipotle in London is trying…)
But this wasn't always the case. When I was a kid visiting my grandmother in Minnesota, tacos, burritos, and taquitos were few and far between. Gramma John was stunned when I found tortillas in her local Hy-Vee. She didn't know you could get such exotic fare in Owatonna.
Times have changed, and for the better, particularly where Mexican food is concerned.
Not only are ingredients such as cilantro, chiles, and masa more readily available, but they haven't met the fate of inflated prices that happens with some cuisines. Couple that with the fact that Mexican food is prepared with whole foods that are generally some of the more affordable ingredients to buy and you find that it's a very frugal fare.
And worthy of including in your meal plan on the weekly!
Which I do.
Having been born and raised in Southern California, I lean toward Mexican-American food as my favorite cuisine. I'm not the only one.
Even though my dear Gramma John, bless her Norwegian heart, prepared lefse every year, I am more familiar with a tortilla than the flatbread of my forefathers.
My parents weren't born adventurous eaters. But, upon their migration west, they made friends early on with folks who took them to Olvera Street and showed them the basics of Mexican-style cooking. For my part, I was blessed with many friends in college to teach me more tricks.
(Elva, thanks for showing me how to make that rice!)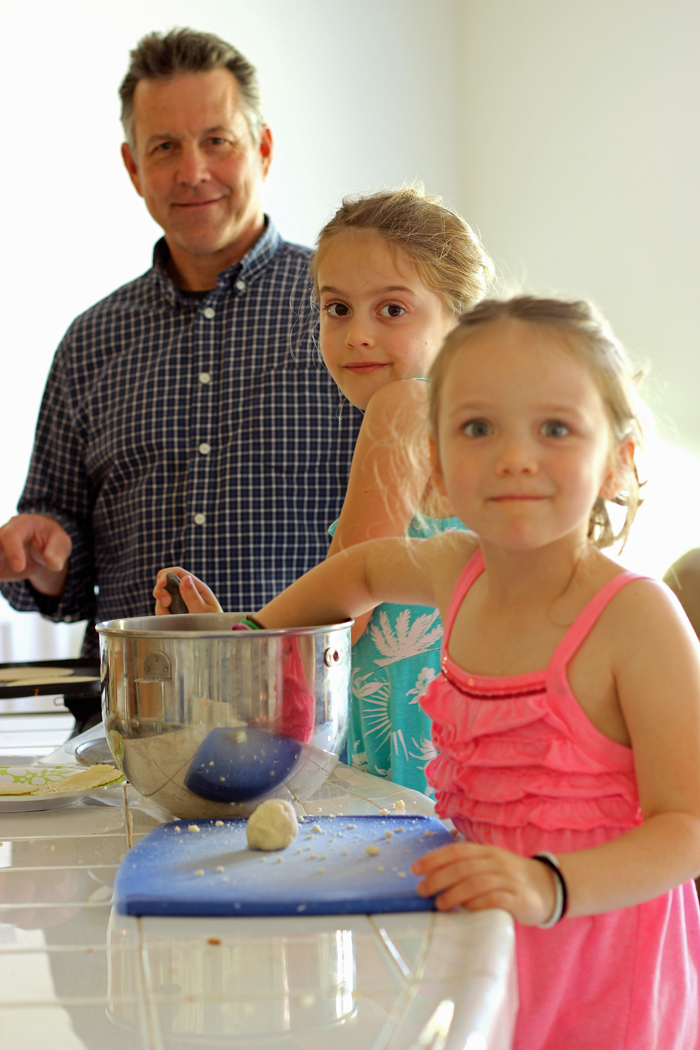 I married a fellow Southern Californian who shared my love of chips, salsa, and everything goes with.
In fact, one of the first kitchen gadgets he purchase for us as a couple was a tortilla press!
And then he proceeded to figure out how to make corn tortillas at home. Clearly, I married up!
How do you learn to make Mexican dinner recipes?
Without Mexican grandmothers to show us the ropes, Bryan and I have taught ourselves some things along the way, too, like how to make tamales or homemade tortillas or enchilada sauce.
In the days even before Google, we found a way to make our favorite Mexican food dishes at home for cheap.
One of my favorite resources for Mexican dinner ideas has been this book: the Sunset Mexican Cookbook. It is long since out of print, but you can find used copies for cheap. Snag one because this is the portal to some good cheap eats!
Aside from trial and error and cooking through a vintage cookbook, we've also been known to peek into taqueria kitchens and ask endless questions of Mexican restaurant owners in our quest to make Mexican food at home.
We leaned on these skills during our stint in Kansas City where we had a really hard time finding California-style Mexican food. Now that we're back home, we still make these things ourselves, enjoying Mexican-inspired fare multiple times a week.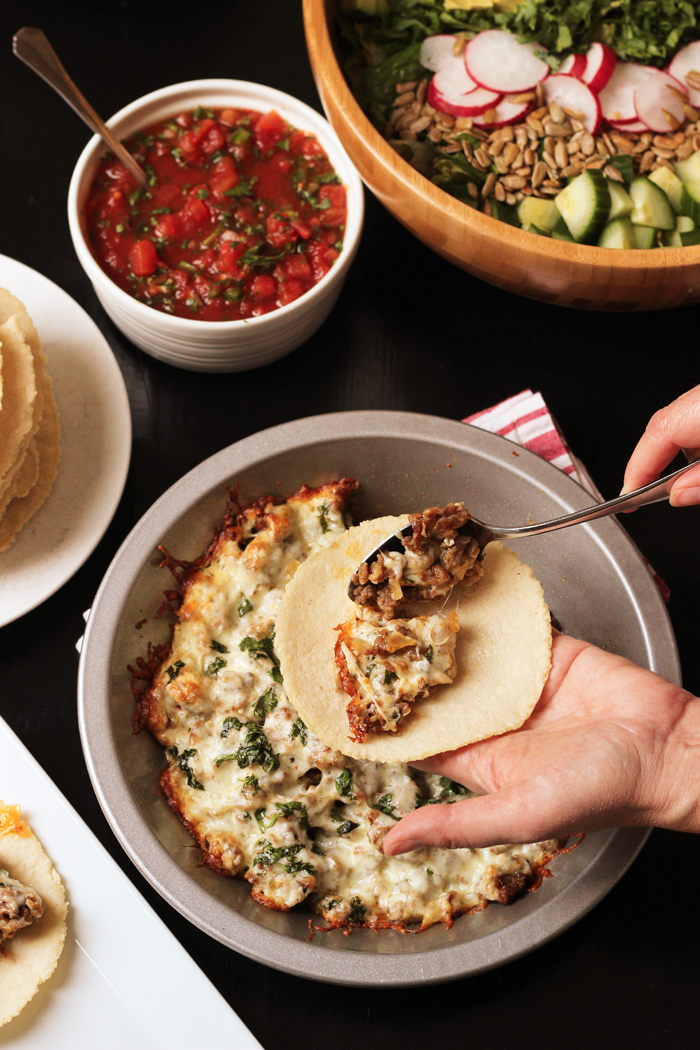 What are the best Mexican dinner recipes?
To choose the best Mexican dinner idea is probably impossible. It really depends on your experience: who prepared it, where did you eat it, how happy were you in that season of life.
Food, as we know is subjective.
But, generally speaking, some popular Mexican dinner ideas include: chilaquiles, pozole, enchiladas, guacamole, tostadas, tamales, quesadillas, salsa, carne asada, tacos, and ceviche.
The best is defined by what you like. What are your favorites when you go out to eat? Chances are you can make them better and more cheaply at home.
As Cinco de Mayo approaches, now is a great time to explore more Mexican dinner ideas and your favorite Mexican food recipes.
What goes on sale for Cinco de Mayo that I can use for a Mexican dinner recipe?
One of the things I love about Cinco de Mayo is that many grocery stores offer great deals on ingredients you might want to use to prepare Mexican dinners. Real ingredients.
Consider the sales from my local stores this week:
Tri-tip, top sirloin steak, or flap meat (for carne asada): $4.77/lb
pork shoulder: $0.99/lb
boneless, skinless chicken breast: $1.77/lb
avocados $0.69/each
strawberries $0.88/lb
mangoes $0.69/each
roma tomatoes or white onions $0.99/lb
jalapeno peppers $.50/lb
Mission chips $2.50/18 oz bag
Keep an eye out for the ingredients you see on sale and stock up to prepare a Mexican dinner on the cheap. As the budget allows, buy more than you'll need this week. Mexican food belongs in your weekly meal planning rotation!
Here are some Good Cheap Eats Mexican Dinner Recipes:
Budget-Friendly Mexican Dinner Recipes
Enjoy your favorite tacos, burritos, and other Mexican and Tex-Mex dishes at home with these budget-friendly recipes.