Santa Barbara Cowboy Caviar is a delicious bean dip that acts like a salsa. It's perfect with chips, to top tacos or enchiladas, or even to serve simply on rice.
I went to college at UC Santa Barbara. It was known as the party school back then. It may still be known as the party school. I haven't kept up with the times. I wasn't there to party, though.
If truth be told, I was there to get a degree, establish a career, find Mr. Right, and eat good food. I have to say that except for the career thing — I retired from public school teaching when we moved away from Santa Barbara — that city delivered on all counts. I have a bachelor's degree in French Literature and a master's in education. Mr. Right-for-Me and I have been married for 23 years.
And Santa Barbara really did provide an excellent culinary education. Let me count the ways.
1. I worked for the UCen Dining Services for a few years, learning to make all kinds of delicious foods from scratch, including things like Red Potato Salad with Whole Grain Mustard and Buttermilk Dressing.
2. I worked at Brigitte's Bakery and Restaurant right before starting grad school. There I learned to love Focaccia and Caesar Salad.
3. I went to church with some amazing home cooks, two of whom let me live with them short-term while in college, and one of whom was my landlady for years after graduation. I have the ladies of SB Community Church to thank for inspiring such amazing foods as Lawnmower Taco and Cheddar Cheese Soup.
I can also thank them for introducing me to Santa Barbara Cowboy Caviar.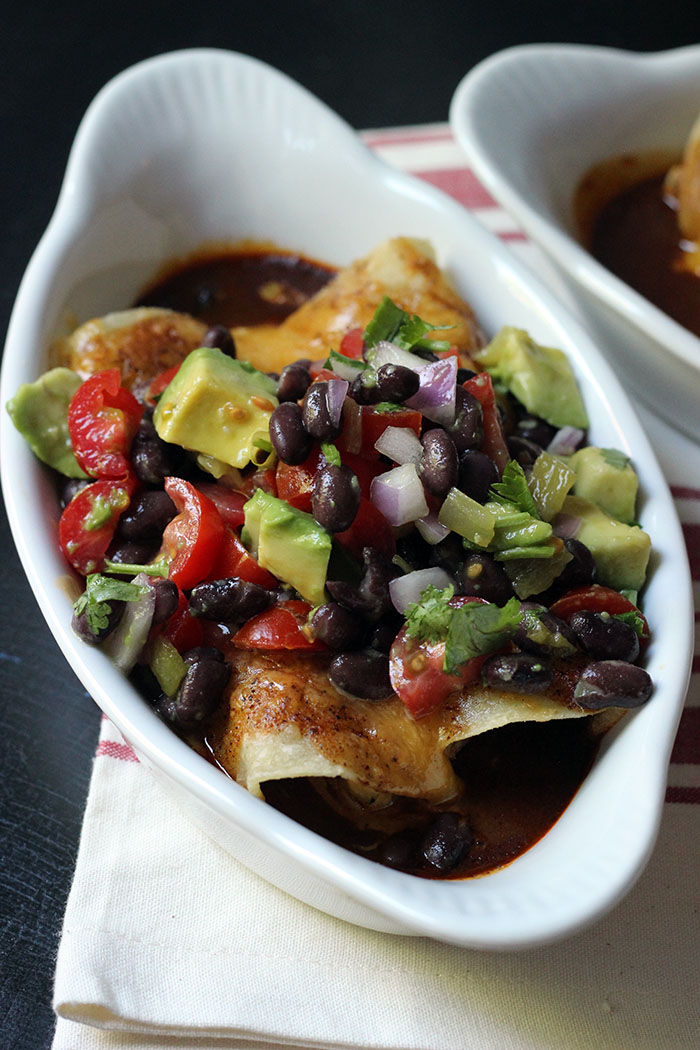 What Is Santa Barbara Cowboy Caviar?
Chances are you've had a similar bean dip/salsa. From all accounts Texas Caviar is pretty similar. Somewhere along the line, someone decided to replace Texas with Santa Barbara. And you know what? My mom's been making this same dip — with cactus instead of beans — for over 40 years.
All that to say, this is nothing "new". But, it sure is good!
How Long Does This Santa Barbara Cowboy Caviar Stay Good For?
My connoisseur of food, aka my 20-year old son, applauded this recipe recently when I made a big batch of it to top enchiladas.
We ended up discovering all kinds of new ways to enjoy it besides just chips. It's incredible on eggs, in wraps, atop taco salads, in rice bowls, on enchiladas or tacos, or folded into burritos. You could add a can of tuna to this and turn it into an amazing meal.
And with the abundance of lime juice, the avocado stayed fresh for a day or two in the fridge. Yummy!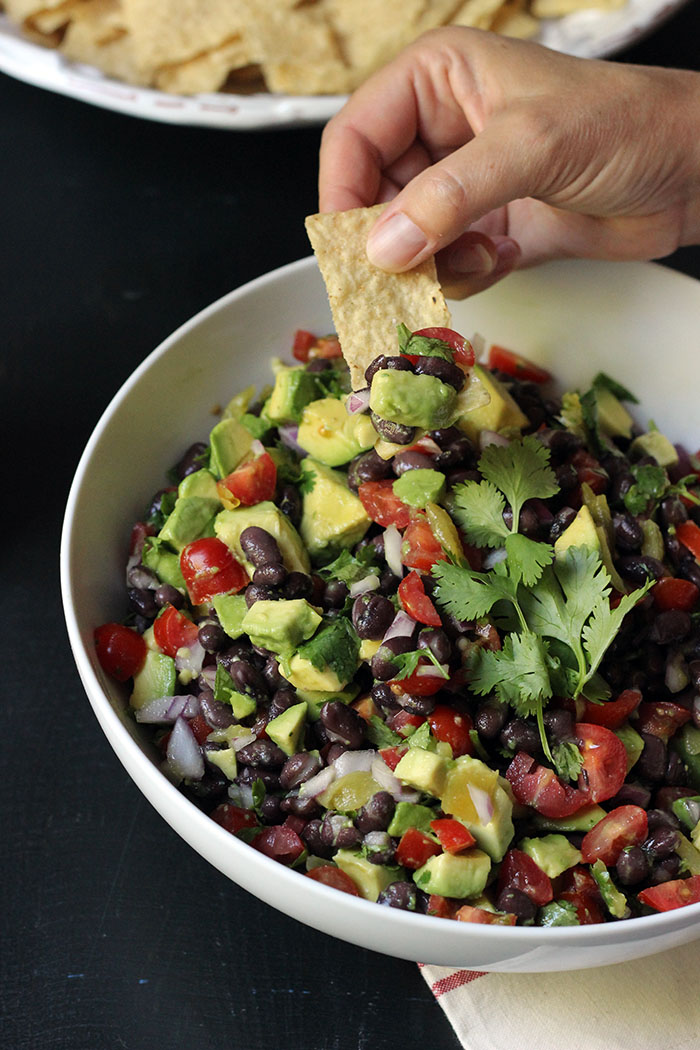 How to make this cheap:
Here are some of the strategies you can use to make this recipe more economical:
Stock up on ingredients when they are on sale. For instance, when I see a great price on canned black beans, I buy several cans. I like them better than cooking dried beans myself, so if I can find them on sale, so much the better. The same goes for canned chopped green chiles.
Do a price comparison. I know that ALDI is the best place to buy ingredients like chiles and beans when there isn't a great sale elsewhere. I keep track of prices so that I know who has the best deal where.
Cook your own beans. While it takes a little more work than opening a can, cooking beans from dried can bring about significant savings.
Store cilantro so it stays fresh. This is a game-changing tip, particularly if cilantro isn't cheap where you live.
Tools I use to make this recipe easy:
This is a pretty straight-forward dish. You don't need any fancy equipment. However, having some good basic kitchen tools can really make your time in the kitchen more enjoyable. Over time, I've honed my collection so that they are perfect for my needs. Here are the tools that I like to use in this recipe.
Santa Barbara Cowboy Caviar
Santa Barbara Caviar is a delicious bean dip that acts like a salsa. It's perfect with chips, to top tacos or enchiladas, or even to serve simply on rice.
Ingredients
3

avocado

peeled, pitted, and chopped

2

15-ounce cans

black beans

, drained and rinsed

3

tomato

chopped

½

red onion

chopped

1

4-ounce can

green chiles (chopped)

¼

cup

fresh cilantro (chopped)

juice of 1 lime

salt

black pepper
Instructions
In a large serving bowl, combine the avocado, beans, tomatoes, onion, chiles, and cilantro.

Squeeze the lime juice over all and season to taste with salt and pepper.

Serve the dip with chips or atop your favorite Mexican-style dishes. Refrigerate leftovers in an airtight container.
Nutrition
Calories:
185
kcal
|
Carbohydrates:
23
g
|
Protein:
7
g
|
Fat:
7
g
|
Saturated Fat:
1
g
|
Sodium:
99
mg
|
Potassium:
590
mg
|
Fiber:
10
g
|
Sugar:
1
g
|
Vitamin A:
135
IU
|
Vitamin C:
12.5
mg
|
Calcium:
43
mg
|
Iron:
2.3
mg